The Inner Structure and Advantages of Raw Material Mill
Raw material mill consists of feeding part, discharging part, gyre part, transmission part, (decelerator, small transmission gear, generator, electrical control), which has the following advantages such as lower consumption, higher production capacity, no pollution, energy saving, long lifespan and so on.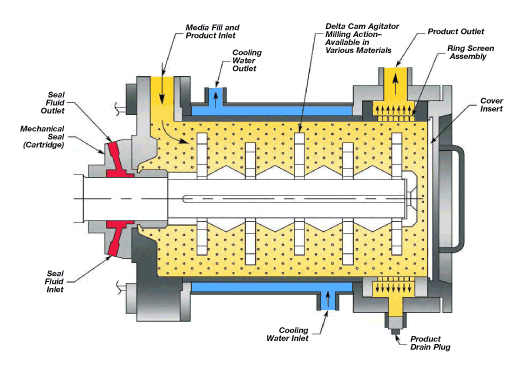 The structure of raw material mill
The Applications and Usage of Raw Material Mill
Raw material mill is the key equipment for grinding after the crushing process, which is widely used in the manufacture industries, such as cement, silicate, new building material, refractory material, fertilizer, ferrous metal, nonferrous metal and glass ceramics.
The Performance Characteristics of Raw Material Mill
The advanced and unique streamlined design can reduce the ventilation resistance, and expand the effective volume.
Various liner structures can improve grinding efficiency.
Negative pressure in the working process can avoid the phenomenon of powder leaking.
The material drying degree can reach 6%-8% because of heat preserving method adopted.
Parameter
Product specification
(m)
Milling form
Transmission form
Gear box
Motor power
(kw)
Production capacity
(t/h)
Total weight
(t)
Model
Speed reduction ratio
Φ1.5×5.7
Open flow
Brim
ZD40
3.55
130
4.5-6
25.8
Φ1.8×6.4
Open flow
Brim
ZD60
4.5
210
7.5-15
43
Φ2.2×6.5
Circle flow
Brim
ZD70
5
380
14-26
60
Φ2.4×7
Circle flow
Brim
ZD70
5
475
24-28
81
Φ2.4×10
Circle flow
Brim
ZD80-4-LL
6.44
570
32-36
118
Φ2.6×10
Circle flow
Brim
JDX710
6.3
800
45-50
130
Φ3×9
Open flow
Brim
JDX800
6.3
1000
55-60
158
Φ3.2×9
Circle flow
Brim
MBY900
7.1
1250
62-65
195
Φ3.5×10
Open flow
Brim
JDX900
5.84
1250
70-75
200
Φ3.8×7.5
Circle flow
Brim
JDX900
5.6
1600
80
233
Φ4.6×10+3.5
Circle flow
Central shaft
JQS3550
15.1
3550
190
415
Φ4.6×10.5+3.5
Circle flow
Central shaft
JQS3550
15.1
3550
210
476
Product specification
(m)
Milling form
Production capacity
(t/h)
Φ1.5×5.7
Open flow
4.5-6
Φ1.8×6.4
Open flow
7.5-15
Φ2.2×6.5
Circle flow
14-26
Φ2.4×7
Circle flow
24-28
Φ2.4×10
Circle flow
32-36
Φ2.6×10
Circle flow
45-50
Φ3×9
Open flow
55-60
Φ3.2×9
Circle flow
62-65
Φ3.5×10
Open flow
70-75
Φ3.8×7.5
Circle flow
80
Φ4.6×10+3.5
Circle flow
190
Φ4.6×10.5+3.5
Circle flow
210