Description of Lime Briquetting Machine:
In order to form certain shapes, the machine adopts electromagnetic speed regulating motor with manual control mode. According to different ball forming conditions, users can change its rotating speed to realize the best ball forming rate and highest production.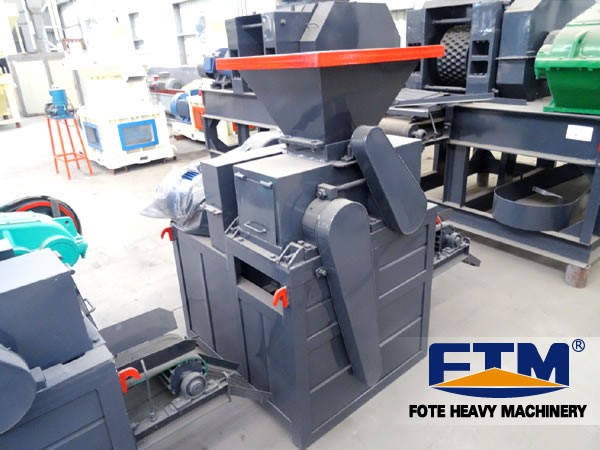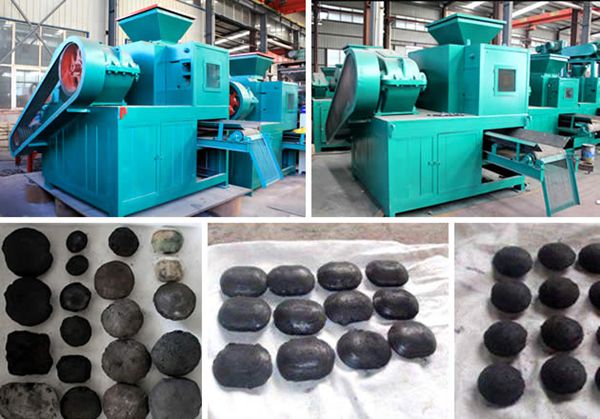 Features of Lime Briquetting Machine:
Lime Briquetting Machine owns obvious features like high ball forming efficiency, low power consumption, compact structure and easy maintenance.
Handling Materials and Applications:
Lime Briquetting Machine can process many materials such as magnesia, bauxite, dolomite and iron powder by boosting pressure. After precise processing, materials form bigger density ball bases which are widely used in the metallurgy, chemical, coal and fireproofing materials industries.
Working Process:
Lime Briquetting Machine or twin-roller pressure ball machine runs relying on the cooperation of driving and driven shaft supported by the exposed gear. Hydraulic pressure device is installed on the back of the driven shaft block, driven by the electromagnetic speed regulating motor, and after the belt wheel and worm reducer running, the spiral feed device presses materials into the main feed port. When the spiral feeder has the same pressing quantity with the inventory of the main body of the press machine, the feeding pressure will stay constant, thus stabilizing the balling quality. If feeding too many materials, the feeder will overload electricity; if too few materials, the feeder won't form a ball. Therefore, skillful operation technique has become the key condition for ball pressing.
Parameter
Model
Roll diamter
(mm)
Roll width
(mm)
Total pressure
(t)
Main motor power
(kw)
Output
(t)
Weight
(t)
GY520-150
520
196
150
55
2.2-3.5
13
GY650-220
650
200
220
110
4-6.5
19.2
GY750-300
750
280
300
185
6-8.5
34
GY1000-350
1000
440
350
250
10-15
50.8
GY1000-450
1000
504
450
280
14-17
58.5
GY1000-500
1000
504
500
315
15-20
58.5
GYS1000-500
1000
600
500
280
17-21
56.5
GY1000-540
1000
900
540
185Kw×2
30-35
60
GY1200-800
1200
900
800
280Kw×2
40
110
GY1400-1000
1400
1000
1000
400Kw×2
50
156
Model
Roll diamter
(mm)
Roll width
(mm)
Total pressure
(t)
GY520-150
520
196
150
GY650-220
650
200
220
GY750-300
750
280
300
GY1000-350
1000
440
350
GY1000-450
1000
504
450
GY1000-500
1000
504
500
GYS1000-500
1000
600
500
GY1000-540
1000
900
540
GY1200-800
1200
900
800
GY1400-1000
1400
1000
1000