A briquetting machine, also called a briquette press machine or briquette-making machine, is a device that converts powdered or granular materials into larger, more convenient shapes called briquettes.
According to materials, there are 5 most popular briquette machines at present: charcoal briquette machine, coal briquette machine, metal powder briquette machine, lime briquette machine, and gypsum briquette machine. They are popular for their unique properties, applications, and reasonable price.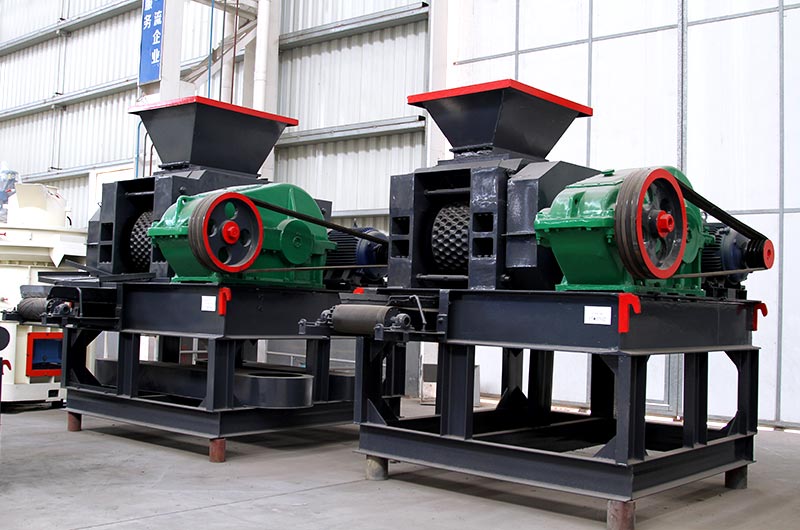 5 types of briquette machines
1. Charcoal briquette machine
Charcoal powder is one of the products of wood that is incompletely burned or pyrolyzed under air-insulated conditions.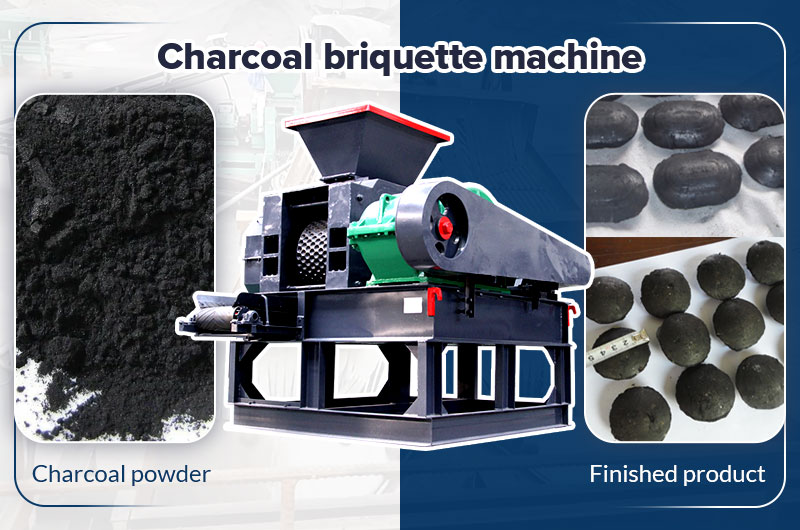 It is produced by carbonized biomass materials, such as carbonized coconut shells, rice husks, sawdust, wood chips, tree chips, branches, shavings, bamboo chips, corn stalks, bagasse, and other agricultural wastes.
Read blog How to Make Charcoal Briquettes:Components and Process for detailed charcoal briquettes production line.
Advantages of charcoal briquetting
The finished charcoal briquette has the characteristics of being smokeless, odorless, non-toxic, and environment-friendly.
Charcoal contains more than 80% carbon, with high calorific value and a long burning time.
Charcoal briquette is easier to handle and burns more evenly.
Besides, it is cheaper than other fuels and more popular than coal.
Applications of charcoal briquette
Heating: For most countries, choosing a charcoal briquette is an economical method of keeping warm. It is often used as a substitute for traditional wood.
Cooking and barbecue: Charcoal briquette is used for cooking. It is the best choice whether it is a large commercial or a home barbecue (BBQ).
Industrial fuel: Charcoal briquette can be used as stove fuel in silicon plants. In the smelting process, it is used for continuous heating.
Activated carbon: It can be further processed to produce activated carbon, which is used in water treatment, air purification, and other industrial processes.
Agriculture: Charcoal briquette is used in agriculture as a soil amendment to improve soil quality and fertility.
2. Coal briquette machine
When coal is mined and transported, large amounts of coal dust are produced. About 20 percent of the coal that coal plants get is small particles. Coal briquette is a good way to deal with this dust.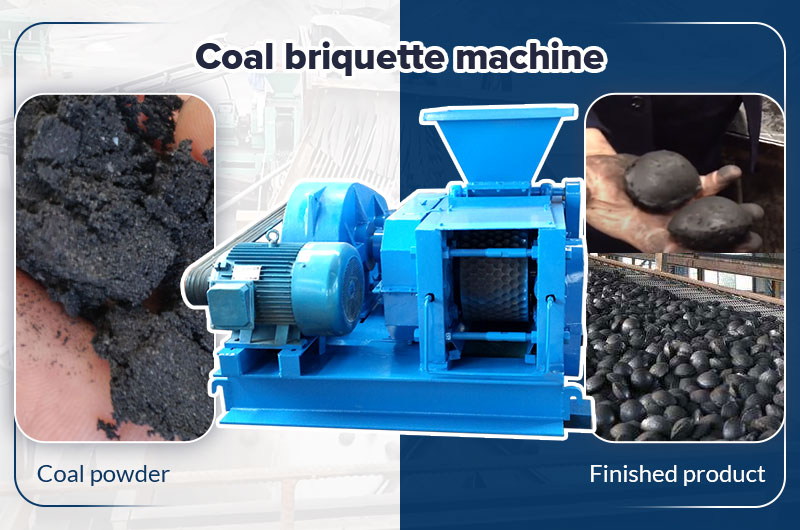 A coal briquette machine is a briquetting equipment used to press coal powder. It uses coal powder (coking coal, lignite, coal gangue), coal slime, carbon powder, activated carbon, coke powder, etc. as raw materials.
It can also press coal ash or fly ash material. Coal ash refers to the dust and tailings collected from the coal-fired smoke generated in the production process of the thermal power plant.
Advantages of coal briquetting
Coal briquette has a higher calorific value than traditional coal, making it a more efficient fuel source.
Coal briquetting reduces coal waste produced during mining and processing, which helps to reduce the environmental impact of coal production.
Applications of coal briquette
Industrial uses: Coal briquette is used in various industrial applications, such as smelting and foundry operations. It can be used as fuel for industrial boilers and furnaces, as well as for power generation.
Domestic uses: Households can use coal briquettes as a source of energy for cooking, heating, and lighting.
Building materials industry: Ceramic factories, glass factories, or gas factories use coal powder to make blocks, which can save costs.
Chemical production: It can be used in the production of various chemicals, such as carbon disulfide, coal tar, and ammonium sulfate.
3. Metal powder briquette machine
Metal powder refers to the powder produced during the crushing and beneficiation of metal ore. The sources of mineral powder mainly include blast furnace iron slag, by-products of high-temperature smelting ore, and tailings after ore mining.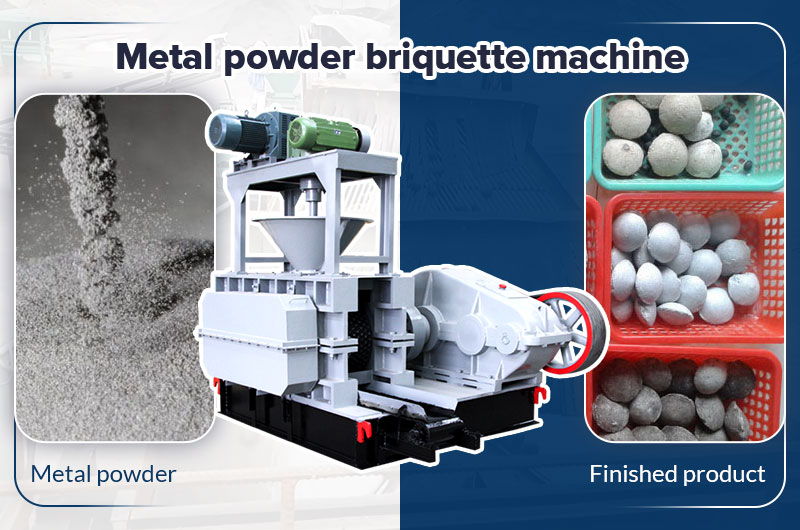 The main processing materials of the metal powder briquetting machine are metallurgical powder or tailings, such as iron powder, iron chips, aluminum powder, aluminum chips, scale, chromium powder, manganese powder, lithium powder, magnesite powder, steel slag, slag, refractory materials, etc.
Advantages of metal briquetting
Heavy metal pollution is reduced from the source by processing metallurgical ore powder, and at the same time, raw materials can be completely utilized.
Metal powder briquetting machine is convenient to recycle and reuse tailings. It has made great contributions to improving resource utilization and protecting the environment.
Applications of metal briquette
In the metallurgical industry, mineral powder briquetting machines are used for making briquettes of non-ferrous metals, ferrous metals, and metallurgical auxiliary materials.
The finished products are mainly used in the smelting process of blast furnace iron-making, steel-making, and other metal materials.
4. Lime briquette machine
The rate of raw material consumption is staggering in the metallurgical process. As the plant operates, lime powder is continuously produced and piled up.
Because lime has the characteristics of not mixing with water, being ultra-fine, fluffy, etc., it is difficult for general briquette making machines to press it into balls. Now, FTM Machinery lime briquetting machines can solve this problem.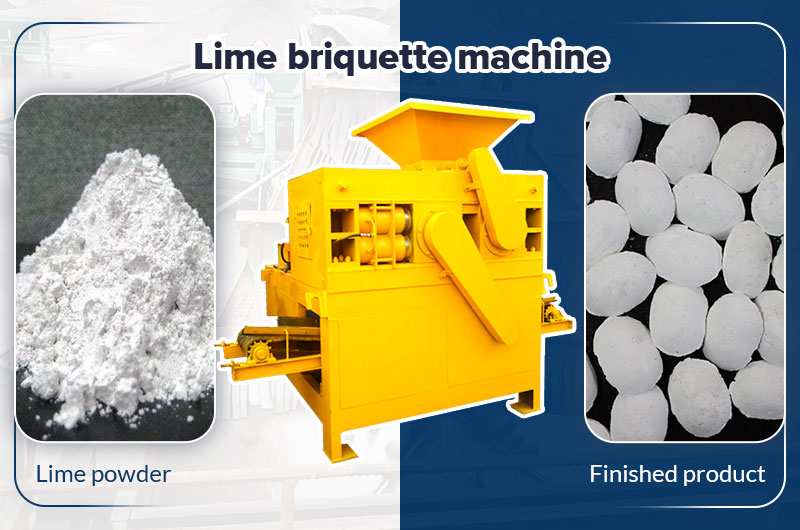 A lime briquette machine is specially developed for lime, quicklime, limestone, and kaolin powder. The main component of quicklime is calcium oxide (CaO), and the main component of limestone is calcium carbonate (CaCO3). They mainly come from metallurgical industry waste.
Advantages of lime briquetting
Lime briquette is easier to transport than loose powder or granules.
Lime briquetting can reduce the volume of waste by up to 90%, making it easier to store.
Lime briquetting allows for efficient use of resources by converting waste into a valuable product.
It reduces the environmental impact of waste disposal and reduces the need for landfill space.
Applications of lime briquette
Lime briquette, also known as calcium oxide briquette, is widely used in metal smelting, metallurgy, and chemical industries.
Quicklime briquette can be used to replace the lime block to smelt the calcium carbide in the production of calcium carbide.
Lime briquette is used in steel manufacturing as a fluxing agent to remove impurities from the iron ore.
It can be used as a good desulfurized material during steel-making production.
5. Gypsum briquette machine
Gypsum briquetting machine mainly presses gypsum powder and desulfurized gypsum materials. Desulfurization gypsum, also known as flue gas desulfurization gypsum, sulfur gypsum, or FGD gypsum, is an industrial by-product obtained by desulfurization of flue gas generated after the combustion of sulfur-containing fuel (coal, oil, etc.).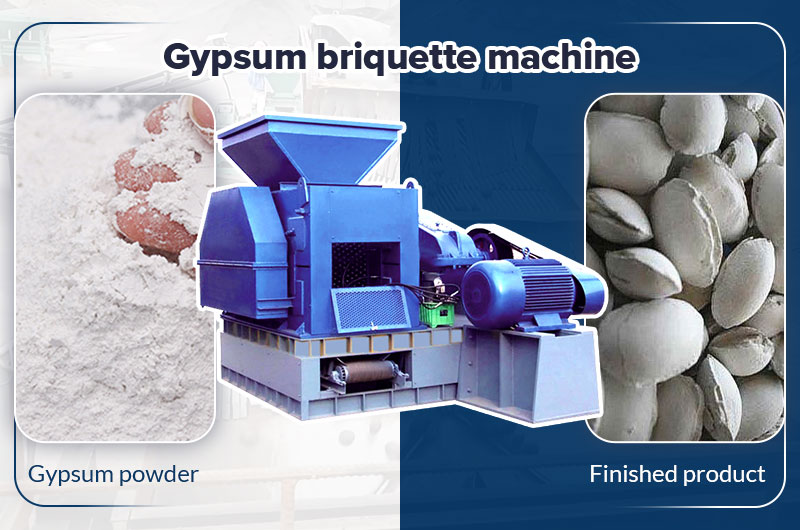 They mainly come from the flue gas desulfurization process of thermal power plants. Most power plants use the limestone-gypsum desulfurization process.
Advantages of gypsum briquetting
Compared to natural gypsum, desulfurized gypsum is renewable. The purity is higher and the composition is more stable.
The price of desulfurization gypsum briquette is low. Material utilization can be maximized.
People can make full use of gypsum while reducing air pollution and dust pollution.
Applications of desulfurized gypsum briquette
Gypsum briquette can be used as a construction material for making walls, ceilings, and partitions. It provides good insulation properties and is fire-resistant.
Gypsum briquette can be used in the production of cement, replacing natural cement. It can be a setting retarder of cement.
It can be used in various industrial processes, such as paper production, wallboard production, water treatment, and chemical production.
Since most people are looking for a briquetting machine to produce charcoal briquettes, next we will learn about the burning effect and market prospect of charcoal briquettes.
The charcoal burning effect after becoming charcoal briquettes
The burning effects of charcoal briquettes
A lot of people think this is an artificial product. But it's really just sawdust with a little cornstarch and a couple of other things added to it that hold it together. And the neat thing about them is they' re all the same size.
They have grooves to allow airflow through them. So, you get good airflow because remember there are two fuels when you're cooking: one is charcoal and the other is oxygen. The uniform-sized briquettes can work better today as they did yesterday, which the main reason that most people choose them.
Cooking is all about control:
Heat control
Temperature control
Flavor control
And you really get it from briquettes. Generally, 40-80 briquettes with length 4mm and diameter 2mm are capable of fully burning within 10-15 minutes, and then they will be all white and ready to go.
Is charcoal briquettes business profitable?
Due to its high calorific value, environmental protection, uniform shape, and low water content, charcoal briquettes have become the best alternative fuel to alleviate global warming to meet the growing demand for alternative energy.
According to EMR Research Analysis, the global charcoal briquette market is valued at USD 1,947.1 million in 2021 and is expected to grow at a CAGR of 8.4% during 2023-2028, reaching USD 3,298.4 million by 2027.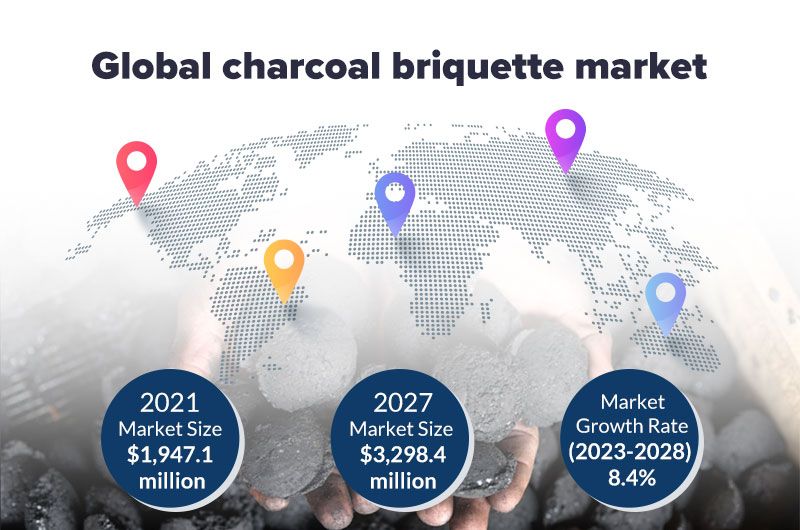 The charcoal briquettes business has a positive market prospect. But if you want to make a profit, you need to do the following things.
Analyze the demand for charcoal briquettes in your target market. Consider factors such as the popularity of grilling and cooking with charcoal, the availability of alternative fuel sources, and consumer preferences for environmentally friendly and sustainable products.
Set competitive prices for your charcoal briquettes while ensuring they cover production costs and generate a reasonable profit margin. Consider market prices, production quality, brand positioning, and customer perceptions.
Develop effective distribution channels to reach your target customers. Implement marketing strategies that highlight the benefits of your charcoal briquettes, such as long burning time, low smoke, and environmental sustainability.
Assess the costs associated with raw materials, charcoal making machines, labor, utilities, and packaging.
Nigeria charcoal briquette market analysis
The Nigerian market prefers pillow and oval charcoal briquettes.
As for size, the Nigerian market typically prefers charcoal briquettes that are compact and uniform. The size can range from small briquettes (around 2-3 cm in diameter) to larger ones (5-6 cm in diameter). The length can vary, but generally, briquettes in the range of 4-7 cm are commonly used.
In Nigeria, the price of ordinary charcoal powder is about $280 a ton, and the price of charcoal briquette is $420 a ton. This shows that the profit from powder to briquette is 420-280 = $140.
Assuming a large briquette machine with a production of 35 t/h and a 10-hour work a day, and the daily output is 350 t. Then the user's daily profit can be 35×10×140 = $49,000.
| | | | |
| --- | --- | --- | --- |
| Profit(per ton) | Capacity | Work hour(per day) | Total profit(per day) |
| $140 | 35 t/h | 10 h | $49,000 |
Price of briquette machines
Generally, briquette machines can range in price from a few hundred dollars to several thousand dollars.
Small-scale machines (1-5 t/h): Prices typically start around $1,000. These machines are suitable for individuals, small businesses, or communities with lower production needs.
Mid-range machines (5-15 t/h): Prices range from $2,000 to $5,000. These machines offer higher production capacities and may have additional features such as automatic feeding or adjustable pressure settings. They are commonly used by medium-sized enterprises or organizations engaged in commercial briquette production.
Large-scale machines (15-35 t/h): Prices can range from $5,000 to $20,000 or more. These machines are designed for high-output production and are suitable for large factories or companies involved in the mass production of charcoal briquettes.
Where to buy robust briquette machines?
As a professional briquette machine manufacturer, FTM Machinery is committed to providing users with sturdy roller briquetting machines. In addition, we can also provide a complete briquetting production line according to the user's raw materials.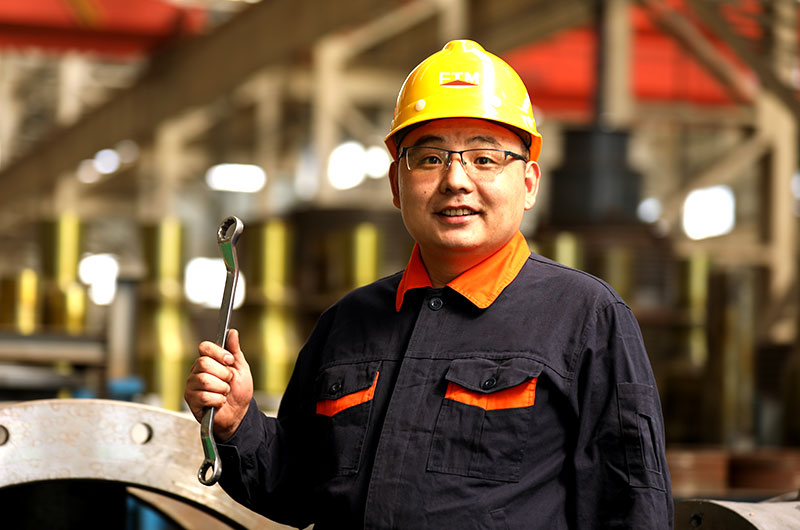 Here's what we can do for our clients.
1-year warranty and comprehensive after-sales support, including video technical support, free spare parts, and online assistance.
Equipped with safety features like emergency stop buttons and thermal protection mechanisms for safe production.
Opportunity to visit our factory for machine demonstrations and test runs prior to purchasing.
ISO and CE certifications ensure the machine meets international quality and safety standards.