Applications and Usage of Iron Ore Briquette Machine:
Iron Ore Briquette Machine is mainly applied to do cold ball pressing of coal powder, coal slime, middlings coal, coke powder, coking coal, gold powder, and refractory matter. All powder materials that need to draw up will be pressed by the strong pressure ball machine.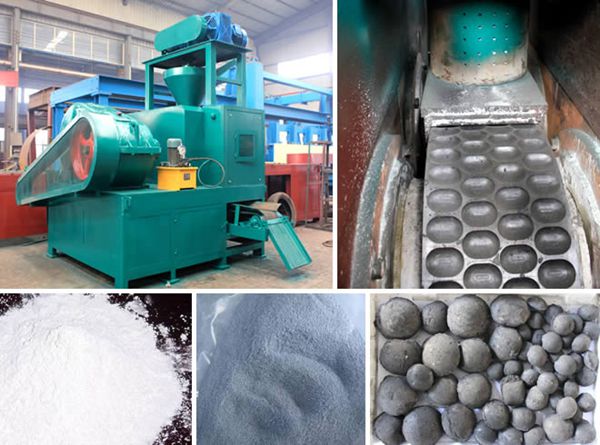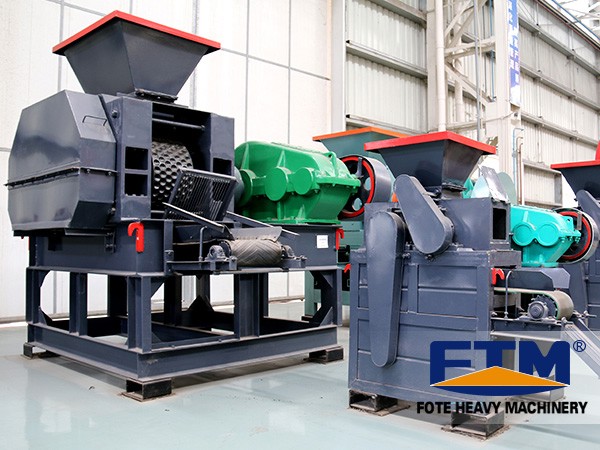 The Performance Characteristics of Iron Ore Briquette Machine:
The quicklime dry powder ball press machine has a simple structure and short technological process.
It can produce ball-shaped products with complete shapes and high strength.
The steel board of this machine is sprayed with four painting layers which are water-proof, acid proof, pulverization and sun proof. This feature makes the machine durable in use.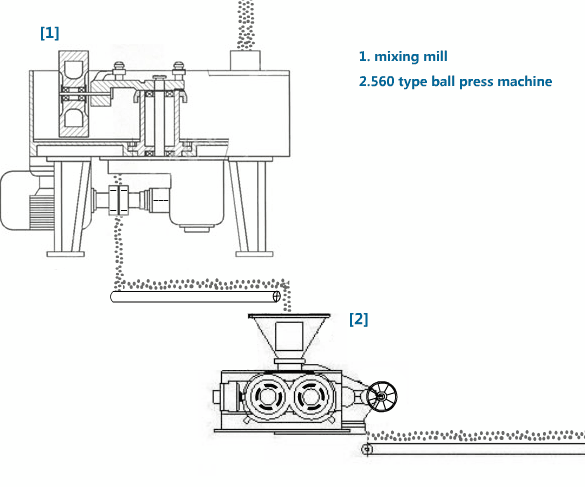 Iron Ore Briquette Machine is suitable for pressing high strength materials:
When too many materials or metal blocks enter the space between the two compression rollers, the piston rod of the hydraulic cylinder gets so pressed that the pump will stop working and the energy accumulator will make buffer action face pressure changing.
Then the flood valve starts the oil return and the piston rod replacement will widen the space between the rollers, thus forcing hard materials to pass the rollers.
Finally, the whole system pressure returns to normal so that the rollers won't be damaged. The strong pressure ball machine can be made flexibly by adjusting its pressure according to different ball pressing density.
Parameter
Model
Roll diameter
(mm)
Roll width
(mm)
Total pressure
(t)
Main motor power
(kw)
Output
(t/h)
Weight
(t)
GY520-150
520
196
150
55
2.2-3.5
13
GY650-220
650
200
220
110
4-6.5
19.2
GY750-300
750
280
300
185
6-8.5
34
GY1000-350
1000
440
350
250
10-15
50.8
GY1000-450
1000
504
450
280
14-17
58.5
GY1000-500
1000
504
500
315
15-20
58.5
GYS1000-500
1000
600
500
280
17-21
56.5
GY1000-540
1000
900
540
185Kw×2
30-35
60
GY1200-800
1200
900
800
280Kw×2
40
110
GY1400-1000
1400
1000
1000
400Kw×2
50
156
Model
Roll width
(mm)
Output
(t/h)
GY520-150
196
2.2-3.5
GY650-220
200
4-6.5
GY750-300
280
6-8.5
GY1000-350
440
10-15
GY1000-450
504
14-17
GY1000-500
504
15-20
GYS1000-500
600
17-21
GY1000-540
900
30-35
GY1200-800
900
40
GY1400-1000
1000
50