Why briquetting?
1 More concentrated heat: The briquette has a high specific gravity (1200 kg/m3) and bulk density (800 kg/m3), while the bulk density of loose biomass material is 60-180 kg/m3.
2 Long burning time: It is denser, harder and more compact, so it burns longer.
3 High combustion efficiency: The briquette has a high practical calorific value, low ash and moisture content, so it generates higher heat compared with other fuels.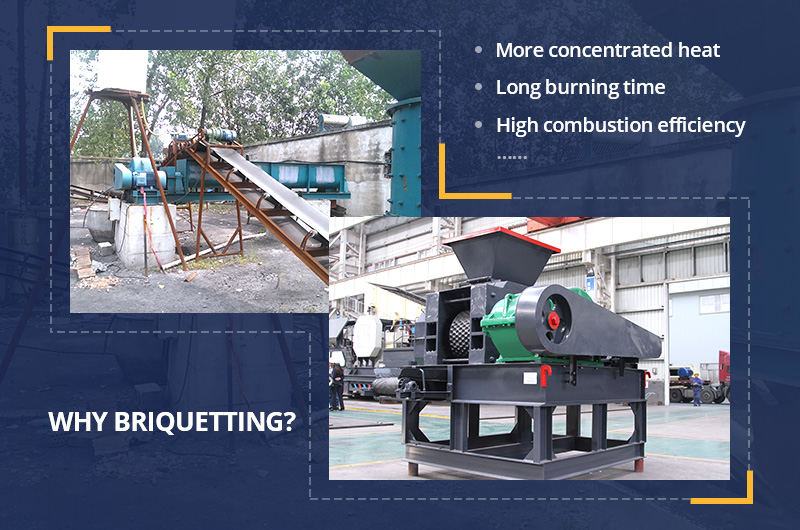 Advantages of briquette making
4 Cheap: Briquettes can be made from plant and animal wastes, wood, tailings, slag, etc., so their production costs are lower.
5 Convenient for storage and transportation: Briquettes are convenient for storage with reduced volume in the shape of a square, spherical, elliptic, egg, pillow, etc., therefore their transportation costs can be reduced.
6 Easy to make: The briquettes are easily made by the briquette making machine with the binder, accelerator, etc.
7 Clean, environmentally friendly and smoke-free: The briquettes are cleaner and greener energy sources without any smoke, carbon, gas or any toxic chemicals produced.
What materials can be processed by the briquetting machine?
1 Fuel: charcoal (coconut shell charcoal, hardwood charcoal, hookah/shisha charcoal, etc.), coal, coke, lignite, coal slime, etc.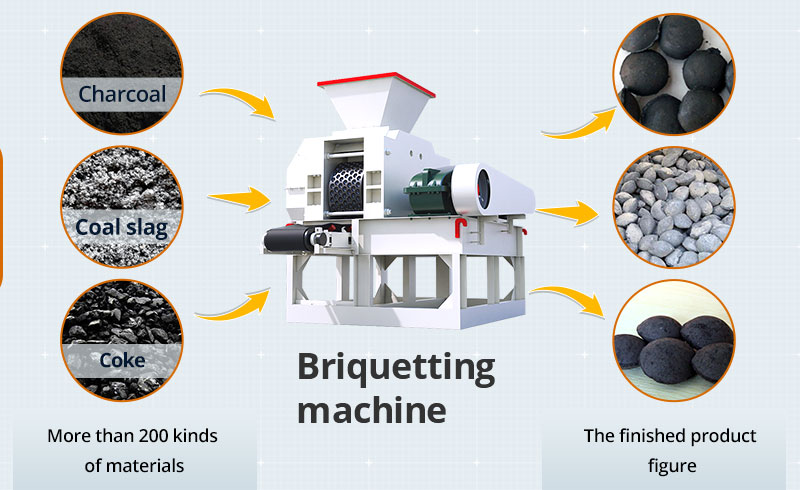 Some applied machines of briquetting machine
2 Steel plant by-products: steel scale, steel grating, steel plant sludge/dust, blast furnace sludge, DRI fine powders, ferroalloy fine powders, etc.
3 Minerals: kaolin, red soil, pottery clay, bentonite, clay, alumina, talc, bauxite, lime, dolomite, magnesite, magnesium oxide, fluorite, ground calcium carbonate, etc.
4 Metals and metal alloys: iron powders, aluminum powders, magnesium powders, copper powders, lead powders, zinc powders, tungsten powders, sulfur powders, chromium powders, cobalt powders, silicon powders, nickel powders, oxide scale, etc.
5 Others: paint pigments, gypsum, graphite, etc.
Not sure whether your material can be processed or not? Contact us for a Free Sample Testing!
What are the uses and application fields of briquettes?
The briquettes produced by the briquette making machine have good economic and social benefits. They can generally be applied to the following industries:
Chemical industry. Used for chemical fertilizer gasification, production of semi-coke, liquid or gas fuel as well as chemical products such as methanol, acetic acid, etc.
Metal manufacturing industry. The briquettes made of non-ferrous and ferrous metal ore powder, with increased added value, can be directly smelted in the furnace.
Energy industry. An effective alternative to other energy sources, such as natural coal, fuel oil, propane and natural gas.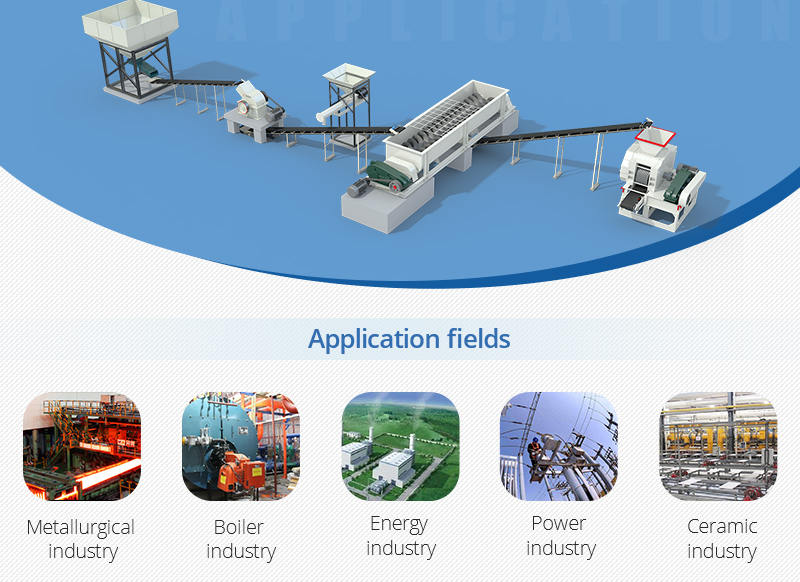 Uses and application fields of briquettes
Power industry. Used for burning boiler during power generation in the power plant.
Refractory industry. Make refractory bricks.
Boiler industry. It is widely used for civil and household cooking (including BBQ), power supply and heating in factories, hotels, hospitals, food processing plants, schools, bath centers, hotels, restaurants and other industries.
Ceramic industry. Many ceramic industries use bricks to make ceramic tiles, brick kilns and fire ceramics.
Textile industry. The high-quality briquettes are used in the textile industry for bleaching and drying.
Metallurgical industry. Used for hard alloy smelting and iron making.
What preparations should be done before producing briquettes?
Power supply
To ensure the normal operation of the briquette press machine, the power supply should not be lower than the nominal input voltage of the briquetting machine. When the nominal value is 24VAC, the voltage fluctuation should not exceed 25%.
Waterproof
The outdoor briquette making machine must be installed with waterproof treatment. Waterproof sealing measures should be taken during installation.
It is very important to prevent rainwater from entering the mounting bracket of the briquette making machine from the screw interface.
Material moisture content
Check the moisture content of the material. If it is too large, the material needs to be dried. The moisture content of general materials should not be greater than 7%.
Material fineness
The fineness of the material should be uniform, generally below 5 mm. The material should not contain debris, stones, etc.
Binder
The binder must be prepared in advance. Commonly used binders include FAA, PA, PF and other high-molecular polymers, such as starch, asphalt, sawdust, coal tar, etc.
What costs should be considered before briquettes production?
Before purchasing a briquetting machine or investing in a briquette production factory, it is necessary to consider raw materials price, production and management costs, etc.
1

Raw material price: material and adhesive price.

2

Production costs: the costs of labor, water and electricity, equipment depreciation expenses, repair costs, lubrication and maintenance costs.

3

Management costs: taxes, land management fees, additional expenses in the sales process, transportation costs, etc.
Therefore, users who configure briquette making equipment should consider and perform comprehensive calculations to reduce production and investment costs while ensuring product quality and efficiency.
How to make briquettes with a briquetting machine?
After the material is crushed, dried and mixed, it is sent to the briquette machine.
The material enters the hopper of the briquette machine uniformly from the storage bin through the quantitative equipment and is adjusted by the adjusting gate on the hopper, so that the material enters the middle of the roller evenly.
The pre-pressing screw forces the material to be formed between the two pressing rollers that rotate towards each other.
Due to the reversing rotation in constant speed, the material is compressed and formed.
The unit pressure increases from small to large until the center of the rollers, and the unit pressure of the moulding reaches a large value. As the rollers continue to rotate, the molding pressure continues to decrease until the material enters the off-ball state and falls out.
What are the main accessories of the briquette making machine?
Roller skin of briquette machine
The roller skin of the briquetting machine can be technically divided into two types: casting and forging.
65 manganese alloy, with relatively low cost, is commonly used for casting roller skins. The hardness of the roller skin is not too high, so it is not wear-resistant. It is suitable for pressing fine materials such as coal powder and clay.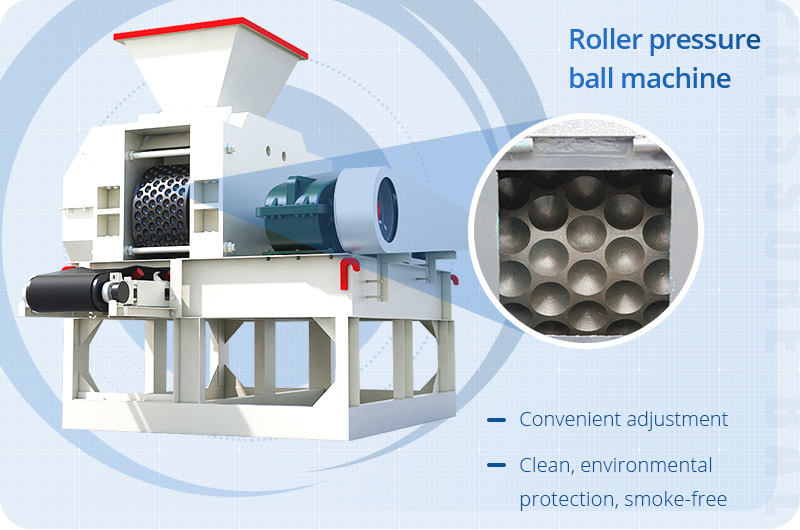 Roller pressure ball machine with many advantages
92 chromium-molybdenum, with relatively high cost, is commonly used for forging roller skins. The hardness of the roller skins, which can reach above HRC62, is also relatively high. It is suitable for pressing rough materials such as iron powder and metal ore powder.
The bearing of briquetting machine
The bearing is one of the important parts of the briquetting machine. From the perspective of long-term operation, its importance even exceeds the roller skin.
The coal briquette machine: It generally uses flat bearings due to its low load. This type of bearing assembly method, simple and cheap, is suitable for ordinary coal briquetting machines.
The medium and high pressure briquette making machine: They need to use type 2 bearings, such as 22318, because of high load. This type of bearing not only has a self-aligning function, but also can carry a larger load, but its price is higher than that of a flat bearing.
The large-scale high-pressure dry powder briquette machine: It has a relatively large load during operation, so type 3 bearings, such as 352144 are used. This type of bearing belongs to the double row cylindrical roller bearing that has good stability, compression resistance and durability, but its price is even more expensive.
Fote briquetting machine cases
Fote is a manufacturer of briquetting machines with professional R&D engineers and manufacturing plants. Our briquette making machines have been sold all over the world.
1-5 TPH charcoal briquetting machine in Kenya Yes! I'm interested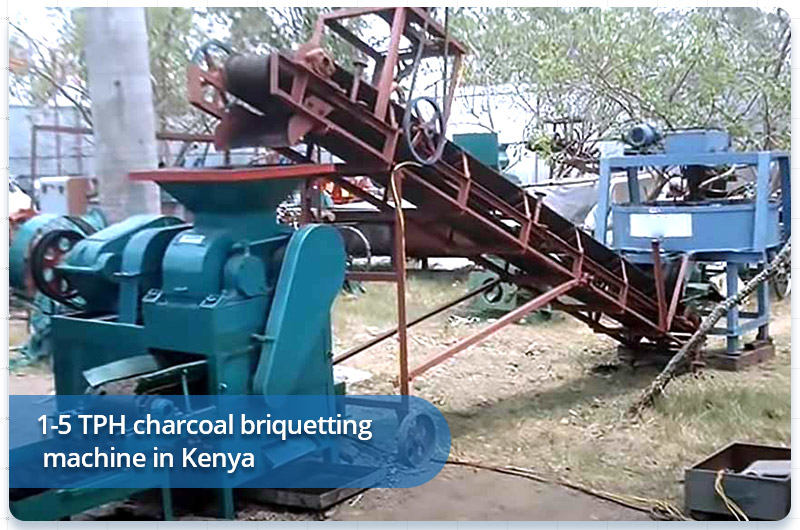 1-5 TPH charcoal briquetting machine in Kenya
| | |
| --- | --- |
| Model of briquetting machine | GY520-150 |
| Capacity | 2.2-3.5 TPH |
| Shape | Ellipse |
| Size | 20 mm (in diameter) |
| Raw material | Charcoal |
Customer feedback:
Kiplitany, a Kenyan briquetting seller, has bought our charcoal briquette press machine. He said that the charcoal briquette produced by Fote briquette machine was of excellent quality and was popular with customers, including restaurants, hotels, schools and so on.
10 TPH coal briquetting machine in South Africa Yes! I'm interested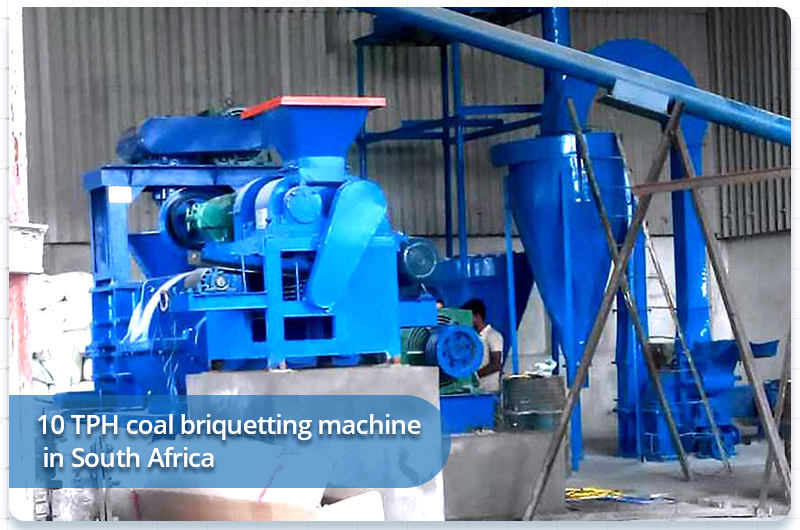 10 TPH coal briquetting machine in South Africa
| | |
| --- | --- |
| Model of briquetting machine | GY1000-350 |
| Capacity | 10-15 TPH |
| Shape | Egg/round |
| Size | 55 mm (in diameter) |
| Raw material | Coal (mixed with glass) |
Customer feedback:
Jabu, the owner of a coal processing plant in South Africa, purchased our coal briquetting machine, which effectively utilized the factory waste and created economic value for customers.
20 TPH iron oxide powder briquetting machine in Nigeria Yes! I'm interested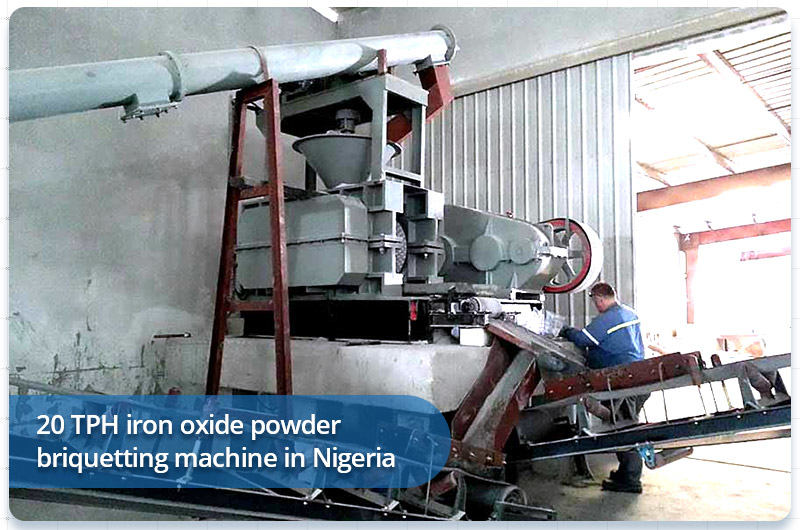 20 TPH iron oxide powder briquetting machine in Nigeria
| | |
| --- | --- |
| Model of briquetting machine | GY1000-500 |
| Capacity | 15-20 TPH |
| Shape | Pillow |
| Size | 60 mm (in diameter) |
| Raw material | Iron oxide powder and coked lime |
Customer feedback:
Israel from Nigeria is a purchasing manager for a metal processing company. After visiting our factory, he purchased Fote briquette making machine. "Fote provides us with on-site installation, staff training and excellent service."
Why choose briquette machine of manufacture Fote?
Fote briquette making machine for sale is of good quality.
Fote has become an advanced enterprise in the briquetting industry because the R&D team has undergone continuous theoretical calculations and machine tests to adopt hydraulic pressure, spiral pressure and other technical methods.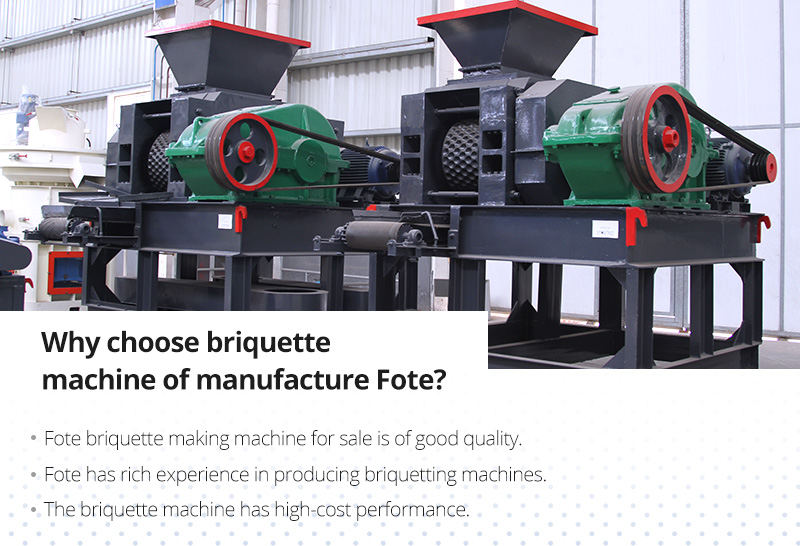 Briquette machine of manufacture Fote
Fote has rich experience in producing briquetting machines.
The supplier Fote has been engaged in briquette making equipment for many years. With rich experience in the briquette making machine production and sales to India, Kenya and other countries, Fote briquetting machine for sale is deeply loved by the vast majority of users.
At present, Fote briquetting equipment for slae has been used in more than 200 countries and regions including South Africa, India, Kenya, Indonesia, Nigeria, Tanzania, Uganda, Ghana, the United States.
The briquette machine has high-cost performance.
Through continuous improvement and innovation of the equipment, Fote produces briquette making machine with better quality and lower price. We also provide staff training and accessories. Welcome to visit our factory.
Parameter
Model
Roll diameter
(mm)
Roll width
(mm)
Total pressure
(t)
Main motor power
(kw)
Output
(t/h)
Weight
(t)
GY520-150
520
196
150
55
2.2-3.5
13
GY650-220
650
200
220
110
4-6.5
19.2
GY750-300
750
280
300
185
6-8.5
34
GY1000-350
1000
440
350
250
10-15
50.8
GY1000-450
1000
504
450
280
14-17
58.5
GY1000-500
1000
504
500
315
15-20
58.5
GYS1000-500
1000
600
500
280
17-21
56.5
GY1000-540
1000
900
540
185Kw×2
30-35
60
GY1200-800
1200
900
800
280Kw×2
40
110
GY1400-1000
1400
1000
1000
400Kw×2
50
156
Model
Roll width
(mm)
Output
(t/h)
GY520-150
196
2.2-3.5
GY650-220
200
4-6.5
GY750-300
280
6-8.5
GY1000-350
440
10-15
GY1000-450
504
14-17
GY1000-500
504
15-20
GYS1000-500
600
17-21
GY1000-540
900
30-35
GY1200-800
900
40
GY1400-1000
1000
50