What material suits to make charcoal briquettes?
Almost all kinds of biomass material such as coconut shell, tree bars, sawdust, corn cob, rice husk, etc., are the basis to make charcoal briquette but they cannot be pressed directly by charcoal briquette machine.
There are two things you must do and prepare: one is burn or carbonize your material, the other is crush them into powder.
Then a charcoal briquette machine can press the powder into high quality briquettes that can burn for at least 3 hours long and actually this is 6 times more efficient compared to conventional firewood.
How does a charcoal briquette machine work? (with animation video)
When the machine starts, the carbonized charcoal powder is quantificationally added to the feeding hopper.
A worm screw supplies the mixture to press a roll a constant spray of water keeps the mixture from sticking to it. Then the press rolls compact the mixture into briquettes.
As the rollers continue rotating, powder materials are separated under the effect of elastic force and gravity; as the motor turns constantly, the compression rollers do the periodic rotating and ball forming movement, thus completing the volume production.
During the process, a screener shakes out fine material from the briquettes which is recycled back into the process.
The moisture content of final charcoal briquettes must be less than 5%, because the lower the moisture level the better it burns.
Common material processed by roller press charcoal briquette machine
Sawdust briquette charcoal making in India
Sawdust counts for about 12% of new residues generated by saw mills, and it is`the fine wood particle chip during sawing process.
It is suitable primary raw material to produce briquette charcoals.Correct sawdust density is necessary to produce good-quality briquette charcoals.
General rules: composition of 70% medium density and 30% heavy density hardwood.
Then the sawdust is conveyed to the vibrating screener to remove impurities such as metal, barks, pebbles and plastics.
The clean and uniform-sized sawdust is channeled through a continuous dryer to achieve the final moisture content 3.7%-4.5%.
At last, put the dryed sawdust into the carbonizing furnace to get burned sawdust powder which is needed for final briquetting process.
Coconut shell charcoal briquettes making in Philippines
Turn coconut shell waste into a renewable and more sustainable ecofriendly coconut charcoal briquettes.
Coconut charcoal briquettes is odorless, smokeless compact and durable, it can withstand up to 10 drops without breaking.
Press bamboo waste into charcoal briquettes in South Africa
To fully utilize the bamboo, briquetting technology was generated that could help to produce more income.
Wastes from bamboo processing may be manufactured into charcoal briquettes, which could help reduce pressure on wood resource.
It is simple to press bamboo into charcoal briquettes. First, mix thoroughly the binder and the charcoal then mold into briquettes immediately.
The primary bamboo charcoal briquettes contain moisture, so you must dry them under the sun for 1-2 days.
Briquette vs charcoal
Lump charcoal and charcoal briquettes are both used in various applications.
Briquette are merely lump charcoal that's been ground up mixed with some binders and pressed into its briquette uniform shape.
Advantege of briquette is that because it's all uniform you get a much more controlled burn out of these charcoal briquettes. For example, it is consistent with how long it's gonna burn and what tempertature it's ganna burn at.
Lump charcoal has different thickness, and it cannot burn evenly, which leads to pop, crackle and a lot of smoke. And the other reason why people like charcoal briquettes is that it provides only heat without other odor taste. Besides, charcoal briquette is the best choice to barbecue.
Ball types of charcoal briquette machine
The mould whose material is 65Mn determines the shapes of the ball. As the main wearing part, the mould is assembled in combination and can be replaced after being worn.Besides, its hardness can reach more than 58 degrees after special heat treatment.
Common ball shapes are round, oval. It can also be customized according to the special needs of customers, such as square, goose-shaped, round, cylindrical, strip, pincushion, rectangle, heart shape and so on.
The smaller the ball press, the smaller the minimum size of the ball whose minimum forming size is 2-2.5 cm.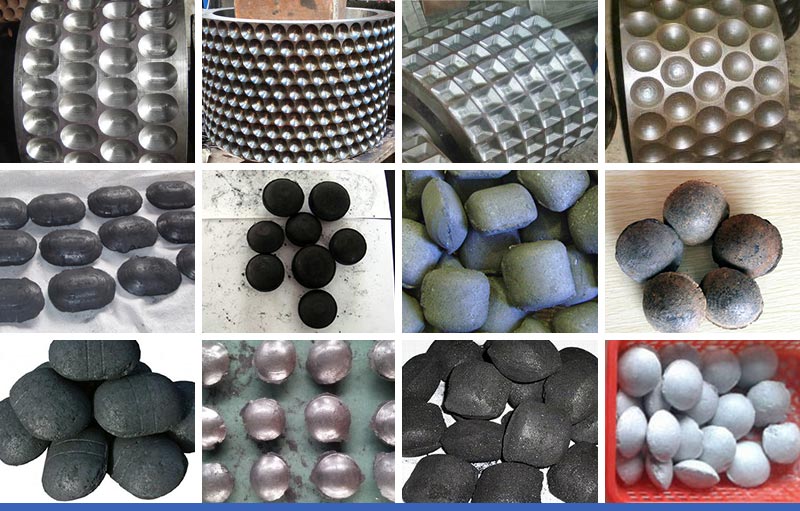 Various ball types produced by charcoal briquette machine
Applications of charcoal briquette machine
Charcoal briquette machine is used to reduce dust, control unit weight, recycle and improve transportation in industries like charcoal powder briquette, etc.
The applications of the machine includes coal powder, iron powder, coking coal, aluminum powder, iron filings, iron oxide scale, carbon powder, carbon powder, slag, gypsum, tailings, sludge, kaolin, activated carbon, coke and so on.
The materials after being molded by the ball press machine are energy saving, environmentally-friendly and easy to transport, greatly improving the utilization of waste with good economic and social benefits.
Charcoal briquette machine manufacturer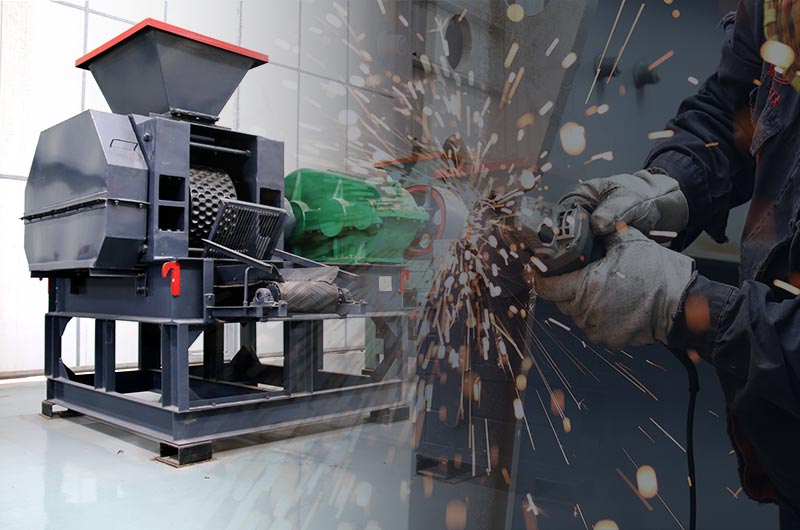 FTM Heavy Machinery
Fote Heavy Machinery is a high-tech enterprise integrating R&D, production, sales and service with a large production base.
Pressure pellets production line produced by FTM now widely used in metallurgy, building materials, briquette, refractory materials, power plants and other industries.
The company has been committed to the development of a new series of pressure ball molding products, the main products are dry powder pressure briquette machine, strong pressure briquette machine, low pressure briquette machine, mine powder briquette machine, hydraulic briquette machine, etc.
The company regards quality as life, users as God, and always takes the responsibility for each process, each product, and the quality policy of each user.
Unique design and advantages of charcoal briquette machine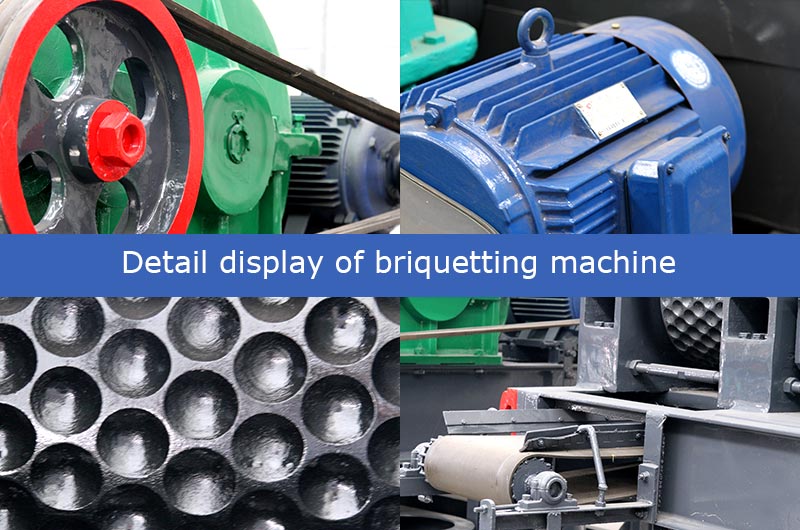 Advantages of charcoal briquette machine
Stable operation
The charcoal briquette machinery adopts advanced PLC program control, stable hydraulic system and mature vibration molding technology to ensure the solidity and strength of the product.
Convenient feeding
The unique forced feeding device of charcoal briquette machinery can ensure that each product in the mold box is full, even and dense.
Rapid forming
The charcoal briquette machine adopts the mature and advanced forming mold combined vibration, which can fully exhaust the material within 3-5 seconds to ensure the high density and high strength of the product.
A wide range of raw materials
The charcoal briquette machinery can take various materials such as sand, stone, coal, fly ash, coal slag, coal gangue, tailings slag, ceramsite, slag and industrial wastes and construction slag as raw materials to produce new-type materials and briquette products.
A multi-purpose machine
Charcoal briquette machinery can produce a variety of shapes and specifications by changing the mold.
It can also produce a variety of special-shaped molds according to the needs of users to meet the various needs of the market.
High-strength wear-resistant material
The mould surface is made of special synthetic manganese steel material, which has good effect, long service life and large selection of roller diameter.
The roller diameter and the whole machine power can also be designed according to customer requirements.
The precision of the roller is high
The double-shaft reducer structure is adopted to improve the precision of the roller, and the gear adopts a hard-toothed type to improve the performance and life of the reducer.
Customer case - Charcoal briquette machine for sale Philippines
The Philippines is known for its major agricultural and forestry sectors and has a large amount of biomass.
The Philippines is also a country that supplies agricultural residues to other countries that have increased the benefits of developing the country's economy.
In May 2018, a Filipino customer found Fote through the 24/7 hot line to offer him a set of Charcoal briquette machine, and he planed to launch his charcoal ball press in the Philippines.
Project Overview:
Equipment capacity: 28 T/H
Delivery date: July 15, 2018
Address: The Philippines
Project features: less equipment investment, quick returning results, comprehensive benefits
Application requirements: It is an excellent alternative to charcoal fossil fuels with low ash content and an environmentally friendly product.
Briquettes produced by ball presses have high calorific value and high combustion efficiency and are often used for heating purposes in industry.
In the Philippines, 92% of the industry's fuel is replaced by the highest quality charcoal briquette which is cheaper than coal.
Production and installation: It spends about 30 days from the signing of the contract, to the design of the entire production line process, to the production of a full set of production equipment, to the on-site installation, and then to the final production.
In the past year, the charcoal briquette machine production line has performed well and brought great benefits to our customers.
Fote Heavy Machinery(FTM) has submitted a satisfactory and first rate job to the customer.
sources from:
1. https://www.youtube.com/watch?v=vEFAY_hLZx0
2. https://www.youtube.com/watch?v=reDveV4wYns
3.https://www.youtube.com/watch?v=NO3yRWmwo3g
Parameter
Model
Roll diameter
(mm)
Roll width
(mm)
Total pressure
(t)
Main motor power
(kw)
Output
(t/h)
Weight
(t)
GY520-150
520
196
150
55
2.2-3.5
13
GY650-220
650
200
220
110
4-6.5
19.2
GY750-300
750
280
300
185
6-8.5
34
GY1000-350
1000
440
350
250
10-15
50.8
GY1000-450
1000
504
450
280
14-17
58.5
GY1000-500
1000
504
500
315
15-20
58.5
GYS1000-500
1000
600
500
280
17-21
56.5
GY1000-540
1000
900
540
185Kw×2
30-35
60
GY1200-800
1200
900
800
280Kw×2
40
110
GY1400-1000
1400
1000
1000
400Kw×2
50
156
Model
Roll width
(mm)
Output
(t/h)
GY520-150
196
2.2-3.5
GY650-220
200
4-6.5
GY750-300
280
6-8.5
GY1000-350
440
10-15
GY1000-450
504
14-17
GY1000-500
504
15-20
GYS1000-500
600
17-21
GY1000-540
900
30-35
GY1200-800
900
40
GY1400-1000
1000
50