In recent years, briquetting plants are an eco-friendly technology that converts various residues such as forestry, agricultural and industrial waste into solid blocks. Its application is in line with the general situation of green development, and the market expectations are very good.
What preparations should be made to set up a briquetting plant? How to configure a briquetting production line? Is there a reliable briquetting equipment manufacturer? FTM Machinery will answer them one by one for you.
What factors are considered in building a briquetting plant?
A briquetting plant is a complex project, which needs some preparations to maximize the value of your final products.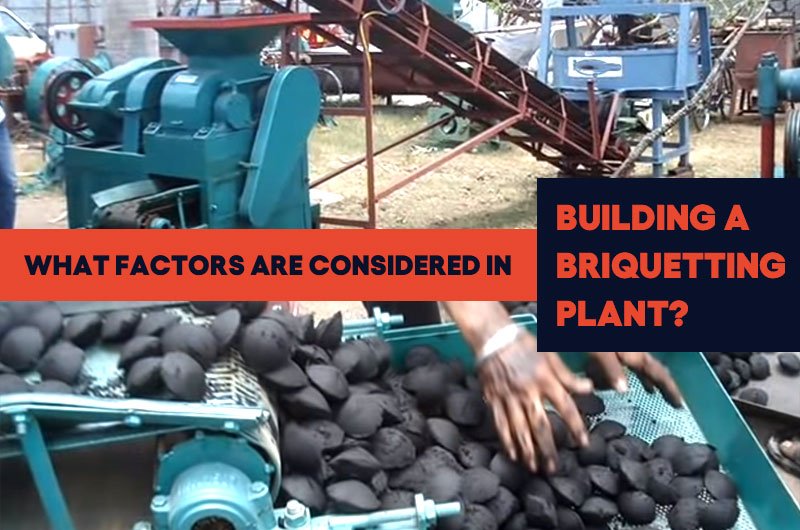 Before setting up a briquetting plant, you'd better do the following preparations:
1

Assess your local market and demand for briquettes.

2

Determine the purpose and size of a briquetting plant.

3

Analyze the market share of your competitors.

4

Be clear about the quality and quantity of raw materials.

5

Make sure you have enough land to build the briquetting plant.

6

Research and obtain required licenses, certificates, and environmental permits.

7

Calculate all possible costs, and purchase equipment according to your production requirements and budget.
Whether you can get profits from your briquetting plant investment depends on many factors, including market demand, machine prices, labor costs, raw material costs, transportation charges, etc.
But a reasonable briquetting production line is the key to profitability. High-quality briquetting equipment can effectively improve efficiency and save costs.
Production processes of briquetting plant
The technological process of the briquetting production line usually includes several stages such as raw material preparation, crushing, drying, briquetting, and packaging.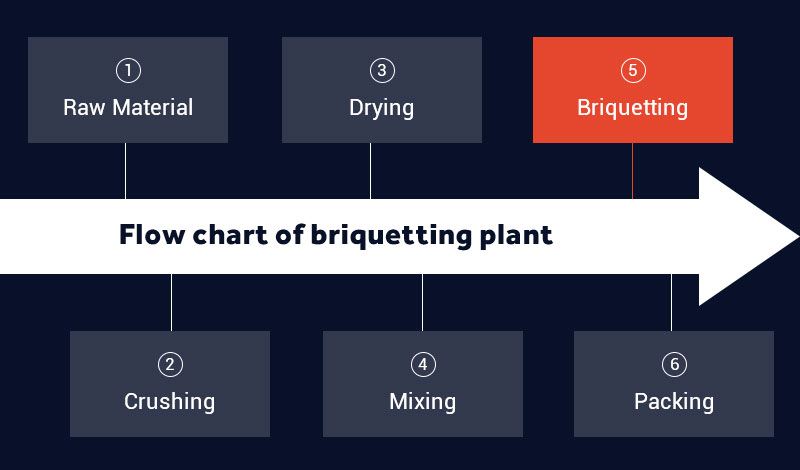 Step 1. Preparing raw material
Identify the material that needs to be briquetted, such as charcoal, soot, metal scraps, or copper scraps, to ensure they are suitable for briquetting. Screening or classification of raw materials to remove impurities.
Step 2. Crushing
Large pieces of raw material often need to be crushed and reduced in size for better briquetting properties. There are many types of crushers, which can be adapted to different raw materials.
This step should be omitted if the raw material is already in powder forms, such as charcoal powder or metal powder.
Step 3. Drying
If the moisture content of the raw material is too high, it needs to be dried to reduce the moisture content and improve the molding efficiency. The specific moisture content varies with different raw materials, and most of the raw materials are around 8%.
Step 4. Mixing
Raw material needs to be mixed according to different material ratios to ensure that the pressed product is uniform. Mixing time is generally 10-15 minutes until the raw materials are mixed evenly.
Step 5. Briquetting
The most critical step is the briquetting process, which starts with pre-pressing, the purpose of which is to compress the raw material into a certain shape, size, and density.
Then adjust the pressure and temperature to formally press to ensure the quality and shape of the finished product. The briquetting mold can be in the shape of square, round, oval, pillow, etc.
Step 6. Cooling and packaging
After the briquettes are formed, they need to be cooled to reduce their temperature and increase their strength. Cooling can be achieved through natural air cooling or using a cooling system. Once cooled, the briquettes can be packaged for storage or transportation.
FTM Machinery briquette plant equipment for sale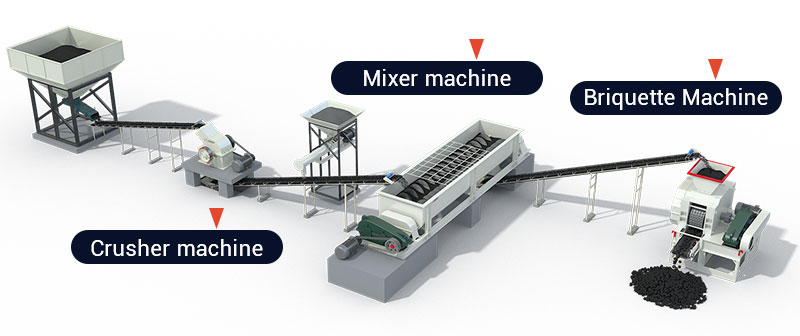 According to the above briquetting process flow, what equipment is required for a high-quality briquetting plant? The specific equipment model may vary depending on the raw materials, production capacity, and desired briquette type.
Other auxiliary equipment
Carbonizing machine: If the raw material is coconut shells, sawdust, rice husk, peanut shell, straw, bark, waste wood, and other raw materials with high biomass content, first use a carbonization furnace to carbonize the biomass or agricultural wastes.
Screening machine: If the requirements for crushing particles are strict, the screening machine can screen different specification materials to obtain the required particle size.
Packing machine: Package the finished briquettes into suitable containers or bags for storage, transport, or sale at the market.
Successful cases of briquetting plant
FTM Machinery has some successful cases of briquetting plants around the world. These have demonstrated the potential of briquetting plants to address waste management, enhance energy efficiency, and promote sustainable practices.
50 T/H charcoal briquetting plant in the USA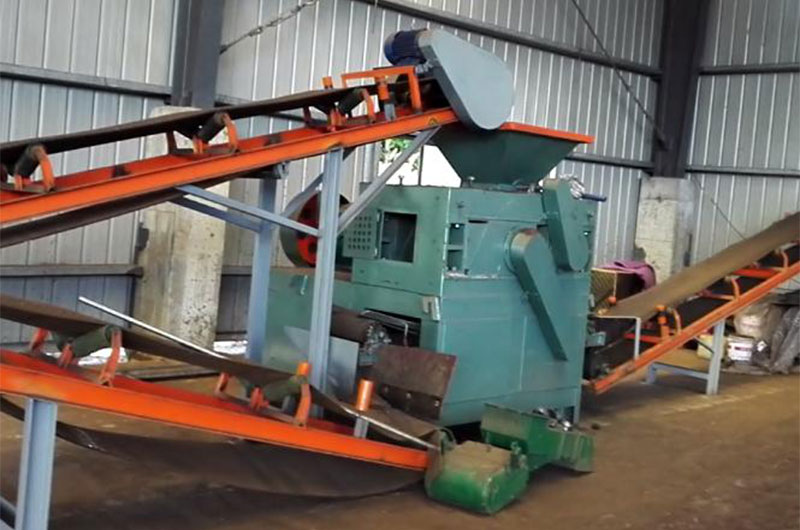 Material: Charcoal (carbonized wood, wood chips, coconut shell)
Feeding size: 10 cm
Discharging size: 25 mm
Final product shape: Egg shape
Estimated budget: $32,000
Required equipment: Jaw crusher, conveyers, carbonization furnace, vibrating screen, binder, mixer, charcoal briquette machine
10-30 T/H coal ash briquetting plant in Kenya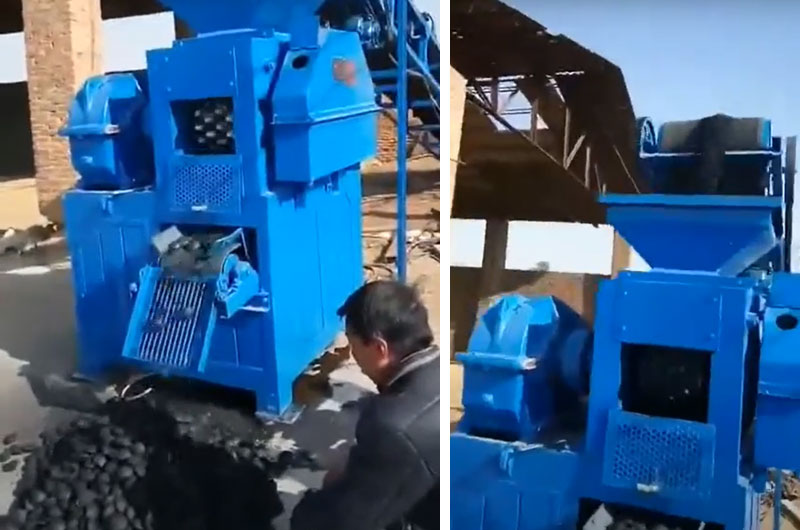 Material: Coal ash, coal
Feeding size: 5 cm
Briquette thickness: 25 mm
Briquette diameter: 50 mm
Estimated budget: $12,000
Required equipment: Double roller crusher, conveyers, rotary dryer, mixer, briquette making machine
100 T/H iron ore fines briquetting plant in Tanzania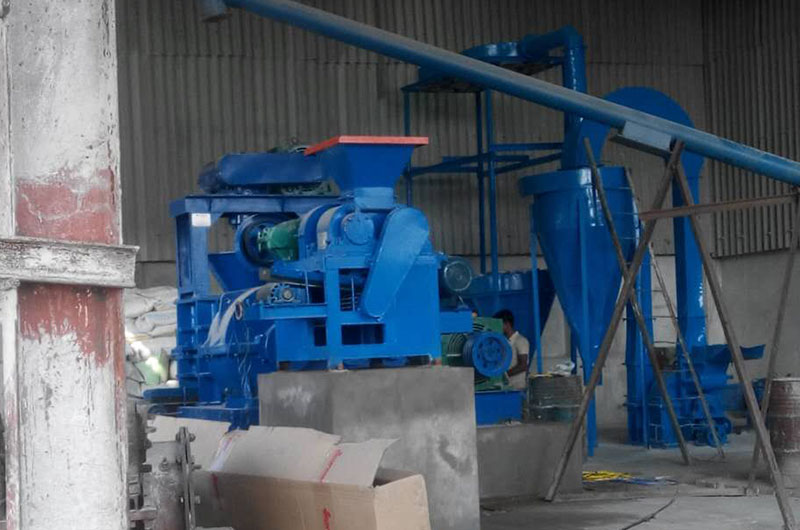 Material: Iron ore fines, iron chips
Feeding size: 30 cm
Discharging size: 50 mm
Final product shape: Round
Estimated budget: $23,000
Required equipment: Jaw crusher, conveyors, vibrating screen, hydraulic briquette machines (2 sets)
Here are other cases of briquette production lines:
Investing in a briquetting plant is a wise choice
Nowadays, many countries have realized that excessive use of coal and fossil fuels causes resource shortages as well as serious environmental pollution problems.

Now, countries such as the UK, India, the Philippines, and Uganda encourage their people to make full use of biomass and agricultural waste as new fuels, and recycle industrial waste, thereby creating a profitable market.
Conclusion
All in all, a briquetting plant is a good investment project. After the raw materials go through the steps of crushing - drying - mixing - briquetting - packaging, etc., they can form dense briquettes, which integrate environmental protection and economy.
Want to start a briquetting plant business? Contact us now! FTM Machinery has solved the needs of nearly 2,000 customers from the Philippines, Turkey, the U.K., Netherlands, Ghana, Nigeria, Zambia, Uganda, Pakistan, etc.