The Advantages and Benefits of Metal Crusher:
Metal crusher has low energy consumption, high output, flexible operation, high utilization rate and maintenance cost low characteristics, based on the user for crushing materials such as the different needs of crushing particle size, scrap metal after crushing to product density requirements, targeted for users to customize.
The Service Commitment on Metal Crusher:
Fote Machinery will try our best to satisfy the customers' requirement, and Fote machine sales personnel and engineering personnel in each phase of the project will close with the customer communication. Our research and development team with many years of actual combat experience and received specialized technical training, at home and abroad in the most advanced technology achievements applied in fote machine, each time to visit you will find fote machine has good improvement, so that at any time can provide users with the best of scrap metal processing scheme.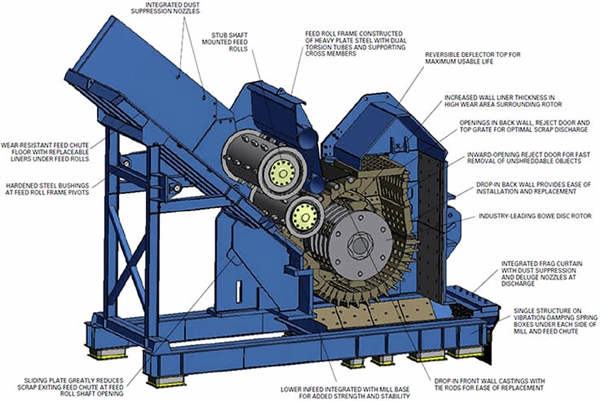 Fote scrap metal crusher from the design principle is fully considered the equipment maintenance convenience, to help improve efficiency and save cost. Spray system control dust, visual pollution is we crusher a prominent feature. It can produce water vapor to replace the crusher oxygen, reduce the safety hidden trouble. Specific humidity type dust removal system operation cost is low, and no of subsequent problems adhesive layer. This simple configuration make crusher crushing cavity don't need to install the air separator device, so that the production cost greatly reduced; Equipment accessories modular, parts simplification, ensure that every raw material inspection, warehousing, production, use more transparent, and the specific a device with what parts are basis can be checked for quality and after-sales service and so bring convenient; Equipment cost-effective, in line with the needs of China's national conditions, low cost, high efficiency, and low maintenance.
Our crusher is the core of modern crusher, he can very effectively give the car body, compact, loose adulterant broken into pieces for post processing. Enter waste by high speed rotating hammer head impact to pieces, this kind of impact continuous crushing make scrap into dense spheres until the size small enough to through the grille is provided in the size.
Fote scrap metal crusher use multiple protection measures to protect lining plate almost unbreakable, etc., so as to improve the reliability of equipment operation.
Parameter
Model
Feeder opening (mm)
Output size
(mm)
Power
(KW)
capacity(T/H)
Weight
(T)
Dimensions
(LxWxH)

FTM-400

500x600

10-40

18.5

0.5-0.7

2.2

1720660x1850

FTM-800

700x800

10-50

30

1-1.2

3.6

1910x850x1990

FTM-1000

900x1000

14-70

75

2.5-3

6.5

2000x1070x1990

FTM-1200

1000x1200

20-60

90

3-3.5

10

2400x1090x2270

FTM-1600

1200x1600

20-100

112

3.5-4.5

18

3240x1730x3630

FTM-1800

1200x1800

20-120

132

4.5-5.5

24

3620x1910x3870

FTM-2000

1200x2000

20-140

160

5.5-6.5

37

4140x2230x4279