The best metal recycling crusher
A metal crusher, also known as the metal shredder, is a machine for crushing, processing, and recycling large-sized solid metal materials. The final size will be adjusted from 10-100 mm according to different sieves.
Ftmmachinery Metal Crusher Price: Get Latest Price
As an ideal machine for metal crushing and smelting, the metal shredder can turn the metal waste into new resources and provide people with the required sizes. It is the best choice for small and medium-sized metal recycling companies and metal processing plants.
Materials can be crushed by metal crusher
The metal crusher is used for crushing more than 100 kinds of solid metal materials. Applicable to:
1

Ferrous metal materials such as iron, tin, chromium, and manganese plate;

2

Non-ferrous metal materials such as aluminum, lead, magnesium, zinc, copper ore, etc.;

3

Recyclable metal wastes such as iron sheets, steel plate, aluminum cans, colored steel tiles, etc.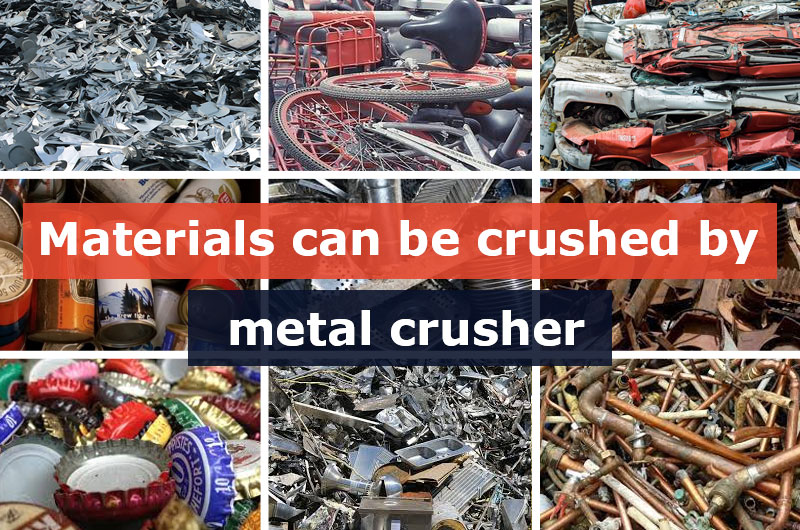 Therefore, according to different crushed materials, metal crushing machines can be divided into iron crushers, aluminum crushers, can crushers, glass crushers, etc.
The size of the broken particles is determined by the need of users. The particle size can be changed by replacing the screen. Crushed metal is widely used in steel plants, metal plants, automotive industry, manufacturing plants, construction projects, energy, and mining industries.
Internal structure features of metal crusher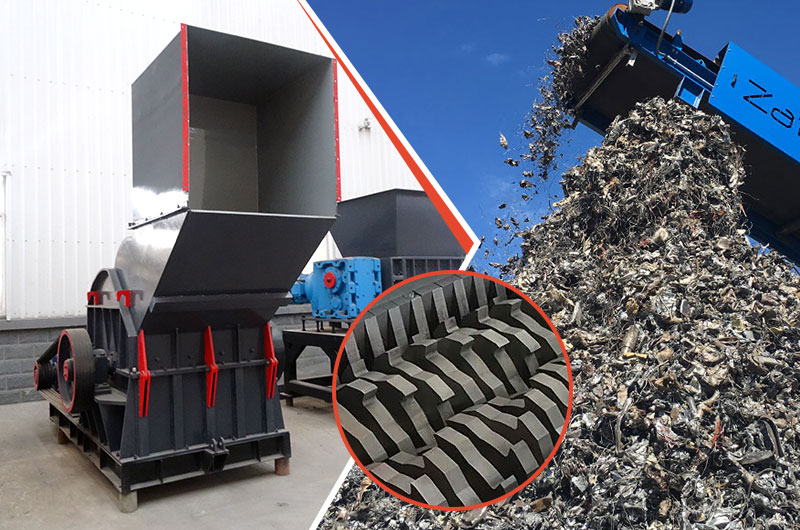 Driven by speed reducer motor
Save 20% more electricity than other general metal shredders.
High-strength liner inside
The hammer head and lining material are made of high manganese steel, greatly improving the reliability and durability of the equipment.
The blade is refined with high alloy
The meshing blade of the metal crusher can shred any material with high hardness.
Optimum double-grid combination
It aims to reduce power consumption while increasing throughput.
Hydraulic removal of coarse pieces
Solid pieces that cannot be crushed are removed during the crushing process without interruption and no more crossing material flow.
Selectable speed of the rotor
The special speed control of the rotor makes the crushing process more flexible.
The spray system controls dust
This system can produce water vapor to replace oxygen, which makes the crushing cavity avoid installing the air separator device. Specific humidity type dust removal system operation cost is low, avoiding visual pollution.
Advantages of metal crusher crushing
Countries worldwide attach great importance to recycling metals, and the recoverable metals can reach 100 billion tons each year. The application of metal shredders in the crushing of waste products is very important, and it is an indispensable piece of equipment in the renewable resource system.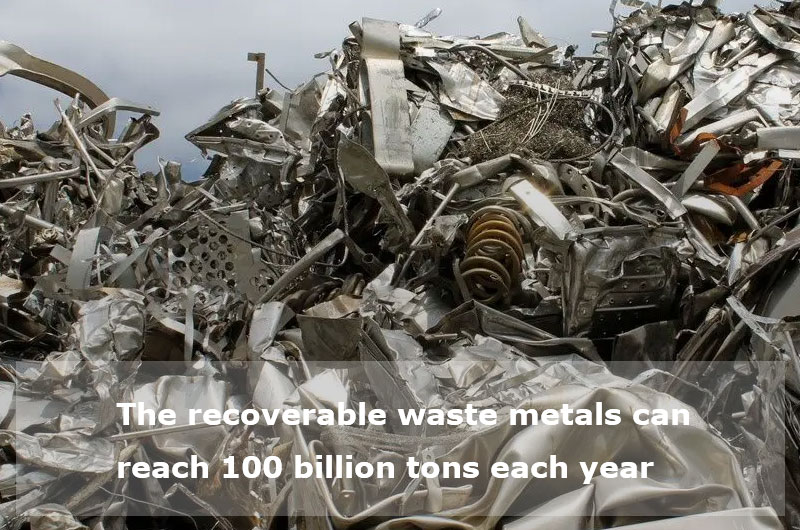 1

Metal crusher has the characteristics of high output, low energy consumption, uniform discharge, and adjustable particle size.

2

It crushes all kinds of scrap metals into lump-like particles, saving transportation costs and increasing the rate of iron casting.

3

Metal crusher can be combined with a belt conveyor and a sorting machine to form a complete crushing and sorting production line.

4

Large materials such as scrap iron and aluminum have hollow, scattered, and difficult feeding problems. The metal crusher can effectively solve them, which improves the sorting, separation, and impurity removal of the materials in the later stage.
Customer case of metal crushing machine
1. Metal crusher for sale in Vietnam
A Vietnamese customer wants to obtain aluminum materials conducive to smelting through aluminum processing. Aluminum recycling plays an important role in the development of the economic cycle.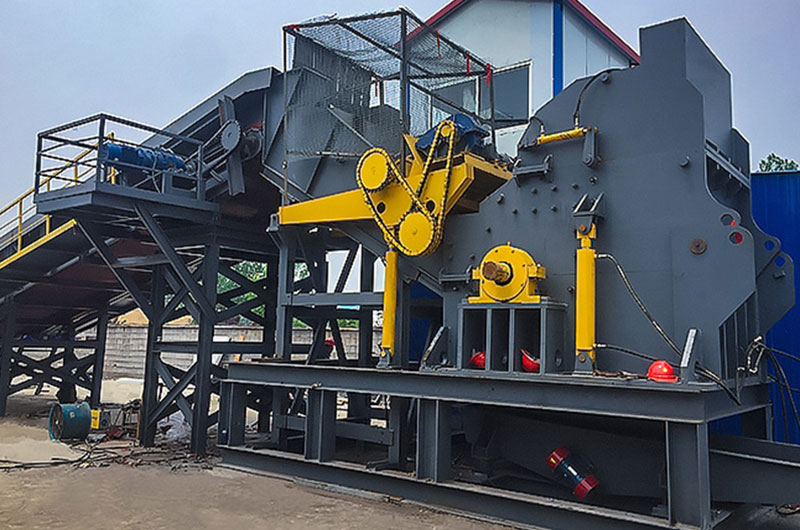 Project name: Aluminum crushing and recycling
Processed materials: Aluminum ore, aluminum profiles, waste aluminum alloys
Equipment configuration: Vibrating conveyor, scrap metal crusher ×2
Project induction: The crusher is environmentally friendly and maximizes the recovery of valuable substances in scrap metal.
Project advantages: The machine has a large output, high efficiency, and simple operation, which saves manpower and material resources, reducing material handling costs.
On March 4, 2022, the customer exchange said "Did you know that the recycling rate of aluminum products exceeds 98%? We are actively contributing to this, thanks to your aluminum metal shredder."
2. Metal crusher for sale in Pakistan
A customer in Pakistan wants to shred and process large volumes of steel materials. The metal crushing machine has become necessary equipment for scrap metal recycling production lines.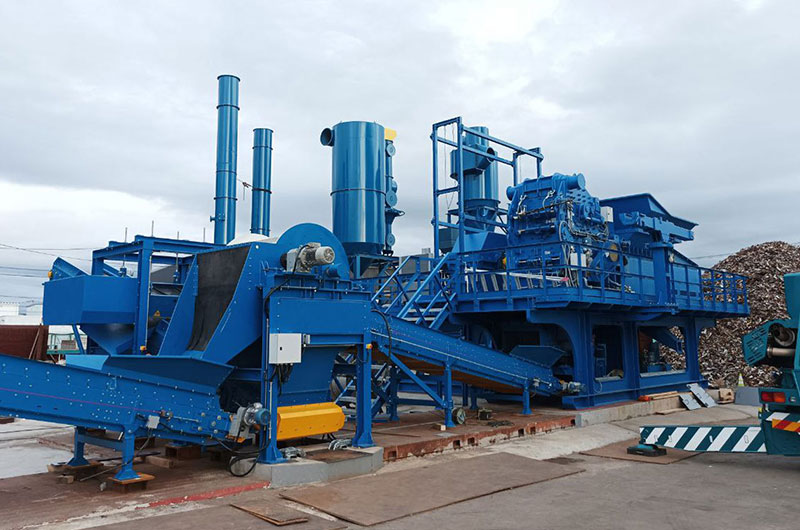 Project name: Iron crushing production line
Processed materials: Iron ore, iron material, scrap steel, scrap cars
Equipment configuration: Vibrating conveyor, mini metal crusher, belt conveyor, dust collector, etc.
Project induction: The scrap steel is shredded by a crusher and sorted by a sorting system.
Customer feedback: The finished product after crushing has a neat appearance and similar specifications. It facilitates subsequent processing.
The service commitment to metal crusher
Our advanced technology has been proved ideal for customers. Ftmmachinery engineers are excellent at material recycling and we can design equipment models suitable for your project.

As a research and development team, we can provide users with the services:
1

The best processing solutions for scrap metal.

2

Free on-site installation and operation training.

3

Free replacement and maintenance during the warranty period.
Parameter
Model
Feeder opening (mm)
Output size
(mm)
Power
(KW)
capacity(T/H)
Weight
(T)
Dimensions
(LxWxH)

FTM-400

500x600

10-40

18.5

0.5-0.7

2.2

1720660x1850

FTM-800

700x800

10-50

30

1-1.2

3.6

1910x850x1990

FTM-1000

900x1000

14-70

75

2.5-3

6.5

2000x1070x1990

FTM-1200

1000x1200

20-60

90

3-3.5

10

2400x1090x2270

FTM-1600

1200x1600

20-100

112

3.5-4.5

18

3240x1730x3630

FTM-1800

1200x1800

20-120

132

4.5-5.5

24

3620x1910x3870

FTM-2000

1200x2000

20-140

160

5.5-6.5

37

4140x2230x4279
Model
Feeder opening (mm)
Output size
(mm)
Power
(KW)
capacity(T/H)
Weight
(T)
Dimensions
(LxWxH)

FTM-400

500x600

10-40

18.5

0.5-0.7

2.2

1720660x1850

FTM-800

700x800

10-50

30

1-1.2

3.6

1910x850x1990

FTM-1000

900x1000

14-70

75

2.5-3

6.5

2000x1070x1990

FTM-1200

1000x1200

20-60

90

3-3.5

10

2400x1090x2270

FTM-1600

1200x1600

20-100

112

3.5-4.5

18

3240x1730x3630

FTM-1800

1200x1800

20-120

132

4.5-5.5

24

3620x1910x3870

FTM-2000

1200x2000

20-140

160

5.5-6.5

37

4140x2230x4279