Raymond Mill: Transforming Construction Waste into Building Materials
The cities of the world are developing rapidly, which produces a lot of domestic garbage and construction waste every day. Nowadays, the classification of domestic waste is in full swing, but, how to deal with construction waste generated by construction work, house renovation, demolition, etc?
At present, the amount of construction waste in China has accounted for 30% to 40% of the total amount of municipal waste. According to experts' estimates, about 30 billion square meters of construction waste will be added by 2020, and the amount of newly generated construction waste will be a shocking number.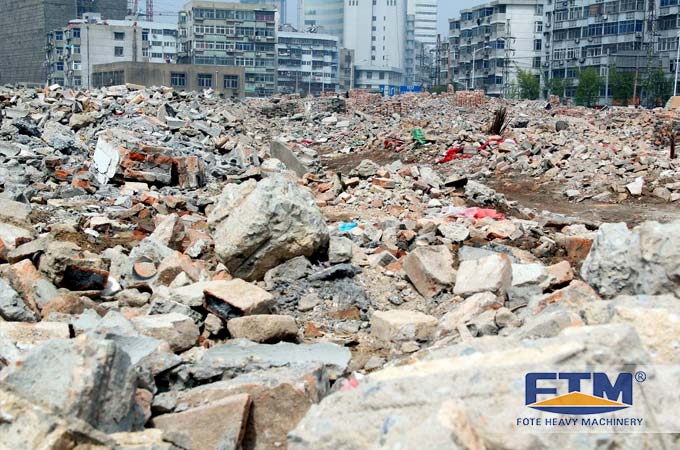 A large amount of construction waste
However, most of the construction waste is not disposed of and is directly transported to the suburbs for landfill or open-air stacking. It not only consumes a lot of lands, but also generates a large amount of dust, sand dust during the process of transportation and stacking which causes second damages to the environment.
With the acceleration of the urbanization process, a large amount of construction waste is formed by bricks, cement and other wastes generated during the construction and demolition of various buildings.
The drawbacks of traditional landfill methods have become increasingly obvious, and new construction waste disposal methods are coming out. Construction crushing machine like jaw crusher and powder grinding mill are bringing new development opportunities to the construction waste disposal market. Raymond mill is under such opportunities coming into people's vision.
So, how does the Raymond mill handle construction waste?
Raymond mill mainly relies on the motor to drive the grinding roller and the grinding disc to rotate at high speed to realize the powder grinding process of the material. At the same time, the powder materials are blown up for separation and collection through wind generated by inlet and outlet port.
During work, the material to be pulverized is sent to the storage hopper by the hoist, and then is uniformly and continuously fed into the main grinding chamber of the Raymond mill by the vibrating feeder.
The grinding roller swings outward due to the centrifugal force of rotation, pressing the grinding ring, and the blade shovels the material and sends it between the roller and the ring for powder grinding.
Taking Zhengzhou, Henan Province as an example, since the first rail transit subway line 1 was officially started in 2009, the current line 1, line 2, and line 5 are officially in operation, with long construction period and high cost.
The amount of construction waste generated during this period is amazing, and at the same time the construction of urban village demolition, urbanization, and elevated construction data will be also incredible!
Note: Zhengzhou is the capital of Henan Province. It covers an area of 7446.2 square kilometers and has a resident population of 11 million. It is an important industrial city in central China.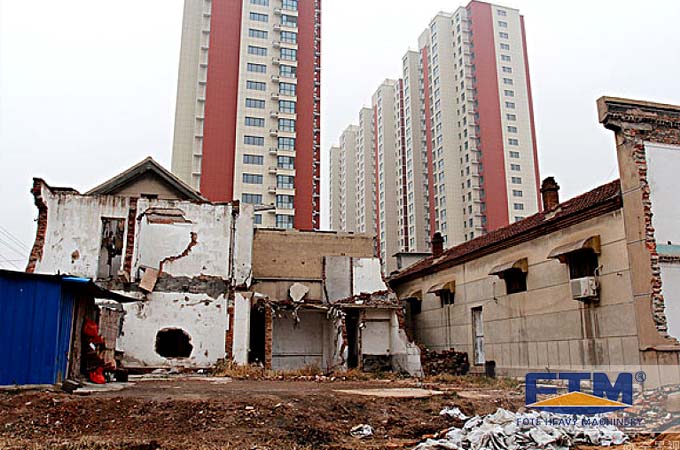 Construction waste in city
Faced with such huge construction waste, the use of jaw crusher and mobile crushing station can no longer meet the comprehensive utilization rate of construction waste. Powder grinding mill is also a necessary construction waste disposal equipment.
Fote Raymond Mills quickly process construction waste into finer particle size through its unique characteristics, which further enhances the application of construction waste. The treated materials can be used not only as building aggregates but also as recycled bricks.
As a common stone powder grinding equipment, Raymond Mill can process all kinds of ore materials below 9.3, with a fineness of up to 360 mesh, which is a suitable choice for general fineness of construction waste.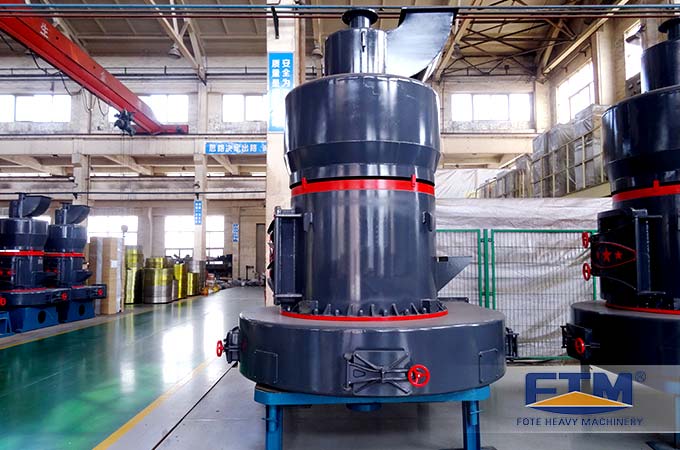 FTM Raymond mill
With the increasing demand for environmental protection, the call for environmental protection is increasing. Fote Heavy Industry(FTM) believes that the construction waste treatment technology and equipment like Raymond mill are necessary for widespread applications.
Expansion: Raymond mill not only plays an important role in the comprehensive utilization of construction waste, but also can be widely used in the milling of hardness materials, such as marble, limestone, barite, dolomite, potassium feldspar, fluorite, talc, kaolin, activated carbon, gypsum, phosphate rock, chalk, glass, insulation materials, coal, etc., are widely used in fields of power plant desulfurization, mine water conservancy, and other important areas.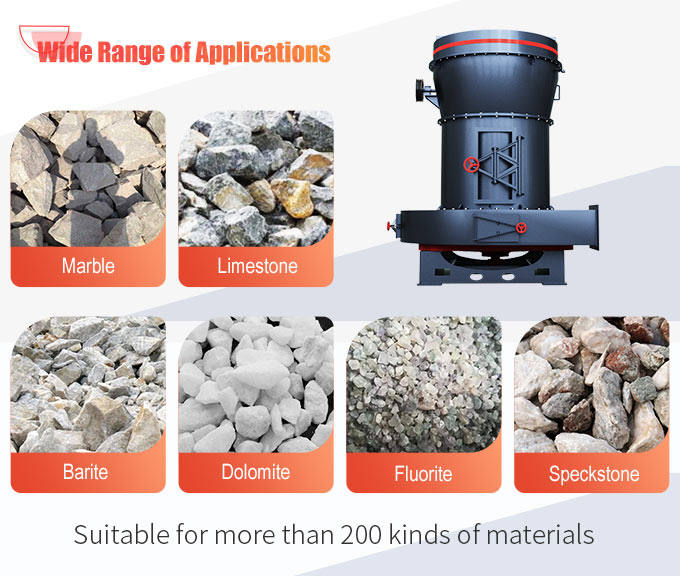 Applications of Raymond mill