A brief introduction of ceramic ball mill
As one common type for the beneficiation process, ceramic ball mill refers to the ball mill with ceramic liner. Since it has a uniform finished particle size, it is mainly used for material mixing and grinding.
The types of liner for ceramic ball mill can be changed according to the different needs. Also, the grinding particle size can be controlled by the grinding time. The longer we grind, the thinner the particle size can be.
At present, ceramic ball mills are widely used in cement, silicate, new-type building material, fertilizer, ore dressing of ferrous metal and non-ferrous metal, glass ceramics, etc.
Advantages compared with common ball mill
Compared with other ball mills, the output particle size of ceramic ball mills is much smaller. While the most different part with common ball mill is the texture of liner and grinding media.
Advantages of ceramic liners
Compared with the one made by high manganese steel, its advantages are mainly reflected in the following:
Wear resistance: the hardness is HRA85 or above, which is 271.5 times that of high manganese steel;
High-temperature resistance: it can run for a long time at the temperature from 0 °C to 250 °C;
Reducing costs: excellent wear resistance reduces the frequency of maintenance and save costs for both maintenance and labor.
Preventing iron pollution, especially suitable for grinding materials such as glass and ceramics.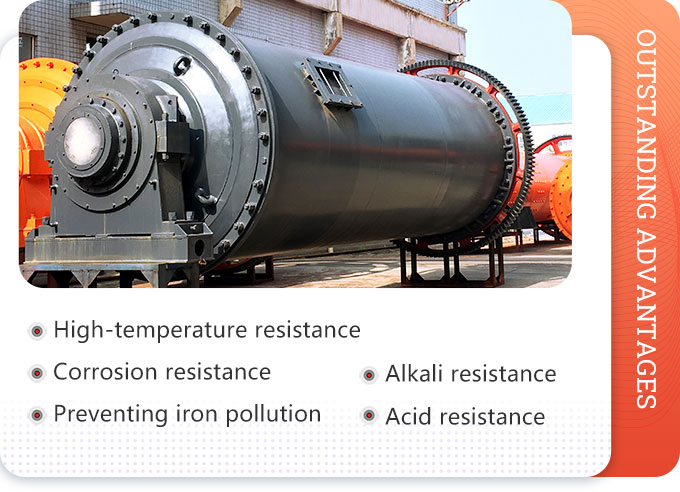 Advantages compared with common ball mill
Advantages of ceramic balls (Aluminum ball)
Ceramic mill balls are the white ball with the diameter from 0.5 mm to 120 mm. Their composition contains 90% of aluminum. Therefore, ceramic balls are also called aluminum balls.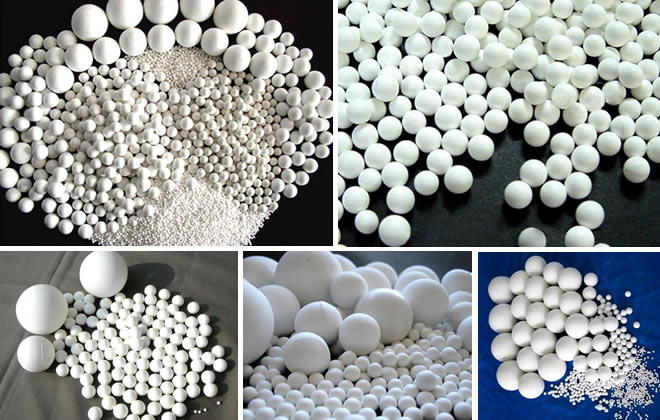 Ceramic balls
With higher density and greater gravity, ceramic balls can greatly improve grinding efficiency;
Ceramic balls have better performance in high-temperature resistance, acid resistance, alkali resistance, and corrosion resistance, which makes less wear in operation;
Ceramic balls overcome the disadvantages of high energy consumption, large loading of mill balls and surface static.
Structure of ceramic ball mill
The ceramic ball mill is composed of four main parts: the feeding device, the discharging device, the rotating part, and the transmission part (reducer, small gear, electric motor).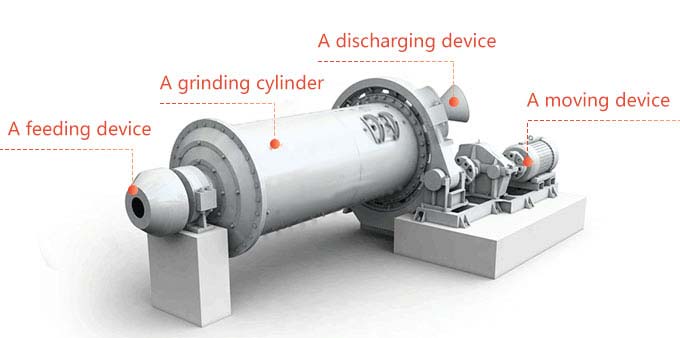 Structure of ceramic ball mill
The differences from the common ball mill are:
Its body and chassis are integration so that it can be installed horizontally, vertically or slantingly.
The main bearing uses double raw self-aligning roller bearing, which can reduce 30% of the energy consumption, and improve grinding efficiency by 15 to 20%.
The liner of ceramic ball mill is ceramic. And 90% of the liner is made of alumina (Al2O3). Therefore, it's also called aluminum liner.
Working principle of ceramic ball mill
The working principle of ceramic ball mill is the same as the principle of other ball mills: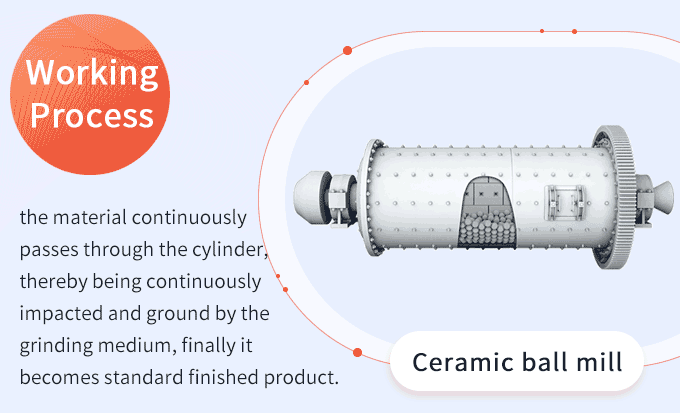 Working principle of ceramic ball mill
Entering from the feeding port, materials pass through the feed screw and then fall down the cylinder.
Inside the cylinder, there are grinding media (ceramic balls). When cylinder rotates, the ceramic ball, attached to the inner wall, will rotate together and be brought to a certain height due to the centrifugal force. Then the mill balls will fall down and grind the material because of its gravity.
Besides the actions of rising and falling in the rotating cylinder, the ceramic balls can also slide and roll around, which will cause the grinding action between the ceramic ball, ceramic liner and the material.
How to install and maintain the ceramic ball mill
When installing the ceramic ball mill, the main body should be vertical to the horizontal. And the steps are as following:
1

The main bearing needs to be installed at first. The elevation difference between the two main bearings' base plates should not exceed 0.25 mm per meter

2

Then install the cylinder. The concentric grade deviation of shaft diameter and the ball mill centerline must be guaranteed to be less than 0.25 mm per meter.

3

Finally, install the transmission device. Check the radial swing of the ring gear and the meshing performance of the pinion, the concentricity of reducer and pinion, and also the concentricity of motor and reducer.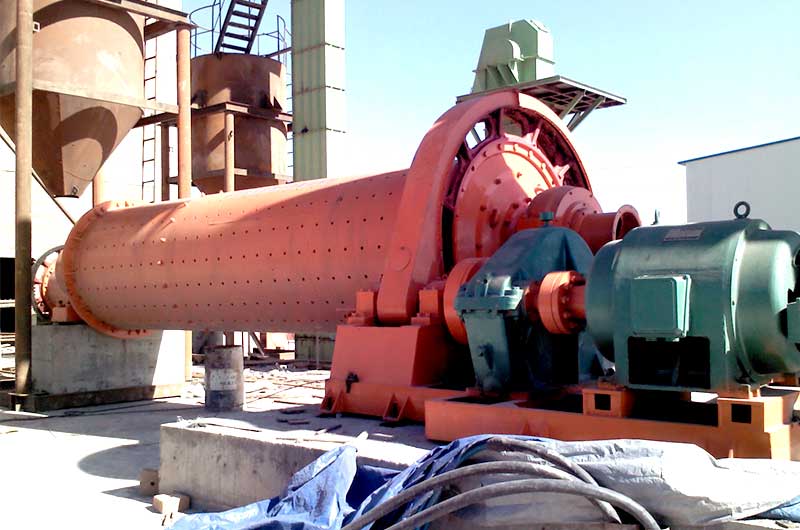 Installation of ceramic ball mill
Maintenance and overhaul of ceramic ball mill should be a regular work: besides the routine maintenance, it is recommended to stop operating and check the machine once a month.
Parts need to be maintained and overhauled are in the following:
The lubrication condition and oil level should be checked at least every 4 hours, and the lubrication needs to be replaced every 6 months.
During operation, the lubrication maximum temperature rise of main bearing should not exceed 55 °C, and the maximum temperature rise of drive bearing and reducer should be under 60 °C.
Mill liner worn by 70% or having cracks of more than 70mm length need to be replaced.
Bolts of liner should be changed when they are damaged and loosen.
Pay attention to the wear of ceramic balls and add mill balls in time.
Gear's surface of the large one can be turned over to continue using while worn out.
The pinion needs to be replaced when it is badly worn.
Factors for ceramic ball mill purchasing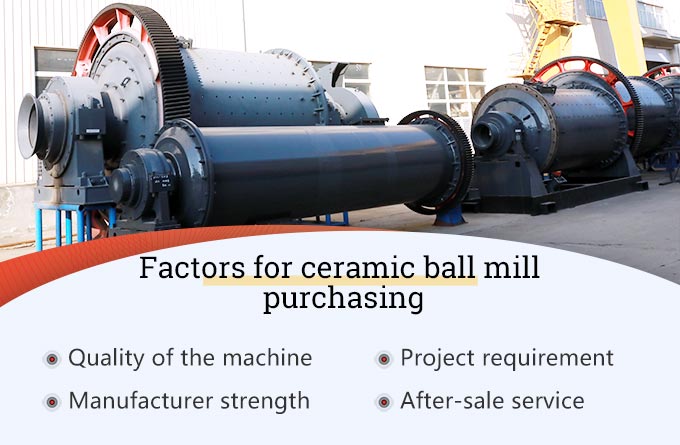 Factors for ceramic ball mill purchasing
There are 3 factors should be taken into consideration: quality of the machine, project requirement, manufacturer strength and after-sale service.
Quality is the most essential aspect of the whole project's progress. Ball mill in high quality can not only keep the project running smoothly but also reduce the costs of later maintenance.
Project requirement decides the types of ball mills: ferrous metal and non-ferrous metal are always processed by the common ball mill (ball mill with high manganese liner), while the grinding of glass and ceramics chooses ceramic ball mill mostly.
In addition, the capacity and feeding size of material influence the ball mill specific model directly.
Manufacturer strength and after-sale service are powerful guarantees for smooth operation of the machine. Ball mills from the large factory are in higher quality and designed by more advanced technology generally.
Besides, under complete after-sale service, problems occurring during the operation can be resolved in time without affecting the project process.
Why choose FTM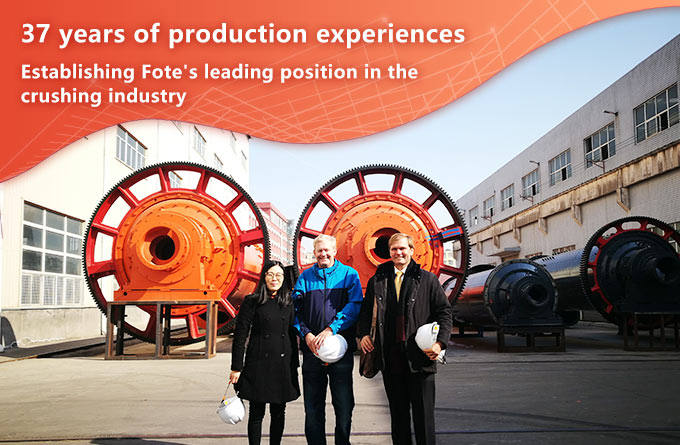 FTM-manufacturer for mining machines with 37 years experience
As one of China's top three mining equipment manufacturers with 37 years of experience, Fote Heavy Machinery (FTM) has always taken customers' interests as the first aim. All of our mining machines have passed ISO9001, CE and GOST international quality system certification.
As well, our equipment is provided with one-year maintenance and replacement parts guarantee (excluding tear and wear parts). And most of the wearing parts are made of high-quality alloy, which is not easy to wear and reduces the maintenance costs.
With more than 100 staff for after-sale service oversea, we can provide you equipment installation, maintenance, and repair timely.
Customer case - Ceramic ball mill sold in Pakistan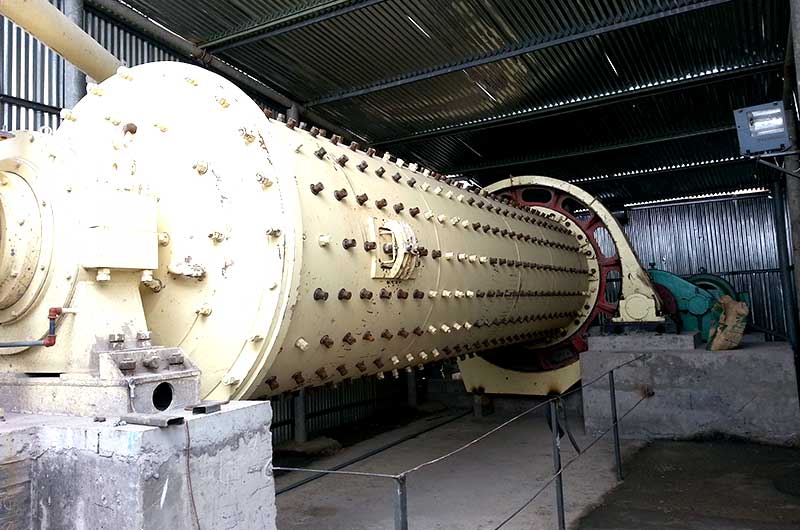 FTM ceramic ball mill in Pakistan
Fluorite is a kind of brittle ore with low hardness and in bright colors. Due to its complex elemental composition, fluorite can be widely used to produce hydrofluoric acid, cryolite, etc. Moreover, it can be also used in the chemical industry, glass, construction, cement, and other fields.
A customer from Pakistan told us in September 2018 that his company is mainly engaged in fluorite powder products and sales. As the demand increases rapidly, they plan to increase their investment in fluorite processing and expand production.
Therefore, they find us through our website and ask us to design a new fluorite grinding line with larger capacity for them.
According to their information, the specification of this fluorite grinding line is in the following:
Use location:Pakistan
Material: fluorite
Capacity: 1.5 tons per time
Raw material hardness: soft and brittle
Feeding size: ≤25 mm
Production line type: fixed
Specific model: 1800×2000
The main equipment in this fluorite grinding line includes jaw crusher, impact crusher, ceramic ball mill, flotation cell, spiral classifier, dryer, and vibrating screen, etc.
After being into operation, the output has increased significantly with costs reducing, therefore this line brings our customer good economic benefits.
Parameter
Model
Feeding capacity
(t/time)
Shell rotation speed
(r/min)
Reference motor
(kw)
Liner material
600×700
0.05
50
2.2
Chinaware,silicon,rubber or metal(the related motor power varied as per the different liner materials and grinding materials)
800×600
0.075
42
3
900×1200
0.2
38.5
5.5
1300×1500
0.5
33
7.5
1500×1800
1.2
28.5
11
1800×2000
1.5
24
15
2600×2800
5
16.5
37
3000×3800
10
14.5
57.2
3200×4600
15
13.5
75
Model
Feeding capacity
(t/time)
Shell rotation speed
(r/min)
Liner material
600×700
0.05
50
Chinaware,silicon,rubber or metal(the related motor power varied as per the different liner materials and grinding materials)
800×600
0.075
42
900×1200
0.2
38.5
1300×1500
0.5
33
1500×1800
1.2
28.5
1800×2000
1.5
24
2600×2800
5
16.5
3000×3800
10
14.5
3200×4600
15
13.5