Introduction and Application of Pendulum Feeder:
Pendulum feeder is suitable for beneficiation, coal, chemicals and other sectors. Swing feeder gives granular materials from the reservoir to different types of related devices through the funnel.
Pendulum feeder can not transport dry powder or much too granular material. Otherwise, there will be dust pollution phenomenon and the discharge port will be clogged.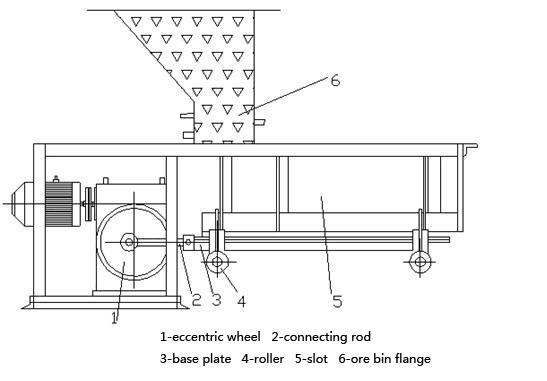 Advantages and Functions of Pendulum Feeder:
The pendulum feeder produced by our company has many merits: simple structure, reliable operation, easy installation adjustment, small size, and easy maintenance. The closed fuselage structure can effectively prevent dust pollution.
It also has advantages of steady vibration, reliable and long life, adjustable centrifugal force, controllable and changeable flow at any time. The vibration motor is a vibration source which has the following good characters: low noise, low power consumption, regulating performance, no red material phenomenon.
Working Process:
The motor is slowed down by the force of the triangle reducer. Then the power is passed to controllable eccentric gear to swing. The ores materials will be evenly expelled from the discharge gate through the lumen of the feeder.
If you want to adjust the feeding capacity of such feeder, you can change the route length to get a wide range of feeding capacity. You can also change the height of the flashboard and the size of the discharge gate to adjust the feeding capacity in an exact way.
Parameter
Product Size
Processimg Capacity(t/h)
Motor Power
(kw)
400×400
0-12
1.1
600×600
3-25
2.2
Product Size
Processimg Capacity
(t/h)
Motor Power
(kw)
400×400
0-12
1.1
600×600
3-25
2.2