Home >
Briquetting Machine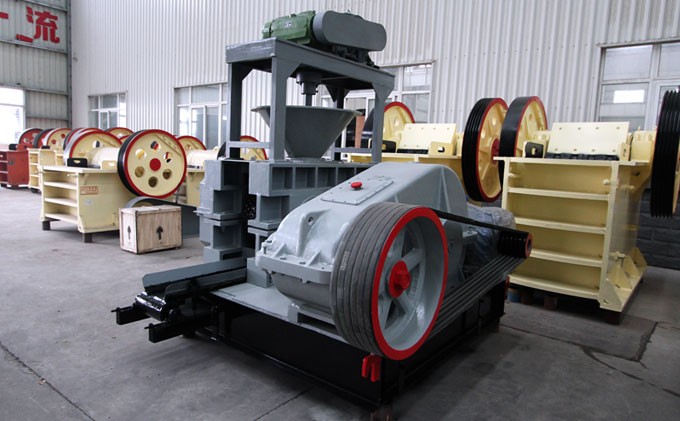 Briquetting Machine

Theoretical yield: 3-40 TPH

Applied materials: iron powder, coal powder, urea powder, copper ore powder, aluminum powder, mill scale, manganese powder, fluorite powder, steel powder, ferrosilicon powder, nickel alloy powder, etc.
Dry and Wet Briquette Machine processes raw materials such as aluminum skimming, active carbon alumina and quick lime directly without mixing water after they are crushed.

The Influence of Briquetting Machine:
Environmental protection and energy-saving are always the concern of the whole nation and all mining enterprises. The negative situation of coal supply and the improvement of environmental protection policies force enterprises and the public to constantly search for economical and effective energy replacement approaches.
The Structure of Briquetting Machine:
The briquetting machine has installed with self-protection device. The hydraulic pressure protecting device uses its pump to press the high-pressure oil into the cylinder and makes the piston moves in an axial displacement way. The front connecting end of the piston rod supports the shaft block to meet production requirement.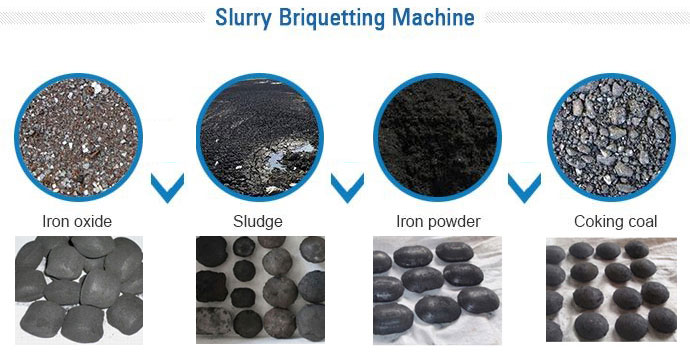 The energy-saving briquetting machine or pressure ball machine has the advantages of the environmental protection and transportation convenience which increases the usage of wastes and brings good economic and social influence.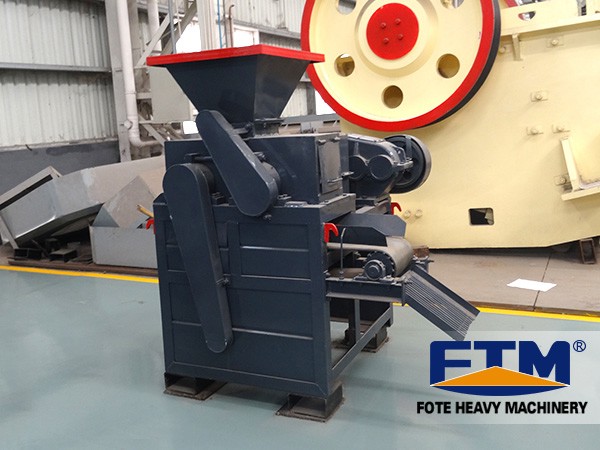 Working Process:
The feeding device of the energy-saving briquette machine makes sure that materials enter the twin rollers through ration feeding. Driven by the electromagnetic speed regulating motor and after the belt wheel and worm reducer running, the spiral feed device presses materials into the main feed port. The main driving part of the transmission device is made up of motor, triangle belt, reducer, exposed gear and roller. The main engine of the energy-saving ball press machine is driven by the electromagnetic speed regulating motor; after being driven by the belt wheel and cylindrical gear reducer, the power is transferred to the pin coupling shaft. The ball forming part of the energy-saving ball press machine mainly refers to the main engine and the roller is the core part. When too many materials or metal blocks enter the space between the two compression rollers, the piston rod of the hydraulic cylinder gets so pressed that the pump will stop working and the energy accumulator will make buffer action to handle the pressure changing.
Parameter
Model
Roll diamter
(mm)
Roll width
(mm)
Total pressure
(t)
GY520-150
520
196
150
GY650-220
650
200
220
GY750-300
750
280
300
GY1000-350
1000
440
350
GY1000-450
1000
504
450
GY1000-500
1000
504
500
GYS1000-500
1000
600
500
GY1000-540
1000
900
540
GY1200-800
1200
900
800
GY1400-1000
1400
1000
1000