Mobile recycling equipment for construction and demolition waste is growing in popularity! why? Recycling construction and demolition waste is profitable, environmentally friendly, and has huge market potential.
The global construction and demolition (C&D) waste market size is estimated to be USD 34.4 billion by 2026, at a CAGR of 5.3% during the forecast period. It is being driven by increased construction activity and government tendency toward environmentalism worldwide.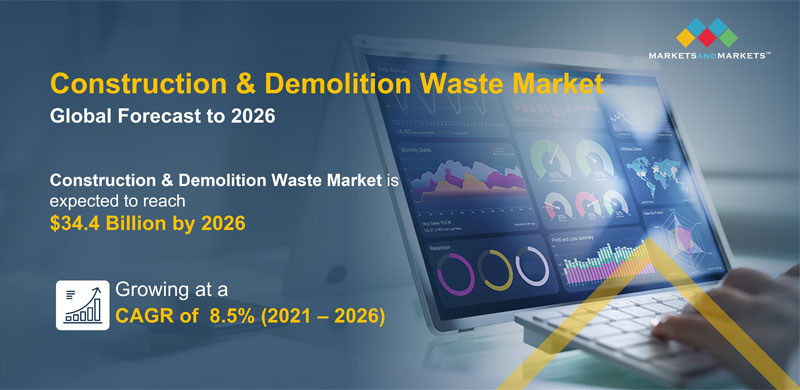 Source: MARKETSANDMARKETS
What is construction and demolition waste?
Construction and demolition waste is generated during the construction, renovation, and demolition of buildings, roads, and bridges.
From Construction and Demolition Waste Disposal and Recycling Solutions, we know that construction and demolition waste consists typically of concrete, brick, rubble, asphalt, gypsum, iron metal, wood, and plastic.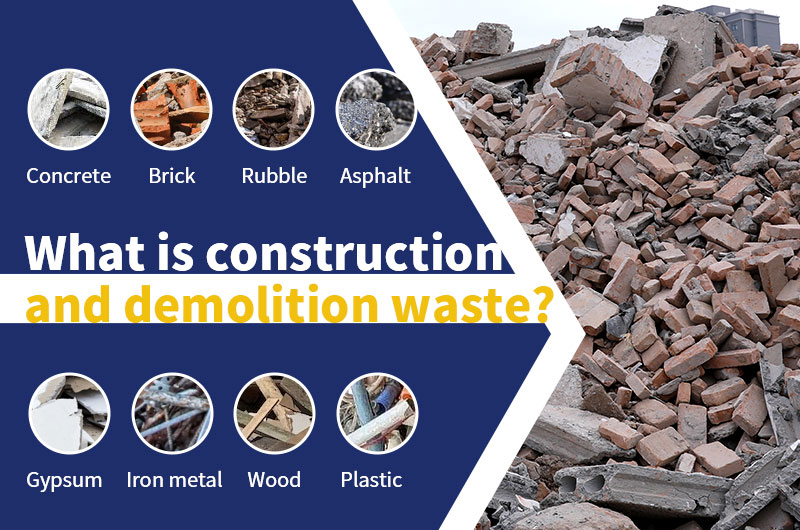 Wood can be recycled into engineered-wood products like furniture, mulch, compost, and other products. Metals like steel, copper, and brass are also valuable commodities to recycle. Asphalt, concrete, and rubble are often recycled into aggregate or new asphalt and concrete products.
Mobile recycling equipment: less cost, more profit
Transporting and dumping construction and demolition waste is often problematic and costly. Crushing and screening on-site mean less transport and dumping costs, and waste is converted into a valuable raw material.
With mobile recycle machine, you can save on transport costs and go where the work is. Particularly in cities, urban environments, and other populated areas, mobile recycle machine can be a much more economical option.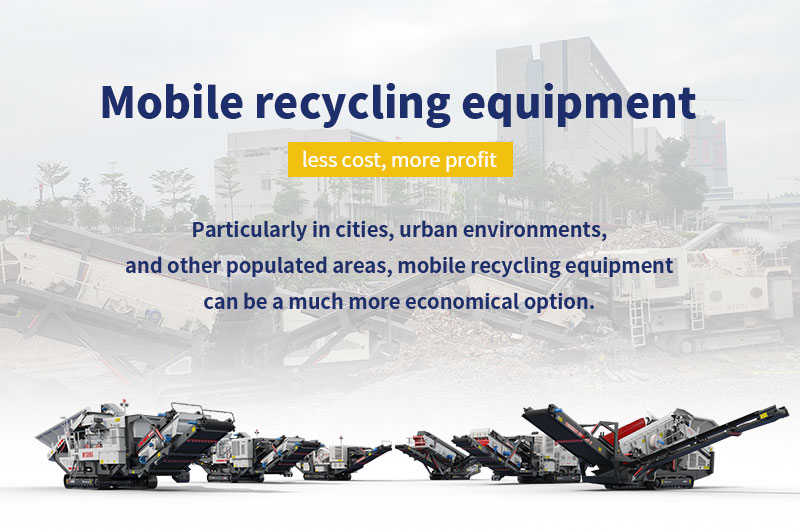 The Ftmmachinery Wotetrack series of mobile jaw crushers, impact crushers, cone crushers, and screens are all reliable, productive, safe, easy to maintain, and compact.
Mobile jaw crusher: safe crushing of uneven materials in recycling
Construction and demolition waste materials can have varying sizes, shapes, and densities. With their large feed port, high crushing ratio, and wear resistance, WT mobile jaw crushers solve this problem and become popular primary on-site recycling crushers for concrete and asphalt.
The equipped wind shifter helps to sort light materials such as wood and plastic, avoiding blockage.
Its automatic iron removal function and the equipped hydraulically adjustable magnet guarantee minimum downtime.
Large output and reliability make WT mobile jaw crushers an ideal choice for contract jobs where productivity matters.
Mobile impact crusher: efficient crushing and accurate separation
WT mobile impact crushers are used as primary, secondary, or tertiary crushers. They are efficient in the last stage of the crushing process, producing precisely shaped cubical recycled aggregates.
The equipped pre-screen removes fine materials, improving the crushing efficiency and reducing the wear of the recycling crusher.
The equipped wind shifter and magnetic separator reduce blockage and guarantee clean aggregate.
An integrated screen enables stand-alone production of calibrated end products without compromises in transport.
Compact size, high capacity, and excellent shaping effect make mobile impact crushers the best fit for smaller rental and contracting jobs.
Mobile cone crusher: for demanding crushing jobs
WT mobile cone crushers are for demanding secondary and tertiary crushing. However, if the grain size of the processed material is small enough by nature, cone crushers can also operate at the first stage of the crushing process.
Mobile cone crushers are the preferred choice for crushing hard concrete and asphalt, keeping wear and tear costs to a minimum while maintaining high throughput.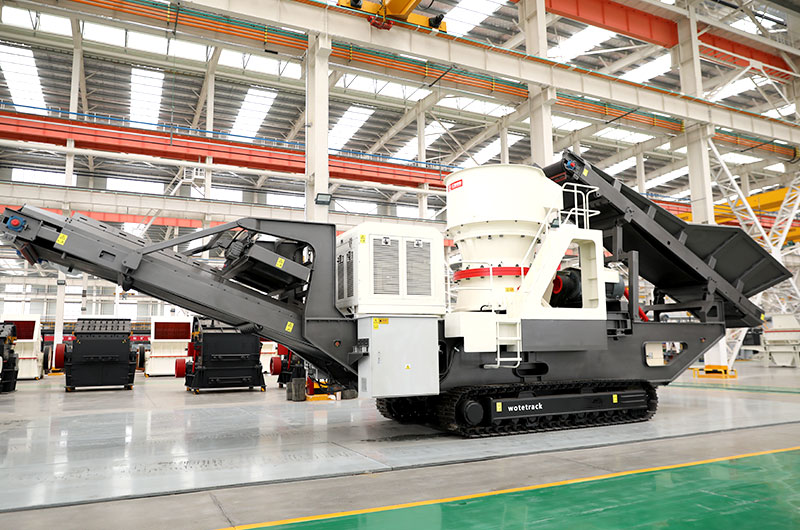 Mobile cone crusher
Mobile screen: accurate separation
With advantages such as accuracy, large capacity, quick setup, short screen change time, and mobility on-site, mobile screeners are popular construction and demolition waste sorting equipment.
WT mobile screens provide double deck screens and triple deck screens to ensure customers a more comprehensive product portfolio.
For flexible applications, WT mobile screens offer a large selection of screen surfaces with different mesh shapes – square, rectangular, or harp-shaped – as well as the correct screening media, for example, steel or plastic.
Mobile screeners are designed to screen soil for soil recycling and to work well in closed circuits with other mobile crushing equipment.
Features that boost your recycling
The efficient recycling work requires some features from your recycling machine. Here are some of the most important.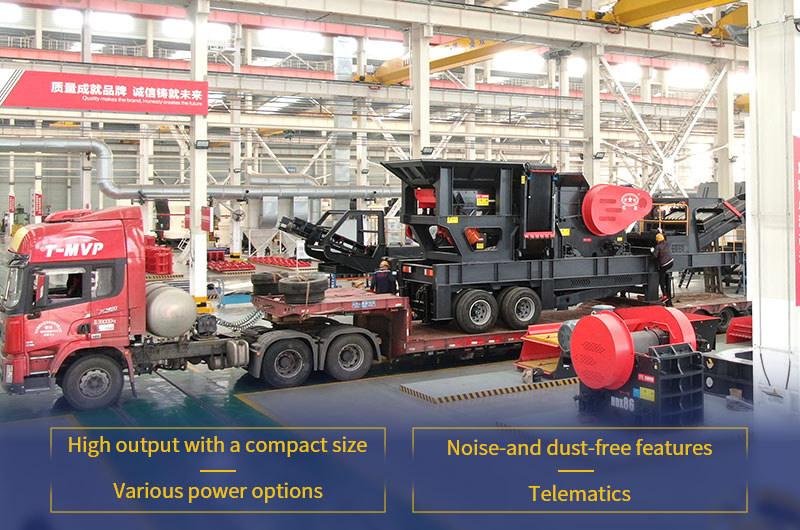 High output with a compact size
WT mobile crushers and screeners are compact and lightweight, making them easy to transport and operate in tight urban areas.
Mobility and compactness are not premised on sacrificing output. The output of the mobile impact crusher is up to 280 t/h, and the mobile jaw crusher is up to 650 t/h.
Noise-and dust-free features
Installed with noise reduction devices and water spraying systems, WT mobile crushers are noise and dust encapsulated crushing machines that comply with strict regulations and allow crushing and screening in cities.
Various power options
With increasing environmental pressures there is an emphasis on fuel efficiency, a focus on reduction of noise and dust, and a move towards hybrid and electric machines.
WT mobile crushers and screens are available in electric drive, diesel drive, and hybrid drive.
Hybrid and electric models are often most popular in areas where electricity is more cost effective than diesel fuel and engine noise can be an issue.
Diesel-powered models with high-performance diesel generators are more popular where electricity is unstable.
Telematics
Telematics allows contractors to monitor work progress, manage logistics, access critical machine information, analyze and optimize machine performance and perform remote operator support.
Recycle construction and demolition waste with them now
1. Construction waste recycling project in Brazil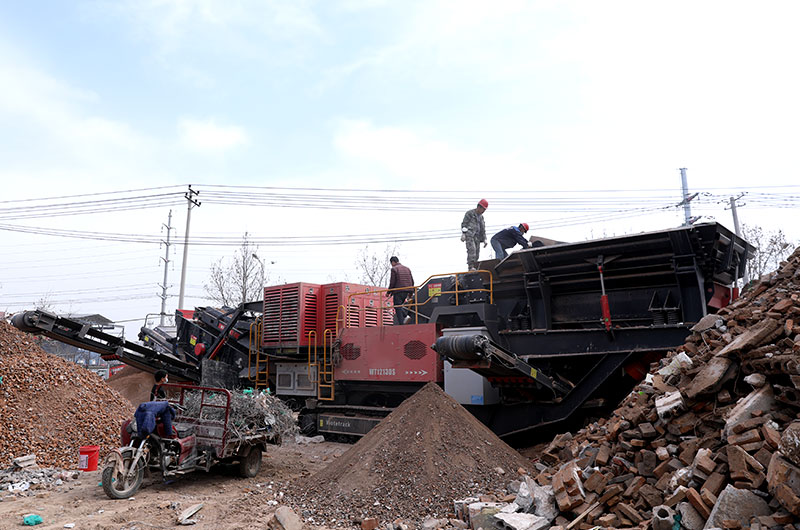 Output
Maximum feed size
Output size
Application fields
Equipment
100t/h
400mm
0-10mm
10-20mm
20-40mm
Urban infrastructure construction
FTM1349HD1110 Mobile Impact Crusher
Client feedback
The combination of quiet operation, a capacity of more than 100 tons, and a magnet that effectively removes concrete reinforcements makes the mobile impact crusher a must-have equipment at our concrete recycling sites. I also love its compact size which allows it to move flexibly around tight urban recycling sites.
2. Mobile screening plant in the Philippines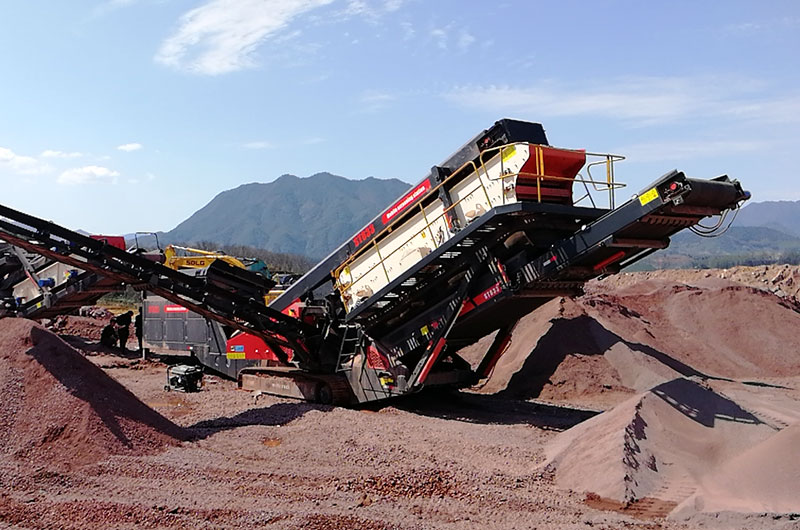 | | | |
| --- | --- | --- |
| Output | Maximum feed size | Equipment |
| 200t/h | 200mm | ST6203 Mobile Screen |
Client feedback
We are using the ST6203 for a wide range of applications. This includes soil screening, pre-screening of concrete and rubble for more efficient crushing, and end-product sorting. This agile and compact mobile screen can accurately screen while maintaining productivity.
Conclusion
With the advantages of large output, mobility, and environmental protection, mobile recycling equipment has become a sharp sword for recycling construction and demolition waste.
Ftmmachinery's mobile crushers and mobile screens can easily meet the challenges of construction and demolition waste disposal, and achieve the goal of easy crushing, efficient sorting and 100% recycling.
Stationary construction and demolition waste crushing and screening machines are also available for large construction and demolition waste recycling plants.
References
1.
Construction and demolition waste market
2.
Construction waste
3.
Sustainable management construction and demolition materials