What is recycled aggregate made of?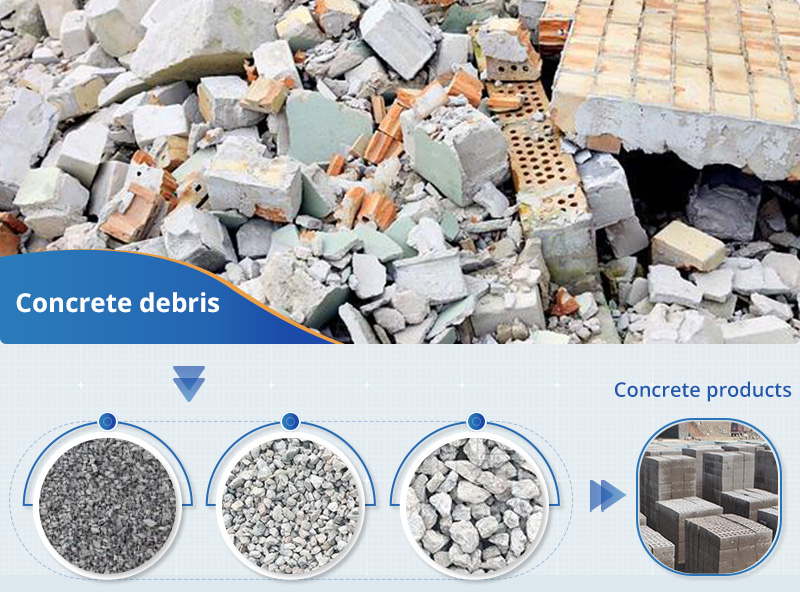 Concrete aggregate is one of the most common building materials in the construction field. However, millions of tons of concrete fragments and blocks are dumped as construction waste every year, and they are often placed on the land, which badly impacts the environment and land fertility.
Recycled concrete aggregate (RCA) is produced by crushing concrete recycled from demolished roads, buildings, etc.
How to recycle waste concrete to get aggregate?
Crushing and screening to get coarse concrete aggregate
Concrete, whether it is contaminated or not, needs crushing and screening machines to break it down to get reusable concrete aggregate. Regardless of whether it is contaminated or not, the concrete needs to be broken down by crushers and screening machines to obtain reusable concrete aggregates.
Waste concrete from buildings and roadways contains steel bars, and other reinforcing materials so that you must remove those impurities and contaminations during the crushing process.
In general, the heavy crushing equipment can reduce old concrete to 5mm-50mm. According to various studies, the coarse recycled concrete aggregate can replace about 30% of natural crushed coarse aggregate without significant impact on any performance of concrete.
Concrete recycling machine you must know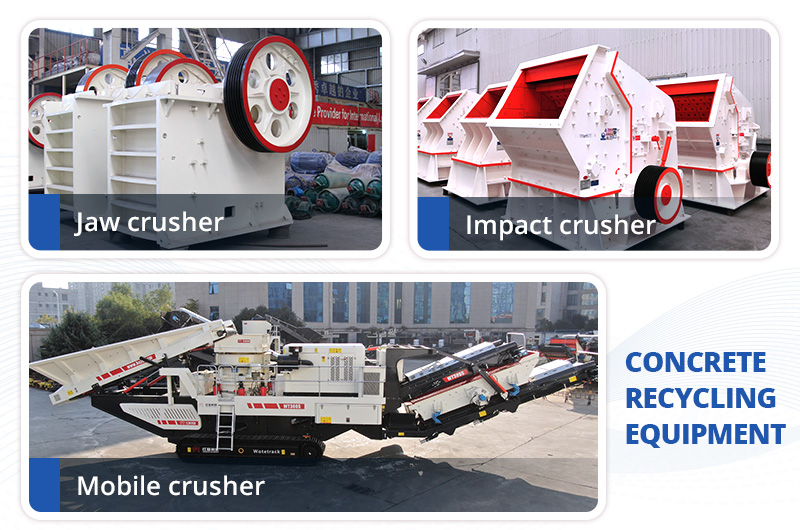 As constructing technology gets more and more matured, the market of recycled concrete aggregates has been further developed. Various types of crushers can crush large concrete blocks into smaller size even as fine as powder.
The most common concrete crusher machines: concrete jaw crusher, horizontal-shaft impact crusher, cone crusher, compound crushers, roll crushers, hammer crushers, etc. All machines are often manufactured to a mobile or portable crushing equipment when recycling concrete because mobile crushers can move freely and work efficiently in harsh environments.
Screening equipment: Circular vibrating screen, high-frequency screen
Equipment to remove contaminations: water flotation machine, separators, and magnets.
Calcinating to obtain fine recycled concrete aggregate
Waste concrete from building and demolition even being crushed by crushers, still contains a small amount of combustibles such as wood chips and plastic chips. To produce purer and more valuable recycled concrete aggregate, calcination and grinding process is added after crushing, sieving, and contamination removing.
Calcining and grinding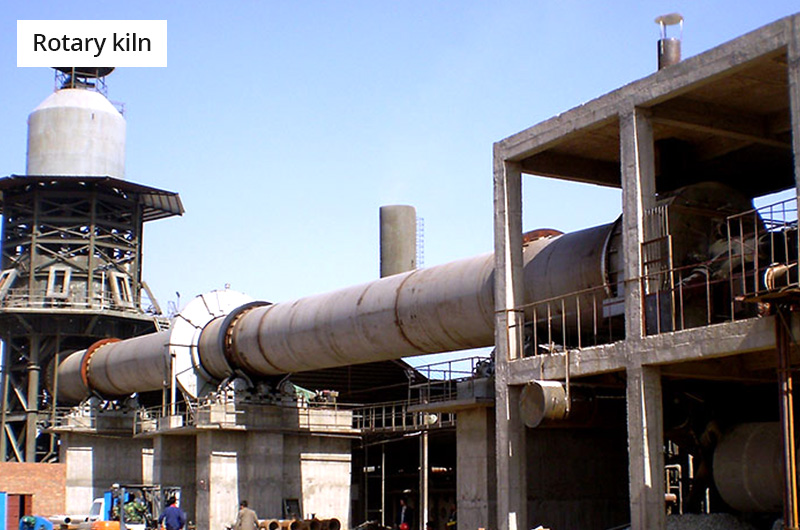 The produced coarse recycled concrete aggregate is sent to a rotary kiln for calcination, which can burn the combustible impurities into ashes. The calcined aggregate is then ground into powder by ball mills and Raymond mills.
The calcination treatment method removes the combustibles in the recycled concrete aggregate and reduces the moisture content, thereby creating a foundation for the powder grinding mill to produce fine-sized concrete powder. Moreover, it also reduces the cost of construction waste disposal.
Fine-sized recycled concrete aggregate equipment
Calcining equipment: rotary kiln
Rotary kiln can reduce the moisture content less than 6% at a temperature from 400°C to 900°. During the process, the combustible impurities are burned into ashes.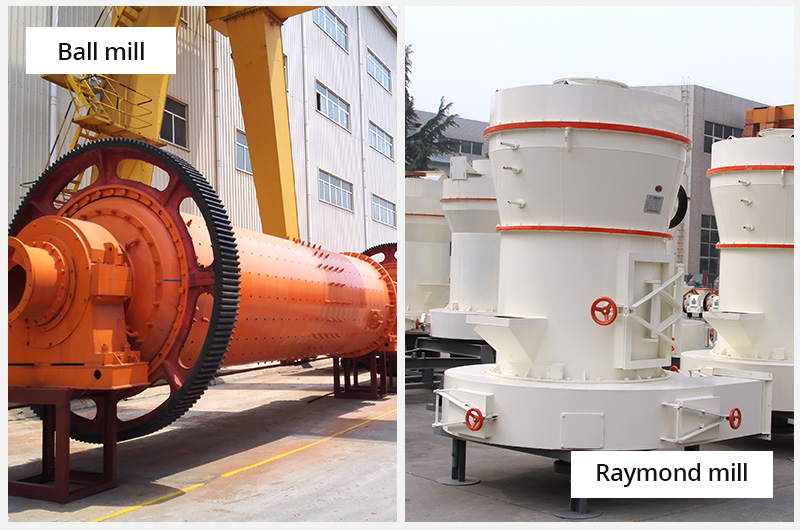 Grinding Machine: ball mill or Raymond mill
The grinding equipment mainly makes the old concrete collide and rub against each other or against the equipment liner to remove the mortar or brick particles on the surface of concrete. Besides, powder grinding machines help to grind away the edges and corners, which greatly improves the aggregate performance.
Both ball mill and Raymond mill have higher requirements on the moisture content and impurity rate of the grinding material. The calcination will help to increase the activity of the powder made from the old concrete.
Properties of RCA concrete material (strength and crack)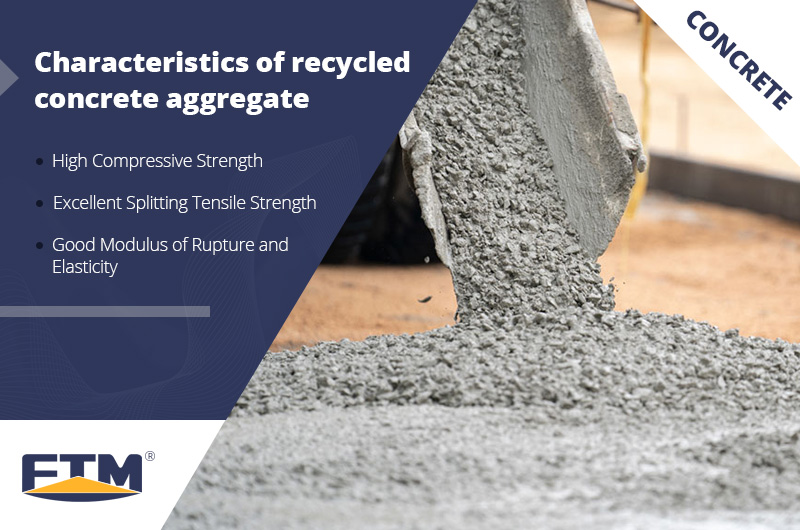 1. Compressive strength
The compressive strength of recycled concrete aggregate depends on several factors including water/cement ratio, the percentage of coarse aggregate replaced with RCA, water absorption and the amount of adhered mortar on the RCA.
In most cases, the RCA concrete aggregate is stronger than a natural concrete if the source concrete is stronger than that at which the RCA concrete is intended to perform.
2. Splitting Tensile Strength
RCA concrete sometimes performs better than NA concrete with regards to tension. Because the certain amount of mortar attached to the recycled concrete aggregate can generate an ideal bond between the aggregate and the mortar matrix.
3. Modulus of Rupture and Elasticity
The RCA concrete performs better in terms of the modulus of rupture than conventional concrete when the water/cement ratio is higher. If the source concrete has high strength with low water absorption, the RCA concrete will perform just like conventional concrete.
The main factor that affects the RCA concrete modulus of elasticity is the modulus of elasticity for the aggregate itself. Improvement of tensile strength with the addition of RCA would usually be associated with an improved elasticity.
4. Crack Width and Spacing
Although compared with natural concrete aggregate, the RCA beams have greater crack width and smaller crack spacing, there is no reason to refuse using it because the variation of these parameters between RCA and NA concrete is quite small. So recycled concrete aggregate is not a hindrance to structural concrete members.
Benefits of using recycled concrete instead of natural rock aggregate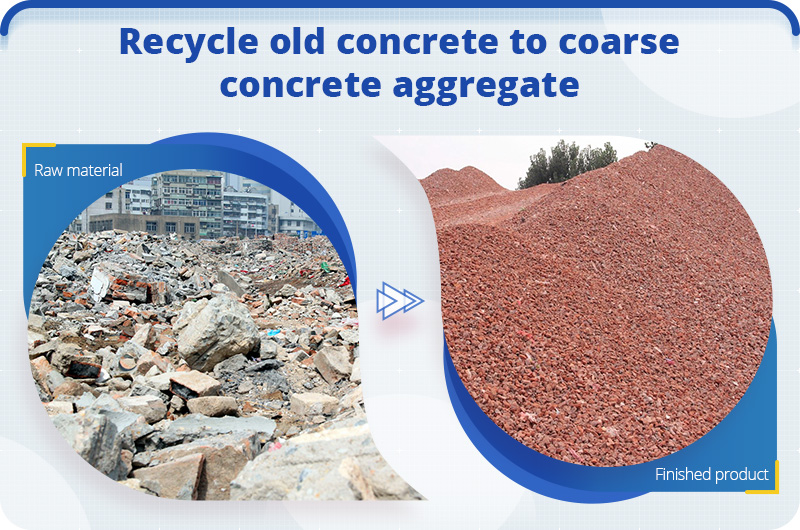 Save costs- the RCA concrete is much cheaper than the conventional concrete aggregate so that you can lay down a firm base or foundation with less sum of money.
Save natural resources -by recycling, you can consume less raw material and preserve not only gravel resources but the environment.
Save time - one set of mobile crushing equipment with fully automatic and PCL remote control not only help to produce aggregate in a short time but reduce your transportation needs which means lower fuel consumption.
Save land resources- recycling waste concrete eliminates the waste material means that there is no dumping waste material on the land anymore.
Wide applications of recycled concrete aggregate
The construction of recycled concrete aggregate is no different from that of natural concrete, gravel, or rock aggregate.
The extensive use of recycled concrete in the construction industry is showing its prospects as a substitute for the natural aggregate. It can save natural resources, reduce the space required for landfills and bring environmental and economic benefits. Concrete aggregates are usually divided into two types: uprocessed concrete aggregate and processed aggregate.
The former means that the concete waste experiences only crushing process, thus the RCA concrete may contain impurities. Processed concrete aggregate are usually even and fine-sized aggregate.
Applications of processed RCA concrete aggregate: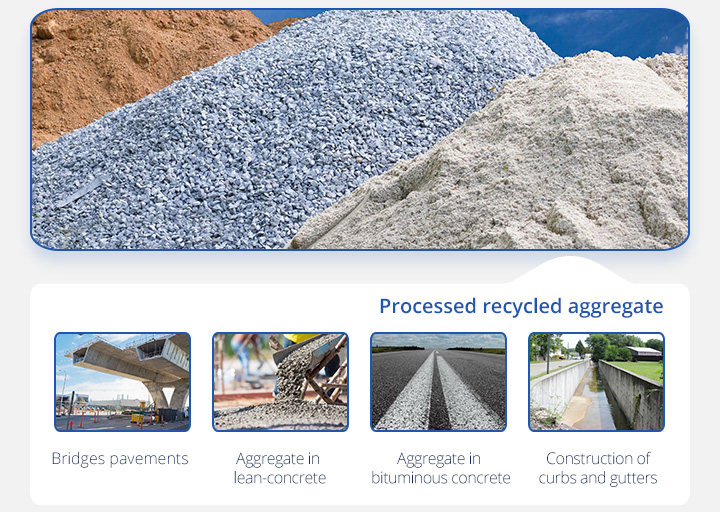 Being utilized for various structural works in bridges pavements used
Aggregate in lean-concrete
Aggregate in Bituminous Concrete
Construction of shoulders, median barriers, sidewalks, curbs, and gutters
The smaller-sized RCA below 5mm can be used for reinstatement of utility trenches in roads
Applications of unprocessed RCA concrete aggregate: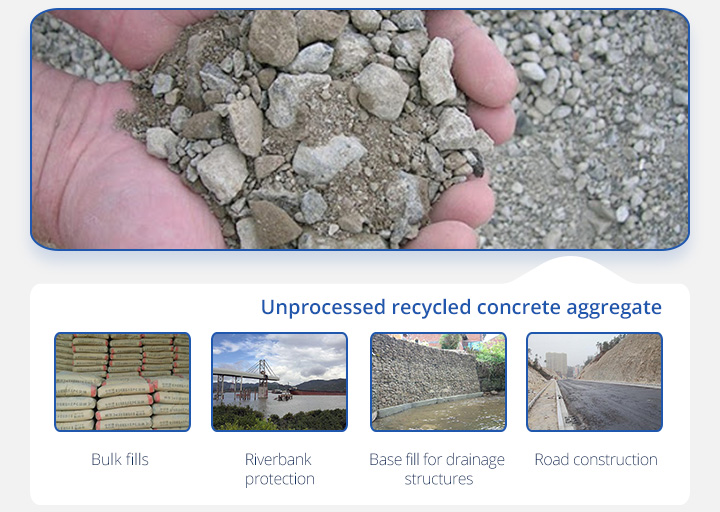 Used for bulk fills
Riverbank protection
Base fill for drainage structures
Aggregate for road conatruction
sources from:
https://link.springer.com/article/10.1007/s40069-013-0032-5
https://www.youtube.com/watch?v=jIy-4n29Skk