What is construction and demolition waste (C&D waste)?
The construction and demolition waste is produced in the building activities of the construction industry, such as demolition, construction, decoration, and repair. C&D materials often contain complex compositions such as concrete, asphalt concrete, metals, bricks, glass, plastics, etc.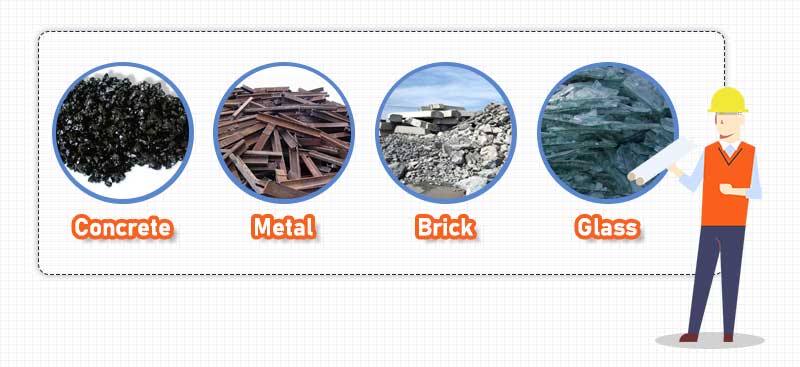 As more and more countries pay more attention to people's well-being, infrastructure construction develops fast, producing many new buildings or roads while demolishing many old houses. The rapid growth of infrastructure construction causes continuously increased construction and demolition waste.
Waste management plans for construction and demolition waste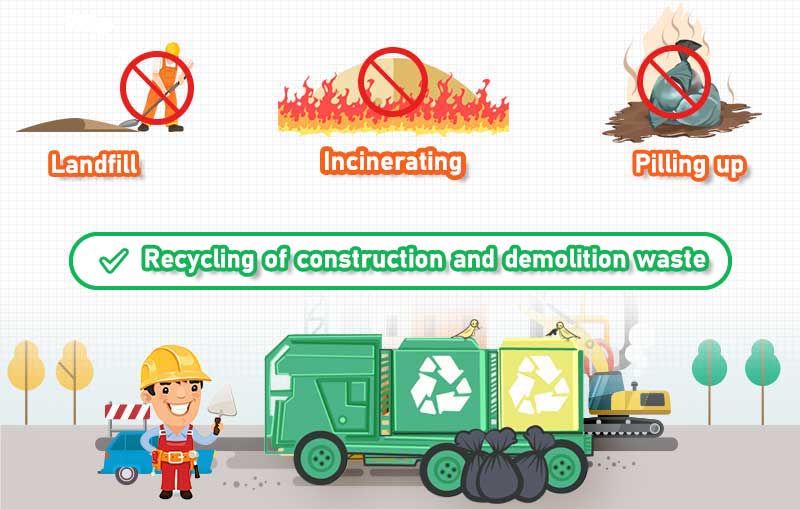 landfill
Although industry waste landfill is the place to put various solid industrial waste, it is mainly used for construction and demolition waste disposal. To save costs and not to complicate matters, many people often directly bury construction waste in landfills.
However, the landfill of C&D waste material not only wastes a lot of resources to some extent, such as recyclable resources and land resources but easily pollutes groundwater and soil quality.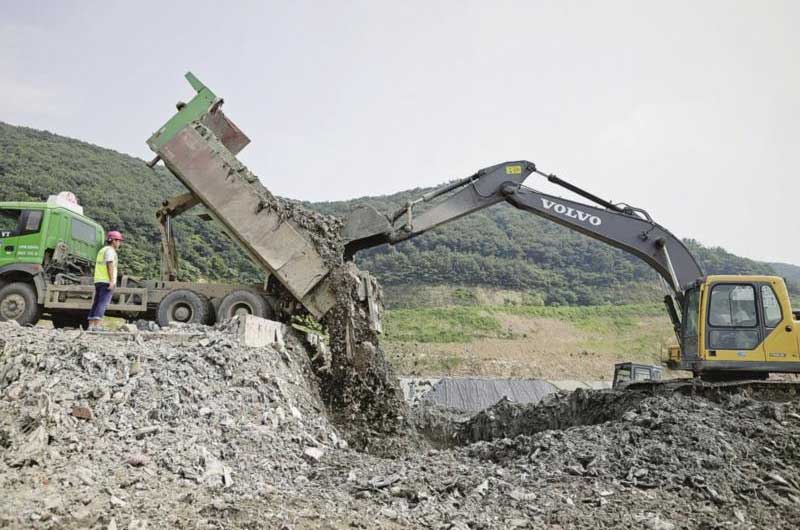 Over time, more and more countries have realized that landfills accepting C&D waste have limited capacity, and some countries have already closed or planned to close landfills.
Incinerating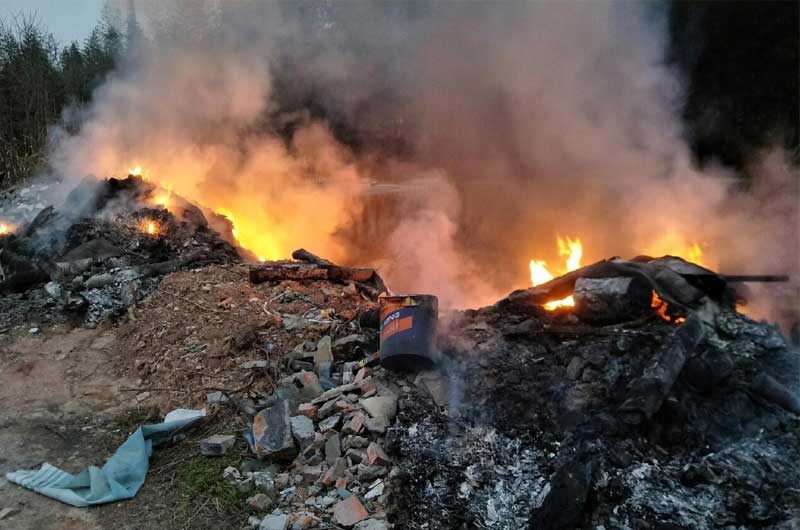 On the one hand, due to the general upward trend in urban land prices, the cost of landfilling has increased. On the other hand, the advancement of the urbanization rate has caused a shortage of urban land, shrinking the overall supply of infrastructure land and limiting the landfills.
Incineration has become another option for the disposal of construction and demolition waste. However, waste incineration not only produces organic pollutants and toxic gases such as dioxins, carbides, nitrides, and sulfides but remains solid residues such as combustion fly ash and slag.
Pilling up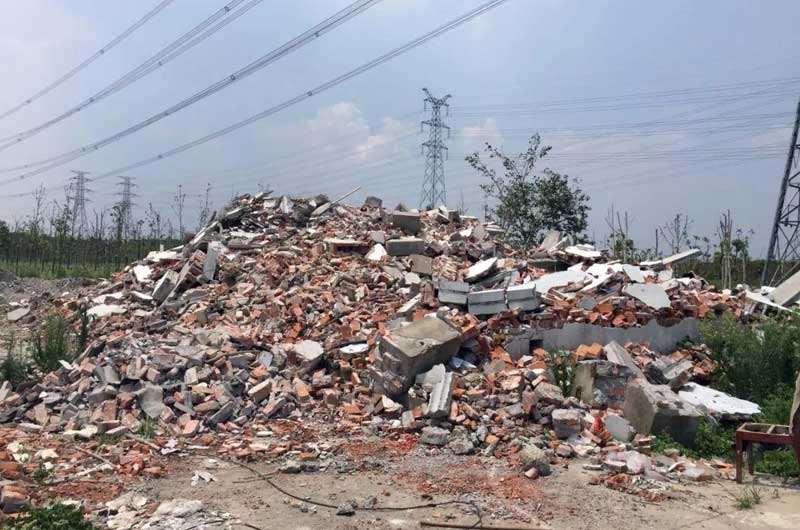 People often choose the site of most urban construction waste dumps randomly, leaving many potential safety hazards.
1

The surrounding areas of the construction site are mostly temporary storage places for construction and demolition waste. Just for the convenience of construction and lack of proper protective measures, under the influence of external factors, the C&D waste pile will collapse and obstruct the road.

2

In the suburbs, pits, ponds, and ditches are mostly the preferred storage sites for construction and demolition waste, which not only reduces the capacity for water regulation and storage but reduces the surface drainage and flood discharge capacity.

3

In the process of stacking construction waste, sewage leached out due to fermentation, and rainwater leaching and washing will cause severe pollution to surrounding surface water and groundwater.

4

A large amount of C&D waste pilling up on the ground directly or indirectly affects air quality. Bacteria and dust in the garbage are scattered with the wind, causing air pollution. A small amount of combustible construction waste will produce toxic carcinogens during the incineration process, causing secondary pollution to the air.
Recycling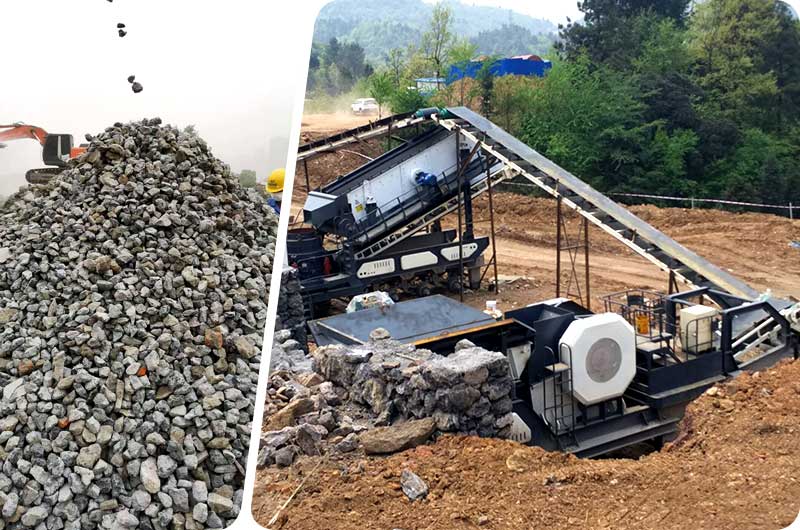 Another way to manage C&D waste is recycling. Recycling is the best way to respond to rising stockpiles of waste and the fast growth of demands on raw materials.
Recently, governments have begun to launch regulations about environmental protection and encouraged people to turn construction and demolition waste into new-type aggregate by recycling machines like mobile or portable rock crushers.
Natural resources are limited while recycling construction and demolition waste can produce endless raw material. That's why recycling is the best choice to process C&D materials.
How to effectively recycle construction and demolition waste?

The efficient process of C&D waste disposal mainly includes:
Pre-processing. It will sort the garbage and remove the bulk, impurities, etc.
Crushing. Crushers in a movable or portable way are necessary machines to reduce the large-sized concrete blocks into smaller pieces.
Screening. This part mainly involves the iron removal operation of the finished construction waste after the crusher treatment and re-processing the materials that don't meet the production requirements.
Grinding. The grinding operation of the waste material follows the crushing stage, and it chooses different mills for processing according to different needs of the finished product.
Although the construction and demolition waste is large in volume and causes an impact on the environment, it can become valuable material when you cope with the problems reasonably.
With the people's environmental awareness and the government's guidance, the application of resource-based products will have a broad market. The management of construction waste will be smoother, and our environment will be more beautiful.
Common C&D Waste materials recycling
Concrete waste recycling
Recycled concrete aggregate (RCA) is produced by crushing concrete recycled from demolished roads, buildings, etc. It has the many advantages:
Much cheaper than the conventional concrete aggregate and save you lots of money.
Best substitution of natural gravel resources.
Its processing machine- mobile or portable crushers reduce your transportation needs, which means lower fuel consumption.
You will never see waste material dumpeded on the land again.
Asphalt recycling
Asphalt made by combining a binding material (called a bitumen) with an aggregate becomes sticky at high temperatures, and coupled with the limitations of previous technologies, people usually think that waste asphalt is worthless.
With mature recycling technology, an advanced asphalt station can create a new asphalt mix with up to 70% of the recycled asphalt which can be used for paving a driveway.
The cost benefits of asphalt recycling are expected to provide a profit or savings potential of $30.00 to $80.00/ton. Naturally, product quality depends on the combination of ingredients used in the recycling and production process.
Plaster and gypsum board recycling
Since gypsum has a wide range of applications, it is relatively easy to recycle.
1

Use a crusher such as a jaw crusher or impact crusher to crush the waste board

2

Then collect the dust by a bag filter

3

Adopt the scrap collection device to collect the crushed plaster or gypsum

4

You can also use Raymond mill to grind gypsum scraps into a powder or pellets

5

Powder and scrap can mix with desulfurized gypsum as raw materials for reuse.
Gypsum possesses many attributes making it an attractive construction material. Plaster and gypsum board recycling can not only solve the shortage of resources, but also save a lot of costs and improve resource utilization.