What is a wet pan mill?
Wet pan mill is also called wet grinding mill or gold grinding machine. It is the first choice of grinding equipment for the small and medium milling plants in Africa and South America.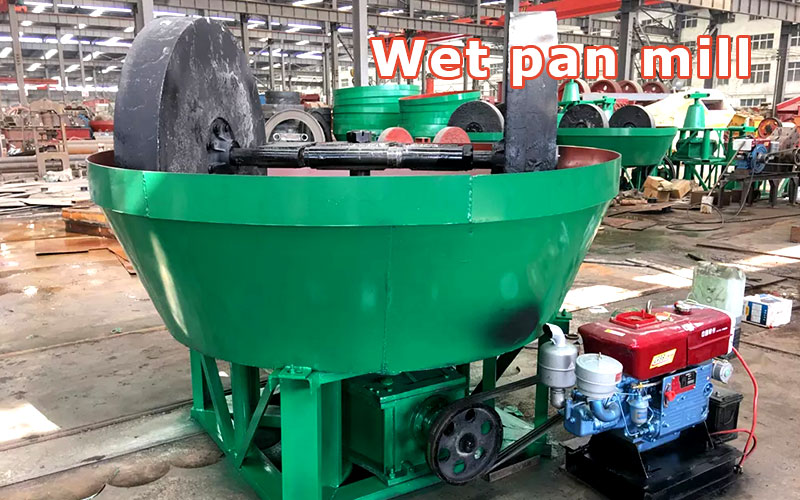 Wet pan mill is the best equipment to replace ball mill because of its low investment, high output, easy use and maintenance, and quick cost recovery.
It is used for the material re-crushing after the first crushing. The capacity is 1-50 t/h. The maximum feed size is 30 mm, and the output size is 0.074-0.6 mm.
Can I grind gold ore by a wet pan mill?
Yes, a wet pan mill is particularly suitable for grinding rock gold ore, which can be ground into 100-150 mesh. Due to low cost and high production efficiency, some customers from Sudan, Egypt, and South Africa would like to purchase such gold mining machines. The most exciting thing is that you can get pure gold directly after wet grinding, thus it is quite suitable for people who want to begin a small business.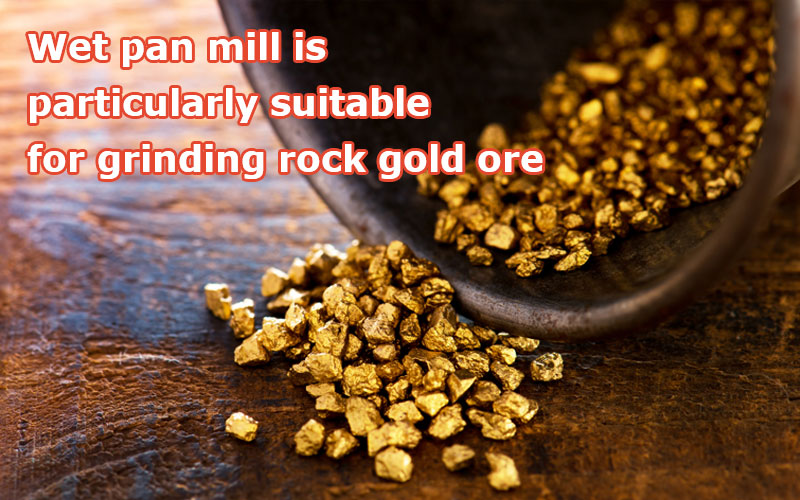 In addition, a wet pan mill is widely used in the separation of ferrous metals, non-ferrous metals as well as non-metallic minerals such as silver, lead, zinc, iron, molybdenum, copper, antimony, cement, silicate products, etc.
How does wet pan mill work?
1. The structure of wet pan mill
Based on the different structure, the types of wet pan mill is divided into single-roller type, double-roller type, three-roller type. The most often used type is a double-roller wet pan mill. As the center material is fed on the inner grinding road by two feeders.
The main parts of a wet pan mill are the frame, Water basin, grinding roller, crankshaft, Grinding base, Reducer, and Motor.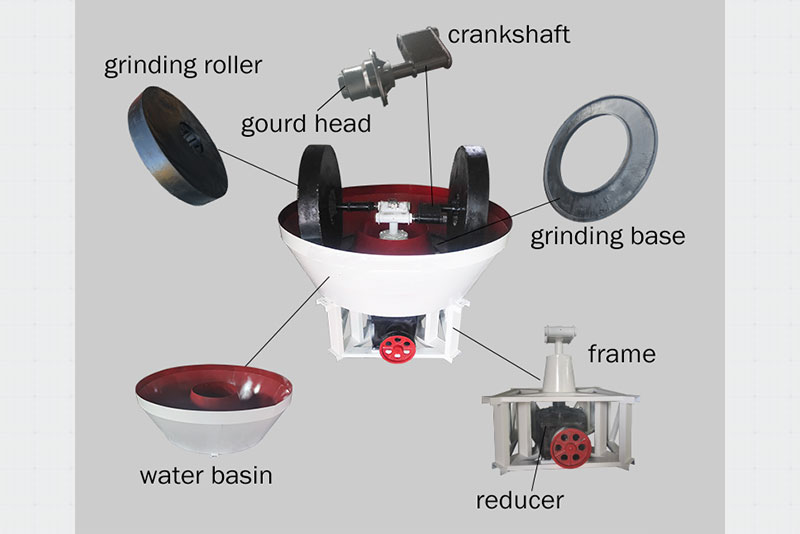 Grinding roller: 6% manganese alloy steel, with a service life of at least 3 years.
Ring: Made of standard 85 mm high-manganese alloy steel, which is harder and stronger than the common iron type. And the ring surface is smoother so that it can prevent the holes from absorbing the mercury and gold.
Fote Water Basin is made of 5 mm thick steel plate, with a good welding finish, to ensure that the pan mill works smoothly. In contrast, other water basins on the market have a thickness of 3 mm, which is easy to shake.
Fote Frame: Greatly improves the wear resistance of this joint surface, making the machine's service life longer. The frame is easy to wear, as the materials and dust are easy to adhere to the joint surface between the square iron and frame thereby causing rapid wear. A high-quality frame can reduce your cost in maintenance.
Watch a video on How Wet Pan Mill works
2. How to use and maintain a wet pan mill?
Make sure that there is no material in the machine, otherwise, the machine may shut down. If there is residual ore left in the machine, please clean it up before starting.
Start the wet pan mill and run idling for 3-5 minutes. The raw material should be put into the machine after the machine runs normally.
When feeding, the materials must be screened to prevent iron and hard metal debris from being put into and damaging the wet pan mill plant.
The ore must be fed in strict accordance with the specified amount, and overloading is strictly prohibited. The material should be fed evenly by a feeder.
Regularly check whether each screw is loose or not.
The bearing part should add the lubricating oil regularly. The oil must be clean and well-sealed. And if the bearing is damaged, please replace it promptly to ensure the normal operation of gears and bearings.
When the machine is working, check whether there is an abnormal sound in the reducer box or bearing part, whether the temperature is too high, whether the motor current is too large. If above phenomenon happens, shut down the machine at once and repair it.
To ensure your safety, the motor V-belt should be removed when examining and repairing the machine.
Cleaning wet pan mill is very important. Excessive debris or dust on the surface will directly affect the efficiency of pan mill.
3. Models of wet pan mill
The models of wet pan mill are named according to the diameter of the roller.
The technical parameters of wet pan mill
| | | | | | |
| --- | --- | --- | --- | --- | --- |
| Model | Specification (mm) | Input size (mm) | Rotate Speed (r/min) | Power (kw) | Weight (t) |
| 1100 | 1100*200*80*270 ±20 | ≤30 | 17-19 | 7.5 | 5 |
| 1200 | 1200*200*80*270 ±20 | ≤30 | 17-19 | 11 | 5.5 |
| 1300 | 1300*250*150*350 ±20 | ≤30 | 16-18 | 15 | 7.5 |
| 1400 | 1400*250*150*350 ±20 | ≤30 | 16-18 | 18.5 | 8.5 |
| 1500 | 1500*350*200*460 ±20 | ≤30 | 19-21 | 22 | 13.3 |
| 1600 | 1600*400*200*500 ±20 | ≤30 | 19-21 | 30 | 15.5 |
Different models of wet pan mills are designed for processing different ores.
To process gold ore, you can use these types of wet pan mills: Φ 850, Φ 900, Φ 1000, Φ 1100, Φ 1200. Among them, Φ 1200 is the most popular and widely used pan mill.
To process iron ore, molybdenum ore, lead ore, zinc ore, and antimony ore, you can use these types: Φ1300, Φ1350, Φ1400, Φ1500, Φ1600.
How can a wet pan mill separate gold ore?
A wet mill can be used together with a crusher and gravity equipment so that the sorting efficiency is higher.
1. Wet pan mill works with jaw crusher/ hammer crusher
The maximum feeding size of the wet pan mill is 30mm. At first, the gold ore is crushed by a jaw crusher or a hammer crusher. Then it is fed into a wet pan mill for grinding.
If gold ore contains some magnetic minerals, a magnetic separator will be used to remove the iron or magnetite ores.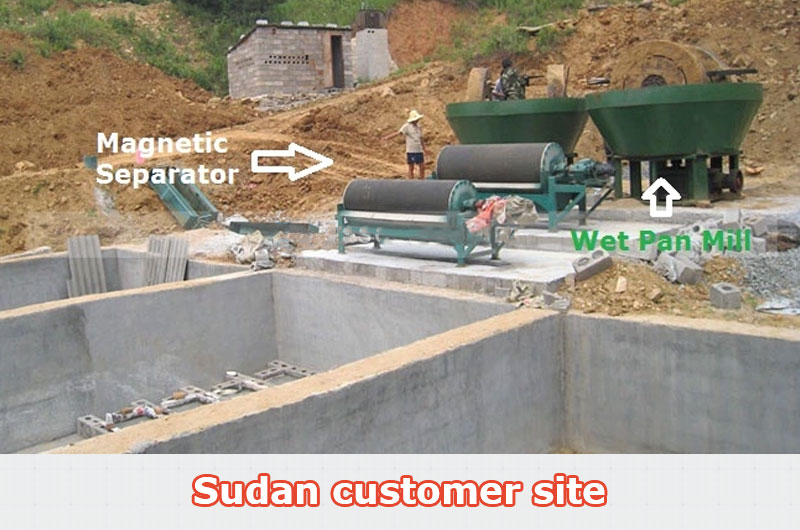 2. Wet pan mill works with shaking table
The shaking table is a gold concentration machine. It enjoys a high gold recovery rate, up to 95%.
Some of our African customers from Uganda, Tanzania, Zimbabwe, Kenya, prefer to combine a wet pam mill with a shaking table to separate rock gold ore.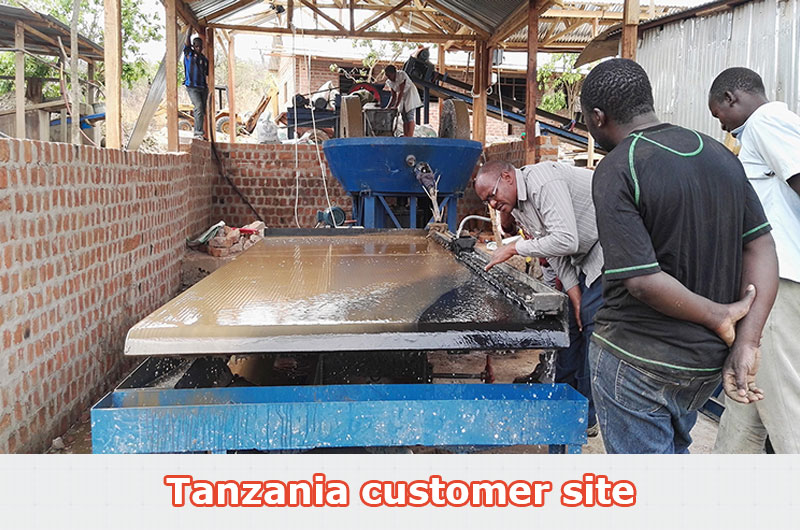 Small scale rock gold processing plant
This plant can be equipped with a jaw crusher, a wet pan mill and a shaking table. The output is 1-2 tons per hour. The gold processing plant has the advantages of low investment cost and high efficiency.
Why choose Fote Wet Pan Mill?
Compared with the wet pan mill sold at the market, Fote Wet Pan Mill is the most cost-effective grinding equipment. Even a very small gold processing plant can afford it. And its economic benefits are beyond your imagination.
Advantages of Fote Wet Pan Mill:
Fote Wet Pan Mill costs less than that of a ball mill, and also less than that of similar pan mills in the market. Our price is as low as $900.
High grinding efficiency. The production capacity is up to 50 tons per hour.
The grinding is uniform, and the output size is as small as 0.074 mm.
Low noise, low energy consumption, and safe operation.
Easy to operate and maintain.
The grinding roller is more wear-resistant. And the whole machine is made of high-manganese alloy steel, which has a longer service life.