Talc is the softest mineral on earth so that you can scratch it with your nails. It is a clay mineral composed of hydrated magnesium silicate and often presents the illusion of olivine, amphibole, tremolite, enstatite and other minerals. A massive talcose rock is known as steatite, and an impure massive variety is called soapstone.
Properties of talc
Talc chemical formula: Mg3Si4O10(OH)2
Talc hardness: 1 on Mohs scale
Color of talc: Talc minerals are colorless, white, green, brown or gray. Talc powders are white or gray.
Transparency: Translucent
Talc luster: Vitreous and pearly
Morphology: Euhedral crystals are extremely rare, usually found in platy, foliated to fine-grained compact masses, sometimes have a radial appearance.
Specific Gravity: 2.58 to 2.83
Impurities: Ni, Fe, Al, Ca, Na, H2O
Advantages: Talc has a soapy and greasy feel. It exhibits water repellency, chemical inertness and an affinity for organic substances.
How talc is formed?
Talc is formed by long-term physical and chemical changes of other minerals underground. It belongs to a kind of "metamorphic mineral". The formation of talc occurs in separate geological environments and it is always combined with carbonates and chlorite.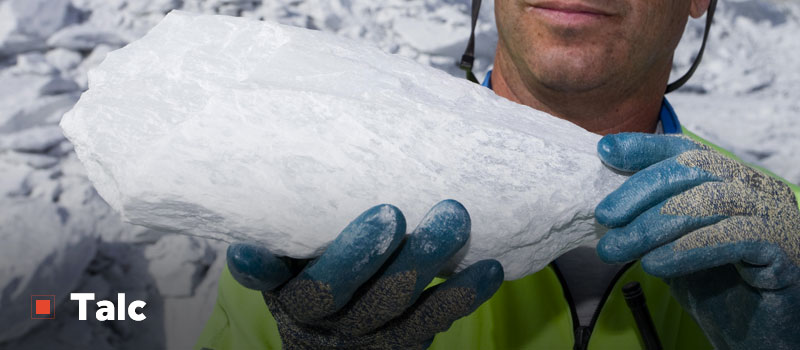 According to the parent rock from which talc deposits derive, there are four types:
Deriving from magnesian minerals
Magnesia minerals such as serpentine, pyroxene, amphibole and olivine can form talc carbonate rocks, in the presence of carbon dioxide and water. Among them, serpentines deposit provides about 20% of the world's talc. The crude ore is gray but can use flotation separation to improve whiteness.
Deriving from magnesium carbonates
When alteration is done on magnesium carbonate rocks like magnesite and dolomite at high temperature, talc is produced. More than half of the world's talc comes from this kind of talc deposit. The color of talc is generally pure and white.
Deriving from alumino-silicate rocks
About 10% of the world's talc comes from these deposits. They are sometimes found in combination with magnesium carbonate deposits. The crude ore is grey due to the presence of chlorite, but no up-grading is necessary as chlorite is beneficial to the industrial applications.
Deriving from magnesium sedimentary deposits
Talc is formed by the direct transformation of magnesium clays, such askerolite, sepiolite, or stevensite. No deposits belonging to this category are currently being mined.
Who produces talc?
China is the key world talc producer, accounting for 30% of global talc output (2018). The other major producers are India, Brazil, the United States, South Korea, France, Japan and Finland. High purity talc that has high industrial value mainly comes from China, India and Pakistan.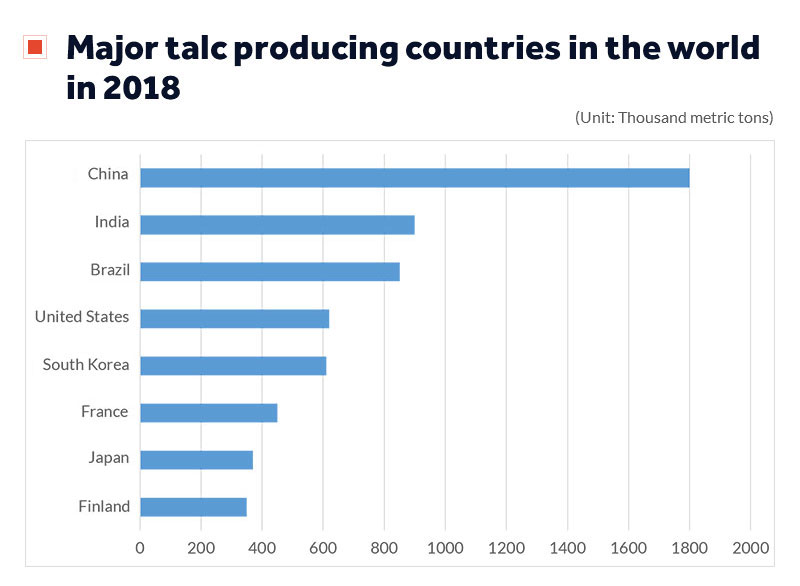 Famous economic talc mines include the Mount Seabrook in Western Australia. Luzenac Group is the world's largest supplier of mined talc. Its largest talc mine at Trimouns near Luzenac in southern France produces 400,000 tonnes of talc per year.
Talc uses
Talc is a vital part of everyday life and it is also one of the most important industrial minerals. Most people use the products that contain talc every day, but they don't realize that talc is in the product or the special role it plays.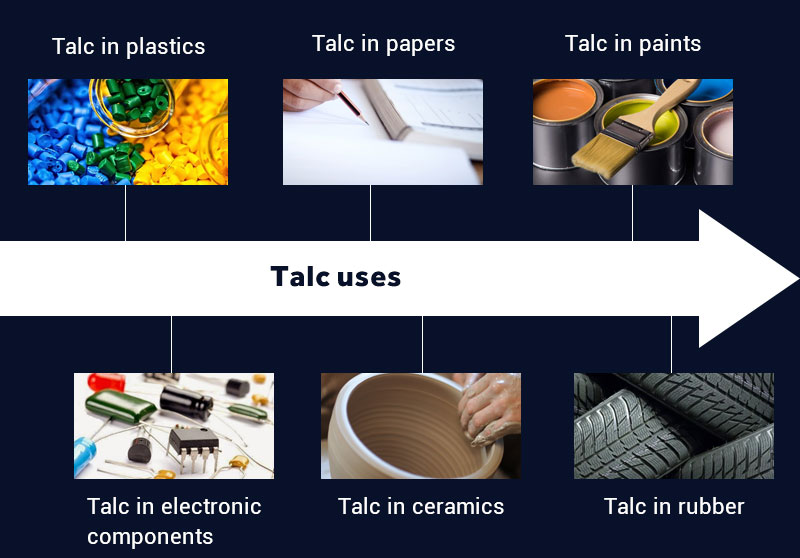 After 40 years of research and clinical proof, talc powder is safe and does not cause cancer. For the talcum powder ingredients, it is a water-containing magnesium silicate composed of magnesium, silicon, oxygen and hydrogen.
| | | |
| --- | --- | --- |
| No. | Talc applications | Talc products |
| 1 | Talc in plastics | Fillers and crystal nucleating agents for cars (dashboards, bumper interiors and exterior trims), household appliances, and polypropylene food packaging. |
| 2 | Talc in papers | Fillers, pitch control agents, and coating agents. |
| 3 | Talc in paints | Extender pigments (viscosity and gloss adjustments) and powder paints. |
| 4 | Talc in electronic components | Laminates, moldings, resist ink and adhesive. |
| 5 | Talc in ceramics | Ceramic glaze and honeycomb ceramic material. |
| 6 | Talc in rubber | Fillers and anti-sticking agents for tires, pharmaceutical stoppers, cables, etc. |
| 7 | Talc in makeup | Baby powder, soap,antiperspirants; cosmetics (blushes, foundations, eye shadows and lipsticks). |
| 8 | Talc in medicine | Additives to medical lubricants, tablets and bleaching agents. |
| 9 | Talc in food | Additives to fruit candy and bubble gum; chewing gum base fillers; food preservatives and foaming agents. |
| 10 | Talc in agriculture | Anti-caking agents, dispersing agents and die lubricants for animal feed, fertilizer and pesticide carriers. |
| 11 | Talc in wastewater treatment | Mineral additives for wastewater treatment plants. It can realize top-quality discharge and zero bacterial loss in an environmentally friendly way. |
How talc is mined and processed?
Talc often contains dolomite, calcite, quartz, magnesite, serpentine, siderite, pyrite, chlorite and other minerals. To improve its purity, special attention should be paid to talc mining and processing.
Talc mining
The mining of open-pit talc mines uses large-scale excavators to increase the mining speed, which can ensure a sufficient supply of raw materials. Workers accurately grasp the direction of talc veins through rigorous exploration, which can ensure the excavation of high-quality talc ore.
Through machine preliminary selection, talc blocks, small talc particles and talc slag are separated and classified according to different qualities.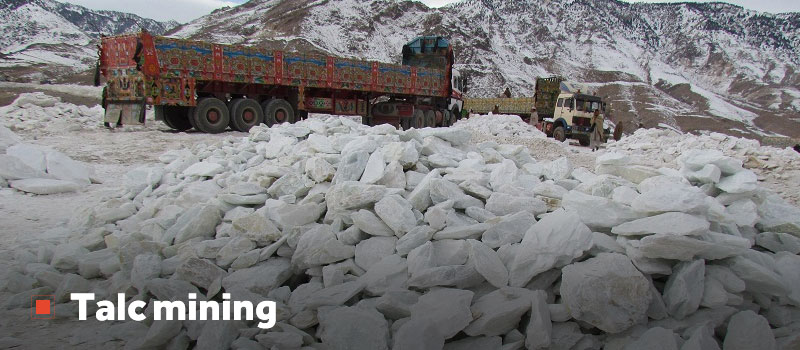 Talc processing
The mined talc can be purified by the dry production process or the wet production process. The dry production process is used for the high-grade talc deposits, while the wet production process is used for the low-grade talc deposits.
At present, the industry mainly uses the dry production process to produce ultra-fine talc powder, and seldom uses the wet production process.
1. Talc dry production process
• Hand-selected and purified talc
Principle: According to the smoothness difference of talc and gangue minerals, manual selection is carried out to purify the talc minerals.
Purpose: Separate the massive associated minerals in advance.
Features: This method is commonly used as talc is easy to identify by touching it. The higher the talc grade, the better the smoothness. However, it requires that the workers must be experienced. It is gradually being replaced by color selection.
• Color selection and purification of talc
Principle: By using the characteristic of talc to emit white fluorescence under ultraviolet light, the purer talc can be sorted out by a color sorter.
Features: This method is now increasingly valued and used by enterprises.
Example: The American Cyprus Talc Company used this method to enrich the lean ore with a talc content of 30% to a rich ore with a talc content of 69%, and finally grind it to 200 meshes for flotation to obtain 99% cosmetic grade talc.
• Electro-selection and purification of talc
Principle: According to the difference in conductivity between talc, magnesite, magnetite and other gangue mineral particles, electro-selection is carried out in a high-voltage electric field.
Purpose: To remove talc impurities, such as magnesite, magnetite, pyrite or tremolite.
Features: This method can be used for rough separation of talc rock as well as for the beneficiation and sweeping of tailings.
• Magnetic separation and purification of talc
Principle: According to the magnetic difference between talc and associated minerals, magnetic separation uses a magnetic separator to purify talc minerals.
Purpose: To remove iron-containing minerals and improve the whiteness of talc powder.
Features: Adopting the proper magnetic separation method and equipment can reduce the iron content of talc powder from 4% to 5% to less than 1%.
2. Talc wet production process
• Flotation separation and purification of talc
Principle: Talc can be purified by flotation separation because the talc surface is hydrophobic while the associated minerals are hydrophilic.
Process: (1) First, crush and grind talc to separate talc from the associated minerals; (2) Then, send talc to a ball mill for wet grinding. 90%-95% of talc has a particle size less than 0.074mm and is sent to a flotation separator; (3) Add the flotation agents to make the talc into a slurry, with a concentration of about 15%-20%. Through the flotation separation, talc concentrate is obtained.
Flotation reagents: Collector (such as kerosene), foaming agent (No. 2 flotation oil and methyl isobutyl carbinol), activator (such as sulfuric acid), inhibitor (usually lime), regulator (sulfuric acid and lime).
Features: This method is relatively simple. Most talc mines only need one roughing, one sweeping, and 2 to 4 times of beneficiation to obtain the final concentrate.
• Talc scrubbing and purification
Principle: Adding acid or some kind of agent to the water, using the difference in water solubility and sedimentation speed of talc and associated minerals to separate talc from the associated minerals.
Process: The process is finished by using a scrubbing machine and hydrocyclone. It mainly includes grinding, scrubbing, precipitation, thickening and drying.
Features: This method is simple, but has a low recovery rate of talc. Due to the small difference in specific gravity between talc and associated minerals, talc is likely to be sorted out as associated minerals.
Talc fine grinding and ultrafine grinding
Talc is finally used in the form of powder, so the purified talc needs to be crushed and ground. Talc has a Mohs hardness of 1, which is naturally crushable and has good grindability. It is commonly crushed by a jaw crusher and hammer crusher, then ground by a Raymond mill and superfine mill.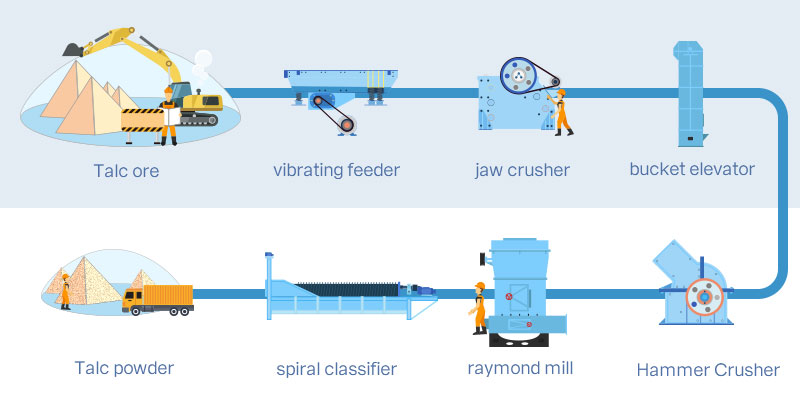 Talc powder processing:
1

Coarse crushing: First, the talc ore is evenly sent to a jaw crusher through a vibrating feeder for coarse crushing;

2

Drying: Then the crushed ore is sent to a dryer through a bucket elevator for dying;

3

Further crushing: After drying, talc ore is sent to a hammer crusher for medium and fine crushing;

4

Grinding: Next, talc ore is sent to a Raymond mill and superfine mill for fine grinding and ultrafine grinding to obtain the final talcum powders.

5

Classifying: Finally, the talcum powders are classified by a spiral classifier. Qualified talc powders are packaged as the final product, while the others return the milling machine for re-grinding.
Through the above talc processing and standardized working methods, the production process of each link is strictly controlled to produce high-quality talc powders with good whiteness and fineness.