Titanium is a silver-white metal that often exists in the form of titanium dioxide(TiO2) in the earth's crust. Because of titanium's high specific strength, strong corrosion-resistance, good biocompatibility, non-magnetic and other advantages, it is widely used in aerospace, ship manufacturing, chemical industry, transportation vehicles, architectural decoration, marine construction, sporting goods, daily necessities, etc. Titanium has gradually become an important metal resource for modern industry and cutting-edge technology.
So, come and learn more about metal titanium!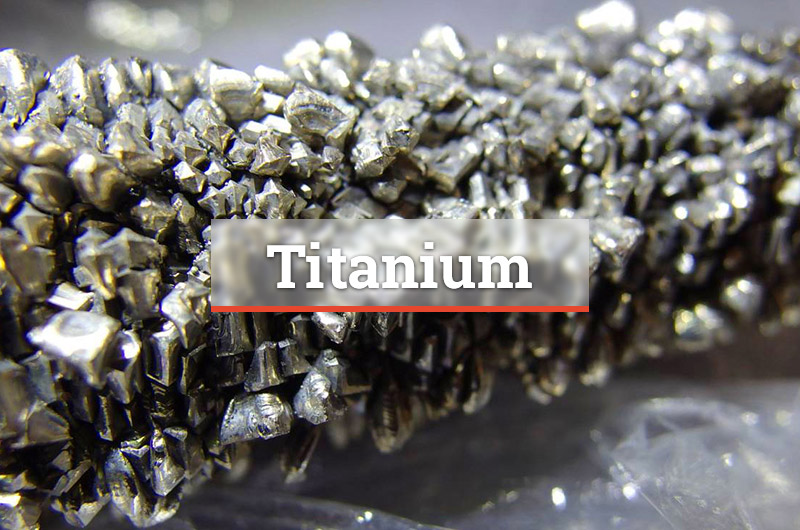 1 What are the advantages of titanium?
High strength: Titanium is 1.3 times stronger than aluminum alloy, 1.6 times stronger than magnesium alloy, and 3.5 times stronger than stainless steel. In terms of strength, titanium is the champion among metal materials.
High heat intensity: The service temperature of titanium alloy is several hundred degrees higher than that of aluminum alloy, and it can work for a long time at a temperature of 450-500℃.
Good corrosion resistance: Titanium is resistant to acid, alkali, atmospheric corrosion, pitting corrosion, and stress corrosion.
Good performance at low temperature: Titanium alloy TA7 with extremely low interstitial elements can maintain a certain degree of plasticity at -253°C.
High chemical activity: At high temperatures, titanium is highly chemically active and easy to react with gas impurities such as hydrogen and oxygen in the air to form a hardened layer.
Low thermal conductivity and low modulus of elasticity: The thermal conductivity of titanium is about 1/4 that of nickel, 1/5 that of iron, and 1/14 that of aluminum. The thermal conductivity of various titanium alloys is about 50% lower than that of titanium. The modulus of elasticity of titanium alloy is about 1/2 of that of steel.
Good biocompatibility: Titanium and titanium alloys are known as biologically inert metal materials, which can resist blood corrosion very well. That ensures good compatibility with human blood and cell tissues. The prerequisite for the implantation of titanium and titanium alloy is that it does not cause pollution in the human body as an implant.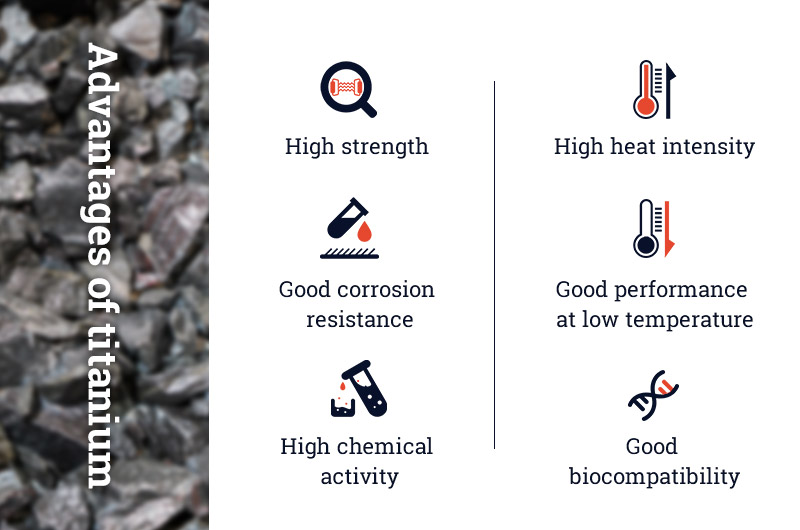 2 Where to find titanium?
Titanium mainly exists in ilmenite (FeTiO3) and rutile (TiO2) in the form of titanium dioxide (TiO2). In addition, titanium dioxide also occurs in some potentially useful minerals such as anatase, brookite, and white titanium.
According to the data released by the United States Geological Survey (USGS), the global reserves of titanium ore resources (calculated as titanium dioxide) are about 942 million tons. Ilmenite resource reserves are 880 million tons, accounting for 93.43%; rutile resource reserves are 62 million tons, accounting for 6.58%. Although the reserves of rutile resources are small, the grade is much higher than that of ilmenite, mainly for high-end demand.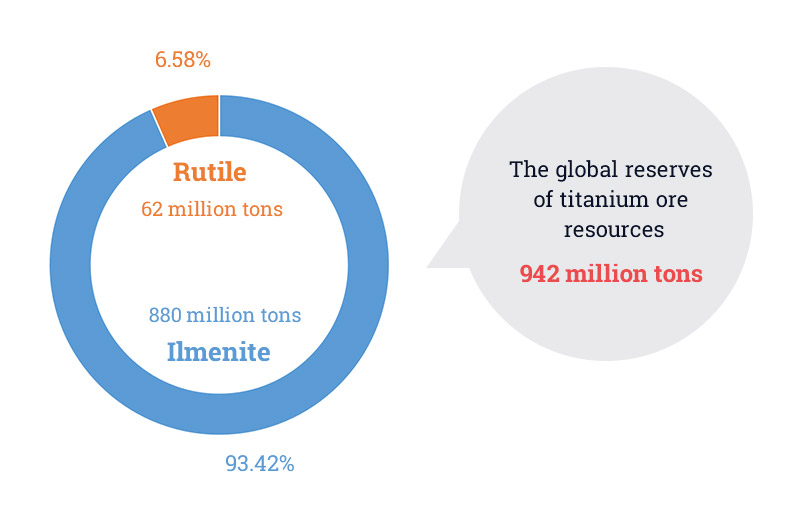 Ilmenite is mainly distributed in Asia, Oceania and Europe. The top five countries with ilmenite reserves are Australia (28.41%), China (26.14%), India (9.66%), South Africa (7.16%), Kenya (6.14%). The reserves of ilmenite in Australia and China account for more than half of the world's total reserves. In addition, Brazil (4.89%), Madagascar (4.55%), Norway (4.20%), and Canada (3.52%), Mozambique (1.59%), Ukraine (0.67%), the United States (0.23%), Vietnam (0.18%), etc. are also important countries where ilmenite resources are distributed.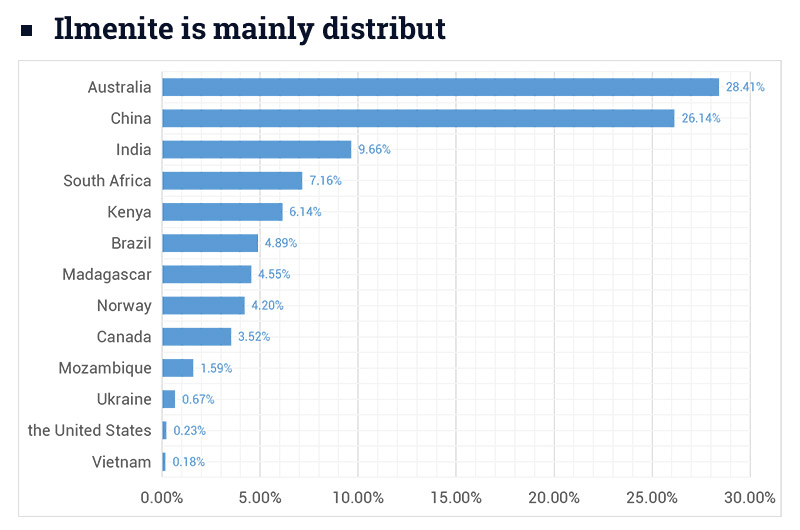 Rutile is mainly distributed in North America, Africa and Asia. The top countries with rich rutile reserves are the United States (46.77%), Kenya (20.97%), South Africa (13.39%), India (11.94%), and Ukraine (4.03%). Mozambique (1.42%), Sierra Leone (0.97%).
The rutile reserves of the United States account for about half of the world's rutile reserves, followed by Kenya, South Africa, and India. The total rutile reserves of these four countries account for about 90% of the world's total reserves.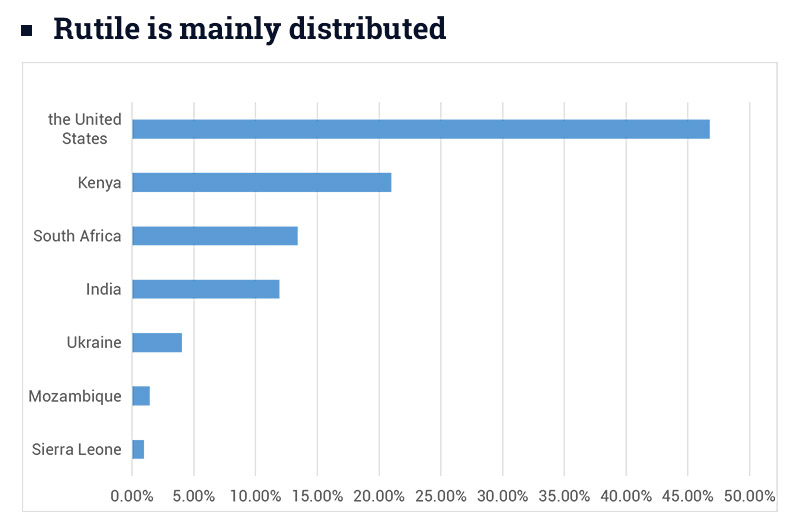 3 Production and consumption of titanium
3.1 The main titanium suppliers
According to the report released on September 1, 2021, the main suppliers of titanium ore raw materials are:
Rio Tinto
Tronox
Kenmare Resources
Pangang Group Vanadium Titanium and Resources
Lomon Billions Group
Iluka Resources
Indian Rare Earths Ltd
Base Resourse
TiZir Limited
Chongqing Iron and Steel Group
Kronos
VV Minerals
Group DF
3.2 Major producers and exporters of titanium ore
The main producers of ilmenite are Canada, China, Australia, Mozambique, South Africa, and India. The annual output of these countries accounts for about 70.37% of the total output. Other countries (including Kenya, Senegal, Ukraine, Norway, Vietnam, the United States, Madagascar, Brazil, Sri Lanka, etc.) accounted for about 29.63%.
The main supply countries of rutile are Australia, Sierra Leone, South Africa, Ukraine, and Kenya. These countries account for about 94.67% of the annual output. The world's largest rutile producer is Australia, which accounts for nearly half of the global output.
3.3 Major industries and countries that consume titanium
Most ferrotitanium ore is used to make ordinary titanium dioxide powder(TiO2 pigment). Internationally, the main industries that consume titanium dioxide are coatings, papermaking, rubber, etc., of which the coating industry still accounts for more than half of the entire titanium dioxide consumption. In addition, titanium dioxide powder can also be used in ceramics, cosmetics, etc.
The main consumption regions of titanium ore resources are China, the United States, Russia, European countries, Japan and emerging markets.
The end products of sponge titanium are mainly titanium metals and titanium alloys. Their main application fields are aerospace, ship manufacturing, chemical fossils, transportation, weapons, marine engineering, electric power, construction, metallurgy, medical treatment, sports machinery, daily necessities and light industry.
The main consumer countries of sponge titanium are Russia, the United States, and Japan and China. Most titanium processed materials in the United States and Russia are used in the aerospace field. On the contrary, Japan and China apply most of them to the chemical industry, general civil industry and industries related to people's livelihood.
4 Titanium industrial supply chain
1.

Titanium concentrates can be obtained from raw minerals such as ferrotitanium ore and rutile after being processed by purification methods such as beneficiation.

2.

The titanium concentrate is further purified to produce high-purity titanium dioxide, most of which is used in the titanium dioxide industry.

3.

Titanium dioxide undergoes a series of processes such as oxidation and reduction to generate titanium tetrachloride. Titanium tetrachloride can produce titanium sponge.

4.

Sponge titanium is processed by melting and casting to produce titanium ingots with a tighter crystal structure, which are used to produce titanium metals and various titanium alloys.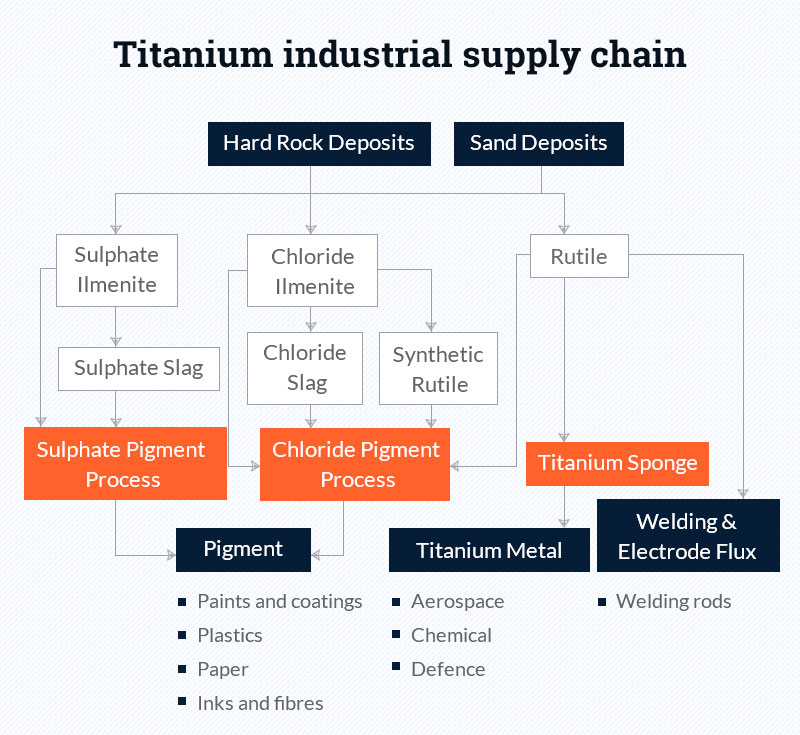 5 Titanium products
There are more than ten kinds of titanium products such as titanium concentrate, high-titanium slag, natural rutile, artificial rutile, titanium slag (acid slag, chloride slag), titanium tetrachloride, titanium dioxide (anatase titanium dioxide and rutile titanium dioxide), sponge titanium, titanium (alloy) materials, and titanium derivatives.
The main titanium products are titanium concentrate, titanium slag, titanium dioxide, titanium sponge, and titanium alloy materials.
5.1 Titanium Dioxide-TiO2 Pigment
Titanium dioxide is an important white pigment. It is mainly used in the chemical industries like coatings, plastics, paper making, chemical fiber, rubber, and ink.
There are two types of titanium pigment, rutile titanium dioxide (R-type) and anatase titanium dioxide (A-type). Generally, the R-type is for the coating industry, and the A-type is for the paper and chemical fiber industry.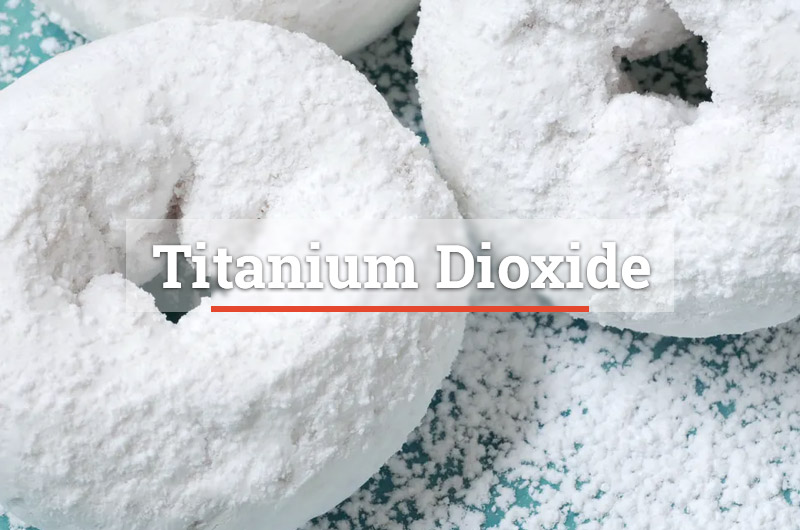 5.2 Sponge titanium
Rutile ore is the main source of sponge titanium. There is also a small part of ilmenite that is purified into artificial rutile and then made into sponge titanium.
Titanium sponge is the raw material for the production of titanium metals and titanium alloys. It is light, hard, and has a loose honeycomb shape. Therefore, sponge titanium cannot be directly applied to the production of titanium products. It must be smelted at a high temperature into a dense titanium ingot.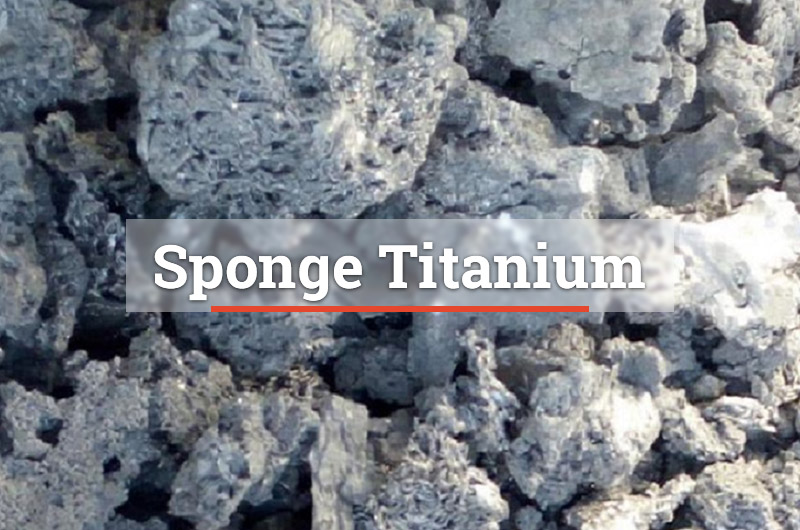 5.3 Titanium ingot
Titanium ingots are processed into titanium plates, titanium tubes, titanium bars, and titanium wires by forging, rolling, extrusion and other molding methods. The molding methods can not only prepare the metal titanium into the required shape, but also improve its performance.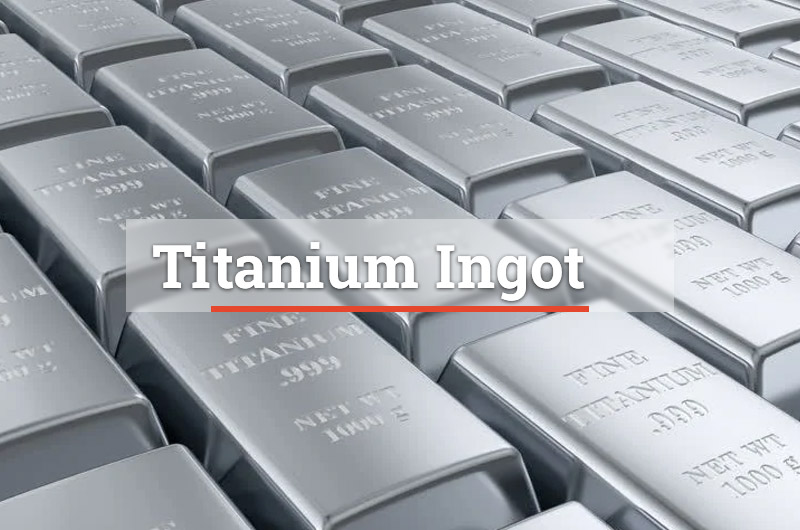 At present, only four countries in the world, the United States, Russia, Japan, and China, have mastered the production technology of the complete titanium industrial chain. Compared with the other three countries, China's production technology is relatively low-end.
6 What is the price of titanium?
PRICES FOR TITANIUM MATERIALS in China
| | | | | | |
| --- | --- | --- | --- | --- | --- |
| Products | Average price in Jul, 2021 | Average price in Aug, 2021 | Month on month | Average price in Aug, 2020 | Year on year |
| Domestic titanium ore | ¥2176.5/t | ¥2139/t | -1.73% | ¥1280/t | 67.11% |
| Imported titanium ore | $ 339.0 / ton | $ 358.5/ ton | 5.75% | $250 / ton | 47.40% |
| Titanium slag | ¥6708.75/t | ¥6612.75/t | -1.43% | ¥4733.75/t | 39.69% |
| Titanium tetrachloride(TiCl 4) | Cu4SO4(OH)6 | ¥7800/t | ¥7800/t | 0.00% | ¥6050/t |
| Rutile titanium dioxide | ¥20101.5/t | ¥19901.25/t | -0.10% | ¥13050/t | 52.5% |
| Anatase Titanium Dioxide | ¥18274.5/t | ¥18132.75/t | -0.78% | ¥11000/t | 64.84% |
| Titanium Sponge | ¥68900/t | ¥68900/t | 0.00% | ¥51000/t | 35.10% |
Source:toodudu.com
PRICES FOR TITANIUM MATERIALS in U.S
| | | | | | | |
| --- | --- | --- | --- | --- | --- | --- |
| Concentrate | | 2020 1st quarter | 2020 2d quarter | 2020 3d quarter | 2020 4th quarter | 2021 1st quarter |
| Ilmenite, CIF, China1 | dollars per metric ton | 210-230 | 210-230 | 230-250 | 230-250 | 260-270 |
| Titanium slag, import2 | | | | | | |
| Canada | do. | NA | 990 | 1,090 | 1,010 | 1,100 |
| Norway | do. | NA | 800 | 800 | 790 | NA |
| South Africa | do. | 640 | 590 | 590 | 540 | 510 |
| Rutile, natural:1 | | | | | | |
| Bagged, f.o.b. Australian ports | do. | 1,300–1,350 | 1,300–1,350 | 1,300–1,350 | 1,300–1,350 | 1,300–1,400 |
| Bulk, f.o.b. Australian ports | do. | 1,150–1,200 | 1,150–1,200 | 1,150–1,200 | 1,150–1,200 | 1,200–1,300 |
| Metal: | | | | | | |
| Sponge metal, Japan, import2 | dollars per kilogram | 10.20 | 10.30r | 11.30 | 11.50 | 11.10 |
| Titanium mill products | producer price index3 | 173 | 171 | 173 | 171 | 168 |
| Titanium scrap, turnings, unprocessed (Ti-6Al-4V)4 | dollars per pound | 0.85–0.90 | 0.85–0.90 | 0.85–0.90 | 1.00–1.10 | 1.50–1.90 |
| Ferrotitanium, 70% (max. 4.5% Al) per pound Ti4 | do. | 2.90–3.10 | 2.20–2.25 | 2.20–2.25 | 3.00–3.30 | 4.00–4.30 |
| Pigment, Titanium dioxide pigment, import2 | dollars | 2,790 | 2,660 | 2,690 | 2,650 | 2,740 |
rRevised. do. Ditto. NA Not available
1 Source: Fastmarkets IM.
2 Unit value based on landed-duty-paid U.S. imports for consumption.
3 June 1982=100. Source: U.S. Department of Labor, Bureau of Labor Statistics.
4 Source: S&P Global Platts Metals Week.
With the development of science and technology, more properties of titanium have been discovered and utilized. Therefore, the demand for titanium in many industries such as the aviation industry and the medical industry has grown rapidly.
The titanium market has a bright future, and you definitely want to participate in it. At the same time you may wonder how to process the hard-to-find titanium ore resources?
Don't worry, The next article will elaborate on the crushing and screening process and beneficiation process of titanium ore resources.