Rutile is the first "titanium" to be recognized and discovered. Although its reserves are small, it has the most stable properties among titanium ores and its grade is much higher than that of ilmenite, so it is the preferred source of titanium ore.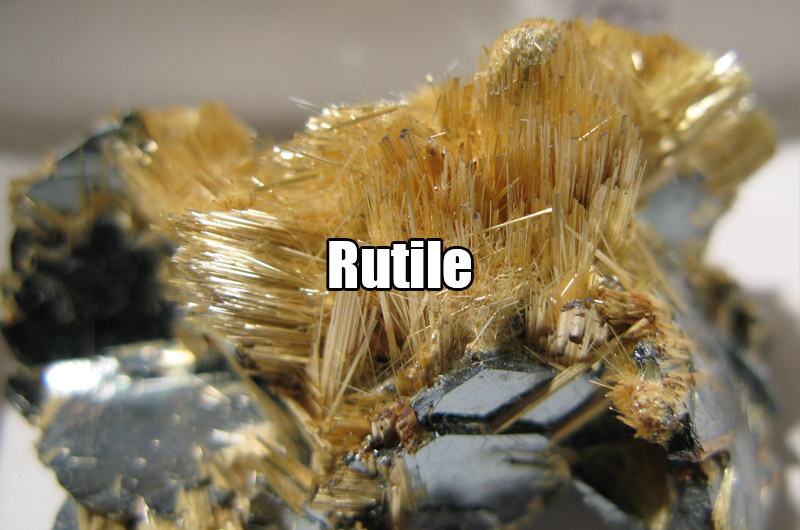 R-type titanium dioxide required in mechanical, chemical, automotive, and other industries is rutile. Australia, Sierra Leone, South Africa, and Kenya strongly demand this mineral. This blog will explore rutile and its processing methods.
What is rutile?
Rutile is an important titanium oxide mineral. It occurs as an accessory mineral in igneous rocks, eclogite, schist, gneiss, pegmatite, and other rocks, and also exists in the form of needle-like crystals in quartz, hematite, zircon, and other minerals.
Mineral properties of rutile
Rutile meaning: Rutile comes from the Latin word rutilis, meaning "red" or "glowing"
Rutile formula: TiO2
Rutile color: Reddish brown, red, light yellow, light blue, purple, rarely grass green or black
Rutile crystal: Tetragonal crystal system, often with intact tetragonal columnar or needle-shaped crystal forms
Rutile hardness: 6
Rutile streak: Light brown to light yellow
Specific gravity/Density: 4.2-4.3 g/cm3. If it contains iron, niobium, and tantalum, it can reach more than 5.5 g/cm3
Transparency: Transparent to opaque
Luster: Semi-golden to metallic luster
Rutile properties: Stable, resistant to heat, low temperature, and corrosion
Mining and processing of rutile
Popular mining areas for rutile are located in Gbangbama and Rotifunk in Sierra Leone, Binnental and Campolungo in Sweden, Georgia in the United States, Mount Ilmen in Russia, and New South Wales and Queensland in Australia.
Rutile is mined from hard rocks and heavy mineral sands. The latter is more economical. This blog will explore the mechanical processing methods of rutile after it is mined from two sources.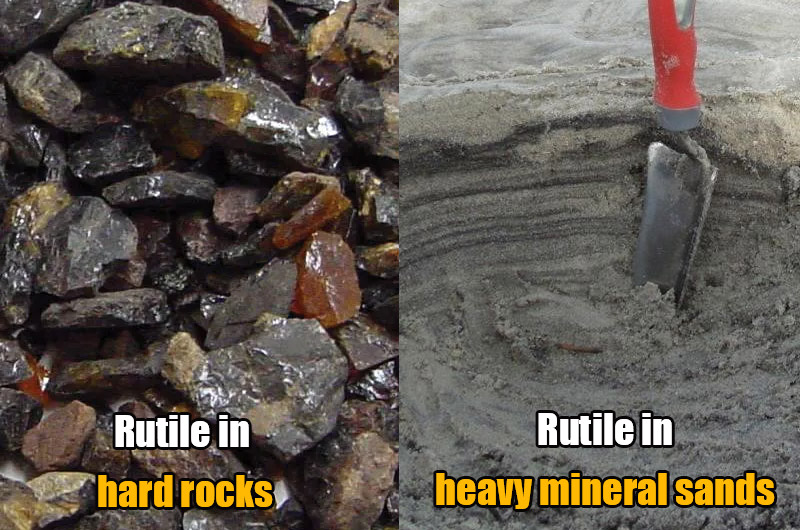 1. Processing rutile from hard rocks
The mineral studied is eclogite-type primary rutile ore. Its mineral characteristics are as follows:
The raw ore has fine particle size and contains TFe 14.95% and TiO2 5.14%.
The main industrial minerals are rutile and ilmenite, followed by titanium magnetite, hematite, and limonite.
Gangue minerals are garnet, omphacite, muscovite, hornblende, quartz, and apatite.
Garnet is an important factor affecting the grade and recovery rate of rutile concentrate.
Through multiple beneficiation tests, FTM Machinery found that combined beneficiation has the best effect on rutile recovery.
Therefore, the processing equipment includes a jaw crusher, impact crusher, vibrating screen, magnetic separator, shaking table, and flotation machine.
Rutile processing result:
A rutile concentrate with 90% TiO2 and a garnet and omphacite concentrate with a purity of 88% are obtained. The recovery rates of the three minerals are all above 67%.
Take the Sierra Leone rutile processing plant as an example. The raw ore is found in beach sand and is mainly associated with ilmenite, zircon, rutile, and monazite.
The beneficiation steps of rutile are as follows:
1

Desliming:

Use a trommel screen to deslime and discard most of the slime.

2

Gravity separation:

Use a shaker table for gravity separation to separate heavy minerals (such as rutile and cassiterite) from a small amount of light minerals (such as quartzite or fine mud).

3

Magnetic separation:

Both dry and wet magnetic separation are possible. The weak magnetic separator separates magnetite, ilmenite, and other magnetic products from gravity separation coarse concentrate. Strong magnetic separation separates magnetic impurities of ilmenite and monazite to obtain rutile concentrate.
The rutile concentrate, a white powder, is used in producing bright white titanium dioxide pigments for items like paint, plastics, paper, and toothpaste. It is also utilized in titanium metal (titanium sponge) and refractory ceramics production. Customize your rutile processing solution!