Ilmenite is the most important titanium ore. It is often used for the production of the metal titanium and titanium dioxide (FeTiO3) accessory products, such as paint, paper, titanium white (white pigment), plastics, fabrics, etc.
This blog will introduce the ilmenite beneficiation process and processing plant.
Know about ilmenite
Before beneficiation, a mineral test must be done to analyze mineral properties. It can reduce unnecessary investment in equipment to obtain ideal beneficiation results.
Ilmenite is a black iron-titanium oxide (FeTiO3) with the main mineral components of hematite, magnetite, pyrite, pyroxene, and amphibole. Ilmenite in placer deposits often contains a large amount of slime.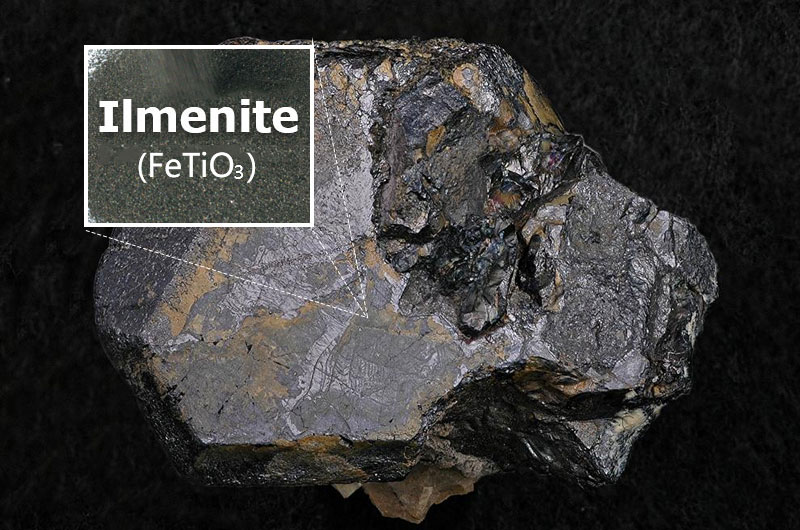 Ilmenite mineral's Mohs scale hardness is 5-6. It is weakly magnetic and has a granular, plate, flake, and scale structure.
Most ilmenite ores are recovered from heavy ore placer deposits. This type of ore doesn't need to be crushed and ground before beneficiation, but slime needs to be washed by the trommel screen.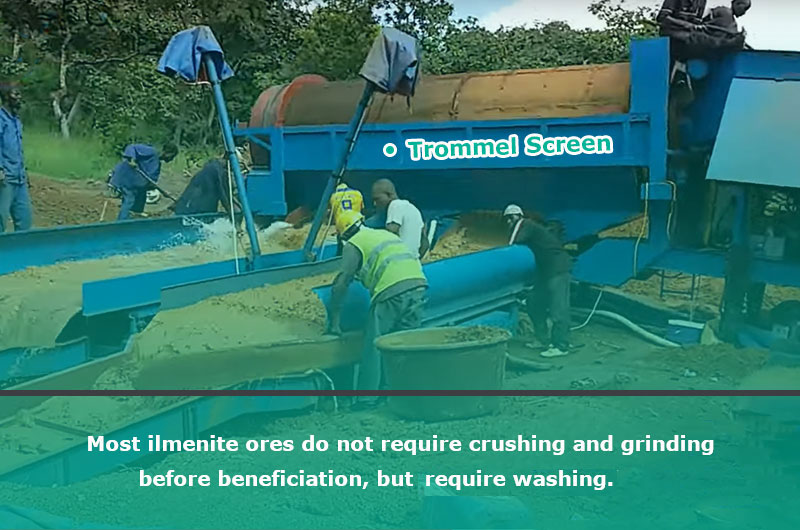 There are also some ilmenite ores recovered from hard titanium rock ores containing minerals such as magnetite and feldspar. They require crushing (by the jaw crusher and cone crusher) and grinding (by the ball mill) before beneficiation.
Ilmenite beneficiation process
Tests have shown that you had better use the combined beneficiation process of gravity separation, magnetic separation, and flotation for ilmenite. Then the Ilmenite concentrate grade can reach 50%, and the recovery rate can reach 80%.
The beneficiation process of ilmenite depends on the production needs, ore properties, etc. Watch this video on how to process ilmenite (from hard rock).
1. Gravity separation method
Gravity separation method can process the coarse-grained ilmenite (grade is below 6%). It can be pretreated or roughened to obtain a qualified rough concentrate with a grade of more than 30%.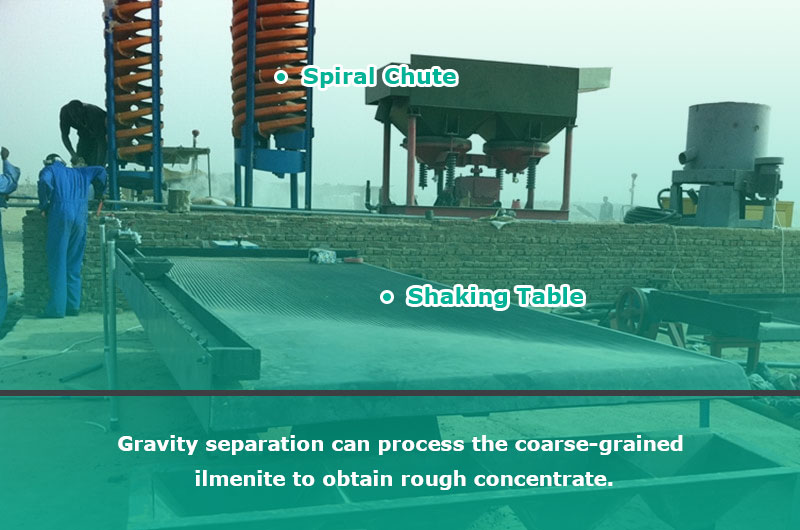 Gravity separation is a low-cost and environmentally friendly option. The equipment is the spiral chute and shaking table.
2. Magnetic separation method
Magnetic separation can remove iron and other magnetic minerals from ilmenite minerals. This method includes weak magnetic separation and strong magnetic separation. The weak magnetic separation is to separate titanomagnetite, while the strong magnetic separation is to discharge qualified tailings and prepare for the subsequent flotation process to obtain the final titanium concentrate.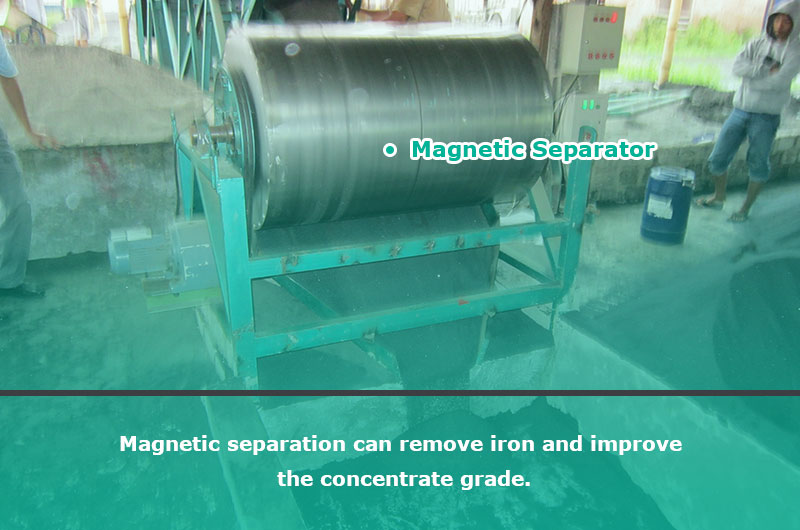 The equipment is the magnetic separator. You can use a strong magnetic separator for weak magnetic ilmenite, a medium magnetic separator for vanadium titanomagnetite, and a weak magnetic separator for placer-type ilmenite (containing magnetite).
3. Flotation separation method
Flotation separation method mainly recovers the fine-grained sulfur-containing ilmenite by the flotation machine. The flotation of sulfide minerals is sorted first, followed by ilmenite flotation.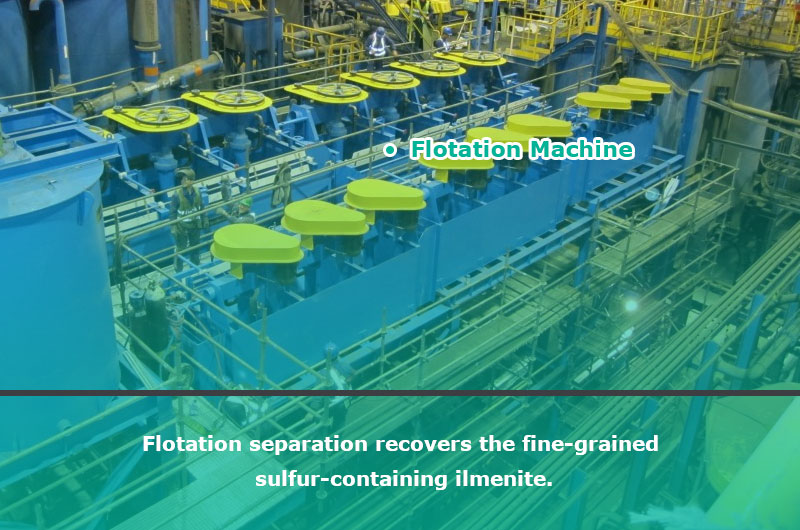 How to use the flotation reagents?
Sulfide flotation reagents: The foaming agent is No. 2 oil. The collector is xanthate. The activator is copper sulfate. The pH adjuster is sulfuric acid.
Ilmenite flotation reagents: The pH adjuster is H2S04. The collectors are oleic acid and its salts, such as tar oil soap or a mixture of collectors and kerosene. The activator is lead nitrate. The inhibitors are water glass, oxalic acid, sodium hexametaphosphate, carboxymethyl cellulose (CMC), etc.
Beneficiation of 4 common types of ilmenite ores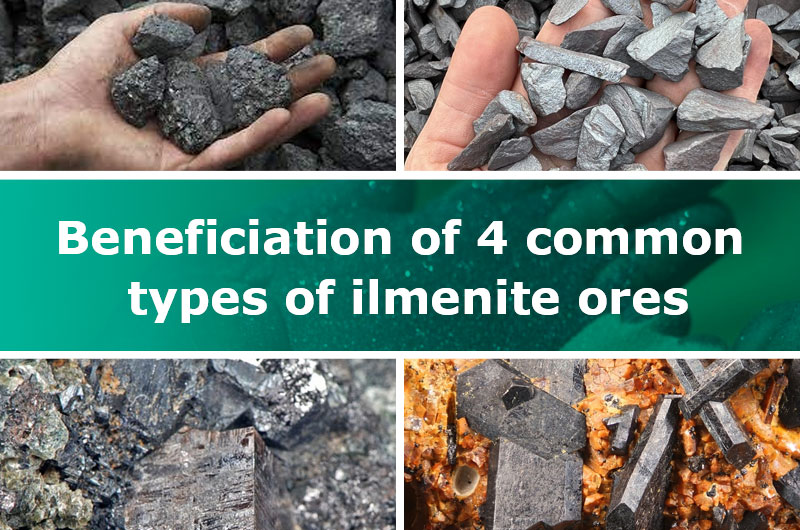 Ilmenite-magnetite: Use the gravity-magnetic separation method. Throw the tails as coarsely as possible. Then the ilmenite concentrate is ground and magnetically separated. If it contains sulfide, the flotation method is added to select sulfide first, and then select fine-grained ilmenite.
Hematite-Ilmenite: The beneficiation can only select the ilmenite mixed concentrate, and then use fire smelting to obtain pig iron and high titanium slag.
Perovskite-titanomagnetite: Use the method of magnetic separation - flotation separation. Wet magnetic separation is used to select titanomagnetite. Then the calcite is floated with a fatty acid collector, and the ilmenite is floated after removing the middle ore.
Low-grade ultra-fine-grained ilmenite: The gangue is mainly titanium pyroxene and plagioclase, and also contains sulfide. This ilmenite uses the method of gravity separation - magnetic separation - flotation - electric separation. That is, first remove the plagioclase by gravity separation, then the flotation desulfurization is performed, and finally remove the titanium pyroxene by electro-selection.
After beneficiation, the concentrate pulp enters a rotary drum dryer for drying. Finally, a high-grade concentrate is obtained.
Cases of ilmenite processing plant
10 TPH ilmenite processing plant in Australia
A plant in Australia processes ilmenite placer ore. The titanium in the ore is mainly ilmenite, followed by rutile, white titanium, brookite, and sphene. 4.91% of titanium is dispersed in iron-manganese minerals (goethite, pyrite, hydrohematite, etc.) and gangue minerals (kaolinite, quartz, feldspar, etc.).
Customer requirement: The grade of titanium concentrate (TiO2) must be about 48%.
Ftmmachinery recommended solution:
Through the beneficiation test, the particle size of raw ore has a good monomer dissociation degree (up to 88.80%), so it can be directly sorted by gravity separation without crushing and grinding.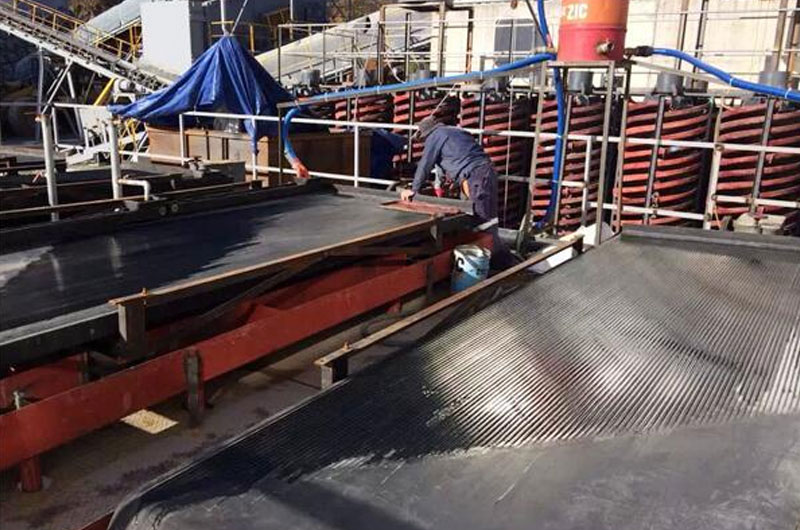 Ilmenite processing process:
1

Screening and desliming: Use the trommel screen to wash the slime. The tailings with a yield of about 17.33% and the mud tailings with a yield of 40.81% are thrown away. This can reduce the number of subsequent equipment and save your costs.

2

Rough selection: Use the spiral chute for coarse selection and sweeping.

3

Selection: The rough concentrate enters the 6-S shaking table for selection and re-selection of medium ore. The recovery rate of ilmenite concentrate reaches 75%.
40 TPH ilmenite processing plant in South Africa
The ilmenite in South Africa is an inland placer, which is characterized by low grade and high mud content. The main titanium-containing minerals are ilmenite and titanomagnetite, and a small amount of magnetite and hematite.
Customer requirement: To obtain a higher grade of ilmenite concentrate.
Ftmmachinery recommended solution:
The process is Washing and desliming - Gravity separation - Grinding - Magnetic separation - Gravity separation. After washing, the loss rate of TiO2 in the slime is 22%. After roughing, the TiO2 loss rate in rough tailings is 25%. After grinding, titanomagnetite and magnetite are first selected by weak magnetic separation and then selected by the shaking table.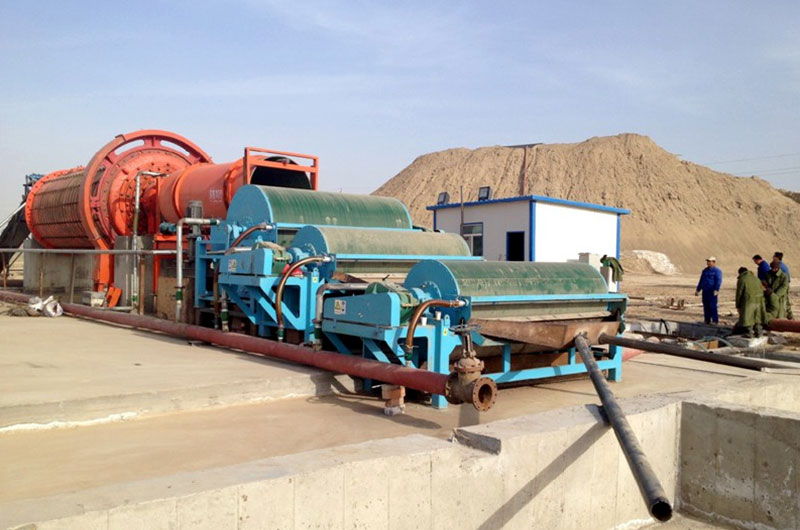 Ilmenite processing result:
The recovery rate of TiO2 reached 43.6%. Among them, the TiO2 grade of ilmenite concentrate is 46.5%, and the TiO2 recovery rate is 36.69%. Titanium magnetite concentrate has a 0.88% yield, 56.89% TFe grade, and 14.35% TiO2.