What is a vertical roller mill?
A vertical roller mill, also known as a vertical grinding mill or vertical mill, is a comprehensive grinding equipment integrating crushing, drying, grinding, grading, and conveying.
Vertical grinding mills can be widely used in electric power, metallurgy, construction, chemical industry, and other industries to make powder, especially for materials such as cement clinker, coal powder, slag, and non-metallic ore.
HLM series vertical mill is a large-scale, high-yield, and energy-saving grinding product developed by FTM Machinery using advanced grinding and external circulation technology, combined with years of milling production experience.
Main parts of the vertical roller mill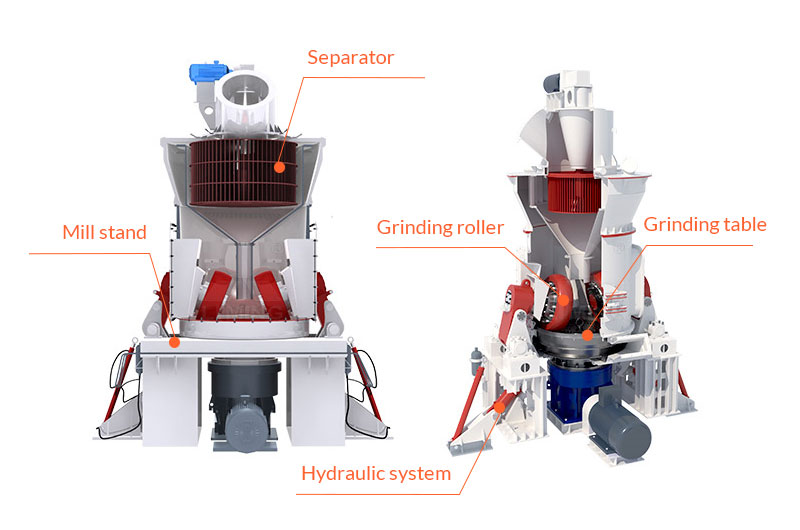 The structure of the vertical milling machine is mainly composed of the grinding roller, grinding table, separator, rocker arm, gearbox, stand, hydraulic system, and other parts. The following are key parts of the vertical mill: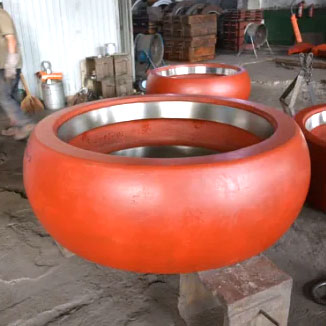 1. Grinding roller
Grinding rollers (usually 2-4) are the heart of the vertical mill, distributed on the grinding table. Grinding rollers apply pressure to the material on the grinding table. They are usually made of materials such as cast steel, alloy steel, or ceramic coating to withstand the grinding forces.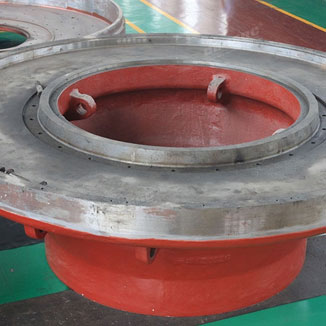 2. Grinding table
The grinding table, also known as the millstone, is a flat or conical surface on which the material is ground. It is typically made of cast steel or cast iron. It is designed with a specific pattern of grooves or ridges to enhance grinding efficiency.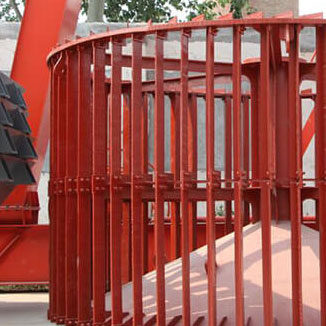 3. Separator
The separator, also known as a classifier wheel, separates the ground material from the airflow within the mill. It controls the size of particles leaving the grinding area. The separated fine material is typically conveyed to a storage system, while the coarse material is recirculated for further grinding.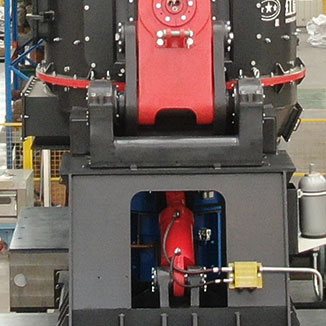 4. Hydraulic system
The hydraulic tension system is used to apply the required pressure between the grinding rollers and the millstone. It typically consists of hydraulic cylinders, accumulators, and a hydraulic power unit. The hydraulic cylinder is equipped with a nitrogen gas bag to absorb the vibration during the operation of the mill.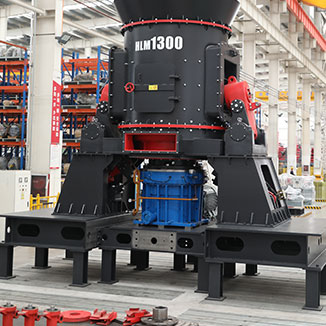 5. Mill stand
The mill stand provides structural support and stability to the grinding mill. It is often made of heavy-duty steel or cast iron to withstand the mechanical forces generated during the grinding process.
Note: In the components, grinding rollers are designed obliquely. One is to increase the contact area and improve the grinding efficiency; the other is to prevent large pieces of material from falling from the edge and blocking the air inlet.
Hot types of vertical roller mills
To meet the needs of the market, FTM Machinery provides customers with different vertical mill types. According to different materials, the most popular types of vertical mills are cement vertical mills, coal vertical mills, slag vertical mills, and ultra-fine vertical mills.
1. Cement vertical mill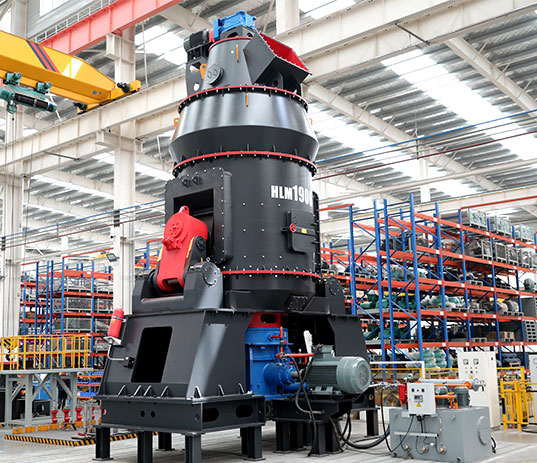 Raw materials: Cement raw meal, clinker (such as limestone, gypsum, sandstone, clay, etc.)
Material moisture: ≤5%
Finished product moisture: ≤1%
Capacity: 8-200 t/h
2. Coal vertical mill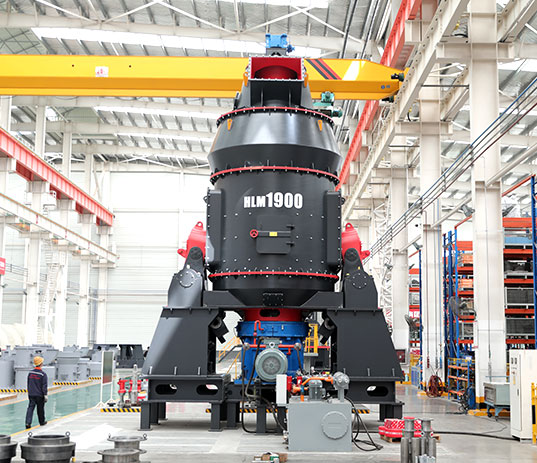 Raw materials: Raw coal, coal gangue, lignite, bituminous coal, fly ash, etc.
Coal moisture: ≤15%
Coal powder moisture: ≤1-5%
Capacity: 6-80 t/h
3. Slag vertical mill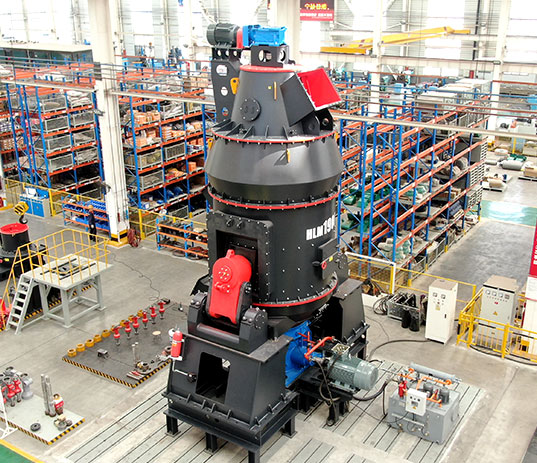 Raw materials: Slag, steel slag, blast furnace slag, metallurgical waste slag, ceramic waste, etc.
Slag moisture: ≤15%
Finished product moisture: ≤1%
Capacity: 6-165 t/h
4. Ultra fine vertical mill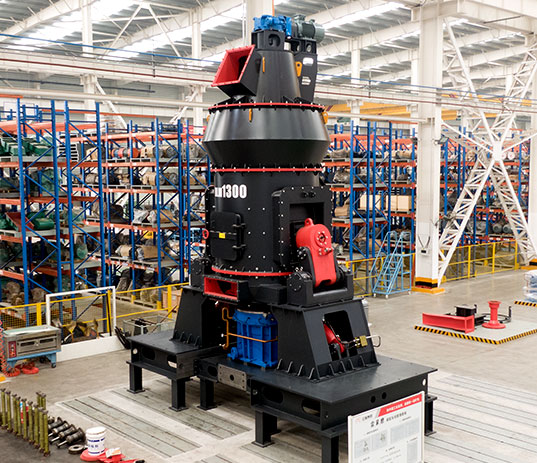 Raw material moisture: ≤4%
Finished product moisture: ≤1%
Finished particle size: 10-40 μm (370-1250 mesh)
Capacity: 2-45 t/h
Other types include ore vertical mills and pre-grinding vertical mills. For detailed parameters, please click here!
Why choose FTM Machinery vertical roller mills?
Vertical milling machine is a kind of common mine milling equipment. Compared with traditional mills, its advantages are more obvious:
High grinding efficiency: The grinding force is increased through hydraulic pressurization, improving the grinding efficiency, and the output is large. Low energy consumption, saving 30%-50% power consumption than ball mills.
Environmentally friendly: The mill is sealed as a whole and works under negative pressure, without dust spillage. Finished products are collected with a dust collector, environmentally friendly. It is equipped with a limited device, with low noise.
Good product quality: The material stays in the machine for a short time, reducing repeated grinding, and the product quality is stable. Dynamic powder classifier is adopted, and product granularity is uniform.
Strong drying capacity: The internal hot air is in direct contact with the material, which has a strong drying capacity. The air temperature can be controlled, and the moisture content of the dried material is as high as 15%.
High automation degree: The fully automatic control system can realize remote control, and is easy to operate. The external independent thin oil lubrication station is convenient for oil replacement.
Low comprehensive investment cost: 5 major functions are integrated into one, occupying an area of about 50% of the ball mill. It can be arranged in the open air, reducing the construction cost. The maintenance is convenient, and the capital investment is saved.
FTM Machinery vertical mills for sale: Get Latest Price
How does a vertical roller mill work?
A vertical mill is a machine that grinds materials according to the principle of material bed grinding.
1

The motor drives the grinding table to rotate, and the material falls to the center of the millstone from the feeding port. At the same time, the hot air enters the mill from the air inlet.

2

Under the action of centrifugal force, the material moves to the edge of the millstone, and when it passes through the annular groove on the millstone, it is crushed by the grinding rollers.

3

An airflow carries the ground material to a separator, where the fine particles are separated and collected as the final product.
Customer case: Vietnam clean coal powder production line
With the emergence of vertical roller mills, there has been an upsurge of clean energy pulverized coal replacing traditional boiler coal in various places. In July 2022, a Vietnamese customer will build a coal powder production line with an annual output of 300,000 tons.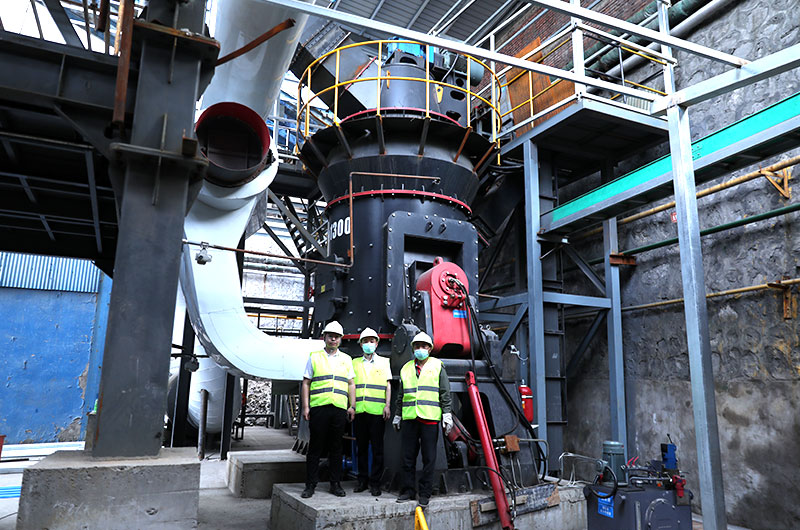 To meet the needs of customers, we have equipped them with 3 vertical coal mills, each with a capacity of 30 t/h.
Material: Anthracite, lignite
Capacity: 300,000 tons per year
Feed particle size: ≤25 mm
Output particle size: 200 mesh
Equipment: 3 sets of HLM1900M coal vertical mill
Auxiliary equipment: Jaw crusher, conveyor belt, quantitative feeder, dust collector
Vietnamese customers are very satisfied with this, and the coal is processed into high-efficiency clean coal power for use in large steel mills, power plants, and coal-fired plants.
Frequently asked questions about vertical mills
1. How to choose the right model for a vertical mill?
a. Feed size: Consider the maximum feed size of the material, which should be within the specified range of the mill.
b. Required fineness: Determine the particle size of the ground material. Different mills have different fineness levels.
c. Production capacity: Assess the required capacity based on the material amount to be processed per hour or day.
d. Space constraint: Take into account the available space for the mill installation and footprint.
2. What affects the working efficiency of a vertical mill?
a. The hardness of the grinding material. If the material is too hard, it will be more difficult to grind the powder, which will easily cause wear and tear on the equipment.
b. The temperature of the material entering the mill. If the temperature is high, coupled with the impact of the grinding body, the temperature inside the mill will be too high, and the phenomenon of ball sticking will occur.
3. How to avoid wear on the grinding roller and millstone?
a. Understand the grindability of the raw material. Too hard materials will cause serious wear to the lining of the grinding roller and millstone.
b. Keep the centerlines of the four grinding rollers at the same horizontal line and the limit heights are the same.
c. Prevent metal foreign matter from entering the mill, and use the iron remover of the system well.
d. Regularly maintain the mill and clean debris remaining in the grinding table.
Parameter
HLM coal vertical mill
HLM ore vertical mill
HLM slag vertical mill
HLM clinker pre-grinding vertical mill
HLM cement vertical mill
HLM ultra fine vertical mill
Specifications
Capacity(t/h)
Pulverized coal fineness
The raw coal moisture
Pulverized coal moisture
Main motor power(kW)
HLM1200M
6—10
R0.08=5-15%
≤15%
≤1-5%
110-132
HLM1300M
10-15
160—200
HLM1500M
15—20
220—280
HLM1700M
20-30
280-355
HLM1900M
26-35
355—450
HLM2200M
35-50
450—560
HLM2400M
45-55
560-710
HLM2800M
60-80
900—1120
Note:Raw coal HGl≥55
| | | |
| --- | --- | --- |
| Specifications | Capacity(t/h) | Main motor power(kW) |
| HLM1200M | 6—10 | 110-132 |
| HLM1300M | 10-15 | 160—200 |
| HLM1500M | 15—20 | 220—280 |
| HLM1700M | 20-30 | 280-355 |
| HLM1900M | 26-35 | 355—450 |
| HLM2200M | 35-50 | 450—560 |
| HLM2400M | 45-55 | 560-710 |
| HLM2800M | 60-80 | 900—1120 |
Note:Raw coal HGl≥55
Specifications
Capacity(t/h)
The finished product fineness
The raw material moisture
The finished product moisture
Main motor power(kW)
HLM1300K
10-40
0.84-0.37mm (20-400 mesh)
≤15%
≤1%
200
HLM1500K
13-50
280
HLM1700K
18-70
400
HLM1900K
20-85
500
HLM2200K
35-135
800-900
HLM2400K
40-160
900-1120
HLM2800K
50-200
1120-1250
HLM3400K
70-260
1800-2000
HLM3700K
90-320
2500-2800
Note: The grindability (Bond) index of raw materials is less than or equal to 13kw/t
| | | |
| --- | --- | --- |
| Specifications | Capacity(t/h) | Main motor power(kW) |
| HLM1300K | 10-40 | 200 |
| HLM1500K | 13-50 | 280 |
| HLM1700K | 18-70 | 400 |
| HLM1900K | 20-85 | 500 |
| HLM2200K | 35-135 | 800-900 |
| HLM2400K | 40-160 | 900-1120 |
| HLM2800K | 50-200 | 1120-1250 |
| HLM3400K | 70-260 | 1800-2000 |
| HLM3700K | 90-320 | 2500-2800 |
Note: The grindability (Bond) index of raw materials is less than or equal to 13kw/t
Specifications
Capacity(t/h)
Specific surface area
Slag moisture
Mineral moisture
Main motor power(kW)
HLM17-2N
6-10
≥420㎡/kg
≤15%
≤1%
200-220
HLM19-2N
8-13
280-315
HLM21-2N
10-15
400-450
HLM24-2N
12-18
500-560
HLM28-2N
22-30
900-1000
HLM35-3N
55-70
1800-2000
HLM42-4N
70-100
2500-2800
HLM46-4N
85-135
3150-3800
HLM53-4N
130-165
4500-5000
Note: Slag grindability (Bond) index ≤25kw/t; Steel slag grindability (Bond) index ≤30kw/t; The production of steel slag is reduced by about 30-40% when it is ground.
| | | |
| --- | --- | --- |
| Specifications | Capacity(t/h) | Main motor power(kW) |
| HLM17-2N | 6-10 | 200-220 |
| HLM19-2N | 8-13 | 280-315 |
| HLM21-2N | 10-15 | 400-450 |
| HLM24-2N | 12-18 | 500-560 |
| HLM28-2N | 22-30 | 900-1000 |
| HLM35-3N | 55-70 | 1800-2000 |
| HLM42-4N | 70-100 | 2500-2800 |
| HLM46-4N | 85-135 | 3150-3800 |
| HLM53-4N | 130-165 | 4500-5000 |
Note: Slag grindability (Bond) index ≤25kw/t; Steel slag grindability (Bond) index ≤30kw/t; The production of steel slag is reduced by about 30-40% when it is ground.
Specifications
Capacity(t/h)
Product fineness
The raw material moisture
Main motor power(kW)
≤80μm
≤2mm
HLM17-2Y
12-20
≥30%
≥90%
≤3%
200
HLM19-2Y
18-25
280
HLM21-2Y
25-35
400
HLM24-2Y
30-45
500
HLM28-2Y
60-80
900
HLM35-3Y
125-165
1800
HLM42-4Y
200-230
2500
HLM46-4Y
250-300
3150
HLM53-4Y
360-420
4500
Note: The grindability (Bond) index of raw materials is less than or equal to 18kw/t
| | | |
| --- | --- | --- |
| Specifications | Capacity(t/h) | Main motor power(kW) |
| HLM17-2Y | 12-20 | 200 |
| HLM19-2Y | 18-25 | 280 |
| HLM21-2Y | 25-35 | 400 |
| HLM24-2Y | 30-45 | 500 |
| HLM28-2Y | 60-80 | 900 |
| HLM35-3Y | 125-165 | 1800 |
| HLM42-4Y | 200-230 | 2500 |
| HLM46-4Y | 250-300 | 3150 |
| HLM53-4Y | 360-420 | 4500 |
Note: The grindability (Bond) index of raw materials is less than or equal to 18kw/t
Specifications
Capacity(t/h)
Specific surface area
The raw material moisture
The finished product moisture
Main motor power(kW)
HLM19S
8-13
≥380㎡/kg
≤5%
≤1%
280-315
HLM21S
11-18
400-450
HLM24S
15-20
500-560
HLM28S
28-35
900-1000
HLM35S
70-80
1800-2000
HLM42S
95-110
2500-2800
HLM46S
130-150
3150-3800
HLM53S
160-200
4500-5000
Note: The grindability (Bond) index of raw materials is less than or equal to 18kw/t
| | | |
| --- | --- | --- |
| Specifications | Capacity(t/h) | Main motor power(kW) |
| HLM19S | 8-13 | 280-315 |
| HLM21S | 11-18 | 400-450 |
| HLM24S | 15-20 | 500-560 |
| HLM28S | 28-35 | 900-1000 |
| HLM35S | 70-80 | 1800-2000 |
| HLM42S | 95-110 | 2500-2800 |
| HLM46S | 130-150 | 3150-3800 |
| HLM53S | 160-200 | 4500-5000 |
Note: The grindability (Bond) index of raw materials is less than or equal to 18kw/t
Specifications
Feed particle size(mm)
Capacity(t/h)
Product fineness
The raw material moisture
Main motor power(kW)
HLM1200X
≤10
2-6
Screen passing rate of 10-40μm 97%
≤4%
132
HLM1300X
≤10
3-10
220
HLM1500X
≤10
4-13
315
HLM1700X
≤15
7-18
450
HLM1900X
≤15
8-23
560
HLM2200X
≤20
13-35
800
HLM2400X
≤20
15-45
1000
Note: Mohs hardness grade 4 or below
| | | | |
| --- | --- | --- | --- |
| Specifications | Feed particle size(mm) | Capacity(t/h) | Main motor power(kW) |
| HLM1200X | ≤10 | 2-6 | 132 |
| HLM1300X | ≤10 | 3-10 | 220 |
| HLM1500X | ≤10 | 4-13 | 315 |
| HLM1700X | ≤15 | 7-18 | 450 |
| HLM1900X | ≤15 | 8-23 | 560 |
| HLM2200X | ≤20 | 13-35 | 800 |
| HLM2400X | ≤20 | 15-45 | 1000 |
Note: Mohs hardness grade 4 or below