Detailed Description
The Flowchart of Coal Briquetting Process
Coal crushing---drying---briquetting---carbonizing---final products.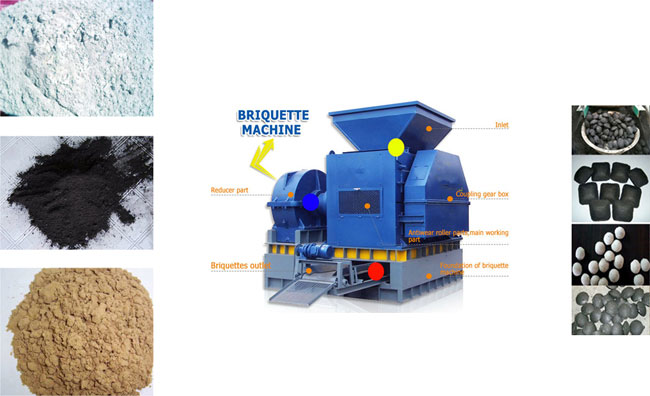 The Handling Materials of Coal Briquetting Process:
1. Coal powder, coke powder, charcoal powder, carbon powder and other mineral powders.
2. Magnesium, iron powder, iron ores, iron fine ores, copper fine powder, etc.
3. Aluminum powder and chips, limestone powder, and other natural materials with light density.
The Working Process of Coal Briquetting Process:
Two-type wheels are driven by motor and rotated at the same speed in the opposite direction, and the materials begin to be pressed when the materials fall to the junction between the two types, and volume compression is formed between the two corresponding goals nest.
Type wheel continues to rotate while the ball is gradually closed, at the same time the molding pressure is increasing, which can reach the maximum when the distance between the two balls is the shortest. The rotation of the type wheel makes balls separated, and then the forming pressure is also being decreased rapidly.
Parameter
Model
Roll diamter
(mm)
Roll width
(mm)
Total pressure
(t)
Main motor power
(kw)
Output
(t)
Weight
(t)
GY520-150
520
196
150
55
2.2-3.5
13
GY650-220
650
200
220
110
4-6.5
19.2
GY750-300
750
280
300
185
6-8.5
34
GY1000-350
1000
440
350
250
10-15
50.8
GY1000-450
1000
504
450
280
14-17
58.5
GY1000-500
1000
504
500
315
15-20
58.5
GYS1000-500
1000
600
500
280
17-21
56.5
GY1000-540
1000
900
540
185Kw×2
30-35
60
GY1200-800
1200
900
800
280Kw×2
40
110
GY1400-1000
1400
1000
1000
400Kw×2
50
156
Model
Roll diamter
(mm)
Roll width
(mm)
Total pressure
(t)
GY520-150
520
196
150
GY650-220
650
200
220
GY750-300
750
280
300
GY1000-350
1000
440
350
GY1000-450
1000
504
450
GY1000-500
1000
504
500
GYS1000-500
1000
600
500
GY1000-540
1000
900
540
GY1200-800
1200
900
800
GY1400-1000
1400
1000
1000