The coconut shell is composed of coconut fiber (up to 30%) and pith (up to 70%). Its ash content is about 0.6% and lignin is about 36.5%, which helps to turn it into charcoal fairly easily.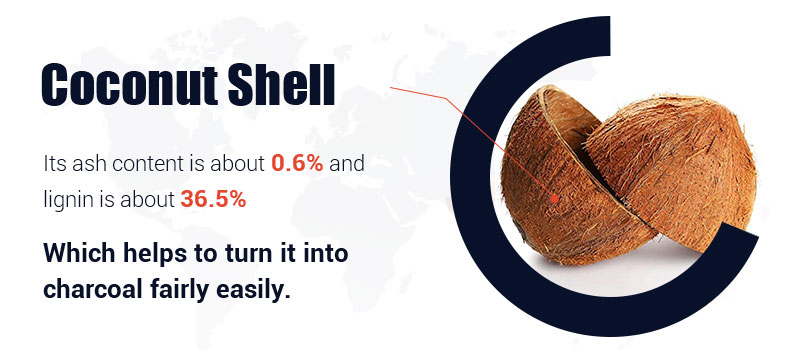 Coconut shell charcoal is a natural and environmentally friendly biofuel. It is the best fuel substitute against firewood, kerosene, and other fossil fuels. In the Middle East, such as Saudi Arabia, Lebanon, and Syria, coconut charcoal briquettes are used as hookahs coals (Shisha charcoal). While in Europe, it is used for BBQ (barbecue).
Master the technique on How to Make Charcoal Briquettes from Coconut Shells, it will bring you great wealth.
Where to get cheap and abundant coconut shells?
To build a profitable coconut charcoal briquette production line, what you should do first is to collect large quantities of coconut shells.
People often discard coconut shells after drinking coconut milk. In many tropical countries that are rich in coconuts, you can see many coconut shells piled up on roadsides, markets, and processing plants. Indonesia is Coconut Heaven!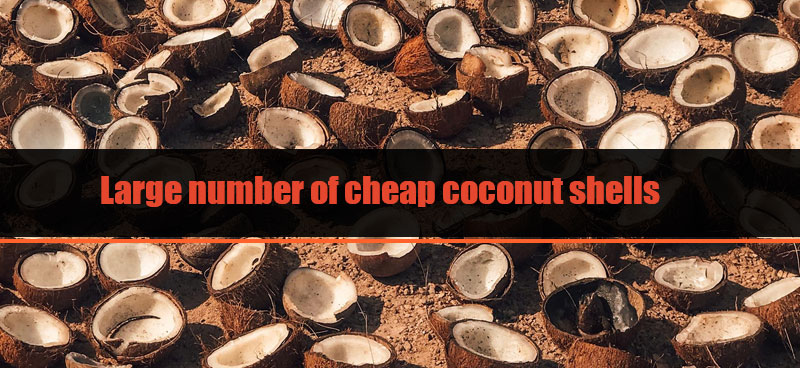 According to the Statistics offered by the Food and Agriculture Organization of the United Nations (FAO), Indonesia is the world's largest coconut producer, with a total production of 20 million tons in 2020.
Indonesia has 3.4 million hectares of coconut plantation which is supported by tropical climate. Sumatra, Java, and Sulawesi are the main coconut harvesting areas. The coconut shell price is so cheap that you can obtain abundant coconut shells in these places.
How to make coconut charcoal briquettes?
The coconut shell charcoal making process is: Carbonizing - Crushing - Mixing - Drying - Briquetting - Packing.
Carbonizing
Put coconut shells into a carbonization furnace, heat to 1100°F (590°C), and then are carbonized under anhydrous, oxygen-free, high-temperature and high-pressure conditions.
Please note that carbonization must be done by yourself. We don't sell such machine to help you carbonize the coconut shells.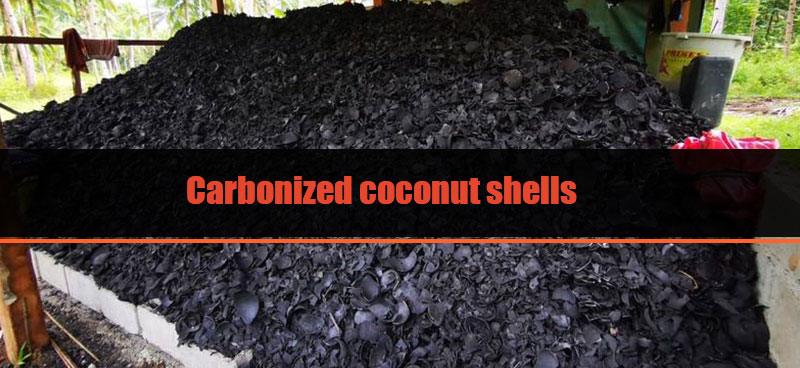 Of course, you can also choose a very low-cost carbonization method. That is, burning coconut husk in a large pit. But the whole process may take you 2 hours or more.
Crushing
Coconut shell charcoal keeps the shell shape or breaks into pieces after carbonizing. Before making charcoal briquettes, use a hammer crusher to crush them into 3-5 mm powders.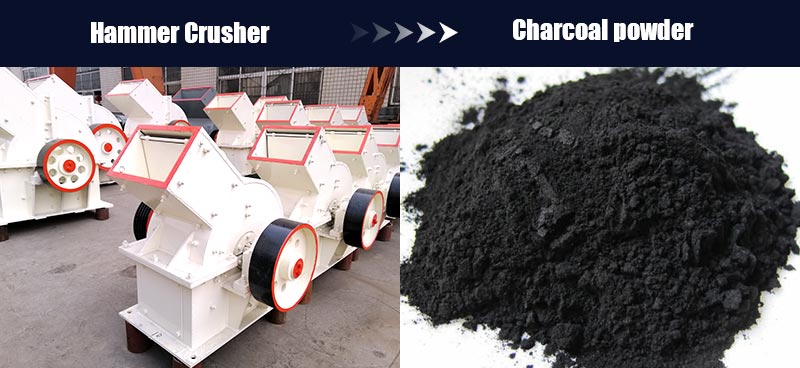 Coconut charcoal powder is much easier for shaping and can reduce the wearing of machine. The smaller the particle size, the easier it is to be pressed into charcoal briquettes.
Mixing
As carbon coconut powder has no viscosity, it is necessary to add a binder and water to the charcoal powders. Then mix them together in a mixer.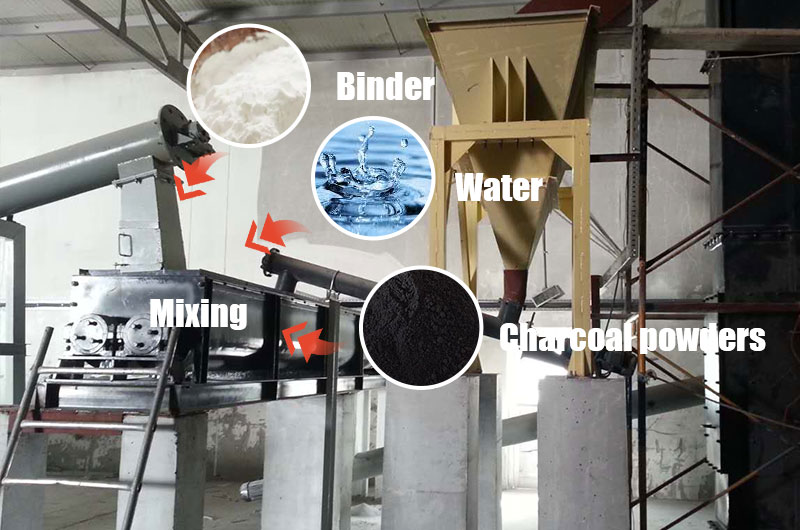 1. Binder: Use natural food-grade binders like corn starch and cassava starch. They do not contain any fillers (anthracite, clay, etc.) and is 100% chemical-free. Usually, the binder ratio is 3-5%.
2. Water: Charcoal moisture should be 20-25% after mixing. How to know whether the moisture is ok or not? Grab a handful of mixed charcoal and pinch it by hand. If the charcoal powder doesn't come loose, the humidity has reached the standard.
3. Mixing: The more fully mixed, the higher the quality of briquettes.
Drying
A dryer is equipped to make the water content of coconut charcoal powder less than 10%. The lower the moisture level, the better it burns.
Briquetting
After drying, the carbon coconut powder is sent to a roller-type briquette machine. Under high temperature and high pressure, the powder is briquetting into balls, and then smoothly rolls down from the machine.
The ball shapes can be pillow, oval, round and square.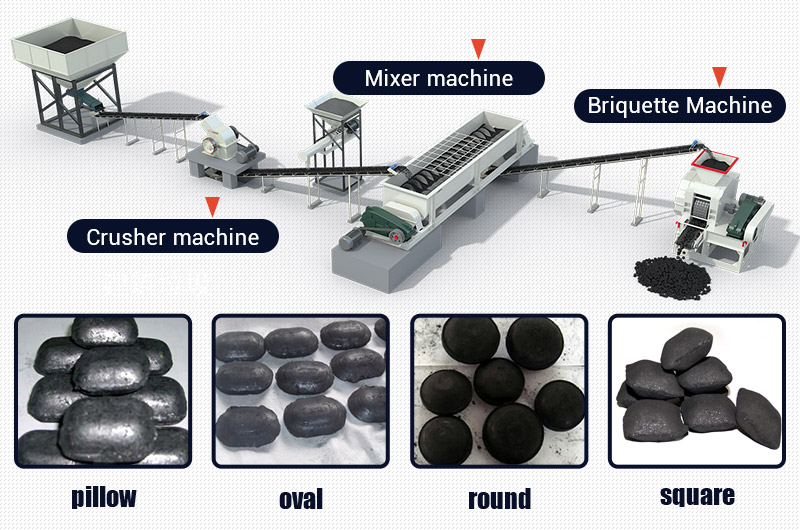 Packing and Selling
Pack and sell coconut charcoal briquettes in the sealed plastic bags.
Coconut charcoal briquettes are the perfect alternative to traditional charcoals
Compared with traditional charcoals, coconut shell charcoal has outstanding advantages:· · ·
It is

100% pure natural

biomass charcoal with no chemicals added. We guarantee that it requires

no trees being cut down!

Easy ignition

due to unique shape.

Consistent, even, and predictable burn time.
Longer burn time.

It can burn for at least 3 hours, which is 6 times higher than traditional charcoal.

Heats up faster than other charcoals.

It has a large calorific value (5500-7000 kcal/kg) and burns hotter than traditional charcoals.

Clean burning.

No odor and smoke.

Lower residual ash.

It has a much lower ash content (2-10%) than coal (20-40%).

Requires fewer charcoals for barbecue.

1 pound of coconut shell charcoal equals 2 pounds of traditional charcoal.
Uses of coconut charcoal briquettes
BBQ charcoal briquettes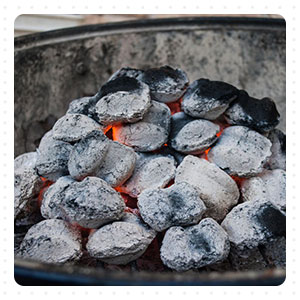 Coconut shell charcoal is the perfect upgrade to your Barbecue System that provides you with the perfect green fuel. European and American people use coconut charcoal briquettes to replace traditional charcoals inside the grill. Natural coconut keeps food safe from wisps of burning petroleum or other harmful substances and is smokeless and odorless.
Activated coconut charcoal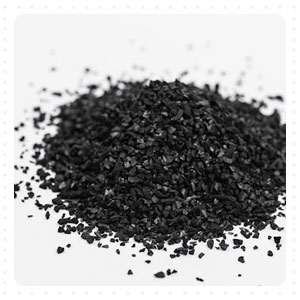 Coconut shell charcoal powder can be made into the activated coconut charcoal. It is used in wastewater and drinking water for purification, decolorization, dechlorination and deodorization.
Poultry feed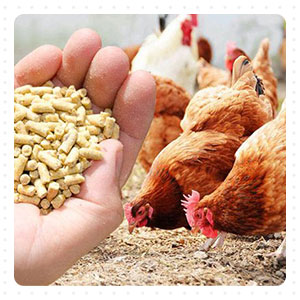 New research has proven that coconut shell charcoal can feed cattle, pigs and other poultry. This coconut shell charcoal feed can reduce diseases and increase their life.
Personal care
As coconut shell charcoal has an amazing moisturizer and purification qualities, it is used in personal care products, such as soap, toothpaste, etc. You can also find some popular products on coconut charcoal powder teeth whitening in shops.
References