Kaolin brightness (whiteness) is the main performance parameter affecting its value. High-quality Kaolin products are widely used for papermaking, skin care, pottery, ceramics, and gardening.
To effectively improve Kaolin brightness, purification methods are adopted. The purification aims to remove colored impurities (iron, titanium, etc.) and sandy minerals (quartz, feldspar, etc.).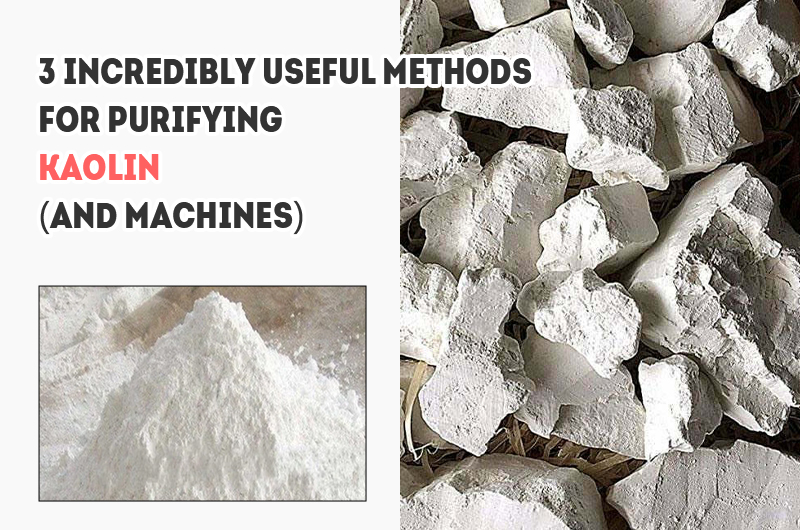 For kaolin with high whiteness, few impurities and sandy impurities (quartz, feldspar, etc.), the kaolin mineral can be directly crushed and milled. Learn about the Kaolin Dry Processing Process.
However, for complex kaolin with many impurities, the kaolin wet processing process must be carried out. This blog will introduce the purification methods of Magnetic Separation, Flotation Separation, and Selective Flocculation.
Magnetic Separation of Kaolin Clay
Almost all raw kaolin ores contain 0.5%-3% iron minerals, such as magnetite, hematite, ilmenite, pyrite, rutile, etc.
What is Magnetic Separation?
It is to use the magnetic difference between kaolin and gangue minerals to remove these colored impurities. Learn more about Magnetic Separation Plant.
For strong magnetic minerals (magnetite, ilmenite, etc.) or mixed iron filings, the Weak Magnetic Separation Method is adopted.
For weakly magnetic minerals (hematite, mica, rutile, pyrite, etc.), High-gradient Magnetic Separation (HGMS) is adopted. You can also roast the minerals into strong magnetic iron oxide, and then remove them by ordinary magnetic separation.
You may want to buy:
If the iron impurity is in the form of weakly magnetic silicate, and the titanium is in the form of rutile, Magnetic Separation will be difficult to work. At this time, Flotation Separation and Selective Flocculation are used.
Flotation Separation of Kaolin Clay
For kaolin with many impurities and low whiteness, Flotation Separation has an obvious whitening effect. Learn more about Flotation Separation Plant.
Since kaolin particles are finer than gangue minerals and are often embedded with impurities such as iron, titanium and carbon, they must be ground before flotation. The particle size mostly belongs to the mud-grade particles in the flotation process.
The Flotation Separation of kaolin can be divided into Carrier Flotation and Two-liquid Flotation.
1. Carrier Flotation
Carrier Flotation is also known as Ultrafine Particle Flotation, aiming to separate fine particles that are difficult to be treated by froth flotation. Learn more about Carrier Flotation.
Carrier Flotation of kaolin clay:
1

First, add carrier minerals smaller than 44μm in the flotation machine.

2

Then, the extremely fine impurity mineral Fe2O3 is adsorbed on the carrier minerals.

3

Next, they rise to the foam layer and are discharged with the foam overflow. Kaolin is the bottom flow product, thus achieving the purpose of separation.
The carrier minerals can be calcite, silica sand (-325 mesh), fluorite, silica, or barite. The dosage of carrier minerals is 10%-20% of the kaolin weight. Some carriers can be reused after recovery.
How to choose flotation reagents?
Collector: Tar oil
Regulator (pH Value adjuster): Sodium carbonate
Inhibitor: Ammonium sulfate
Dispersant: Water glass
Carrier Flotation can achieve a good separation effect. It can remove 70% of iron and titanium impurities, and the Kaolin brightness can reach more than 90.
However, its disadvantages are the complex process, high cost of dehydration, and residual chemicals and carrier minerals that are harmful to the final products.
You may want to buy:
2. Two-liquid Flotation
Two-liquid Flotation does not require carriers. Learn more about Two-liquid Flotation.
Two-liquid Flotation of kaolin clay:
1

First, add a dispersant to the kaolin slurry, and adjust the pH between 5-11.

2

Then, add a cationic collector and carbon tetrachloride to collect one of the minerals selectively.

3

Next, use Organic liquid reconciliation to adjust. The pulp is emulsified at pH=8-12 to form two liquid layers of an organic liquid (containing Fe2O3) and kaolin liquid.

4

Finally, the former is separated and pure kaolin is recovered.
How to choose flotation reagents?
Dispersant: Sodium silicate and alkali
Blending agent: Industrial kerosene. It can be reused after removing impurities.
Collector: Fatty acid
Stirring intensity is an important factor affecting the separation effect of this method. An appropriate stirring intensity must be selected.
Two-liquid Separation can effectively separate impurities such as tourmaline, but the cost is too high.
Selective Flocculation
The process of Selective Flocculation is relatively simple. The flocculants are sodium hexametaphosphate, polyacrylamide, or water glass. Learn more about Selective Flocculation.
Selective Flocculation of kaolin clay:
1

Firstly, fully disperse the solid particles in the suspension.

2

Then, add anionic flocculant to precipitate kaolin. The iron and titanium impurities remain in the suspension.

3

After standing for 10 minutes, pour out the reddish-brown suspension.

4

Finally, stir the flocs in clean water to form a suspension, and use Flotation Separation Method to further separate Kaolin clay.
Watch a video on Kaolin Clay Processing Plant in South Africa (Use Selective Flocculation).
After flotation separation, kaolin clay needs to be concentrated and dried to meet production needs.
You may want to buy:
Conclusion
In actual production, high-quality kaolin mostly uses magnetic separation-flotation separation-selective flocculation combined purification process to remove iron, titanium, and other colored impurities. If necessary, chemical leaching, bleaching, and calcination are also used for maximum purification.
Ftmmachinery can provide complete kaolin purification solutions and kaolin clay processing equipment, including crushers, ball mills, magnetic separators, flotation machines, rotary kilns, trommel screens, classifiers, clay dryers, etc.