Pyrrhotite is often considered a cousin of "fool's gold" pyrite because of their similar color and appearance to gold. It is the most common magnetic iron sulfide ore in nature with abundant reserves and high industrial value.
Reading this blog, you can learn about:
What is pyrrhotite?
As the cousin of fool's gold, pyrrhotite is also an iron-containing sulfide mineral. It is derived from the Greek word "pyrrhos", meaning the color of fire.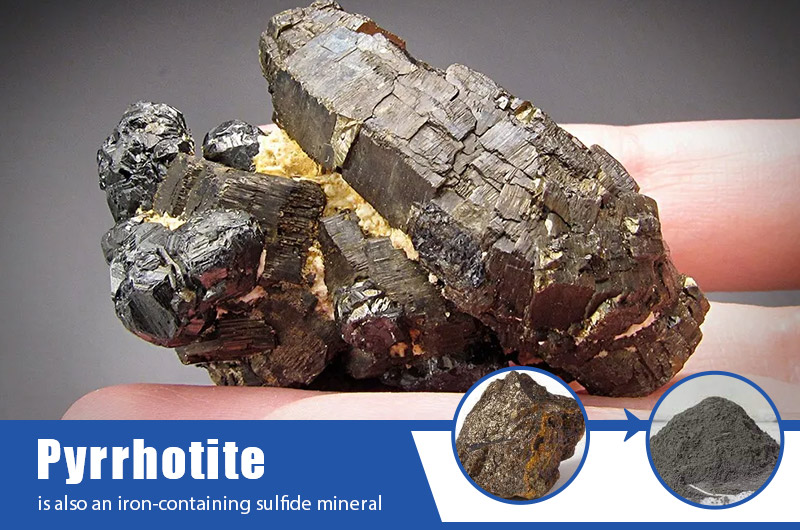 Although pyrrhotite and pyrite look like gold, they are different in color, hardness, streaks, etc.
Color: Pyrrhotite shows a bronze color and only appears slightly red when it loses its luster, while pyrite usually shows dark yellow or light yellow.
Hardness: Pyrrhotite is softer, with a Mohs hardness of 3.5-4. Pyrite is 6-6.5.
Streak: Pyrrhotite will show dark gray to black streaks, and pyrite will show green-black to brown-black streaks.
Sulfur content: Pyrrhotite contains less sulfur (39-40%) than pyrite and is more reactive to water.
Magnetism: Pyrrhotite is more magnetic. It is the second most common magnetic mineral after magnetite and can be attracted by magnetic materials.
Pyrrhotite is usually associated with pentlandite, pyrite, chalcopyrite, magnetite and gold ore, and is mainly produced in Australia, Brazil, Canada, and the United States. So, How is pyrrhotite formed?
The formation of pyrrhotite—beautiful black smokers on the seafloor
In addition to being distributed on the surface of the earth's crust, pyrrhotite can also be produced underground at a certain depth.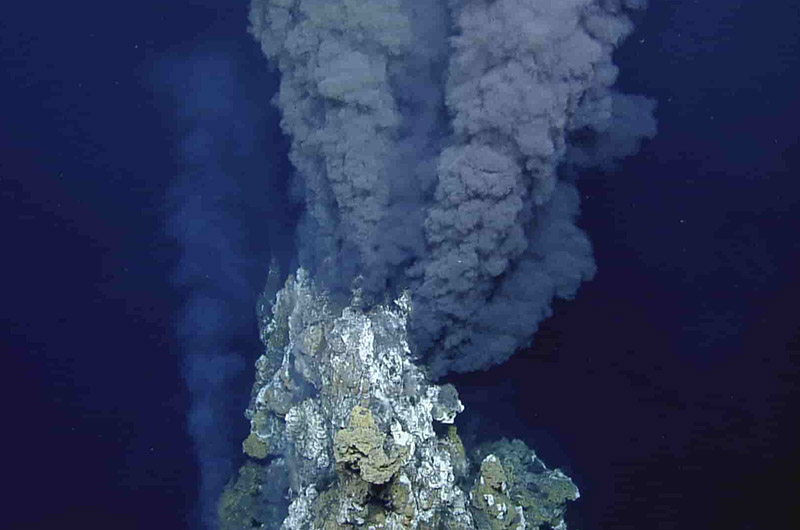 Undersea black smokers
are formed by the upward eruption, cooling and accumulation of seawater carrying a variety of metals after the thermal circulation of seawater and the earth's crust, including pyrrhotite, pyrite, sphalerite and other precipitates.
How to process pyrrhotite and what is it used for?
Pyrrhotite is often associated with sulfides such as pyrite, chalcopyrite, sphalerite and galena. It is difficult to separate pyrrhotite from other sulfide minerals in a single form.
Therefore, the processing of pyrrhotite generally adopts a combined beneficiation method of magnetic separation and flotation separation. Mineral testing must be carried out before separation to obtain the best beneficiation results.
The following is an example of a pyrrhotite processing plant with low copper and high ferrous sulfide content, aiming to obtain valuable metals such as copper, iron, and sulfur.
Crushing:

Use jaw crusher and cone crusher to crush the raw pyrrhotite ore, and use a vibrating screen to reduce the material particle size to less than 20 mm.

Grinding:

The crushed minerals are ground into finer mineral powder using a ball mill to facilitate subsequent beneficiation of the materials.

Classifying:

According to different specific gravity, the spiral classifier classifies and washes the mineral powder to remove impurities such as sediment.

Flotation:

A collector is used to conduct copper flotation on the raw ore, and the copper concentrate is obtained after one roughing and three concentrations.

Magnetic&Flotation separation:

The tailings after copper flotation enter the magnetic separation to obtain iron concentrate and magnetic tailings. Then flotation of crude sulfur-containing minerals is carried out on the magnetic separation tailings, with one roughing and three concentrations to obtain sulfur concentrate.

Drying:

After beneficiation, the wet concentrate enters the rotary drum dryer for dehydration and drying to obtain finished sulfur, iron, and copper concentrates. After drying, the material humidity can reach 0.5-1%.
Required pyrrhotite processing equipment:
After beneficiation, pyrrhotite is mainly used for the following purposes:
Sulfuric acid in the chemical and fertilizer industries
Production of sulfur dioxide in the paper industry
Purification of heavy metal wastewater
Widely used in petrochemical, rubber, metallurgy and other industries
Production of nutritional supplements, inks, lawn conditioners and other products as cheap alternatives to iron sulfide
Applied in magnetic materials, such as magnets and magnetic recording media
Well-crystallized pyrrhotite specimens are valuable collection minerals
Conclusion
Since pyrrhotite is an important sulfide mineral, it is crucial to understand its mineral properties and processing methods.
FTM Machinery has more than 40 years of experience in pyrrhotite processing and can help you conduct professional mineral testing and provide optimal mineral processing solutions and equipment.Contact our engineers
References