What is bentonite clay?
Bentonite, also called montmorillonite clay, is a hydrous clay mineral mainly composed of montmorillonite.
Hygroscopic and viscous properties make bentonite clay a valuable binder, sealant, absorbent and lubricant in numerous industries and applications. You can find it in foundry sand, iron ore pellets, drilling mud, cat litter, fertilizer, cosmetics, and more. For this reason, bentonite has earned the nickname "Clay of a Thousand Uses."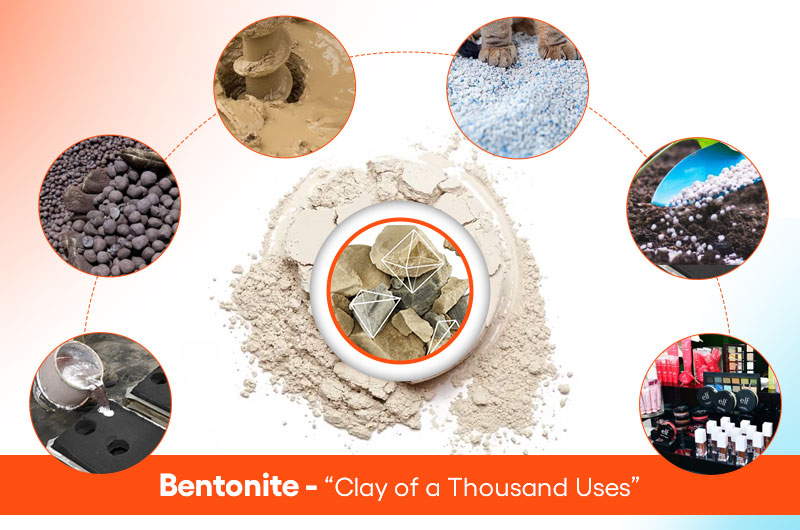 There are two types of bentonite clay according to the mineral mostly present in it: calcium bentonite and sodium bentonite. While both types can be sourced naturally, it is also possible to convert calcium bentonite to sodium bentonite if desired.
Bentonite processing process
Bentonite clay production process features ore mining, sodium activation (if required), drying, milling, classifying, pelleting, etc. Grinding and drying are key steps.
Bentonite mining process
Bentonite is surfaced mined through a process called back-casting where reclamation is performed by filling the mining pits with soils from subsequent pits while the mine is in production.
Bentonite crushing process
Bentonite clay has a Mohs hardness of 1-2 and a natural moisture content of about 30%. For crushing wet and sticky bentonite clay, Ftmmachinery recommends a roll crusher.
Why Choose a Roll Crusher?
The roll crusher has specially designed toothed rollers that can tear large pieces of bentonite clay into small pieces, effectively reducing the size of bentonite.
It has extremely high output. When crushing bentonite, the output can be increased by 30-40%. And more energy saving in the crushing process.
The particle size of bentonite fragments can be changed by adjusting the wedge or gasket adjustment device between the two rollers.
Ftmmachinery roll crusher for sale: $3,500/ Set (the lowest price)
Bentonite drying process
Bentonite clay, as mined, typically contains between 25-35% moisture and requires drying to 5% to 12%. This is often accomplished through the use of a rotary drum dryer.
Learn more about bentonite drying machine
Ftmmachinery rotary dryer adopts indirect drying method, the hot flue gas and wet bentonite raw materials are separated from each other, keeping the properties of bentonite clay unchanged.
Because there is no contact between the hot flue gas and the wet bentonite ore, the exhaust flue gas can be recycled. This reduces coal consumption, thereby lowering production costs.
The drying machine not only shortens the drying time but also increases the processing capacity to ensure continuous production.
Intelligent control can automatically adjust the operating parameters to ensure that the moisture content of the dried material is stable.
Note:
Due to the hygroscopic nature of bentonite, its drying process must be performed under controlled temperature so as not to damage its molecular structure. As a matter of fact, at temperature values above 500 °C, crystallisation water is irreversibly removed from bentonite, which loses all its properties and is turned into grog (aggregates).
Ftmmachinery rotary dryer for sale: $1,000/ Set (the lowest price)
Bentonite grinding process
Grinding process is to produce grade wise powder form from activated bentonite or natural bentonite. Raymond mill is a popular bentonite grinding equipment.
Learn more about bentonite Raymond mill
The particle size of bentonite powder can be adjusted within 80-425 mesh to ensure that the finished bentonite powder can serve different industries.
Raymond mill uses hot air to transport materials, which has a drying effect. The moisture content of bentonite powder can be controlled by adjusting the air inlet temperature.
The bentonite raw material stays in the mill for only 2-3 minutes, which can quickly measure and correct the chemical composition and fineness of the finished powder to ensure the quality of the finished product.
Raymond Mill's grinding system integrates crushing, drying, grinding, and classifying, with a simple system and compact layout.
Ftmmachinery Raymond mill for sale: $3,219 / set (the lowest price)
Bentonite pelleting process
Producers are also frequently looking to agglomerate bentonite for its end use. For example, if you are a suppiler of bentonite cat litter and bentonite compound fertilizer, you need a disc granulator to get bentonite granules.
Learn more about bentonite disc granulator
The particle size of bentonite granules can be adjusted by the amount of material mixed, the rotating speed of the main shaft, the inclination angle of the disc, etc.
It adopts advanced desilting technology, no large bentonite clusters will appear, and the bentonite granules are uniform in size.
The bottom of the disc is reinforced with multiple radiant steel plates, which is durable and not easily deformed.
Ftmmachinery can provide disc granulators with diameters from 2.2m to 3.6m and production capacities from 4t/h to 24t/h to suit bentonite granulation plants of different scales.
Ftmmachinery disc granulator for sale: $1,000 / set (the lowest price)
Ftmmachinery-bentonite processing equipment supplier
Ftmmachinery has extensive experience in designing and manufacturing bentonite processing equipment for crushing, grinding, drying and pelleting. We can provide sturdy machines and suitable production lines according to customers' production requirements, such as final product, output, infeed and outfeed size.
Contact experts for equipment and production lines
Ftmmachinery bentonite cat litter production line
Step 1: Dry the calcium-based bentonite raw ore in the sun, and control the moisture content to 22%.
Step 2: Crush the calcium-based bentonite ore to a particle size of 25mm with a roller crusher.
Step 3: Stir the sodium modifier and bentonite evenly to modify it into sodium-based bentonite.
Step 4: Grind the sodium bentonite to 200 mesh with a Raymond mill.
Step 5: Mix 200-mesh bentonite powder, corn starch, zeolite and other main raw materials in a certain proportion and pour the mixture into a disc granulator to make bentonite granules.
Step 6: Dry, classify, and cool bentonite granules to obtain finished bentonite cat litter.
Cases of bentonite grinding plant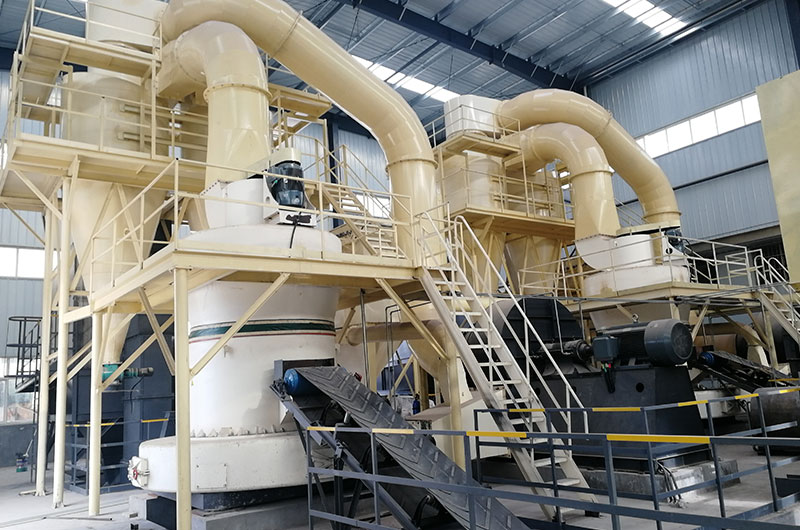 A bentonite grinding plant in Russia
Grinding mill:
2 sets of 4R3216
Power:
397Kw
Energy consumption:
58-63 Kw/T
Material:
Bentonite clay
Fineness:
325 mesh D95
Application
Drilling mud agent
Output:
11-13T/H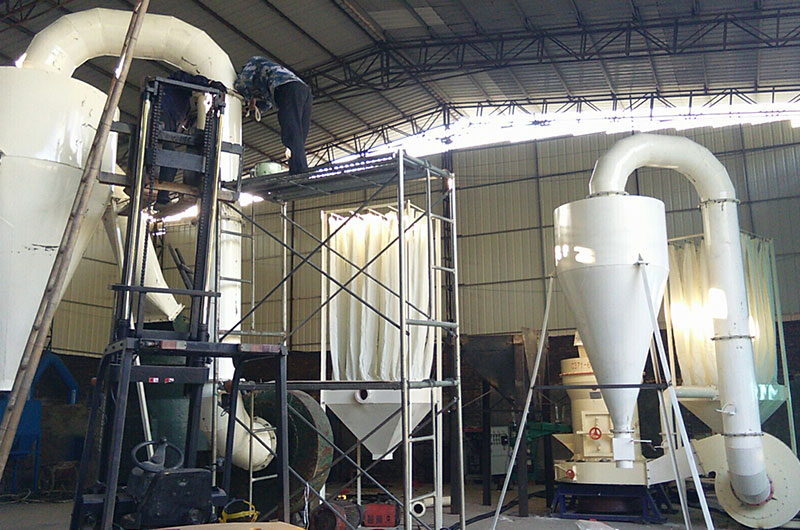 A bentonite grinding plant in Greece
Grinding mill:
1 set of 5R4119
Power:
157.5Kw
Energy consumption:
30-40Kw/ton
Material:
Sodium activated bentonite
Fineness:
200 mesh D95
Application
Iron ore pellets
Output:
5-6T/H
4 main uses of bentonite clay
Bentonite clay in the foundry industry
Bentonite clay is a high-quality foundry sand binder. Bentonite binders are cost-effective, environmental solutions since the majority of the sand and binder can be reused in a cyclical system.
Bentonite clay in iron ore pelletizing
Bentonite clay is used as a binder for the formation of iron ore pellets. Pellets are balls produced from iron ore or concentrates and are used as feed material for iron making Bentonite adds significant value to the pelletizing process and the quality of the final product.
Bentonite clay in drilling mud
Bentonite clay is used in drilling and tunneling fluids to lubricate and cool cutting tools, remove cuttings and help prevent blowouts.
Bentonite cat litter
Bentonite clay is ideal for use in cat litter due to its unique water-absorbing, swelling, and odor-controlling properties.
Conclusion
Bentonite clay needs to go through processes such as crushing, drying, grinding, and granulation to realize its thousand uses. Different end uses have slightly different processing procedures and require different equipment. Welcome to consult Ftmmachinery engineers to customize the bentonite clay processing process and equipment for you.
Reference:
Bentonite