After grinding, mica powder is widely used as a functional filler in building materials, plastics, rubber, paper, asphalt and other industrial fields. And because of the characteristics of large reserves, wide application and easy mining, mica powder has a very broad market prospect.
Depending on the production process, mica powder can be produced by wet grinding and dry grinding.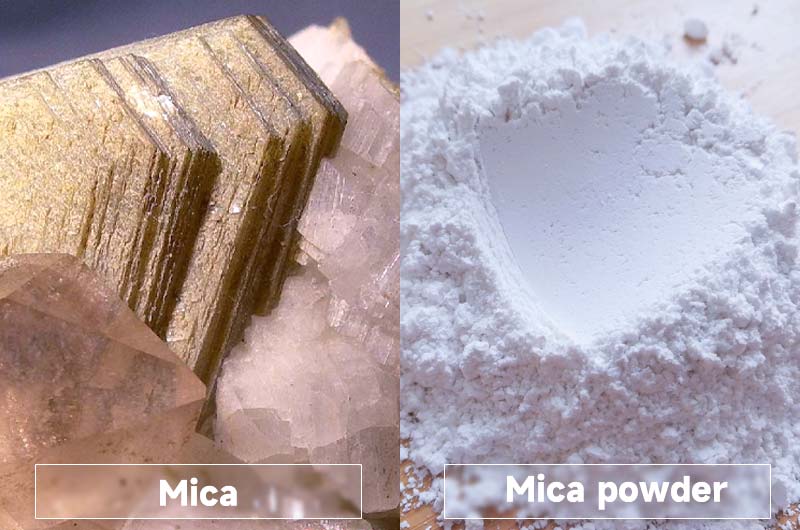 Dry Ground Mica Powder
Dry ground mica powder is made by crushing, grinding, and classifying scrap and flake mica.
Characteristics of Dry Ground Mica Powder
Dry ground mica powder is low in purity and aspect ratio. The dry grinding method will easily damage the mica crystal form and lamellar.
The quality of dry-milled mica powder is greatly affected by the raw mica ores and climate, so the quality is difficult to control.
Application of Dry Ground Mica Powder
Dry-milled mica powder is mainly used for cattle felt, electric welding rod, drilling mud, etc. Generally, it is not used as a functional filler.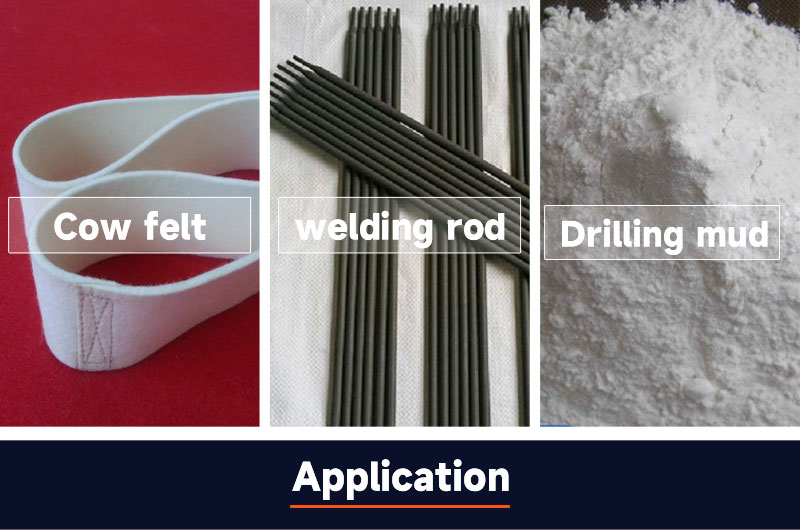 Dry Ground Mica Powder Processing Flow (for reference only)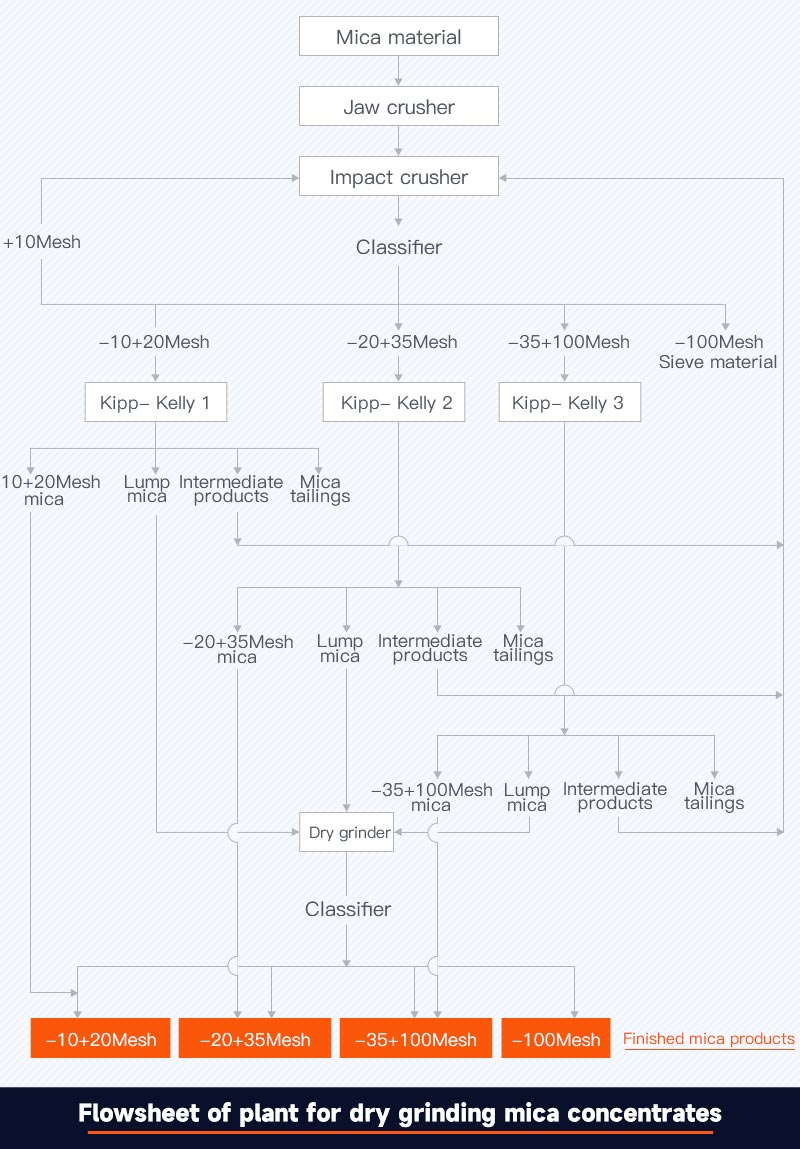 Advantages of Dry Mica Grinding
1

Simple production process without too much equipment;

2

No need for water and heat, less energy demand;

3

Compared with wet ground mica powder, the dry-milled mica products are more cost-effective, especially for less demanding flier grade mica powde.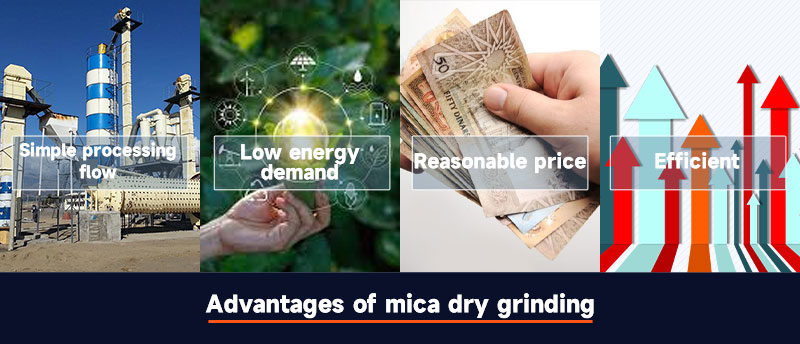 Disadvantages of Dry Mica Grinding
1

The dry ground powder with a low aspect ratio, rough and less shiny surface can't be used in high-end applications;

2

Dry ground mica products have high impurity content;

3

The dust pollution of the mica dry milling plant is serious.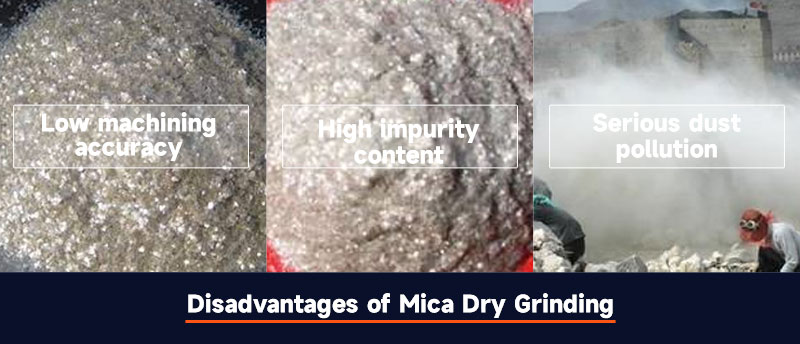 Wet ground mica powder
Wet mica powder is processed through multiple processes with water as the medium.
Characteristics of Wet Ground Powder
Wet ground mica powder has higher purity, higher aspect ratio, smoother surface, better cementation, better dispersion, and better adhesion;
Wet ground mica products are less affected by raw ore and climate, and the quality is easier to control;
It has wider applications.
Application of Wet Ground Mica Powder
Wet ground mica powder is mainly used in mica pearlescent pigments, high-grade coatings, engineering plastics, and composite materials. It is also used in daily chemicals, new building materials, decorations, and medicine.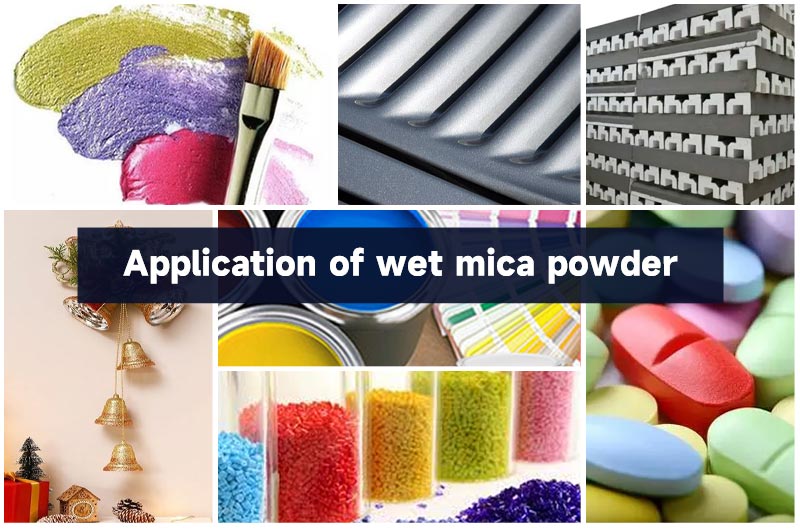 Wet Ground Mica Powder Processing Flow (for reference only)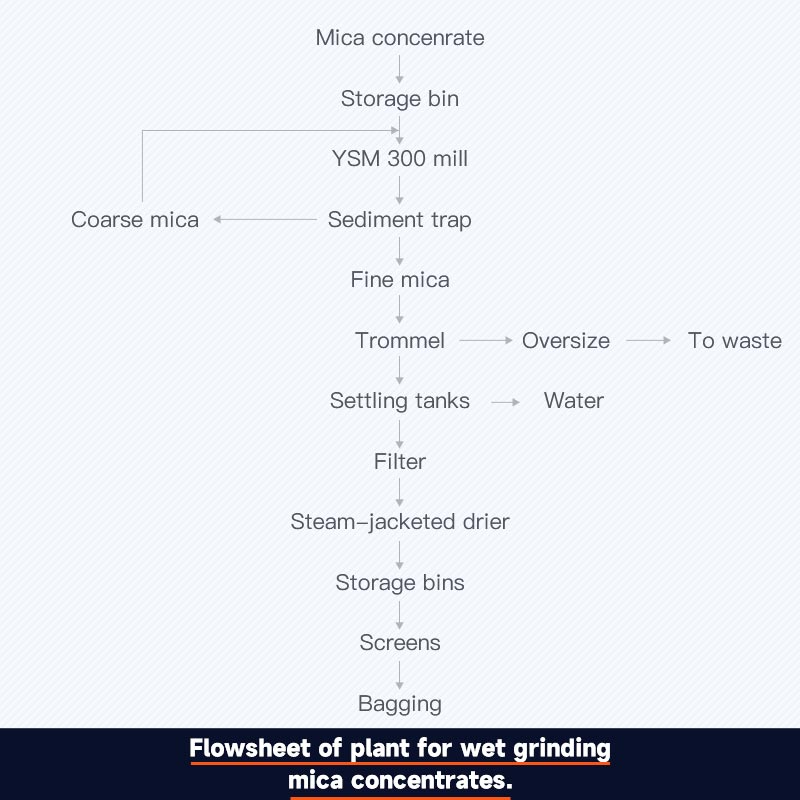 Advantages of Wet Mica Grinding
1

After sophisticated processing, the finished mica powder has a uniform particle size, a high aspect ratio, and a smooth surface;

2

After more than 2 rounds of grading and impurity removal, the impurity content is extremely low.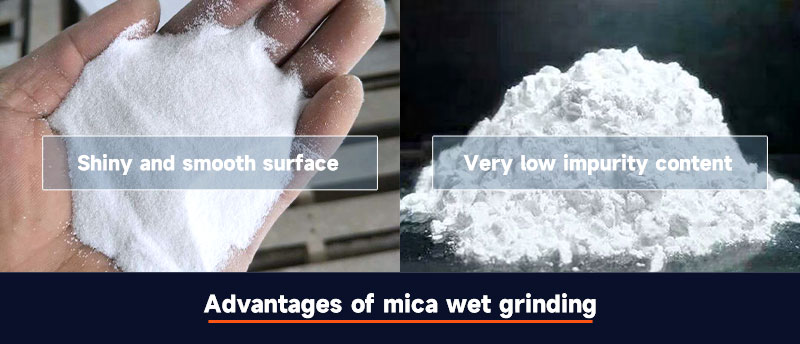 Disadvantages of Wet Mica Grinding
1

High dependence on energy;

2

Low production efficiency;

3

Wet ground mica powder is expensive and is more used in high-end applications;

4

The production process is complex and currently relies heavily on experience.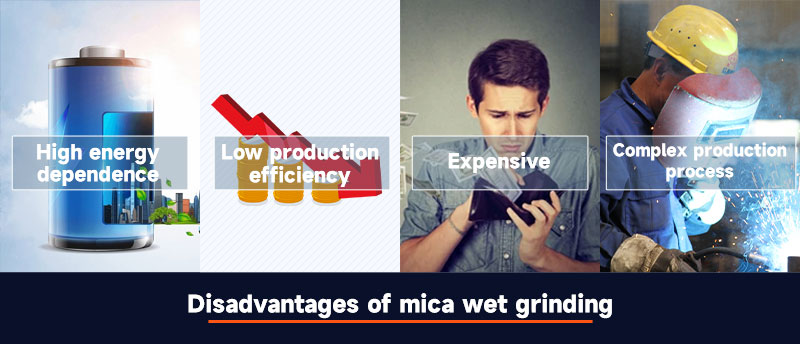 Notes on Mica Grinding
Mica is a hard-to-grind mineral (Bond work index 148). It remains platy particles even after milling to an ultra-fine powder. Its flat size is always many times larger than its thickness. The thinner the thickness, the higher the strength and the higher the value. That is to say, the higher the aspect ratio, the higher the value of mica powder.
When designing the wet grinding process and selecting mica wet grinders, attention should be paid to the problem of scratches on the mica surface. The poor luster of mica powder will reduce its competitiveness.
Mica Grinding Machines
The above two considerations also determine which mica grinder we choose. Several representative devices are described below.
Planetary Roller Mill-Szego Mill
The Szego Mill is a unique, high-speed planetary ring-roll mill, as shown in the following picture.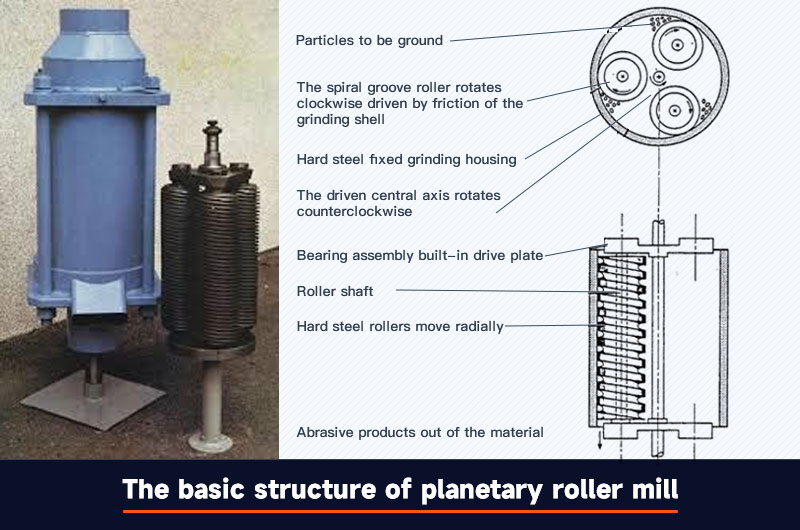 In the grinding chamber of the mill, there are three vertical high-speed rotating rollers with screw grooves on them in the crushing cavity. The rollers revolve and rotate along the periphery of the cylinder. The centrifugal force presses them against the wall of the cylinder. Meanwhile, the spiral groove shears the scrap and flake mica. The material is, therefore, both compressed and sheared.
Szego mill can grind the mica in both wet and dry ways, efficiently. The aspect ratio of dry ground powder usually varies between 4-10. 6-20 for wet ground mica powder.
Centrifugal Roller Mill - Raymond Mill
Fote Raymond Mill, developed by Fote Company after extensively absorbing advanced technology at home and abroad, is an efficient and energy-saving machine for dry grinding.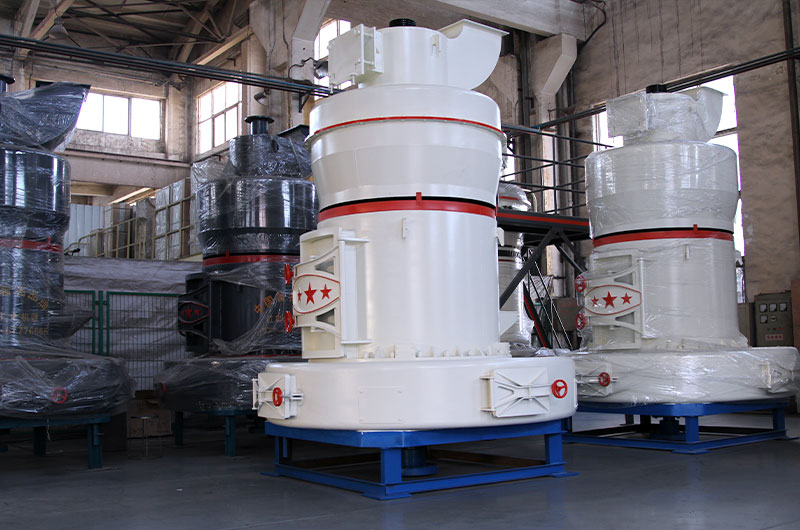 When grinding ultra-fine mica powder, 1-40μm fine mica powders will remain on the grinding disc. They tend to be fluidized due to a large amount of gas on the grinding discs, which will easily cause slippage of the rollers and material accumulation.
Fote Raymond mill adopts tire-shaped grinding rollers and bowl-shaped grinding disc liners. This adoption not only prolongs the service life of the mill but also reduces the movement speed of the material on the grinding disc, ensuring the stable operation of the mill.
Raymond mill can do a good job grinding ultra-fine mica powder and mica ores with higher hardness.
YSM-300 Mica Wet Grinder
This mill works on friction force, bending force, and shear force. And the action frequency of force is high. In addition, the forces are all reinforced due to the fact that the material is under a certain pressure. Therefore, it is a mica wet grinding equipment completely different from the traditional roller mill.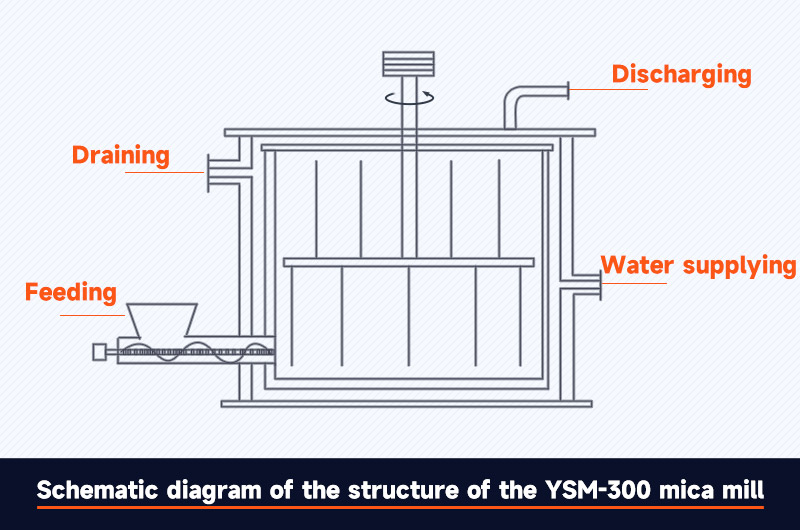 The main feature of the mill is that there is no grinding medium, and it is equipped with a cooling jacket, so that the working temperature in the mill is suitable, so as to avoid excessive temperature and damage to the luster of the mica surface. The aspect ratio of the finished mica powder is high (≥32). The production capacity is strong (the output of -325 mesh mica powder can reach 52.8kg/h).
Different uses of mica powder lead to different processes and different equipment. For those who want to engage in mica grinding, knowing the basic knowledge of mica grinding can avoid potential risks.