The main component of fluorite is CaF2, which is often used as a source of fluority in the industry. Fluorite colors are often bright in nature, and fluorite Mohs hardness is smaller than that of a knife.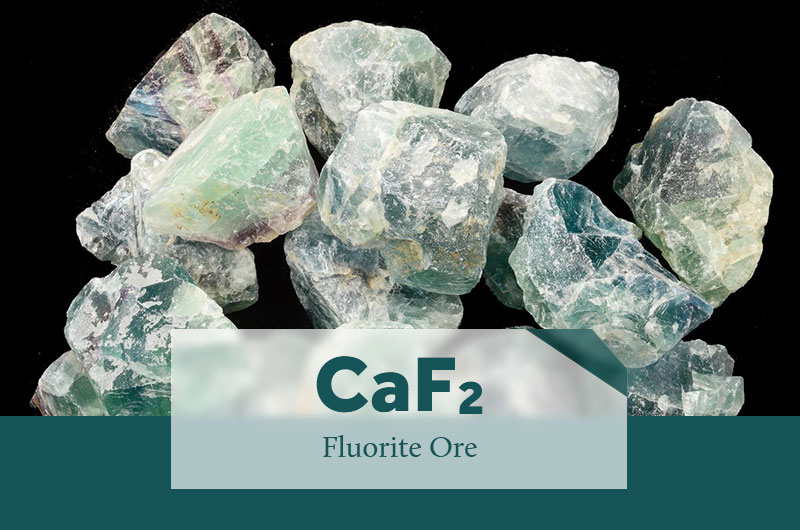 How to choose fluorite beneficiation method?
Fluorite ore can be sorted by the gravity separation and flotation method. How to choose fluorspar beneficiation method? It needs to be based on many factors, such as the nature of fluorite rock, fluorite uses, grade of fluorite concentrate, etc.
When the raw ore is coarse-grained fluorite ore, gravity separation can be used to obtain the metallurgical grade fluorite concentrate. Among the gravity equipment, only the jigger can process coarse fluorite ore.
When the raw ore contains high mud content, accompanied by impurity minerals, or useful minerals inlaid with fine particle size, the flotation method is used to obtain the acid-level fluorite concentrate.
Because of the depletion of fluorite rock and the inter-embedding of fluorite and gangue, flotation has become the main method for separating fluorite and gangue minerals.
Do mineral testing before fluorspar beneficiation
Fluorspar rock may be quite complex, particularly when associated with lead and zinc sulfides, barite, calcite, iron oxide, and siliceous impurities. For this reason, a mineral testing should be done before fluorspar beneficiation.
Through a comprehensive test of the ore, you can determine the composition of fluorite rock and establish a profitable fluorspar beneficiation plant at a low cost.
How to process fluorite ore?
Crushing fluorite ore
As the fluorite rock is fragile, primary crushing and secondary crushing are used to avoid excessive fluorite ore powder. The particle size of the crushed fluorite ore is within 15 mm.
A jaw crusher is used for coarse crushing of the large fluorite rock. The lowest price of this machine is $1,000, and its maximum feed size is 1200 mm.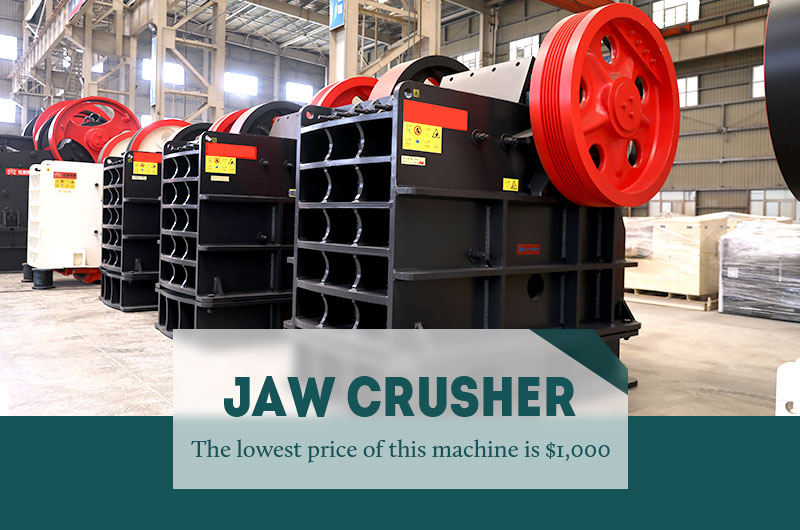 A cone crusher is a fluorite fine crushing machine. The price starts at $5,000, and the maximum feed size is 228 mm.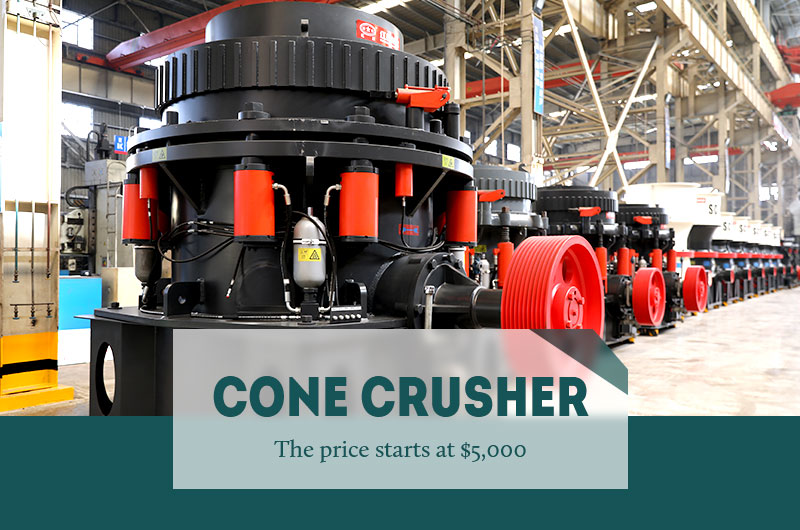 Grinding fluorite rock
The grinding process is a two-stage grinding. After grinding, the particle size of fluorite powder is less than 0.074 mm.
Selective mineral Jig can be used to recover galena in this circuit. By removing it at a relatively coarse size in the jig, the presence of lead oxide in the ore can be overcome to a great extent.
Use a rod mill in an open circuit. The machine price starts at is $5, 000, and its maximum feed size is 50 mm.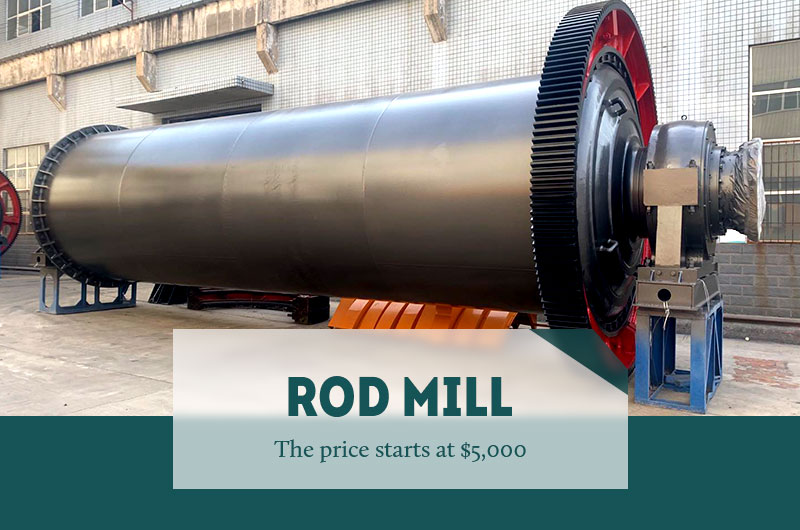 Then is followed by closed circuit ball mill grinding. The price starts at $5,000, and the maximum feed size is 25 mm. The grinding medium is steel grinding balls.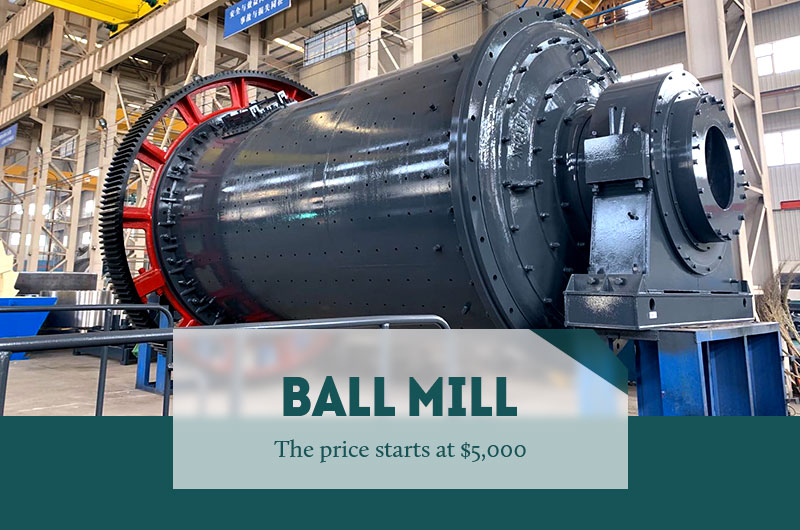 Flurospar benefication
1. High-grade fluorite rock (By gravity separation)
For the high-grade fluorite nuggets and particle mines with a particle size of 6-20 mm, we adopt the gravity separation method.
The gravity separation process only uses a jigger to perform gravity processing to obtain granular concentrate. This fluorite concentrate is used as a coarse-grained metallurgical grade fluorite product.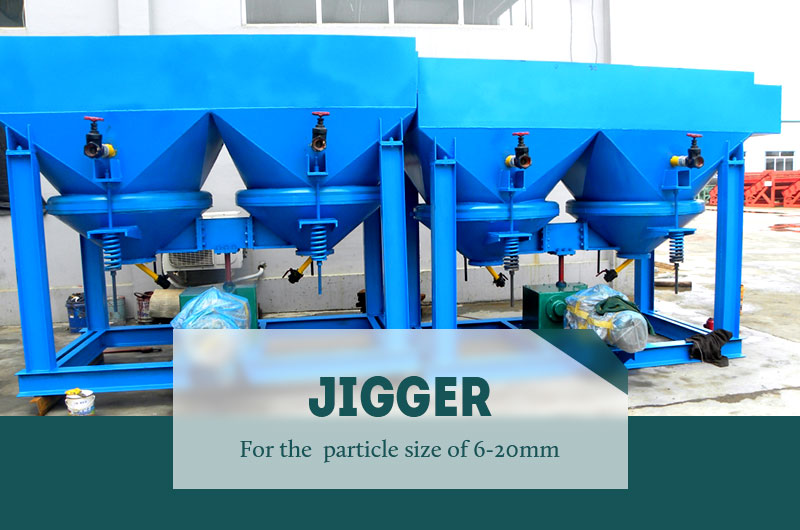 The jigger beneficiation efficiency is remarkable, the equipment structure is simple, and the operation is convenient. It is not only used in fluorite ore beneficiation, but also used in the separation of gold, tin, tungsten and other minerals.
2. Complex associated fluorite (By flotation method)
According to different gangue minerals, fluorite rock type is divided into fluorite-quartz type ore, fluorite-calcite type ore, sulfide fluorite type ore, and fluorite-barite type ore. Different ore properties require different flotation processes.
How to realize the high-efficiency sorting of associated fluorite ore is a real problem in flurospar beneficiation. Therefore, 4 kinds of flurospar beneficiation methods and relevant flotation agent systems are summarized.
Fote SF Flotation Machine is specially used for the fluorspar beneficiation, which has the a high recovery rate and the price starts at $1,170. It absorbs mud itself, needs no foam pump, and can clean and recirculate the medium products in multiple stages. Cleaner tailings are easily removed at any point in the loop.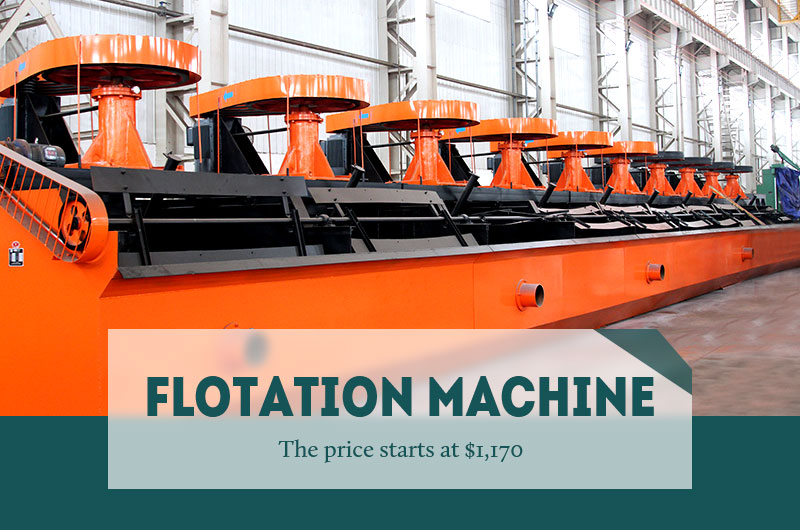 2.1 Fluorite-calcite type ore
The fluorite-calcite type ore is mainly composed of fluorite and calcite (with a content of more than 30%).
Under alkaline condition, calcite is easy to be floated. But under acid condition, the flotation condition of calcite is greatly reduced. According to the mineral processing experiment, the concentration tank should control the pH value between 6.4-6.8.
According to the pH value, we can use a calcite inhibitor to increase the flotation condition difference between the two minerals.
The common reagent combinations are as follows:
Dextrin or tannin extracts are used as calcite inhibitors, and oxidized paraffin soap is used as fluorite mineral collector.
Acid sodium silicate is used as calcite inhibitor and fatty acid as collector flotation.
Sodium silicate, caustic starch and sodium hexametaphosphate are used as mixed inhibitors, saponified oleic acid is used as a collector for rough selection, and sodium silicate and citric acid are used as mixed inhibitors.
2.2 Sulfide fluorite type ore
For the sulfide fluorite type ore, xanthate collectors are usually added for flotation of sulfide ore, and fatty acid collectors are added for flotation of fluorite.
If the sulfide is not exhausted, a small amount of sulfite inhibitor can be added to prevent the residual sulfide from being collected in the fluorite concentrate.
2.3 Fluorite-barite type ore
The fluorite-barite type ore is mainly composed of fluorite and barite. The content of barite is generally 10%-40%, often accompanied by sulfide minerals such as pyrite, galena and sphalerite.
To obtain the high-quality fluorite concentrate, bulk flotation is generally used to suppress barite and then separate the fluorite.
In bulk flotation, oleic acid is used as a collector and water glass is used as an inhibitor. The flotation is performed at a pH value of 8.5-9. The pH adjusters are sodium carbonate and sulfuric acid, which should be added in an appropriate amount in case of any flotation foaming and stickiness. Then, the direct flotation or reverse flotation method is used to obtain concentrated fluorite.
2.4 Fluorite-quartz type ore
The fluorite-quartz type ore is mainly composed of fluorite (with a content of up to 85%), quartz, and only a small amount of calcite, barite and sulfide.
The quartz component of fluorite concentrate differs from different production classes, which can be divided into three classes, metallurgical-grade, ceramic grade, and acid grade. The quartz requirement of acid-grade fluorite mineral is higher.
How to add flotation reagents?
The pH value should be controlled between 8-9 by Na2CO3
Add fatty acid to collect fluorite.
Add water glass to inhibit quartz. The amount of water glass should be in the proper amount, as too much will inhibit fluorite mineral.
Sometimes, iron and aluminum salts are added to improve the inhibition, and then the fatty acid collector is added to float fluorite minerals.
Drying
The fluorite powder concentrate must be dried to a moisture content of less than 0.5%.
Fote Dryer can meet the requirement, and the elevated temperature in the dryer can burn off small amounts of sulfur and lead. The dryer on sale is $6,000 (the lowest price). It has the advantages of simple structure, high drying efficiency, and wear-resistant ability.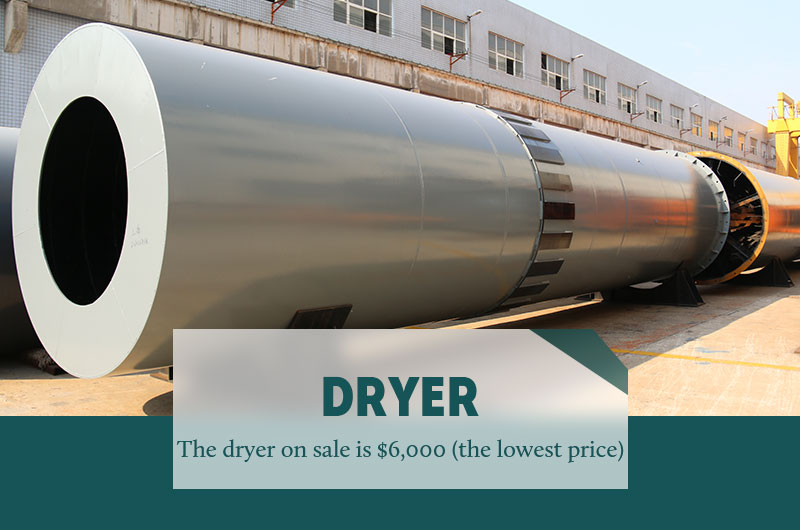 Fluorite ore processing plant
1. Africa 100TPD fluorite ore processing plant
In a fluorite beneficiation plant in Africa, fluorite and quartz are the main minerals, and there is a small amount of pyrite, sericite, chlorite, calcite, barite, clay minerals and various sulfides. The disseminated size of fluorite does not show extra-granular distribution. The particle size ranges from 0.01mm-40mm, generally 1-3mm.
Fluorspar beneficiation:
Under the condition of 87% of grinding particle size is -0.074mm, we adopted the fluorite flotation process.
The flotation temperature was 36-25°C. H111 collector was added in the rough, secondary and fourth concentrations. After a rough concentration and six times' concentration, a superfine fluorite concentrate was obtained.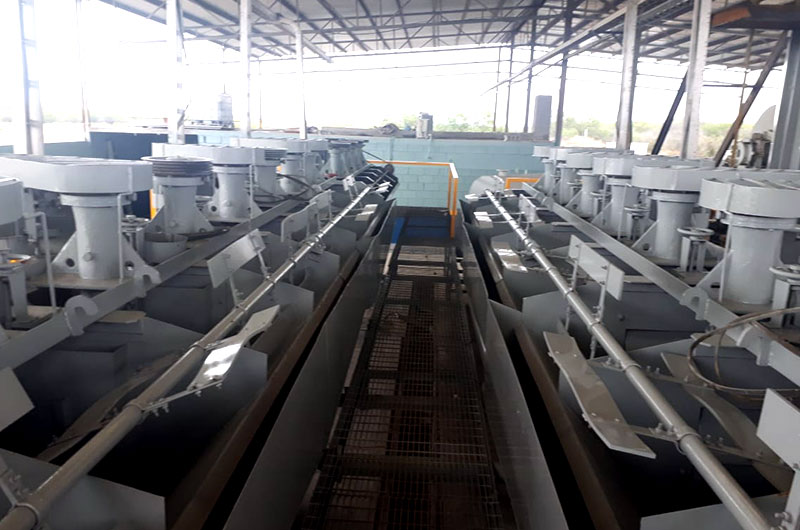 Fluorspar beneficiation result:
The concentrate contains CaF2 98.96%, and SiO2 0.55%. The recovery rate is 91.81%.
2. Inner Mongolia 700 TPD fluorite ore processing plant
In a fluorite beneficiation plant in Inner Mongolia, the fluorite ore is mainly composed of fluorite, calcite, and quartz. The associated fluorite ore has a simple mineral component.
Fluorspar beneficiation:
1

Two stages and one closed-circuit crushing and screening.

2

A closed circuit grinding and classifying.

3

A coarse, a scavenging, and seven concentrating flotation process.

3

Concentrate thickening, filtration dewatering.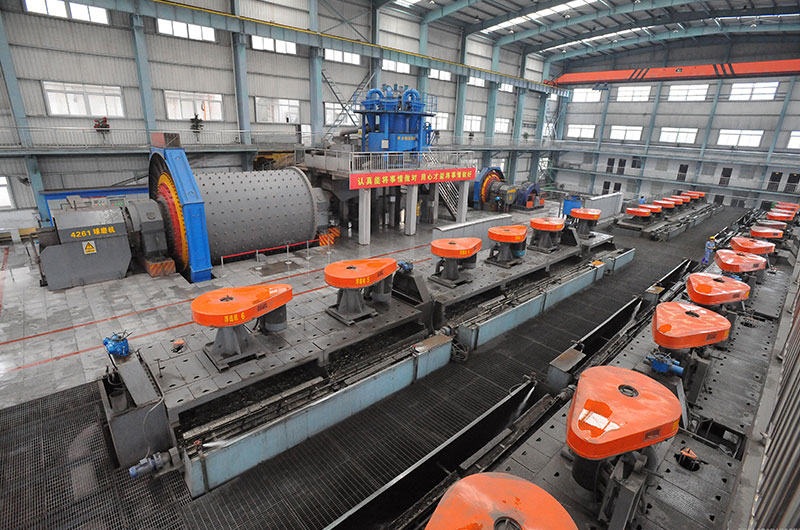 Fluorspar beneficiation result:
The fluorite recovery rate is 83.13% and the concentrate grade is 97.78%. After the implementation of the project, it provides about 65,000 tons of fluorite powder to society every year, helping to increase the local employment rate and economic benefits.