Gypsum rock has a long history of use, being used as building material as early as 7000BC Egypt. The Sphinx of ancient Egypt as well as floor and wall during the time of Minoan Civilization is made of gypsum plaster.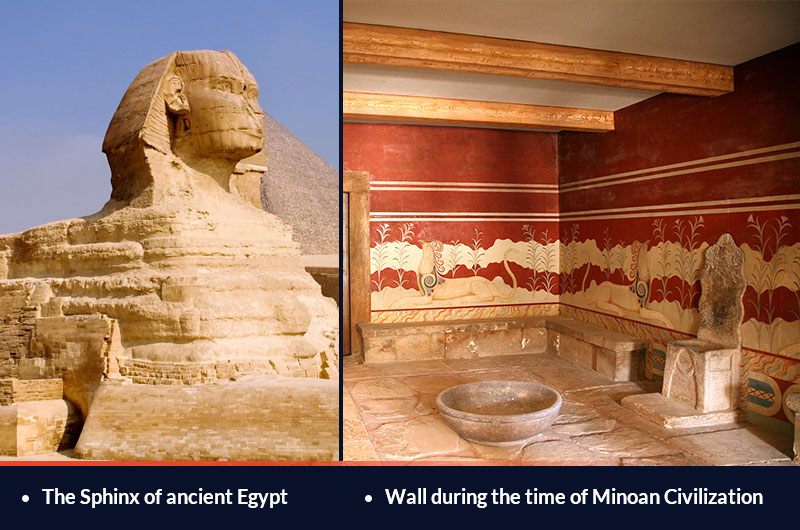 Gypsum rock is a low-cost industrial mineral in great demand, and after processing it is widely used such as retarder for cement, gypsum board, white ash, paper, pigments and insecticides, gypsum mold material, agricultural improver, etc. In addition to industrial use, gypsum is also used as a raw material in the making of tofu.
Gypsum board is one of the gypsum products and is also widely applied in the construction field because of its properties such as thin, light weight, sound insulation and fireproofing, etc. Gypsum board is divided into several types, such as paper-faced gypsum board, fiber gypsum board and hollow gypsum board, and among which paper-faced gypsum board is the most commonly used. Now we will elaborate the processing process from gypsum rock to gypsum board.

Mining of gypsum rock
Gypsum in its natural state is an ore, usually layered with limestone, and is most commonly produced through open pit mining operations, but of course there are also underground mining methods.
Open-pit mining

In most open pit gypsum operations, ammonium nitrate is used as the explosive to drill and blast benches. Gypsum stone is soft so that a drills can easily drill through it at about 23 feet per minute.
The mine uses approximately 1 kg of explosives for each ton of gypsum blasted off. The blasted bulk of gypsum is then delivered by excavator to trucks so that they can be processed in the next step.
Underground mining

Extracting the gypsum rock deposit from the underground uses a mine cutter to cut gypsum rock into small pieces.
Due to the difference in physical and mechanical properties of the ore and surrounding rock, the mining technology is divided into two categories: the mining of fibrous gypsum ore and the mining of alabaster, ordinary gypsum and anhydrite mines.
Making gypsum powder from gypsum rock
Crushing and screening gypsum rock
The gypsum rock after blasting is still large, of different sizes and contains impurities, which can only meet the conditions for grinding after being crushed and screened by crushers of different levels.( Only by crushing and screening with different levels of crushers can it meet the grinding standard ).
Gypsum crushing equipment are jaw crusher, cone crusher, impact crusher, roll crusher, hammer crusher, etc.
Grinding gypsum rock
The crushed gypsum is fed to the ball mill for grinding until 90% of the gypsum is less than 149μm (100 mesh). The ground gypsum powder leaves the mill as a gas stream and is collected in a cyclone separator.
Calcining gypsum powder
Raw gypsum (CaSO4·2H2O) can turn into mature gypsum (CaSO4·1/2H2O) through a high-temperature calcining process in a rotary kiln.
In conclusion, the production process of gypsum powder from mining process, crushing, grinding to calcining process, almost every link has a significant impact on the quality of gypsum powder while gypsum powder is the core material for making gypsum board, so we must ensure a safe, effective and high-quality gypsum powder production process.
Gypsum board production
Board making includes batching, forming, cutting, drying, trimming and packaging.
Ingredients: After calcining, gypsum powder has become a kind of mortar. Now you should do the following five steps:
1

Stir the modified starch, retarder, paper pulp, water and other raw materials are stirred to make raw material pulp.

2

Foam the foaming agent

3

Mix coagulant with mature gypsum powder

4

Mix the three stuffs together to make gypsum pulp.

5

Distribute the pulp evenly over a layer of paper as it moves down the large conveyor belt.
Forming: The gypsum paste is continuously injected onto a uniformly moving lower sheathing paper. The paper is folded on both sides to prevent the paste from escaping.
By vibration, the gypsum pulp is shaken to even out the paste on the lower paper without air bubbles. The forming board which is more than 750 feet long is placed on a hardening and forming line.
Cutting: Formed gypsum board slightly larger than the finished size is cut at the end of the hardening and forming line with an automatic cross-cutting saw.
Drying: Dry the wet sheets with a multi-stage dryer for 40 to 45 minutes. Then transfer the dry gypsum board to the finish line.
Trimming: Use the automatic end trim saw to trim the finished board to an exact size of 8, 10 or 12 feet long.
Packaging: Use paper binding tape to stick both ends of the completed two board bundle. This is to identify the size and type of the gypsum board product, the brand, and the date. Stack the completed gypsum board products in a clean, dry warehouse.
Usually, the production of one square meter of 9.5mm thick gypsum board generally requires 7-8kg of gypsum. According to the price of FGD gypsum of 10.8-12.35 USD/ton, the cost of gypsum in one square meter of gypsum board is only 0.076-0.099 USD/square meter, accounting for only 13%-17% of the unit cost.
Quality determination of gypsum board

The quality of gypsum board is mainly determined by several indicators such as appearance quality, dimensional deviation, surface density and fracture load.
The surface of qualified paper-faced gypsum board should be flat and free from defects such as ripples and loss of material that affect the use of the board.
For 9.5mm thick gypsum board, the dimensional deviation is controlled within ±0.5mm; and for 12mm thick gypsum board, the dimensional deviation is controlled within ±0.6mm. In practice, generally the thickness of high-end gypsum board may have positive deviation while low-end gypsum board negative deviation.
The international standard stipulates that the surface density of 9.5mm and 12mm thick gypsum board shall not be greater than 9.5kg/m² and 12kg/m² respectively.
The small surface density of gypsum board can not only reduce the building load, but also indicates to a certain extent that its foaming effect is good, and the sound insulation of the use process is better.
Gypsum board is widely used and market demand tends to rise
At present, gypsum board is widely used in the interior partitions, ceilings, wall cladding and various decorative panels of various buildings such as houses, office buildings, stores, hotels, and industrial plants.
According to the estimation of Beijing New Building Materials, the market space of gypsum board is 3.53/3.88/4.17 billion square meters in 20-22, with CAGR+7.9%. The demand from renovation will increase from 22.8% in 20 years to 26.9% in 22 years, which will support the market in the medium and long term.