Quartz, also known as silica, is one of the main rock-forming minerals with very stable physical properties. It is mainly used to produce quartz sand (also known as silica sand).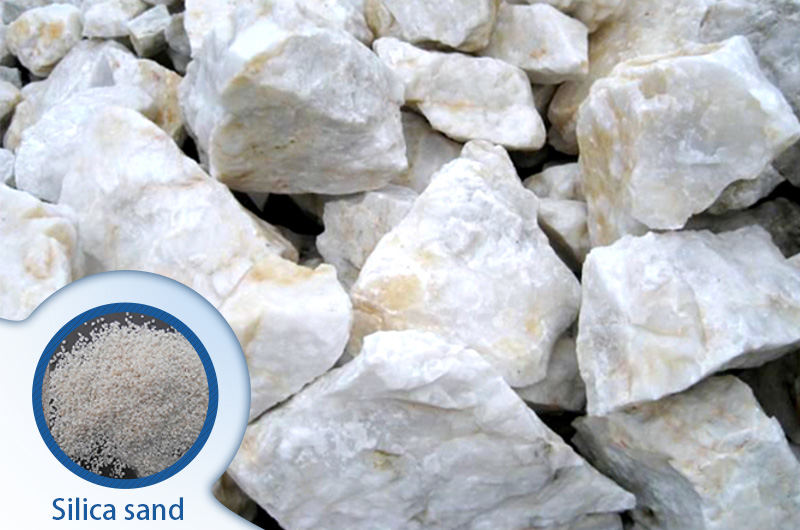 Physical properties of quartz
| | |
| --- | --- |
| Chemical formula | SiO2 |
| Color | Colorless and transparent |
| Luster | Vitreous luster |
| Hardness | Mohs hardness of 7 |
| Fracture | Conchoidal with a greasy luster |
| Density | 2.65 g/cm3 |
| Melting point | 1750 ℃ |
| Crystal structure | Hexagonal |
What are the quartz raw ores?
At present, vein quartz is the main source of producing quartz sand. The proportion of quartz sandstone and cobblestone is not high.

The main source of producing quartz sand
1

Vein quartz

2

Quartz sandstone (tailings in kaolin, etc.)

3

Weathered (powdered) quartz

4

Other siliceous materials (pebbles, etc.)
What are the basic requirements for quartz sand?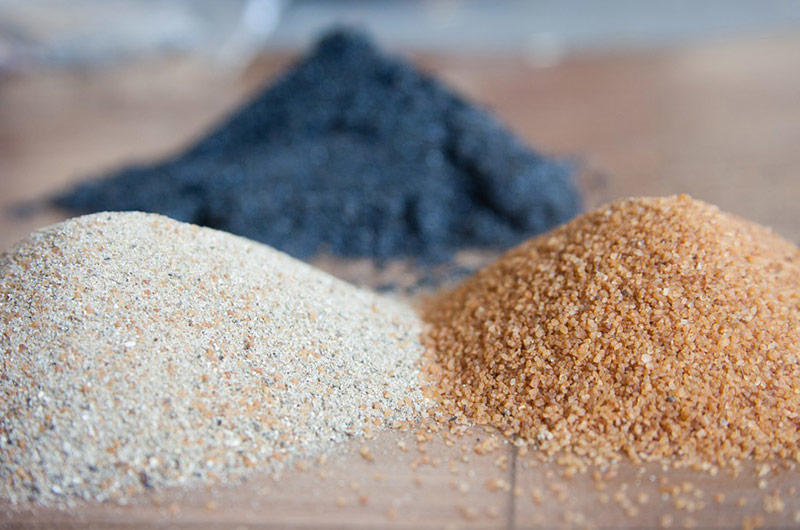 Quartz sand is made of quartz rocks
1

The color of quartz sand should be consistent. There should be no second color in it.

2

The particle size composition should be uniform. There should not be too many coarse or fine particles.

3

The product has good cleanliness and no dust.

4

Its moisture content should be less than 0.5%.
How do you produce quartz sand?
The quartz sand production process is divided into raw quartz ore — quartz crushing — quartz sand making — quartz sand washing — quartz drying — finished products.
1. Quartz crushing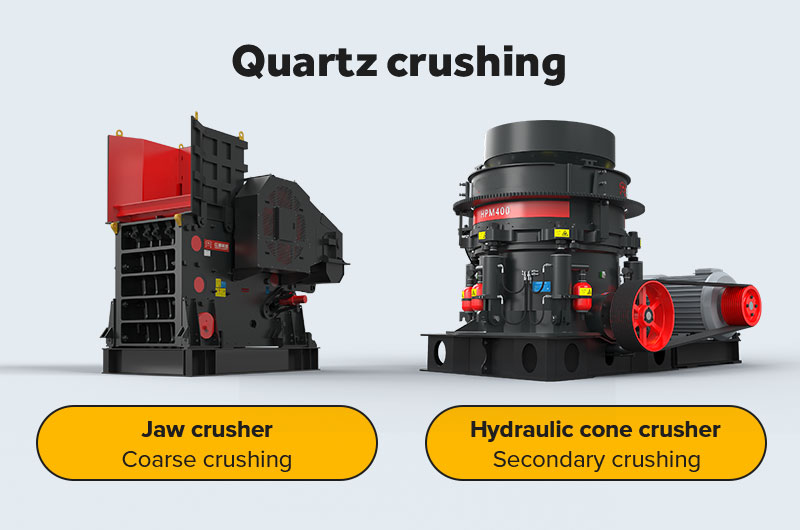 Jaw crusher: The quartz stone is crushed to a particle size of about 150 mm. The advantages of jaw crushers are large throughput and feeding size, simple and convenient maintenance, and low cost.
Hydraulic cone crusher: Quartz stone is a material with higher hardness, so the cone crusher is the best choice for second-stage crushing.
Note: Although an impact crusher can also be used in secondary crushing, it is more suitable for processing brittle materials.
2. Quartz sand making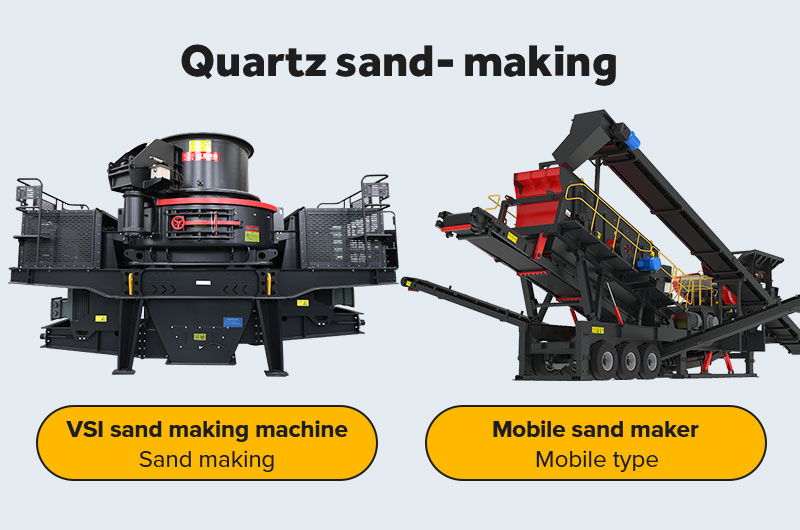 VSI sand making machine: It is commonly used, and adopts the principle of "rock on rock" and "rock on iron". It not only has high crushing efficiency, but also saves energy by using the inertia of quartz stone itself.
Mobile sand maker: If the site is complicated and inconvenient to install a fixed production line, a mobile type can be selected. Through PLC intelligent control system, it can realize on-site processing transition function and remote control.
3. Quartz washing and drying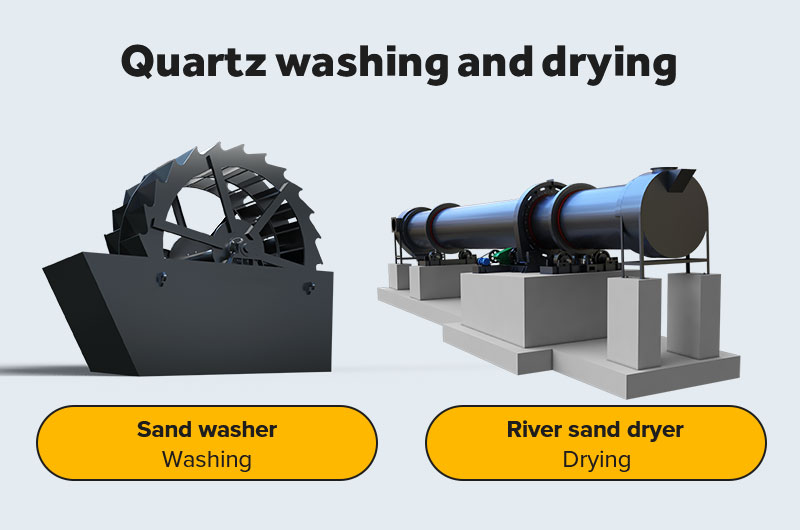 Sand washer: The quartz sand crushed to 0-5 mm by the sand maker can be sent to the sand washing machine. The soil is removed from the sand and the wastewater can be recycled.
River sand dryer: Finally, the quartz sand is sent to the dryer for drying. When drying quartz sand, the evaporation strength is 80-100, and the final moisture can reach 0.5-1% or less.
How is artificial quartz stone manufactured?
Usually, the quartz stone we say is a new type of stone artificially synthesized by more than 90% of quartz crystals plus resin and other trace elements.
First, stir the materials (including resin and quartz sand, etc.) in a special mixer.
Then, spread the materials into the mold and send them to the press for molding.
Next, send the plates to the curing furnace for curing.
The final step is the subsequent processing (including polishing, cutting, etc.).
This is the proportion of materials made of artificial quartz stone:
| | |
| --- | --- |
| Materials | Proportion |
| Quartz sand (5-100 mesh) | 60-63% |
| Quartz powder (320-2500 mesh) | 28-32% |
| Unsaturated polyester resin (UPR) | 7-9% |
| Coloring material and coupling agent | 0.4-0.6% |
| UV absorber | 0.5-1% (amount of resin) |
| Decomposition agent | 0.5-1% (amount of resin) |
| Curing agent | 0.5-1% (amount of resin) |
The ratio of quartz sand and quartz powder is about 88-95%. Therefore, when producing artificial quartz stone, quartz sand and quartz powder are indispensable.
What are the characteristics of quartz stone?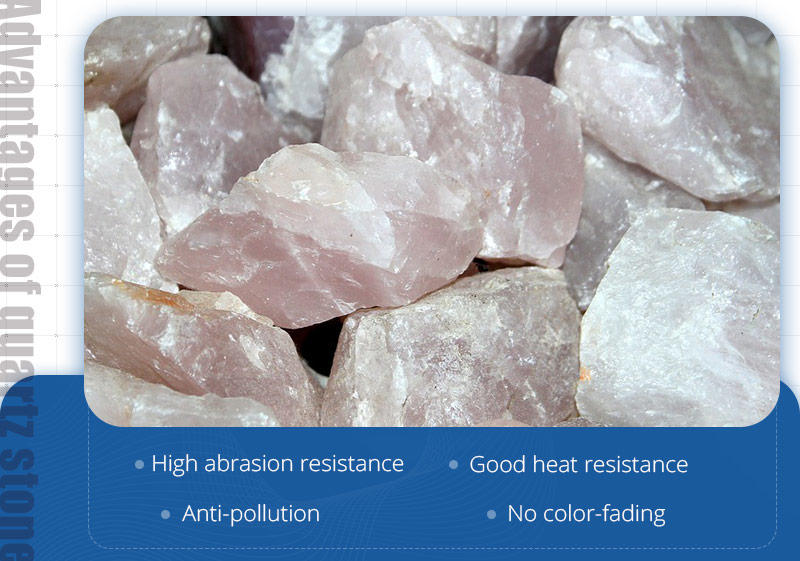 1

Abrasion resistance
Quartz stone has high hardness, second only to diamond, so it is highly scratch-resistant and wear-resistant.

2

Heat resistance
Quartz stone will not be deformed due to contact with high-temperature objects or due to natural temperature differences. Its high-temperature resistance can reach 200-250 degrees.

3

Anti-pollution
The surface and the inside of the quartz stone are both dense and uniform, which can prevent the growth of bacteria and is good for food hygiene and human health.

4

Non-color fading
Quartz stone does not fade or change color. In the process of long-term daily life indoor use, it will not be faded, toned, and tarnished due to oxidation, aging, corrosion, and contact with hot objects.
What is the quartz stone good for?
Quartz is widely used in the industries of glass, construction, casting, ceramics, rubber and plastics, and building materials.
1. Quartz glass

Quartz glass is known as the king of glass. Quartz glass has been widely used due to its low thermal expansion coefficient, good thermal shock stability, electrical properties, and chemical resistance.
2. Construction

Quartz stone can be used as construction aggregate after being crushed. It can be used in concrete, cementitious materials, road construction materials, artificial marble, cement performance inspection materials (i.e. cement standard sand), and other fields.
3. Foundry industry

Quartz sand is the largest amount of raw foundry sand and an important modeling mineral material. The market share of quartz sand products in the foundry industry is about 40%, mainly used to prepare molding sand and core sand.
4. Ceramics

Quartz can shorten the drying time and prevent the deformation of the ceramic body. It can also increase the binding ability, mechanical strength, and transparency of the ceramic body, which makes the glaze transparent and bright.
5. Rubber and plastics

Quartz powder has excellent properties such as non-toxic, odorless, non-polluting, good temperature resistance, acid and alkali corrosion resistance. It is widely used in silicone rubber and plastics, such as silicone rubber gloves, sealing rings, shoe materials, etc.
6. Decoration material

Quartz stone countertops with various colors can be widely used in public buildings and home decoration fields. It is an environmentally friendly and reusable interior decoration material without any radioactive.
Quartz vs granite vs marble (price included)
What is the difference between quartz, granite and marble? Which is more expensive? See the table below:
| | | | |
| --- | --- | --- | --- |
| Features | Quartz | Granite | Marble |
| Scratch resistance | ● | | ● |
| Pollution resistance | ● | ● | |
| Antibacterial property | ● | | |
| Heat resistance | ● | ● | ● |
| Pressure resistance | ● | ● | |
| Uvioresistant | | ● | |
| Glossiness | ● | ● | |
| Mohs hardness | 7 | 6 | 4 |
| Price/per square foot | $50 - $120 | $35 - $75 | $40 - $100 |