Developed in the 19th century, Portland cement has become the most widely used type of cement worldwide. It is considered superior to ordinary cement, as its durability, and strength make it the cornerstone of modern construction projects, from skyscrapers to residential and infrastructure developments.
In this blog, we will delve into the fascinating history, properties, composition, applications, and production process of Portland cement.
What is Portland cement?
Portland cement is the most commonly used cement in construction and is obtained by crushing clinker. It is a fine binding powder mainly composed of hydraulic calcium silicate with a small amount of calcium aluminate.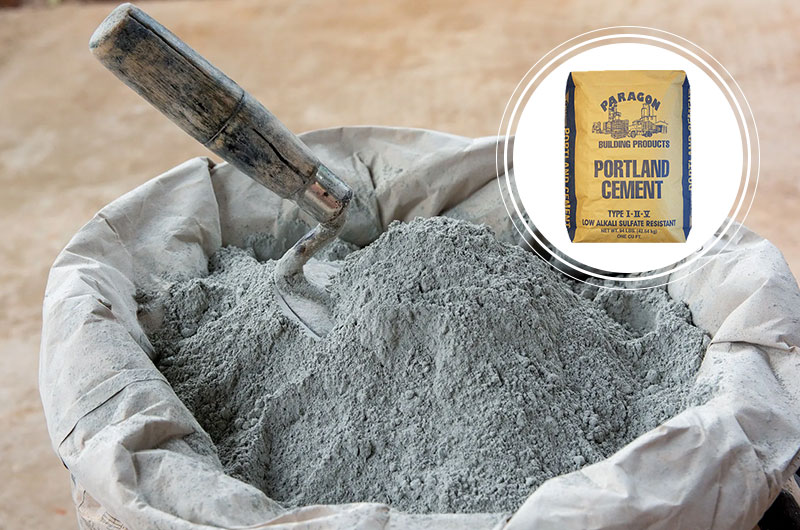 Portland cement is also called "hydraulic cement" because of its ability to set and harden when mixed with water. It is like glue that binds the sand and stones added to make concrete. It is also used as a basic ingredient in mortar, stucco, and non-specialty grout.
The history of Portland cement
Portland cement has been used for more than 175 years. It takes its name from Portland Stone, a limestone that is a highly regarded building material in the English Isle of Portland.
The invention of Portland cement is, attributed to Joseph Aspdin, an English bricklayer. He patented the term in 1824 to highlight the similarity in appearance (when set) and texture to Portland stone, which laid the foundation for the modern cement industry.
The colors of Portland cement
Portland cement is also known as "grey cement" by workers because most of Portland cements on the market are gray. However, it also comes in white and coloured colors.
Grey cement is a general-purpose cement consisting of limestone, clay, and iron ore. Its color comes from raw materials containing iron, manganese, chromium, and magnesium oxides.
White cement is a special cement used for architectural decoration and aesthetics. It is manufactured from pure white chalk and clay free from iron oxide. white cement is much finer than grey cement but almost equal in strength.
Coloured cement is made by adding 5% -10% coloring pigments before grinding.
The color of cement does not affect its quality. The cement quality mainly depends on the quality of raw materials, the fineness of the cement, and the quality control measures taken during production.
The properties of Portland cement
The Portland Cement Association found that the performance properties of Portland cement are better than ordinary cement.
Excellent strength to withstand heavy loads and provide structural integrity to buildings and infrastructure.
Its durability allows the structure to endure harsh weather conditions, chemical exposure, and the test of time.
Excellent bonding properties make it an effective adhesive material when mixed with aggregate to form concrete.
A table on Portland Cement vs. Cement
| | |
| --- | --- |
| Portland cement | Ordinary cement |
| Uses large quantities of cheap limestone for less cost | Higher cost |
| Higher content of oxides of manganese and iron | Less oxides |
| Coarser | Finer |
| Lower energy consumption | High energy consumption |
| It is used for reinforced concrete buildings, bridges, pavements, and places with normal soil conditions. | White cement is used to develop aesthetics (decoration, landscaping, flooring purposes). |
What is Portland cement made of?
Polish cement is manufactured through strict control of its chemical combination, such as calcium, silica, alumina, iron, and other ingredients.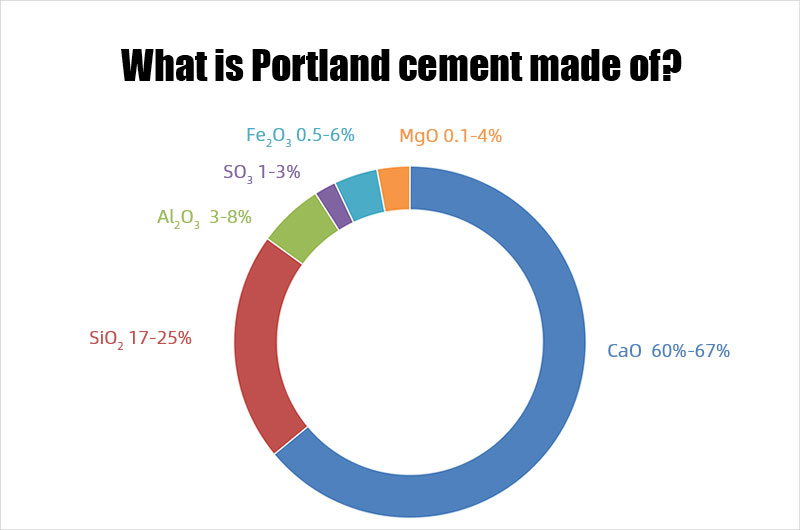 The raw materials for Portland cement
The raw materials of Portland cement need to be calcined to become cement clinker. The important raw materials mainly include calcareous materials (such as limestone or chalk) and argillaceous materials (such as shale, clay, slate, and slag). A small amount of iron is also needed.
These raw materials are low-cost and widely distributed, making them relatively inexpensive building materials. Among them, limestone (calcium carbonate) is the key raw material, accounting for 60% - 67%. It can significantly improve cement properties like compressive strength, water demand, workability, and durability.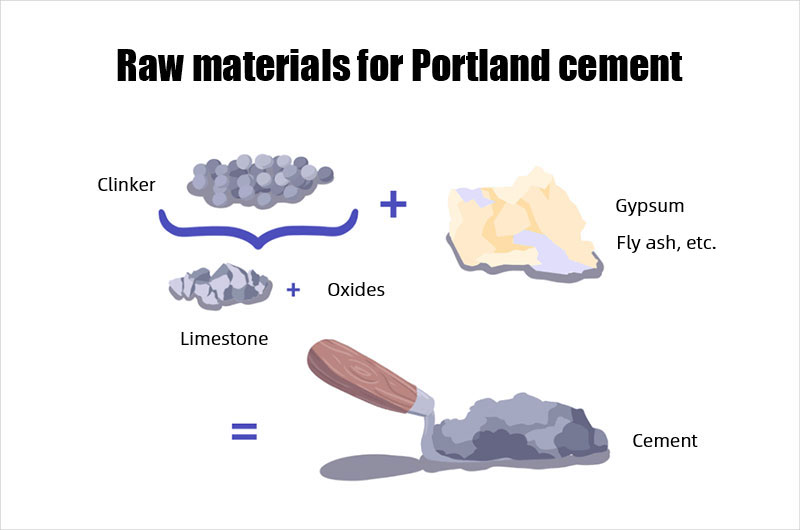 Learn more about the ingredients of Portland cement:
The additives for Portland cement
After the raw materials are calcined to become clinker, it is ground together with additives to become qualified Portland cement. Therefore, the choice of additives is equally important.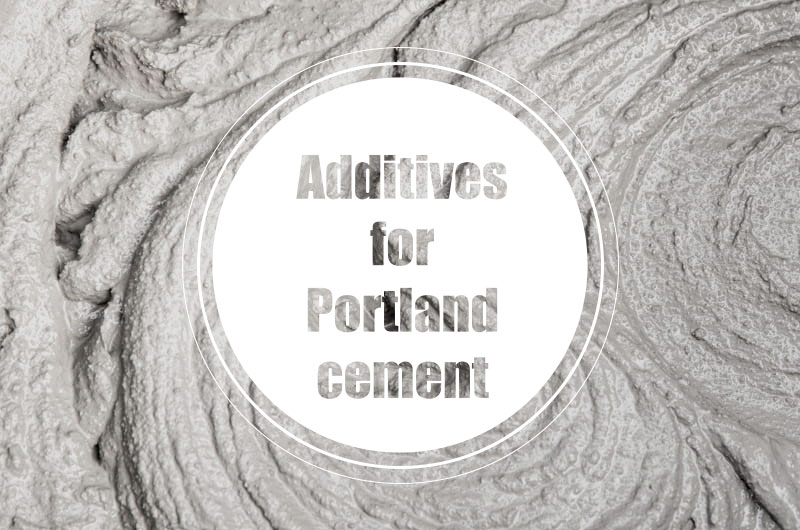 The following are the commonly used cement additives:
Adding 3%-4% gypsum can prevent the cement from hardening too quickly and control the setting time.
High-quality diatomite containing over 80% silica helps to boost the silica content of the product and reduce concrete costs.
15%-35% of fly ash or volcanic ash added to OPC can become Portland Pozzolana Cement (PPC). PPC is best for the cement floor, building foundation, and house repairs extension.
Slag is added to cement to form Portland Slag Cement (PSC). Both it and PPC are blended cement variants better suited for long-lasting construction.
How is Portland cement made?
According to different raw material preparation methods, cement manufacturing is divided into the wet process and the dry process. It depends on whether the mixing and grinding of raw materials is done in dry or wet conditions.
The wet process is basically the same as the dry process. It is divided into three stages: raw materials preparation, clinker calcination, and cement grinding. The following is a typical Portland cement factory in Nigeria:
1

Prepare raw materials: Mix raw materials, crush to 5-10 mm, and grind to 0.5 mm to prepare raw materials. If the dry process is used, the raw material is dried to a humidity of 1%-2%. The wet process mixes the raw material with 32-36% water and grinds it into a slurry.

2

Calcination: The raw meal is calcined in a huge cylindrical steel Portland cement kiln. Fuels can be fossils like coal, olive stone, and sewage sludge. The material is sintered at 1450°C (2640°F) to form gray spherical clinker, about 1-3 cm in size.

3

Grinding: The clinker, when cooled to 100°C (212°F), is mixed with 3%-5% gypsum (sometimes mixed with additives) and ground. Finally, cement products with a qualified fineness are obtained.
Note that there are four differences between wet and dry cement production:
The raw material slurry of the wet process has fluidity, so the uniformity is better and the clinker quality is higher.
The wet process has low dust content in the workshop and easy conveying.
The dry process is energy-saving, has high production efficiency, and less sewage, which can meet the production needs of large cement plants.
The dry process is more suitable for the production of clinker with a high silicon rate and high alumina rate.
Required cement equipment:
The types of Portland cement
Five types of Portland cement are standardized:
Ordinary (Portland cement Type 1): Common or general-purpose cement for construction works, such as building bridges, reservoirs, culverts, sewers and railway structures, and tanks.
Modified (Portland cement Type 2): General use, especially when moderate sulfate resistance or moderate heat of hydration is required. It hardens more slowly than Type 1 cement and generates less heat as it sets.
High-early-strength (Portland cement Type 3): Low alkali, special purpose hydraulic cement. It is used to make concrete for building construction, repairs, grouts, or mortar applications.
Low heat (Portland cement Type 4): It is also called Extra Rapid Hardening Cement. It is used in cold weather concrete concreting, to set the cement fast.
Sulfate Resistant (Portland cement Type 5): It is used in places that have high sulfate exposure.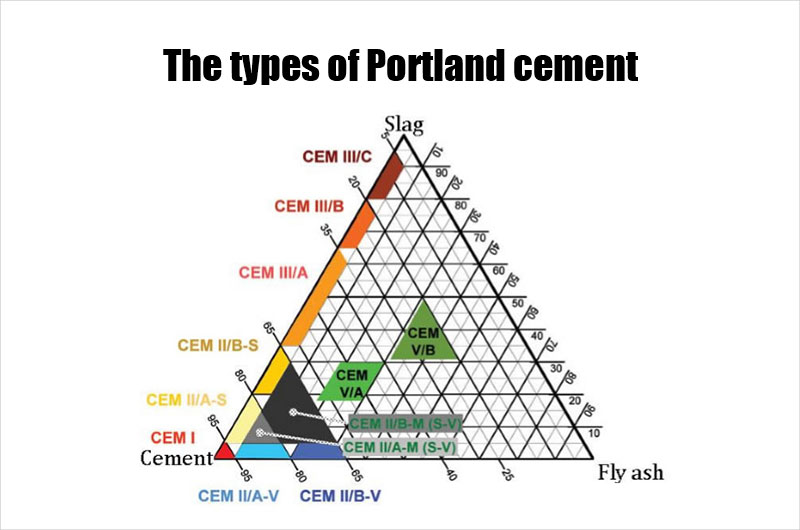 Of these, Ordinary Portland Cement (OPC) is the most commonly used cement in industrial and residential construction. It has 3 grades namely 33, 43, and 53 grade that indicates the compressive strength obtained after 28 days of setting.
OPC 43 is the best cement for plastering the exterior and interior walls of low-rise residential buildings. OPC 53 is the best cement for plastering high-rise buildings with a strength of up to 70 MPa. The shelf life is 3 months, making it crucial to protect the cement from moisture.
Conclusion
Portland cement has revolutionized the construction industry. Its exceptional properties make it the material of choice for construction. Currently, the cement industry is working to reduce its carbon footprint, seeking Portland cement replacement. FTM Machinery is here to offer you the most advanced cement machinery.
References