The Structure and Applications of Mobile Crushing Station:
All parts of the mobile crushing station are onboard, including a solid frame, impact crusher, feeder, vibrating screen, conveyor belts, motors and control boxes which all adopt the advanced technology. The Mobile Crushing Station is widely used in mining, coal, refuse and recycling of construction waste, earthwork, urban infrastructure, roads or construction sites, and other venues operations.
The Functions and Handling Materials of Mobile Crushing Station:
The mobile crushing station is suitable for handling a variety of materials, separating viscous concrete aggregate in the construction, demolition industry, and quarrying industry. The wheel mobile primary impact crusher is mainly used for the treatment of river pebbles, rocks (limestone, granite, basalt, diabase, andesite, etc.), ores tailing, stone chips, and other hard materials and ultrahard materials.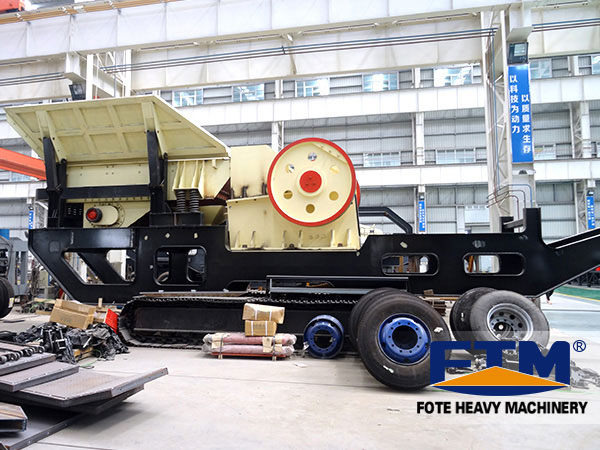 Mobile Crushing Station produced by our company has the following characteristics:
1. High-performance crushing;
2. Equipped with vehicle feeder, vibrating screen, belt conveyor;
3. Pulling the steering shaft to facilitate road transport;
4. Supporting vehicle installation with fast and convenient on-site installation;
5. Supporting the installation of the motor and control box integration;
6. Good mobility, compact structure, easy to use;
7. Stable performance, easy maintenance, and flexible configuration;
8. Low costs.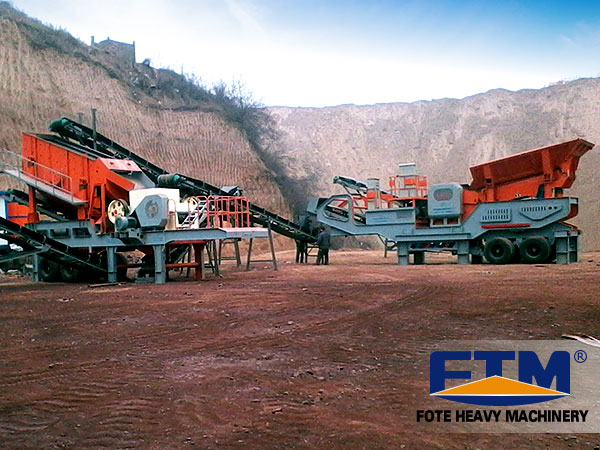 Materials are evenly transported into the crusher by the feeder, then they will be crushed by impact crusher, to realize circle crushing through closed system constituted by circular vibrating screen. Finished material will be discharged and transported through conveyor for continuous crushing. The circular vibrating screen of mobile jaw crusher can be removed according to the actual production needs, to achieve the primary crushing of materials. It is convenient and flexible to be used together with other crushing equipment.
Parameter
| | | | | |
| --- | --- | --- | --- | --- |
| Model | FTM938HD86 | FTM1149HD98 | FTM1349HD110 | FTM1349HD125 |
| Transportation Length(mm) | 12600 | 13500 | 14500 | 15200 |
| Transportation Width(mm) | 2600 | 2700 | 2800 | 2900 |
| Transportation Height(mm) | 3870 | 4200 | 4450 | 4500 |
| Maximum Length(mm) | 12500 | 14000 | 16100 | 16700 |
| Maximum Width(mm) | 4100 | 4500 | 5100 | 5100 |
| Maximum Height(mm) | 4100 | 4900 | 5000 | 5300 |
| Weight(t) | 39 | 57 | 55 | 65 |
| Tire Configuration | Dual-axial | Dual-axial | Dual-axial | Dual-axial |
| Jaw Crusher | HD86 | HD98 | HD110 | HD125 |
| Maximum Feeding Size(mm) | 500 | 550 | 660 | 800 |
| Discharge Opening Size(mm) | 50-150 | 75-175 | 100-200 | 125-225 |
| Capacity(t/h) | 85-275 | 110-350 | 215-510 | 280-650 |
| Vibrating Model | ZSW380×95 | ZSW420×110 | ZSW490×130 | ZSW490×130 |
| Main Belt Conveyor | B800×8.5M | B1000×9.5M | B1000×11M | B1200×11M |
| Side-opening Belt conveyor(Optional) | B500×3M | B650×3.5M | B650×4M | B650×4M |
| Genset(Optional) (kw) | 200 | 250 | 270 | 400 |
| Iron Separator (Optional) | RCYD(C)-8 | RCYD(C)-10 | RCYD(C)-10 | RCYD(C)-12 |
| | | |
| --- | --- | --- |
| Model | Maximum Feeding Size(mm) | Capacity(t/h) |
| FTM938HD86 | 500 | 85-275 |
| FTM1149HD98 | 550 | 110-350 |
| FTM1349HD110 | 660 | 215-510 |
| FTM1349HD125 | 800 | 280-650 |