If there is one rock that works best in construction, it must be basalt. For builders, basalt is a material with a high comprehensive utilization value.
How to work its "magic"?
Of course, you need to start by exploring these amazing stones and then polish your rock to use it most valuably.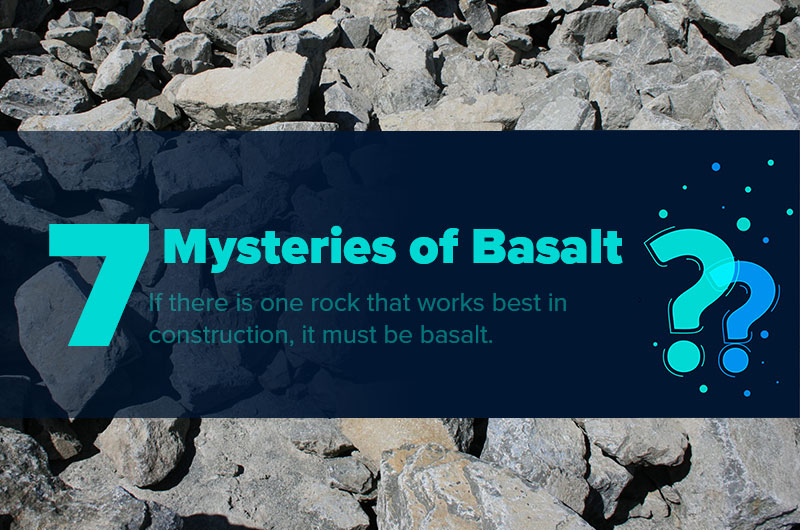 The 7 mysteries of basalt rock
1. What is basalt composed of?
Basalt is a dark volcanic rock that usually consists of plagioclase, pyroxene, and iron ore. Basalt mineral compositions may also contain olivine, quartz, amphibole, nepheline, etc.
Basalt is the volcanic equivalent of gabbro, and its chemical composition is similar to that of gabbro.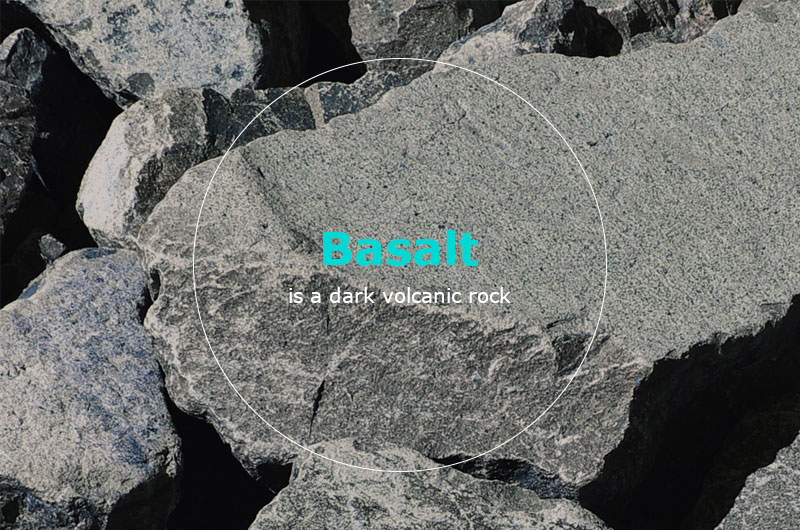 Basalt mainly contains silicon dioxide, aluminum oxide, iron oxide, calcium oxide, and magnesium oxide. Among them, the content of SiO2 is very high, and the general content is between 45% and 52%.
2. How is basalt formed?
Basalt is a common extrusive igneous rock. It belongs to magmatic rock, which is a dense or foamy rock formed by the solidification of magma from volcanic eruptions, after cooling on the surface.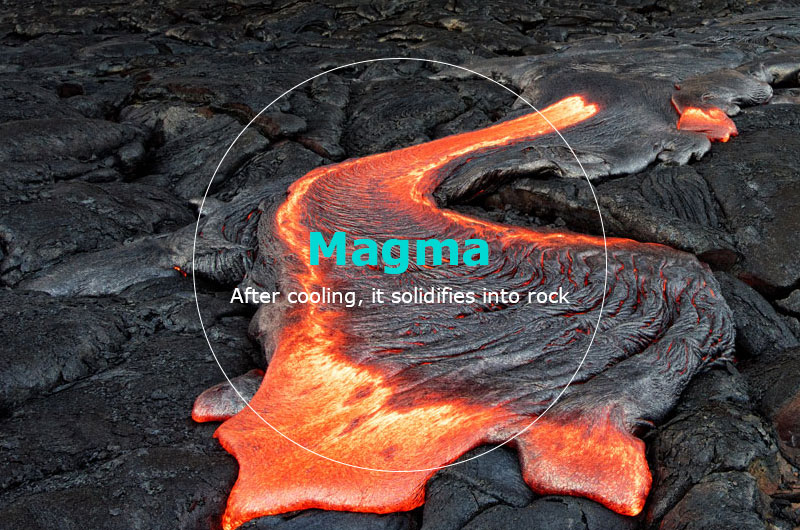 It carried a large amount of water vapor and bubbles during the flow After cooling, it formed various mutated shapes. Basalt lava contains more silica and is more fluid than andesite or dacite.
3. What is special about basalt?
Basalt comes from a Latin word meaning very hard stone. The physical properties of basalt are critical in determining basalt characteristics and uses.
Let's discuss some physical properties of basalt!
Interesting Facts about Basalt Rock
| | |
| --- | --- |
| Basalt Rock | Physical Properties |
| Color | Mostly black, grey, dark brown, but also dark green, dark red |
| Hardness | Mohs hardness of 5~7, hard |
| Texture | Glassy, massive, porphyritic, vesicular |
| Density | 2.8~3.1g/cm3 |
| Porosity | 0.35%~3.0% |
| Water absorption rate | 0.39%~0.80% |
4. What are the types of basalt?
Based on the composition of minerals, structure, formation environment, etc., basalt rock is divided into many types:
According to different structures: stomata basalt, almond basalt, basalt glass;
According to different compositions: alkaline basalt, high-alumina basalt, tholeiite;
According to different secondary minerals: olivine basalt, pyroxene basalt, quartz basalt.
5. Is pumice basalt?
Pumice, which belongs to extrusive rock in magmatic rock, is a kind of porous basalt. Because of its large number of pores, its weight is reduced and it can even float in water. So it is called "pumice stone".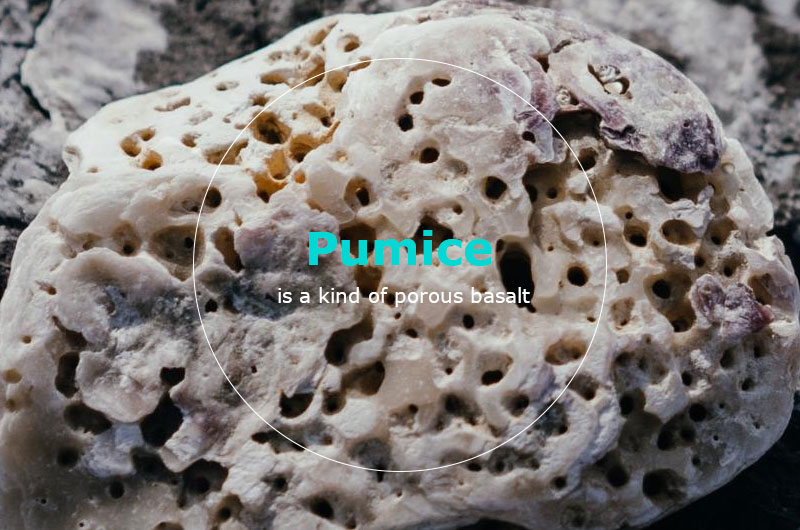 Although lightweight, pumice is fairly hard and is a good aggregate for high-rise building concrete. It is mixed in concrete and has the characteristics of sound insulation and heat insulation.
Pumice is also a good abrasive material, which can be used to grind metal and stone.
6. What are the characteristics of basalt?
Basalt has unique high-quality characteristics, which make it show magic power in various industries. It has very high economic value and industrial value.
So what are the characteristics of basalt rock?
Low crushing value
High compressive strength
Strong corrosion resistance
Good wear resistance
Low water absorption
Weak conductivity
Strong adhesion of asphalt
7. Why is basalt popular in rocks?
Because of the above characteristics, basalt has a wide range of uses, which has attracted people's attention.
Therefore, what can basalt be used for?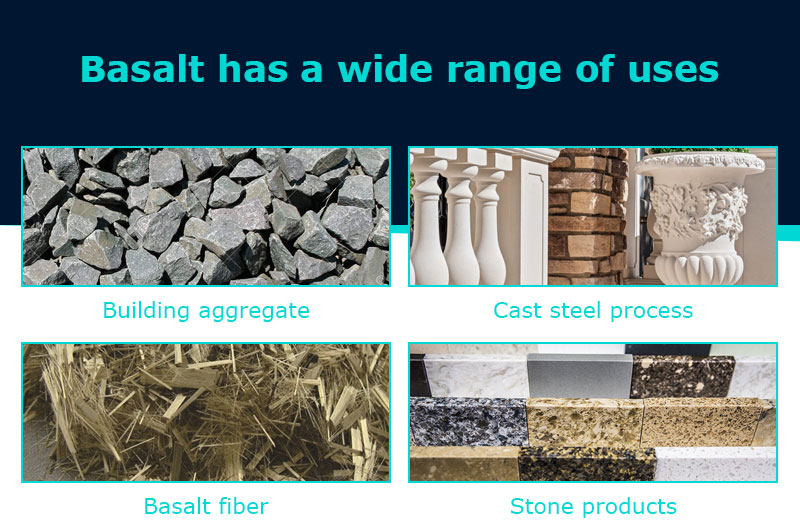 1

Building aggregate. Basalt is a kind of high-quality traffic building stone used for concrete, subgrade, railway, highway, etc.

2

Cast steel process. Basalt is a good raw material for producing "cast stone", which is harder and more wear-resistant than alloy steel.

3

Basalt fiber. After processing, basalt fiber is used as the reinforcing material of resin, with excellent performance.

4

Stone products. Basalt is cut into thin sheets and used as tiles, monuments, architectural finishes, and other stone products.
The production process of basalt rock
To realize the economic value of basalt, we have listened to the advice of professionals. By studying the basalt characteristics, we design the most suitable basalt processing flow for you.
Basalt crushing process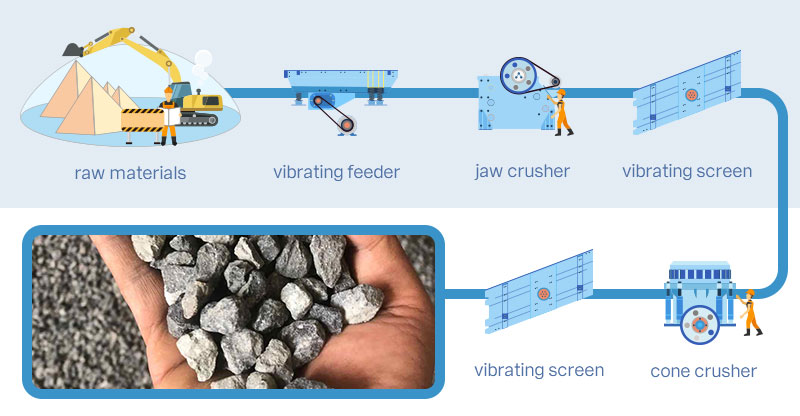 1

Primary crushing: Basalt raw ore is evenly fed into the silo by the vibrating feeder and transported to the jaw crusher for coarse crushing.

2

Secondary crushing: Basalt materials (≤150mm) are sent to the cone crusher by belt conveyor for further crushing.

3

Screening: The vibrating screen is used for reasonable screening, and the unqualified stones are returned to the cone crusher to be crushed again.
Basalt Crushing Equipment Price: Get Latest Price
Basalt sand making process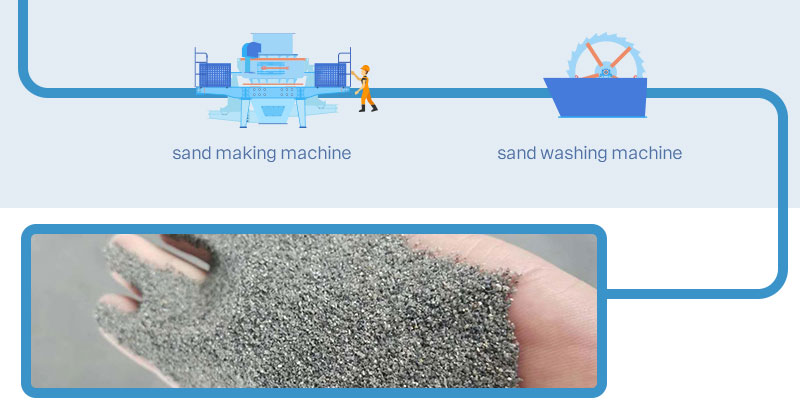 1

Sand making: The crushed basalt (≤40mm) is conveyed to sand making machine through the belt conveyor for fine crushing and shaping, to obtain basalt sand.

2

Sand washing: If the impurity content of basalt is relatively high, or the sand is strictly required, a sand washing machine can be used to clean the sand and gravel.
Basalt Sand Making Equipment Price: Get Latest Price
Vietnam basalt crushing plant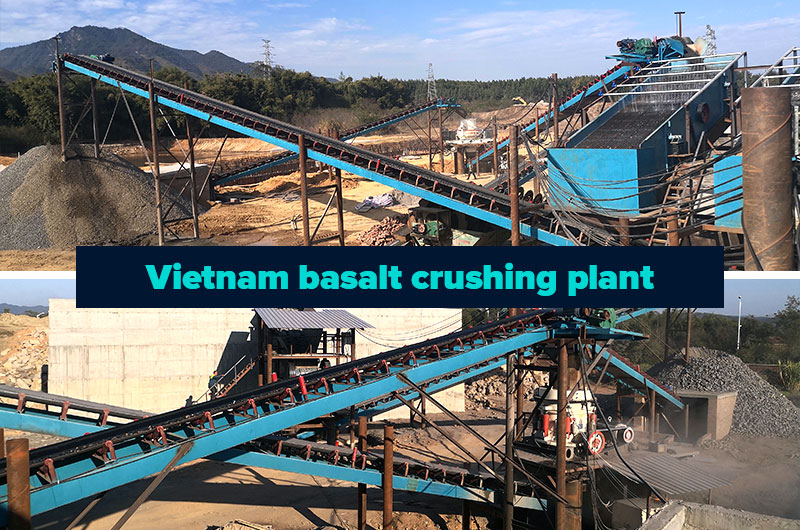 Ftmmachinery Designed Production Case
| | |
| --- | --- |
| Material | Basalt |
| Feeding size | ≤700mm |
| Product size | 0-10mm, 10-20mm, 20-30mm |
| Capacity | 120-150 t/h |
| Equipment | HMF0832S feeder, CJ96 jaw crusher, SC160F1 cone crusher, 4HX2165 vibrating screen |
| Uses | Construction, stone, railway, chemical, mineral industry |
Robbins said, "According to our requirements, they designed a production line. Now we can crush sand and stone to meet the specifications of Vietnam. After using it for some time, we slowly gained benefits, which is unexpected."
Conclusion
Basalt is internationally recognized as a high-quality roadbed raw material and has become a new development direction for the production plant. After knowing about basalt, is your heart also eager to try it? Yes, I am interested!
If you are looking for advice, Ftmmachinery can choose the best production line for you and create more value in a short time.