With the rapid rise of new energy sources, lithium resources have been pushed to a boom in development. As a green energy mineral, the most common type of lithium ore is spodumene. This blog will focus on spodumene, analyze the processing technology and equipment of spodumene, and how to make lithium carbonate.
What is spodumene?
Do you know what are the characteristics of spodumene? Let's take a look!
Spodumene, a lithium aluminum silicate mineral, often contains trace amounts of sodium, calcium, magnesium, and occasionally chromium, rare earth, and cesium. Spodumene usually occurs together with lepidolite and petalite in granite pegmatite.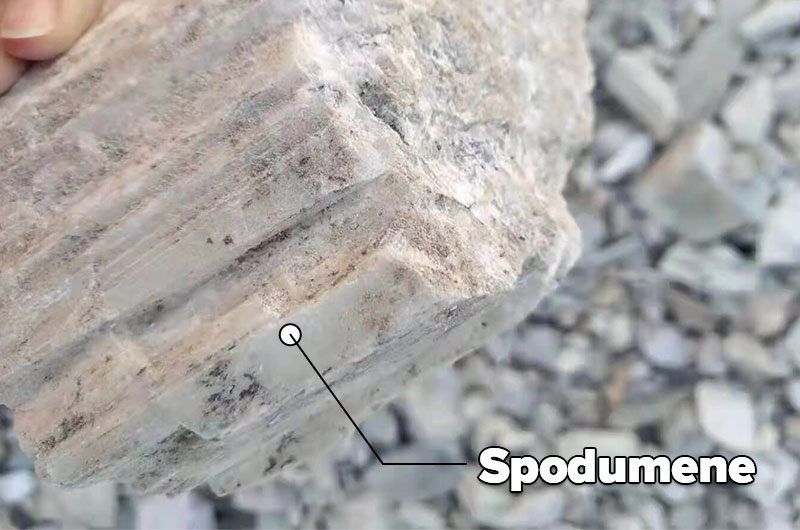 The properties of spodumene
| | |
| --- | --- |
| Chemical formula | LiAlSi2O6 |
| Spodumene hardness | Mohs hardness is 6.5-7 |
| Spodumene specific gravity | 3.1-3.3 |
| Spodumene density | 3.03-3.22g/cm3 |
| Spodumene luster | Pearly or glass luster |
| Spodumene crystal system | Monoclinic system |
| Spodumene cleavage | Perfect cleavage in two directions |
Spodumene is pleochroic
Spodumene has a variety of colors. Common colors are purple, gray-green, yellow, off-white, pink, blue, and so on.
Transparent colorless to pink-purple spodumene, called "Kunzite";
Emerald green spodumene, called "Hiddenite";
Yellow spodumene, called "Triphane";
Other colors without separate names are all called "Spodumene".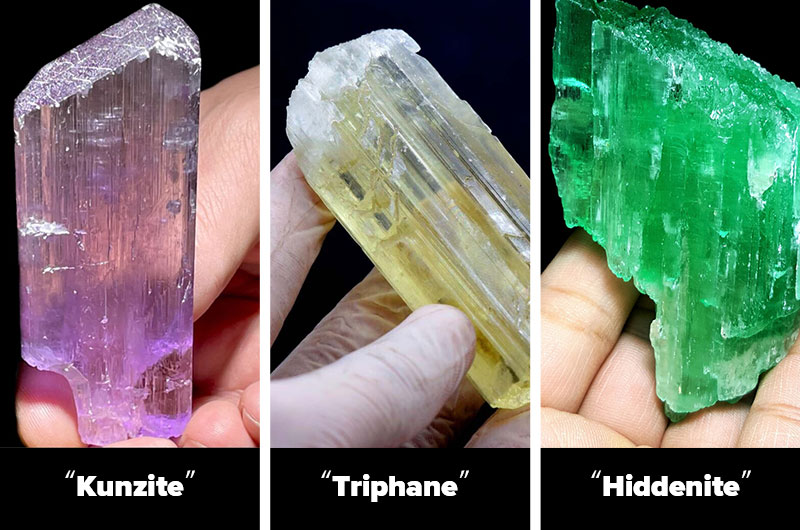 As a lithium-rich solid lithium mineral, spodumene is mainly distributed in Australia, China, the United States, Canada, and Brazil. Spodumene has long been used as a gemstone for its colorful appearance.
Why is spodumene mined?
Spodumene is a high-quality ore source for extracting lithium. Lithium, as a new energy metal in the 21st century, has been pushed to a new peak, driving the mining and processing of spodumene.
The demand for spodumene presents a phenomenon of tight market supply, and lithium price continues to rise. Taking lithium carbonate as an example, battery-grade lithium carbonate is used to prepare positive electrode materials for lithium-ion batteries. This is the price change in the past 10 years: (Data from Statista Data)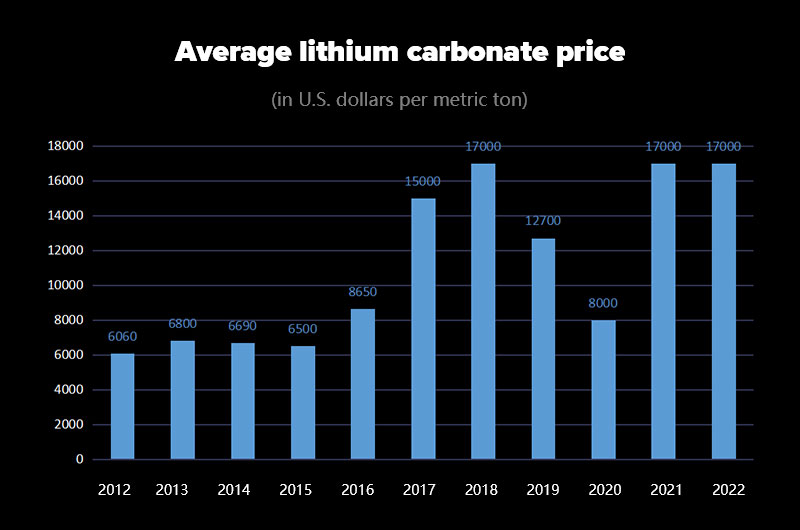 In addition, spodumene has excellent thermal stability and is an important raw material for glass-ceramics and frit glazes. As a lithium chemical material, it is widely used in the lithium chemical industry, glass, and ceramic industries, and enjoys the reputation of "industrial monosodium glutamate".
How to process spodumene ore?
Currently, spodumene has become the focus of investors. Do you know how to get lithium from spodumene ore? Ftmmachinery provides you with processing equipment and price.
Based on the mineral characteristics of spodumene, the spodumene processing steps are: crushing & screening, grinding & grading, flotation & magnetic separation, concentration & drying, and tailings treatment. This is a common flowchart for spodumene processing!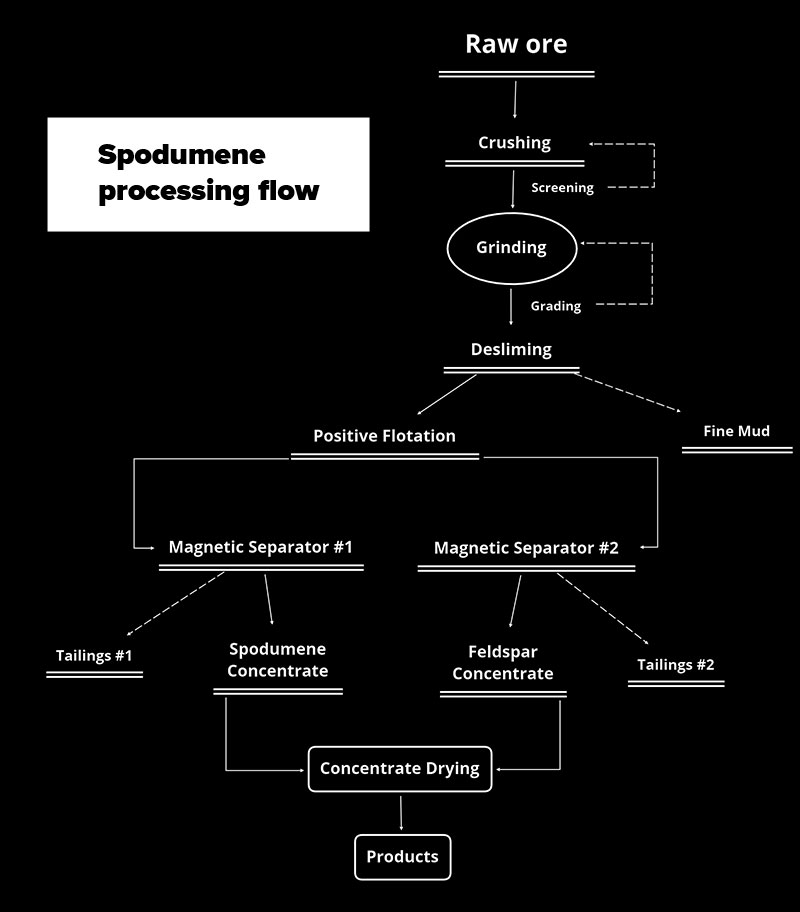 01 | Spodumene crushing operation
According to the principle of "more crushing and less grinding", spodumene processing adopts a three-stage and one closed-circuit crushing process. The broken particle size is controlled below 15 mm.
Spodumene crushing equipment you need
Jaw crusher: The raw ore enters the jaw crusher through the feeder for coarse crushing. (Minimum price $1,000)
Cone crusher: Coarsely ore is sent to the cone crusher through the belt conveyor for fine crushing. (Minimum price $5,000)
Circular vibrating screen: The crushed spodumene enters the circular vibrating screen for screening. (Minimum price $1,000)
02 | Spodumene grinding operation
After the screening, qualified spodumene minerals are fed into the grinding and grading process. The particle size of spodumene ore is ground to less than 0.15 mm to obtain a better flotation effect.
Spodumene grinding equipment you need
Wet-type ball mill: The ore under the sieve is sent to the wet-type grid ball mill for grinding. (Minimum price $5,000)
Spiral classifier: The pulp in the pump box enters the spiral classifier for classification. (Minimum price $2,000)
Note: Spodumene ore is easy to weather, and the ground ore is seriously slimed and contains other muddy substances. The slime content will affect the beneficiation index. Before flotation, a hydrocyclone is often used for desliming.
03 | Spodumene separating operation
Gangue minerals of spodumene include feldspar, quartz, muscovite, chlorite, hornblende, etc. The flotation-magnetic separation method is the main application method of spodumene beneficiation, which adopts a process of one time of roughing and two times of cleaning.
Spodumene beneficiation equipment you need
Agitating tank: The ore pulp flows into the mixing tank. Add oleic acid and oxidized paraffin soap to adjust the slurry. (Minimum price $1,300)
Flotation machine: Enter the flotation machine, and float spodumene concentrate under high alkalinity conditions. (Minimum price $1,170)
Magnetic separator: Further iron removal and purification by magnetic separation to obtain low-iron lithium concentrate. (Minimum price $1,100)
Note: If the requirements for lithium concentrate grade are too high, gravity separation (shaking table, jig machine, or resuspension method) can also be added. Spodumene after re-election enters the flotation stage to improve the quality of lithium concentrate.
04 | Spodumene drying operation
After the spodumene minerals are separated, they contain a lot of water and must be dried through a drying system.
Spodumene drying equipment you need
Concentrator: Preliminary concentration in the concentrator to remove a large amount of water. (Minimum price $3,326)
Rotary drum dryer: Then the wet concentrate is dried to obtain dry spodumene concentrate. (Minimum price $1,200)
05 | Tailings treatment operation
Spodumene is mainly associated with feldspar, and the content of feldspar is high. To improve the concentrate recovery rate, the tailings after separation can have a scavenging process. It often adopts a magnetic separation method to obtain feldspar concentrate.
However, spodumene tailings contain impurities such as mica flakes, so a high-frequency screen can be added before the strong magnetic separator. It can not only improve the iron removal effect, but also prevent the media box of the magnetic separator from being blocked.
Read more about feldspar processing:
How is lithium carbonate produced?
Lithium concentrate is further processed to produce lithium carbonate used in batteries. To produce lithium carbonate with spodumene as raw material, the mature technology is the sulfuric acid production process in the industry.
1

The spodumene concentrates obtained from ore dressing are first roasted in a rotary kiln at 1050-1100°C.

2

After cooling, mix them with sufficient sulfuric acid (93%~98%) and send them to an acidification rotary kiln at 250°C for sulfuric acid roasting.

3

After cooling, immerse in water and add limestone (PH=5) to obtain a crude lithium solution containing about 10%.

4

Adjust PH to 11 with lime, and add sodium carbonate to remove calcium, magnesium, iron, aluminum, and other impurities.

5

The clear solution is evaporated into the lithium sulfate purification solution containing about 12-20%, and sodium carbonate is added to precipitate.

6

After centrifugal dehydration, the filter residue is dried at 350°C to obtain lithium carbonate products.
After these steps, lithium processing plants have completed the production process from spodumene to lithium carbonate. The recovery rate is about 90%.
Spodumene conclusion
In short, lithium is "the new gold of the 21st century". To rationally develop lithium ore resources, it is particularly important to select a suitable spodumene beneficiation process. Through the deep processing of spodumene, the value of lithium concentrate and lithium carbonate can be fully exerted. The lithium battery industry will usher in a new round of development opportunities.