From The Kingdom of Feldspar, it is known that feldspar is a silicate aluminate mineral of potassium, sodium, calcium, and a small amount of barium. It is one of the important raw materials in the field of ceramics and glass.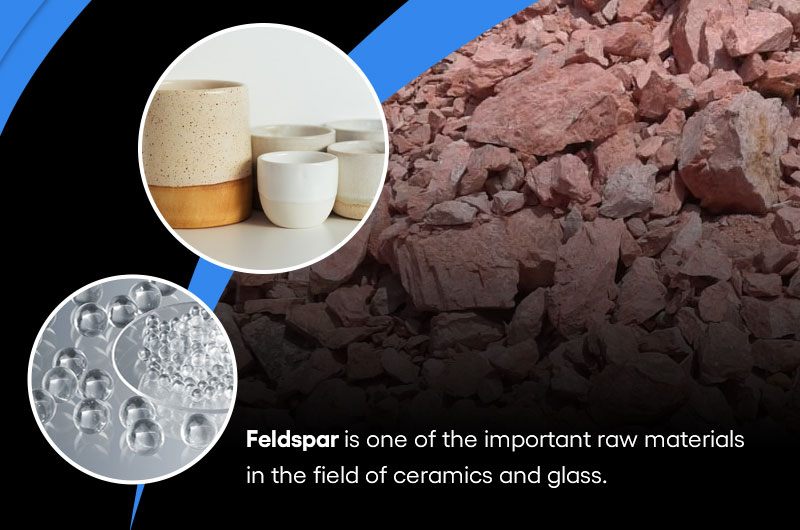 But in nature, there are very few pure and single feldspars, and most of them appear as low-grade mixed ores. Below we will analyze the mineral composition of feldspar and introduce the 6 most efficient feldspar beneficiation methods.
The main gangue minerals of feldspar ore
Feldspar minerals are complex and includes many types. Feldspar mines mostly occur as aggregates of various rocks, and the main types of feldspar deposits are:
1

High quality feldspar in pegmatite

2

Feldspar in weathered granite

3

Feldspar in aplite

4

Feldspathic placer
In feldspar ore, the co-existing minerals are mainly iron minerals, such as limonite, magnetite, hematite, and iron-bearing amphibole. Common gangue minerals also include clay, quartz, mica, garnet, tourmaline, chlorite, etc.
Iron minerals are impurities that have a great impact on feldspar concentrates, which will affect the color of feldspar concentrates and reduce their quality. Quartz is similar to feldspar in physical properties, chemical composition, and structure, and it is difficult to separate. So iron removal and quartz separation are the difficult points of feldspar processing.
According to the impurity composition of feldspar, there are 6 main feldspar beneficiation methods: hand picking, water washing, flotation, magnetic separation, gravity separation, and acid leaching.
1. Feldspar hand-picking method
The hand-picking method is suitable for good quality feldspar ores in pegmatite mines. Manual sorting is carried out according to the differences in appearance, color and crystal form of feldspar and gangue minerals.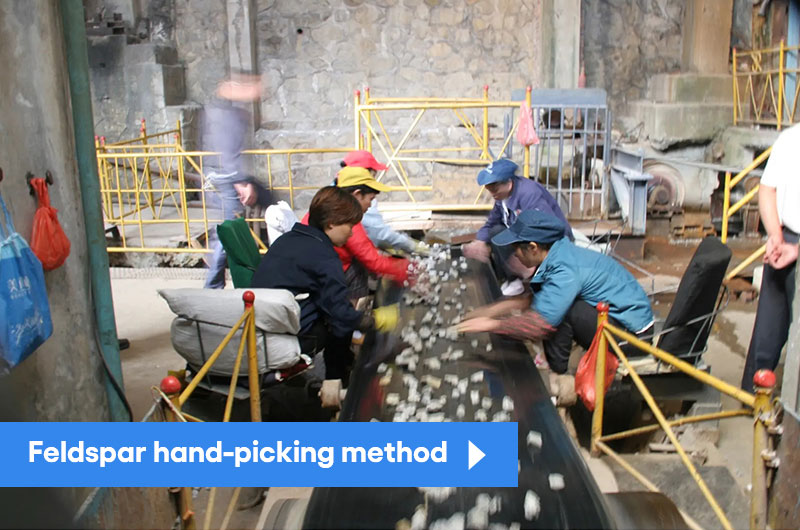 It is a method of primary screening of feldspar, which is completed in the crushing operation. Feldspar with 10-30 mm is selected, and the conveyor belt speed is generally controlled at 0.15-0.3 m/s.
【Please pay attention】
Purpose: To remove large pieces of waste rocks such as mica, quartz, garnet, beryl, etc., which can be crushed and sold.
Common equipment: Jaw crusher, belt conveyor
2. Feldspar washing method
The ore washing method is suitable for potassium feldspar in weathered granite or feldspathic placer. It utilizes differences in particle size and density between feldspar and fine-grained impurities.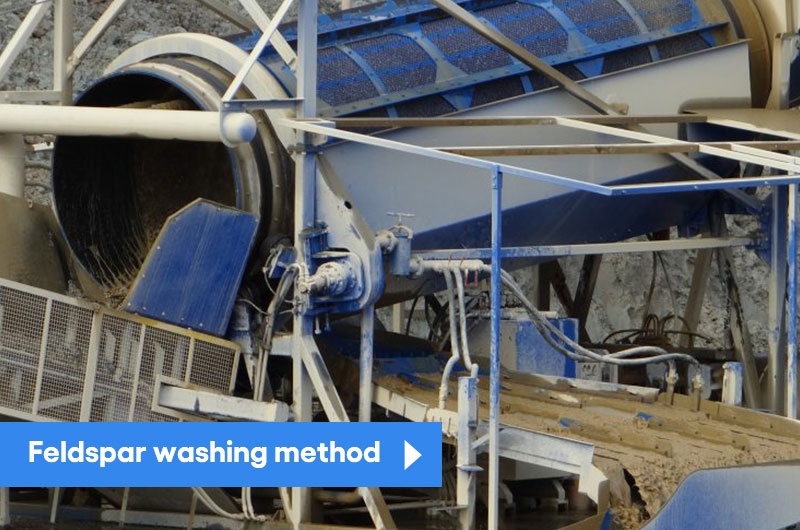 These impurities have fine particle size and low sedimentation velocity. They are separated from coarse-grained feldspar under the action of water flow.
【Please pay attention】
Purpose: To remove impurities such as clay, fine mud, and mica in the ore.
Common equipment: Trommel screen, hydrocyclone
3. Feldspar flotation method
Flotation is a widely used method for feldspar purification. Under the action of flotation reagents, the surface property difference between feldspar and gangue is increased, so that feldspar can be separated from gangue minerals.
On the one hand, impurity elements such as iron and titanium in feldspar can be removed; on the other hand, feldspar can be separated from quartz to increase the content of K and Na. The combination of chemical agents depends on the composition of impurities.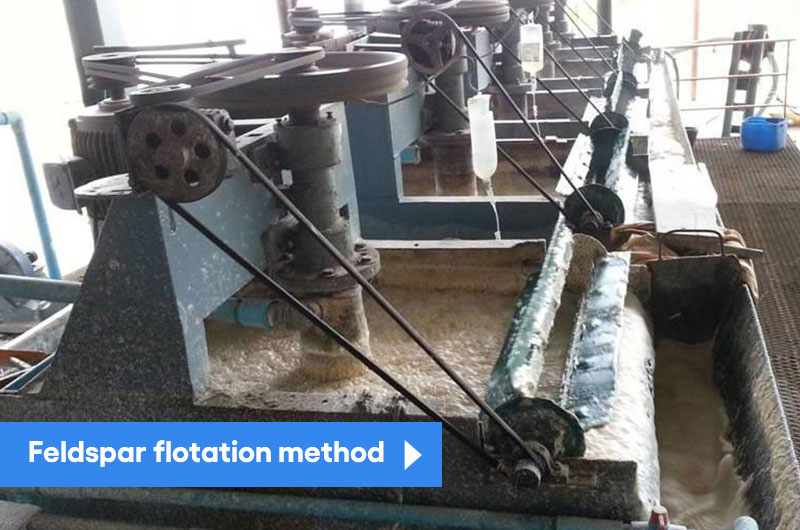 The effective separation of feldspar and quartz is a difficult point. Usually, the fluorine-free flotation method is used, which is divided into 3 types:
#1. Acidic flotation: Under the action of pH=2-3, use an anion-cation mixed collector to preferentially float feldspar.
#2. Neutral flotation: In the natural neutral medium, use an amine cationic collector to float feldspar.
#3. Alkaline flotation: Under the condition of pH=11-12, an alkaline-earth metal ion is used as an activator, and an alkyl sulfonate collector is used for the reverse flotation of quartz.
【Please pay attention】
4. Feldspar magnetic separation method
Since iron oxide, biotite, tourmaline, garnet, etc. in feldspar have certain magnetism, they can be separated from non-magnetic feldspar minerals through an external magnetic field.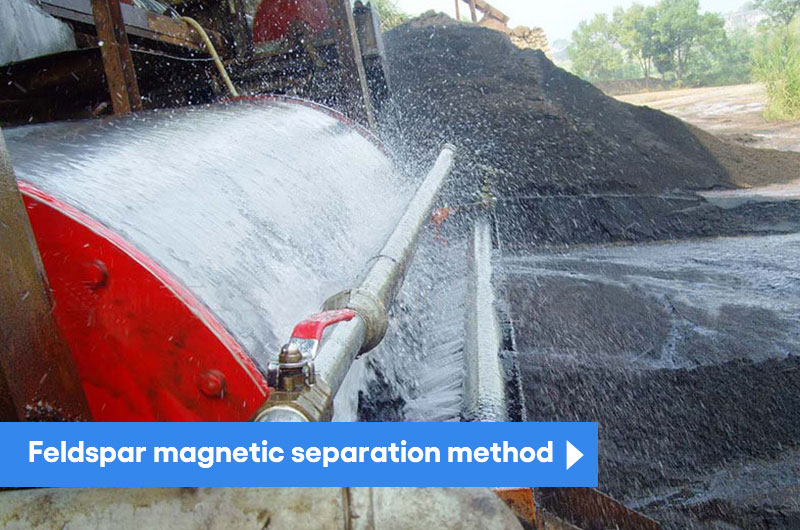 Generally speaking, the magnetic properties of these minerals are weak, and strong magnetic separation equipment can be used to obtain a good separation effect.
【Please pay attention】
5. Feldspar gravity separation method
Gravity separation utilizes the density difference between minerals for separation. Rutile, garnet, and iron-containing impurity minerals are denser. They can be separated from feldspar with lower density under the combined action of horizontal and vertical water.
【Please pay attention】
Purpose: To remove iron minerals, rutile, and garnet.
Common equipment: Spiral chute
6. Feldspar acid leaching method
If there are strict requirements for iron, such as the production of high-grade ceramics, the acid leaching method can be used. Acid leaching utilizes high-concentration sulfuric acid to remove iron by chemical treatment at high temperature.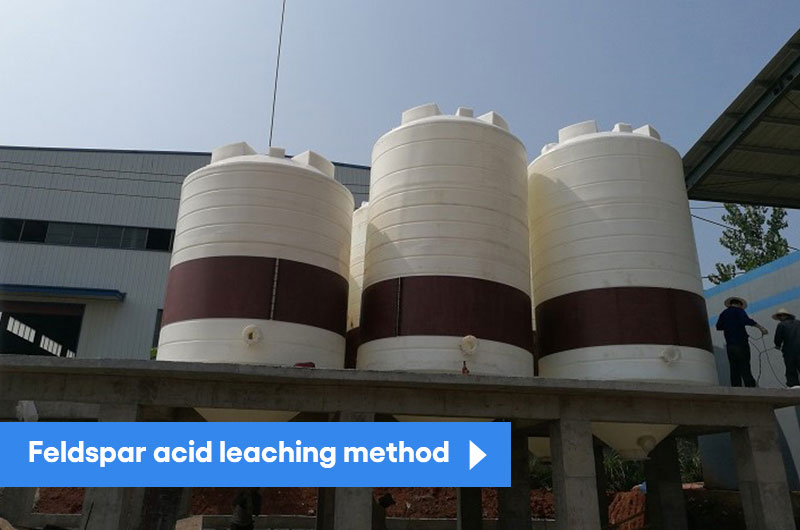 【Please pay attention】
Purpose: To remove impurities with the fine embedded crystal structure in feldspar.
Common agents: Oxalic acid, hydrofluoric acid, sulfuric acid, etc.
Conclusion
These are the 6 most widely used methods of feldspar beneficiation. The most preferred ways are to remove sludge by washing, remove iron by magnetic separation and remove silicon by flotation, which can effectively improve the grade of feldspar concentrate.
For feldspar ore with difficult beneficiation and fine-grained interspersed distribution, a single method cannot meet the requirements of concentrate, so the combined beneficiation process is adopted. Magnetic separation - reverse flotation, gravity separation - magnetic separation, water washing - screening - flotation, etc., can obtain better separation results.