In recent years, battery minerals have become a big business in the world, especially for Congo, Russia, Australia, the U.S., Brazil, and other countries. This is because these "green minerals" are very important for the lithium-ion batteries used in electric vehicles (EVs).
"Now consumers are very concerned about new technological solutions for battery minerals such as lithium ore, cobalt ore, graphite, so the mining industry must respond quickly to this growing demand," said Alan, Mining Engineer, Ftmmachinery.
Read this blog, and you can know:
What are the battery minerals?
Battery minerals are minerals that are used to produce rechargeable batteries for electric vehicles (EVs) and renewable energy storage.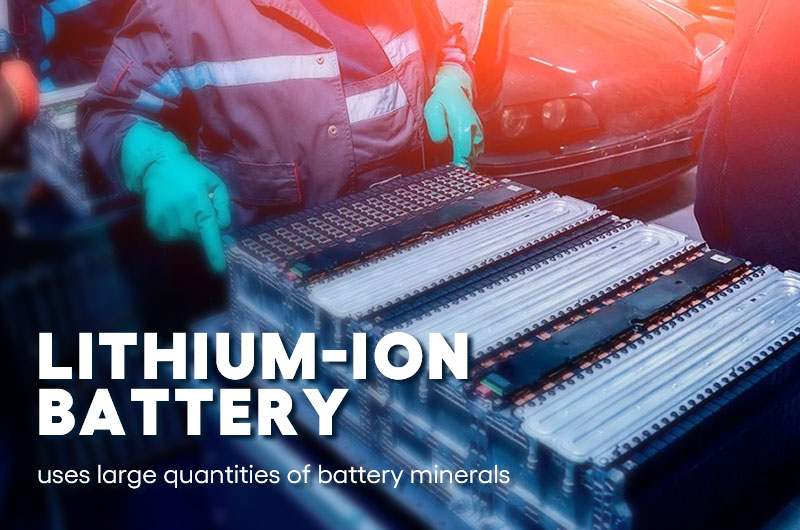 This battery is a lithium-ion battery.
It uses less lead than traditional batteries while still providing enough power, thereby it can reduce costs.
Depending on the battery components, battery minerals may include lithium ore, nickel, cobalt, graphite, manganese, aluminum, tin, tantalum, vanadium, magnesium, and rare earth minerals.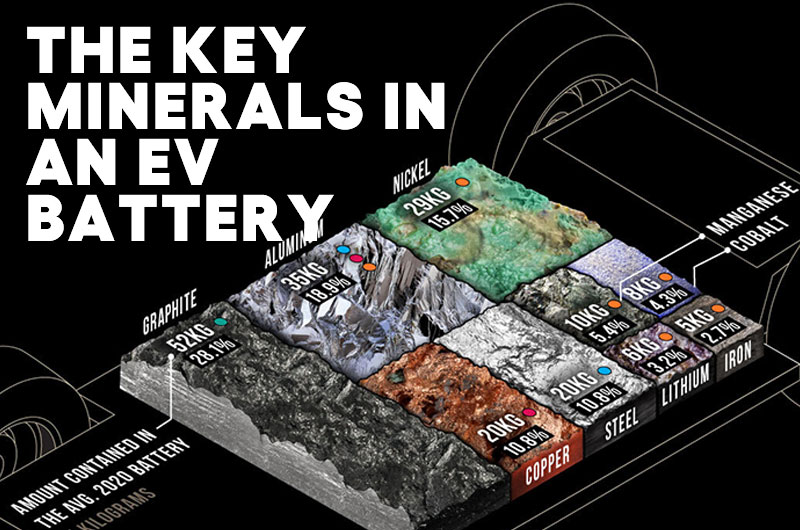 However, the term "battery minerals" usually refers more concisely to lithium, cobalt, nickel, manganese, and graphite. "Battery metal" is also a commonly used term, but does not include the nonmetallic mineral graphite. This article will focus on these five critical battery minerals.
Booming battery minerals market
As the clean energy transition gains momentum, electric vehicles (e.g. Tesla) are becoming increasingly popular. More than 10 million EVs are driven on the road. These batteries (EV Batteries) depend on the key minerals that help power them, which have promoted the vigorous development of the battery mineral market.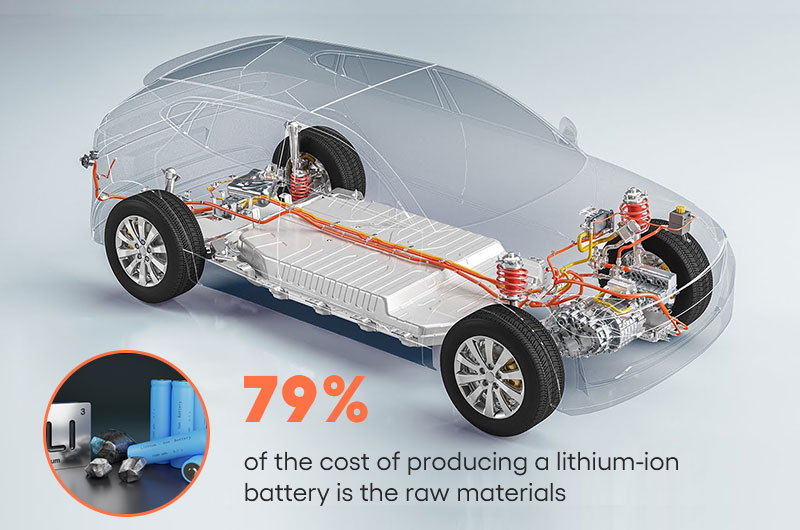 Statistics show that by 2028, the demand for nickel, cobalt, lithium, and graphite for battery production will grow by a factor of 2.5 to 12.4. The global battery metals market was valued at $25.66 billion, with a CAGR of 8.5% over the forecast period (2022-2028).
Below are the production and price of the battery minerals worldwide in 2022:
| | | | |
| --- | --- | --- | --- |
| Battery Minerals | Producers | Global Production in 2022 | Price (May Vary) |
| Lithium | Australia, Zimbabwe, Latin American countries | 1.3M tonnes | lithium carbonate: $17,000 / tonne |
| Cobalt | Congo, Cuba, Russia, the Philippines, Australia | 190,000 tonnes | $33,000 / tonne |
| Nickel | Indonesia, Philippines, South Africa, Russia, Australia, Canada | 3.3M tonnes | $18,000 / tonne |
| Manganese | South Africa, Australia, Gabon, Brazil, Nigeria | 20M tonnes | $7.16 / tonne |
| Graphite | China, Mozambique, Brazil, Russia, Canada, India, Korea | 1.3M tonnes | Natural graphite flake: $1,600 / tonne |
The increasing demand causes the increasingly strained battery mineral supply chain, particularly cobalt, and lithium.
Those who want to do battery mineral business must know the different types of battery minerals and their processing methods.
Mining and processing of battery minerals
Keeping the faith in "Reduce, Reuse and Recycle", Ftmmachinery is committed to processing battery minerals from economically viable deposits and refining them from their raw forms into high-quality products.
1. Lithium mining and processing
Lithium is the first choice for lithium-ion battery production (especially cathode), for being the lightest metal and an excellent conductor of electricity and heat.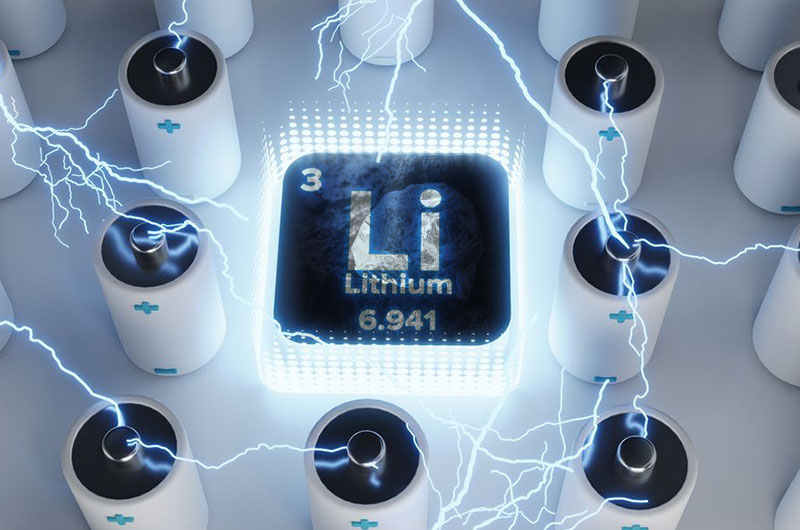 In 2022, global lithium production was 130,000 metric tons. Australia is the world's largest source of lithium. Lithium now generates over 30% revenue of the global battery metals market. So, how to get lithium?
Lithium is extracted from two sources: the production from brines and hard-rock lithium production.
Production from brines is more economical, with the largest deposits being in the Americas and China. Chile, Argentina, Bolivia, and other Latin American countries are their producers. This method is pumping lithium-rich brine to the surface, then it will be evaporated and concentrated in the solar evaporation pool.
Hard-rock lithium ores (granite pegmatites with spodumene) are more challenging to process, especially on beneficiation. Australia, Canada, Zimbabwe, and Portugal are their producers.
Below is a battery-grade lithium ore processing plant in Australia (using hard rock lithium ore):
Crushing:

After mining, the raw lithium ore is crushed through a jaw crusher and a cone crusher for two-stage crushing.

Screening:

Then use a vibrating screen to sieve. Qualified lithium ore enters the next grinding process.

Grinding/Milling:

The ore is wet ground by a ball mill into a particle size within 0.15 mm.

Flotation and magnetic separation:

After grinding, the lithium ore powder first enters a flotation separator to remove purities, such as quartz, feldspar, and mica. Then it enters a magnetic separator to remove iron purities and the lithium concentrate is obtained.

Calcination:

The concentrate is calcinated in a rotary kiln at 1050-1100°C.

Chemical treatment:

Finally, the chemical treatment of lithium concentrate is carried out to produce lithium carbonate or lithium hydroxide required for batteries.
2. Cobalt mining and processing
Cobalt is the most widely used cathode material in lithium-ion batteries.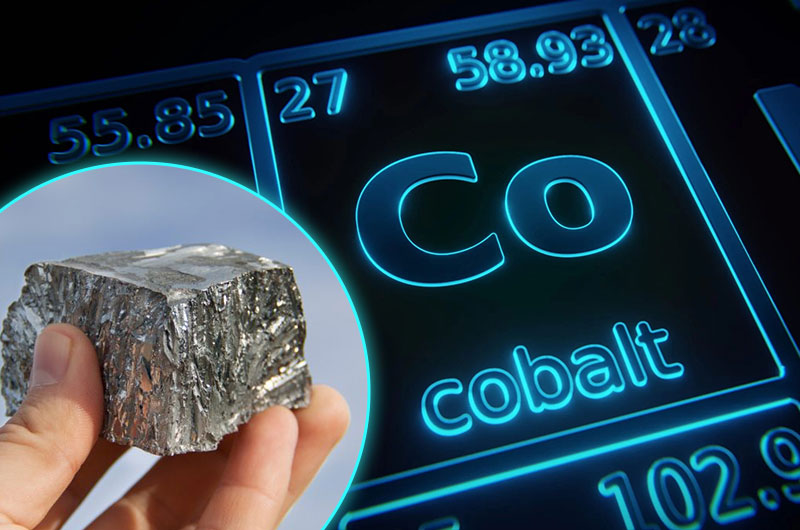 Cobalt is a by-product of nickel and copper mining, which makes it harder to obtain.
Besides, the largest cobalt producer Congo always uses child labor, making its price expensive, at US$33,000/tonne – more than twice the price of nickel.
In 2022, global cobalt production was 190,000 metric tons. Congo accounted for 70%, followed by Cuba, Russia, the Philippines, and Australia.
Congo's cobalt extraction comes from the sedimentary layered copper deposits in Kinshasa. The cobalt ore processing in Congo is as follows:
3. Nickel mining and processing
Nickel is a silvery-white metal. It is used in cathode production for batteries due to its high energy density and storage capacity.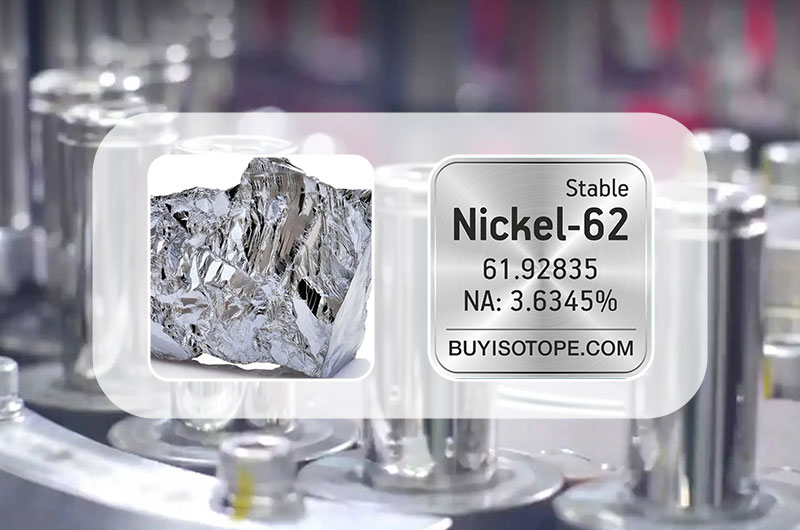 The increase in nickel has another major advantage for battery makers: it allows for a reduction in the amount of cobalt used in the battery.
Nickel ores suitable for battery use come in two types of nickel ores:
Class I (Nickel Sulphides): Higher grade, but rarer deposits, making up 37.5% of current production. The main mineral is nickel -pyrite.
Class II (Nickel Laterites): Low-grade, rich reserves, making up 62.4% of current production. The main minerals are saprolitic ore and limonitic ore. Its mining is increasingly important.
At present, the nickel used for batteries has to be Class I, but half of the global production of nickel is Class II. Indonesia is the second largest producer of Class 2 Nickel (99% purity). The Philippines, South Africa, Russia, Australia, and Canada are also nickel producers. In 2022, global nickel production is 3,300,000 metric tons.
To produce battery-grade nickel, the processing of nickel sulfide is crushing - screening – grinding – flotation separation – tailings recycling. However, the mine is exhausted quickly.
Due to the abundant reserves of nickel laterites, battery makers begin to focus on nickel laterite mining. The following is a processing plant of nickel laterites in the Philippines:
4. Manganese mining and processing
In addition to being used as an alloying additive in the iron and steel industry, manganese uses also include the production of battery cathodes.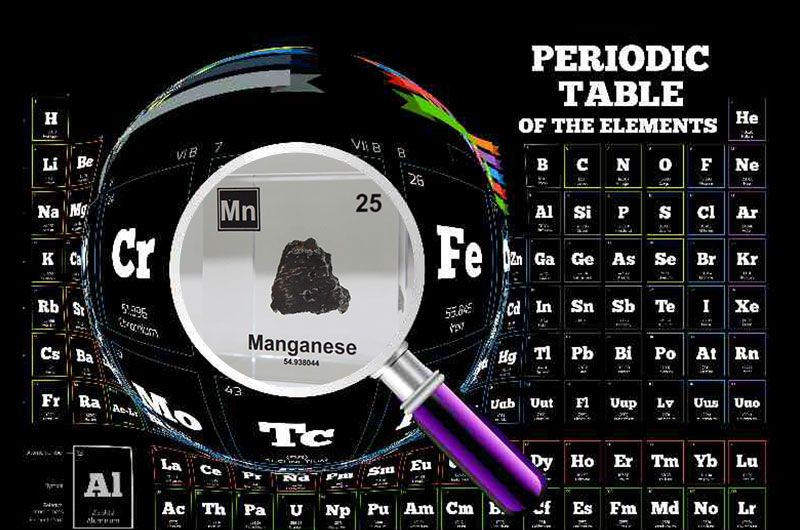 Battery-grade manganese is MnSO4, which is chemically prepared from MnO2. Before preparation, you have to obtain high-grade manganese oxide concentrate.
The global manganese production in 2022 is 20,000,000 metric tons. South Africa is the largest producer, followed by Gabon, Australia, and Brazil.
The following is a manganese oxide ore processing plant in Nigeria:
After Mineral Testing, the ore contains slime. Its gangue minerals are silicate and carbonate minerals, associated with iron, phosphorus, nickel, cobalt, etc. Therefore, the process of washing ore – gravity separation – magnetic separation is adopted.
Crushing:

Send the raw manganese oxide ore to a jaw crusher and cone crusher to be crushed within 70mm.

Washing:

Use a trommel screen to wash the ore.

Gravity separation:

Hand selection for materials larger than 30 mm, and gravity separation by a jig for materials of 4.5-30 mm.

Magnetic separation:

Use a strong magnetic separator to select the finest manganese ore within 4.5 mm. Finally, a manganese concentrate grade of 41.23% was obtained, and the recovery rate reached 93.6%.
5. Graphite mining and processing
Graphite is a soft, grayish-black mineral. It has been the material of choice for battery anodes due to its low cost, abundant reserves, and long cycle life.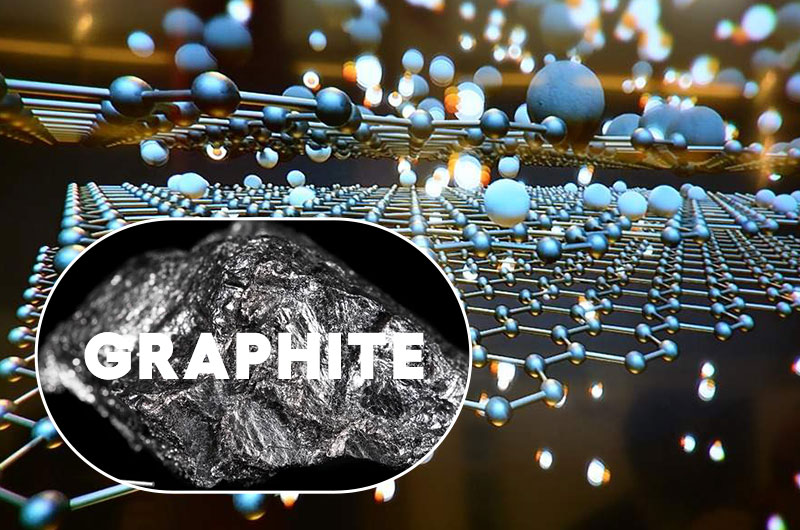 Flake graphite is used for battery-grade graphite. It is natural graphite with a crystal diameter greater than 1 μm, which is mined from carbonaceous metamorphic rocks. Flake graphite has a high grade and contains 60-80% carbon, but graphite particles are often embedded in clay.
The demand for high-quality flake graphite is strong. In 2022, total global graphite production is 1,300,000 metric tons. China is its largest producer (accounting for 63%), followed by Mozambique, Brazil, Russia, Canada, India, and South Korea.
The flake graphite processing is as follows:
Crushing:

Raw graphite ore is crushed with a jaw crusher and cone crusher, and a vibrating screen is set for screening. Particle size will be reduced to 10-20 mm.

Grinding:

Use a rod mill for coarse grinding, and then enter a overflow ball mill for regrinding.

Classification:

The spiral classifier screens out large flakes of graphite.

Flotation separation:

Use a flotation machine to remove useless impurities to obtain high-grade flake graphite concentrate.

Purification:

If high-purity graphite is required, it can be further purified by chemical treatment, and the flake graphite purity can reach 97-99%.
Conclusion
Ftmmachinery can provide the most advanced mineral crushing, grinding, and beneficiation equipment for the entire lithium, cobalt, nickel, manganese, and graphite production chain from mines to battery materials with the project scope.
Many other metals also play an important role in the battery manufacturing chain. Our equipment can enable the recovery of these metals, whether they are the main product from the raw materials or side streams from production.
References
Critical Minerals in Electric Vehicle Batteries